Meet the Turkish Mountain Guides Who Helped Rescue Earthquake Survivors
After the enormous earthquake in February, one group of Turkish mountaineers headed east, to help in any way they could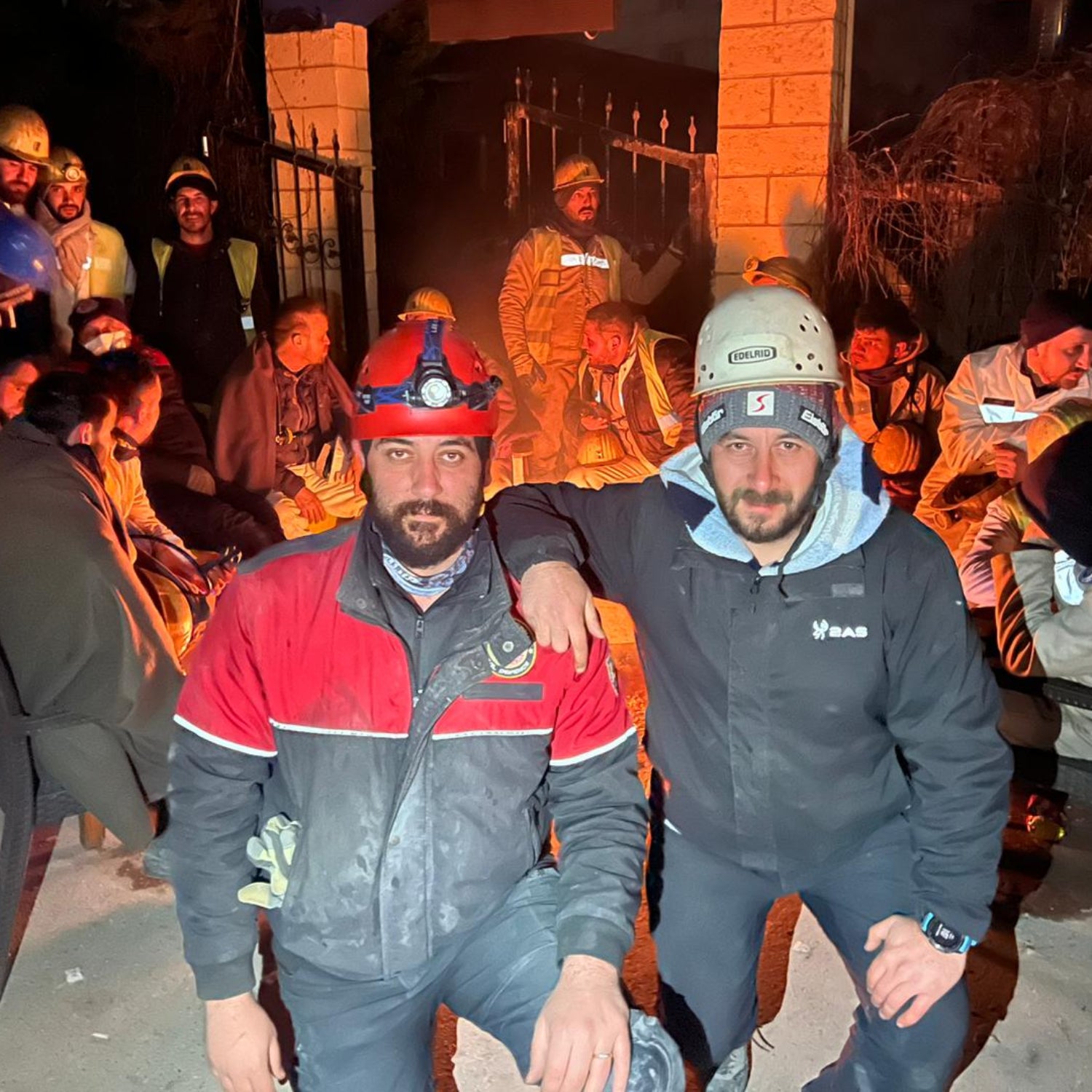 Courtesy of Polat Dede
Heading out the door? Read this article on the new Outside+ app available now on iOS devices for members! Download the app.
The hardest part, Polat Dede says, was hearing the voices calling out from under the rubble. As an experienced mountain guide, Dede, 45, has dealt with his fair share of emergencies. But nothing prepared him for the helplessness he felt working as a search and rescue volunteer in the aftermath of the catastrophic earthquake which hit Turkey on February 6, killing more than 45,000 people. "There were voices coming from the crush," he told Outside, speaking through a translator, "and we couldn't do anything because there were not enough people or tools to pull them out of the debris."
Like many Turkish people, Dede was initially unaware of the scale of the destruction caused by the 7.8-magnitude quake, which struck the southeastern corner of the country near the Syrian border. He lives in the coastal city of Antalya, which is 370 miles west of the epicenter, and when the huge tremor stuck at 4:17 A.M. on a Monday, Dede was asleep. "In the early morning, no-one was aware of the situation, or how big it was," Dede says.
As the day wore on, however, images of the disaster appeared on social media. Dede, who runs an outdoor events company, immediately stopped the work he was doing for the Tour of Antalya, a four-day professional bike race that attracts stars of the Tour de France. It was scheduled to run the following weekend, he says, and he'd been working for months on managing the finishing areas for each stage of the race. But like all major sporting events in Turkey, it was canceled. "Everyone just started to organize and prepare to go and help," he said.
Dr. Ersan Basar, the President of Turkey's Mountaineering Federation (TDF), contacted its members, including Dede, via WhatsApp, asking for volunteers to help with the rescue efforts. The TDF could organize the necessary travel permissions from regional governors in the affected areas, Basar's message explained. Having guided climbers up many of Turkey's highest peaks, including 16,850-foot Mount Ararat, Dede felt his experience in extreme environments could prove useful.
The following morning, he set out in his small sedan for Antakya, the capital of Hatay, Turkey's southernmost province, alongside fellow mountaineers Gökalp Saklı, Serkan Ocak, and Olcay Tepe, and photographer Kürşat Bayhan.
By the time the five friends left, Dede understood that the affected area was massive—nearly three times the size of Maryland—and the communities there needed all the assistance they could get. "They needed to have a lot of help—a lot of volunteers," he says. He estimates that around 750 TDF members, from all over Turkey, responded. Most were assigned to a particular town, or place. Dede asked for permission to go to Antakya, because he and his group had friends there.
It took them 12 hours to make the drive. As they traveled east, the scale of the disaster revealed itself slowly—the number of damaged and collapsed buildings growing by the mile. By the time they reached Antakya, at around 7:00 P.M. on February 7, the day after the quake, "everything was down, all the buildings—it was about 98 percent completely destroyed," he says. "It was the worst destruction you can imagine. There were buildings of seven or eight floors that collapsed. In one building alone, 800 people died."
The men initially faced the daunting task of rescuing survivors by themselves. When they first arrived, nobody from the government was there to even check the papers they'd received from the TDF. "It was only the third day after the quake that the army arrived on site and we received real help," Dede says. In the meantime, he and his friends worked desperately with the domestic tools they'd managed to gather before their hurried departure—an angle grinder, crowbars, and shovels—and their bare hands.
Despite their initial lack of manpower and equipment, Dede and his team saved multiple lives. "From Tuesday to Sunday, we managed to pull out around 12 people alive," he says, "but also a lot of dead bodies." There were some miraculous recoveries, including a newborn, barely one month old. "But both the baby's parents were dead, and a sister of three years old was dead, too," Dede says.
Elsewhere, they found evidence of heartbreaking sacrifices. "On the first day, we rescued a five-year-old child. The kid was protected by the parents who were dead over him. They used their bodies as a shield," he says.
The search and rescue techniques that Dede and his friends had learned from their years of mountaineering proved invaluable, he says. So did their physical stamina from endurance training. Like Dede, Saklı, and Ocak have run ultra marathons.  "Doing this for one day, two days, three days, 24 hours a day, is very difficult," Dede says. "We spent more or less 20 hours working every day trying to rescue people, and three or four hours just to rest."
With most of the buildings reduced to rubble, and regular aftershocks making those that remained unsafe, the friends slept in their car, resting in shifts. In the days immediately after the earthquake, a snow storm battered much of eastern Turkey. While Antakya avoided the worst of it, it was snowing when they arrived, and temperatures hovered around 35 degrees Fahrenheit at night.
"There was no electricity, phones were not working, communication was down," says Dede. They couldn't run the car's engine or heater for long, because the gas stations had all been destroyed. Around them, people burned anything they could find, for warmth, and when darkness fell, they became aware of looters. "There were people stealing around us too, unfortunately," Dede says.
If his ability to cope with cold and hardship helped, Dede says, so did the skills he'd learned as an event planner. His company, Rossist Events, runs events with up to 1,000 participants that include open-water swims, skyrunning races, and ultramarathons. "In this kind of situation, where there's a lot of people and they don't know what to do, it was useful to be able to coordinate people," he says. "If there are too many people who don't know what to do, everything can go wrong."
Dede and his friends aren't the only members of Turkey's outdoor community to bring expertise, manpower, and equipment to the relief effort. In the days after the quake, 35-year-old Selahattin Sungur, a lift operator from Erciyes ski resort, led a team of nine colleagues to the area around the city of Kahramanmaraş, close to the epicenter. They took food, tents, blankets, gloves, and snowboard boots donated by the resort's ski rental shops. "There were 50 centimeters of snow on the ground in the villages near Kahramanmaraş and the temperatures were 19 degrees Fahrenheit at night, so the snowboard boots were useful," Sungur told me.
Elsewhere, Turkish ski resorts have opened their hotels to displaced survivors, since many guests have canceled their vacations. Palandöken, near the city of Erzurum, has filled nearly half of its 6,000 beds, according to Kıvanç Karapınar of the Erzurum Tourist Office. Across the Erzurum province, hotels have pledged to hold half of their rooms for quake refugees for the next eight months—more than 35,000 have already moved in.
The sheer scale of the disaster—which destroyed an estimated 25,000 buildings, leaving hundreds of thousands still sleeping in the open several weeks later—goes some way to explaining the strength of Turkey's volunteer response. Dede says he is proud that the skills he and others learned from mountaineering allowed them to save lives. But for all his willingness to help, he remains frustrated by the government's widely-reported failure to prepare for the earthquake, and the absence of official support.
He worries about those still sleeping out in the open, and fears that despite the lessons learned about the necessity of earthquake preparedness, little will change. "If there are people who still think that it doesn't matter, it will happen again."
---
Dede and his friends have asked that anyone who wishes help with the ongoing crisis in Turkey makes a donation to AFAD: https://en.afad.gov.tr/
Lead Photo: Courtesy of Polat Dede