What Would Survivorman Do?
Les Stroud, the most trusted name in survival, has seen it all—and lived to tell about it. Next time you're up a creek, you should probably do what he says.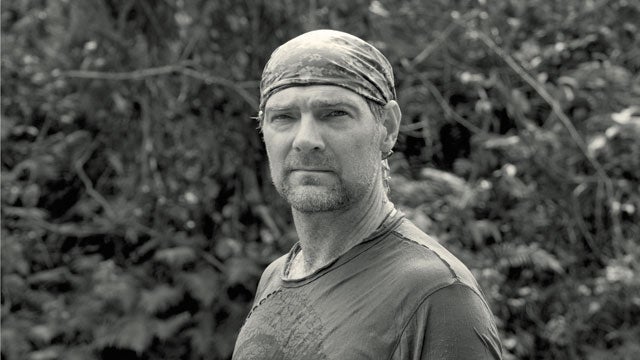 Heading out the door? Read this article on the new Outside+ app available now on iOS devices for members! Download the app.
In the sprawling genre of survival television, there is one man who has managed to earn both huge ratings and the respect of bearded guys with big knives on their belts: Les Stroud, a.k.a. Survivorman. Stroud, 52, grew up in Toronto watching Jacques Cousteau and Tarzan, then became a rock-and-roll addict with dreams of being the next Neil Young. At 25, disillusioned by the music industry, he took a survival course at a Toronto college and was hooked. He went on to train for years with elite survival instructors and honed his skills on numerous wilderness forays, including a yearlong honeymoon with his wife in the remote woods of northern Ontario, during which they lived off the land and used no metals or plastics. Early on, Stroud had the idea of creating a home-video series to teach survival skills, but it wasn't until 2001 that he pitched a more ambitious idea to the Discovery Channel: just him, alone in the bush for a week, filming his struggles—building fires, catching game, fending off the cold.
The runaway success of Survivorman spawned a string of copycat programs, from Bear Grylls's Man vs. Wild to this year's over-the-top Naked and Afraid, in which a nude man and woman are stranded together in an extreme environment. But only Stroud has pulled off a literal one-man show—producing, writing, filming, directing, and starring. In 2009, he temporarily switched gears and created Beyond Survival, a series for Discovery in which he studied the wilderness skills of indigenous people around the planet, then returned in the summer of 2012 with four Survivorman specials. In December, he'll be back with a full season, including two episodes featuring his teenage son, Logan. Here and on the following pages, Stroud shares his hard-earned wisdom about wild places, why he considers Grylls a phony, and what it takes to live through almost anything:
The first night I spent in a shelter I'd made myself, with my feet sticking out and the rain coming down and the mosquitoes buzzing, I said, "This is what I want."
You wouldn't watch a ski jumper on TV and then the next day, having never skied, strap on a pair and go jump. And you don't watch Survivorman and then say, "I'm going to go out alone in the wilderness this weekend." It took me years to learn these skills.
There's no such thing as passive survival. Survival is proactive. You're doing every-thing you can to deal with the situation.
You know those lemons that come up on Vegas slot machines? When I was teaching guides, we'd always say, "When you hit that third lemon, stop—get out." Maybe the first lemon is an injury. Then the second lemon is exhaustion. Third lemon, storm's coming. Done, go home, you're finished.
There's been too much emphasis over the years on "stay put, stay put." Survival and first-aid courses all say that. Why stay put if you can walk out? People might be looking for you, but they'll stop as soon as you get to a phone.
You do have to stop and ask some questions: How far is it to get out? Do I know the way? Am I confident I can find it, or is it a crapshoot? Do I have the strength to make it? Is anybody looking for me if I don't?
I go out and go through the experience of survival and document it. I hate the concept of reality television. I'm a documentary filmmaker.
Initially, I think people watch out of morbid fascination. But when you see me really struggling, when you see the sweat on my face and know that I'm really going through it, then it strikes a deeper chord: If I had to, could I survive?
All these other shows are created by TV producers. Anything they can do to get higher ratings, be under budget, get it done fast—that's what they do. It detracts from what it really takes to survive in the wilderness. Many of the things Bear Grylls and other guys do is completely bogus. Wrong skills. Dangerous skills.
Have I ever been pressured to do it differently? To fake it? Once, very heavily by one producer, and I said no.
My son, Logan, started asking to do a Survivorman episode with me when he was 12—way too young. When he was 15, I said, "OK, let's do this." Honestly, I've been doing Survivorman for over 11 years. I'm tired of being alone out there. Realllllly tired of being alone out there.
You should trust your guide but never rely on them. Before you start the trip, go to them and say, "Can I see a map with the route?" You look at it and maybe you see there's a road three miles to the west the whole journey. If anything happens, now you know that. A good guide will be happy you asked. They like it when someone takes an interest in his own safety.
In survival situations, go with what you know. If you can turn around and go back the way you came and reach safety, even if it's 50 miles back, why are you pushing on into the unknown?
We always want to follow the path of least resistance. That's what we do as humans. It looks good to go downhill. It feels easier. You have to fight this and use your head. The easiest way can be the most dangerous.
Nature is nature. Christopher McCandless was an extremely charming individual, and he charmed his way through a lot of situations. But Alaska didn't give a shit how charming he was. It's Alaska.
Everyone who does wilderness adventure of any kind should take a survival course and a wilderness first-aid course. They enhance your experience, and you'll have greater confidence.
I can see getting to that place where you say, "I'm done. I'm not going to make it." Hey, I've had my moments.