Indefinitely Wild
Why Everyone Should Be Trained in Military First Aid
A practical approach to making mass shootings less deadly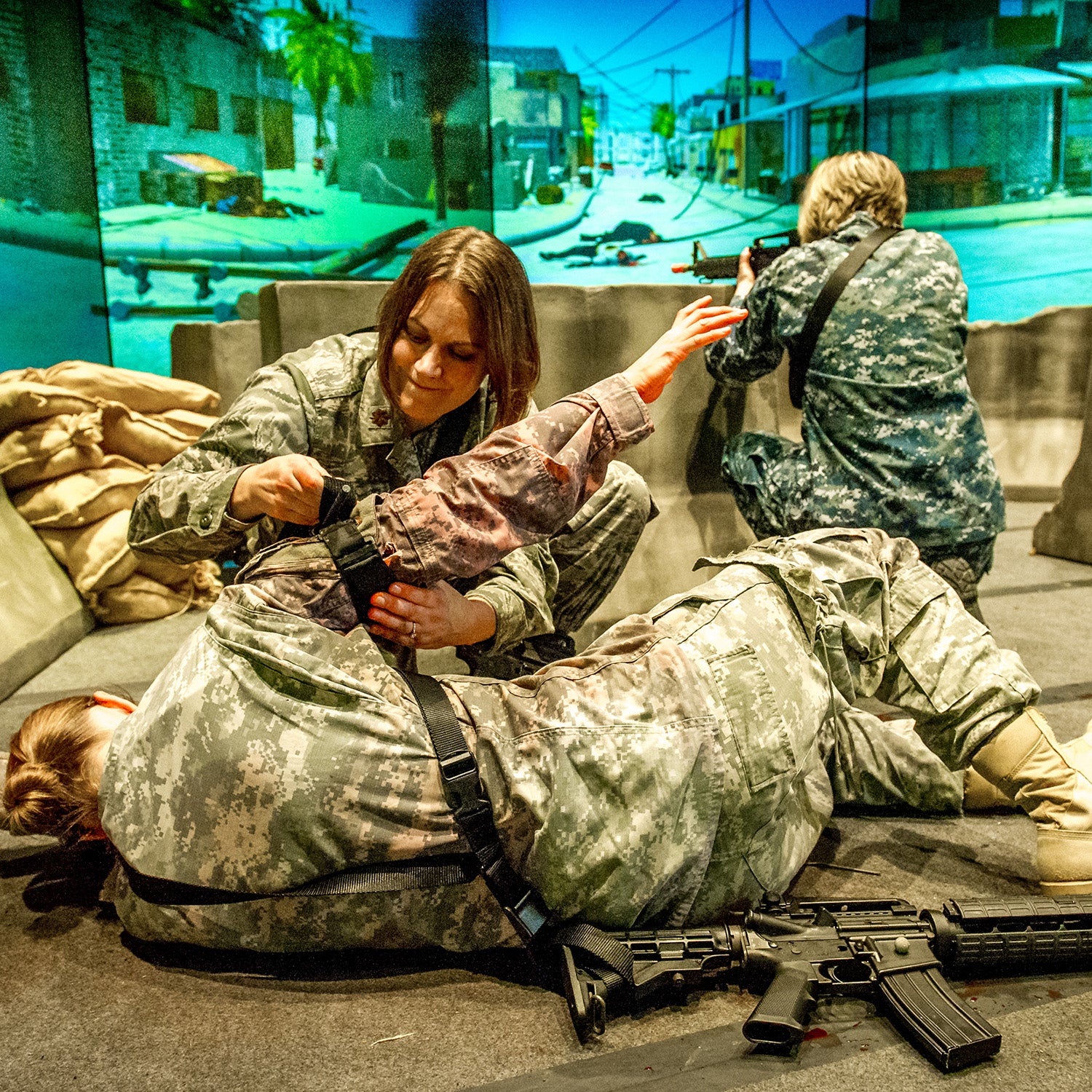 J.M. EDDINS JR.(Photo)
Heading out the door? Read this article on the new Outside+ app available now on iOS devices for members! Download the app.
The sentiment following the massacre in Las Vegas was sadly unanimous. There were the usual calls for gun control, the usual arguments against it, and the usual cries for access to mental health care, but overwhelmingly, people seemed resigned to the idea that this could be the new normal. In the face of mass shootings, which average one per day in the United States, people feel powerless.
I reject the idea that an individual does not have the ability to influence the world around them. So I set out to figure out what I could do, personally, and I think I found an answer: first aid.
The Most Effective Responders Are the People Already There
During the ten minutes of shooting and in the immediate aftermath, emergency responders remained confused about the nature and even location of the incident and, as a result, were unable to organize a proportional, effective response. Some estimates say that EMTs didn't reach the actual concert grounds until 30 minutes after the shooting took place.
So who helped injured concertgoers reach safety and get to hospitals? By and large, it was other people attending the concert. Local hospitals treated a total of 595 injured people following the shooting. Only 200 were transported by ambulance. The rest arrived in commandeered pickup trucks, private cars, taxis, and on foot.
The people who helped have rightly been lauded as heroes. Taylor Winston, who stole a pickup and made two trips back and forth from a hospital to transport "ten or 15 people" was just given a brand-new Ford F-150 by a local dealer.
Some of those concertgoers who were able to help were off-duty medical professionals with significant training. They knew how to respond to the kind of heavy bleeding associated with gunshot wounds. "We had people who were shot holding pressure on other people's wounds," a local EMT told the New York Times.
But concert attendees, no matter their level of training, lacked a tool that could have saved lives.
Meet the Tourniquet
A tourniquet is a simple device that uses mechanical advantage to apply pressure to a limb, clamping shut major blood vessels to mitigate blood loss from major wounds. The first recorded use of tourniquets was in the fourth century BC, but they didn't find widespread acceptance in modern times beyond operating rooms until the early 2000s.
That's because applying a tourniquet comes with risks. Clamping down on a person's limb with incredible force for a prolonged period of time, a tourniquet may damage the nerves and blood vessels in that limb and create a variety of other problems that may end up killing the leg or arm you're trying to save.
But a tourniquet is also the only way to quickly and surely shut down arterial bleeding in a limb and easily maintain that pressure through casualty transport. When soldiers found themselves fighting a new kind of conflict post-9/11, where improvised explosive devices were causing tons of casualties, the U.S. military realized it needed to give them the ability to save their own lives and those of their comrades. Tourniquets are now issued to all combat soldiers, who are also trained in their use. The military credits tourniquets with saving more than 3,000 lives since they became standard issue in 2003.
Because large numbers of veterans started returning home with not just training but also experience using tourniquets, the idea of implementing them in civilian life began to find favor. Some first responders were armed with tourniquets at the Boston Marathon bombing in 2013, where the devices were credited with saving several lives. Tourniquets became standard equipment for police and firemen in the city soon after.
A year prior, the American College of Surgeons created the Joint Committee to Develop a National Policy to Increase Survival from Active Shooter and Intentional Mass Casualty Events, in response to the shooting at Sandy Hook Elementary School. In 2015, the committee issued its findings, which included a recommendation that tourniquets would be instrumental in saving lives. "One of the most important lessons learned in the last 14 years of war is that using tourniquets and hemostatic dressings as soon as possible after injury is absolutely lifesaving," reads the report.
Shortly thereafter, the Obama administration launched a national awareness campaign called Stop the Bleed. It promotes simple, effective first-aid procedures for use in mass-casualty events and includes instructions on tourniquet use. The Red Cross also updated its first-aid guidelines to call for tourniquet training and use.
Why Weren't Bleeding Control Kits Available in Las Vegas?
Despite official acknowledgement that tourniquets, hemostatic gauze, and people trained in their use are necessary to reduce casualties during mass shootings, terrorist attacks, and other violent incidents, their use still isn't widespread among the general public.
Companies are producing bleeding control stations, which mount on walls, much like fire extinguishers or defibrillators, and dispense trauma kits that contain tourniquets, hemostatic dressings, shears, and even litters for quickly transporting casualties away from the threat. But I've never seen one anywhere.
Plenty of serious first-aid kits are also on the market that now come with tourniquets as standard equipment. There's even an easily worn belt that doubles as a legit ratcheting tourniquet. But I don't know anyone who carries one.
The problem is that while stations are rolling out to schools, venues, and other public places nationwide, implementation is slow. The same goes for training: Most civilians who have it are those who have sought it out. Bleeding control is not part of the first-aid program taught institutionally to Boy Scouts and other youth programs where most people learn first aid, and even if it is made a part of that program tomorrow, it'll be years before youth trained in blood-loss prevention are prevalent in the general adult population.
"Training in hemorrhage control should take its place alongside training to perform cardiopulmonary resuscitation or the Heimlich maneuver," concludes the American College of Surgeons report. "Public bystanders must follow the injunction, 'See Something, Do Something'; stated otherwise, 'Stop the Hemorrhage; Save a Life.'"
Doing Something
The most effective way an individual can help in the aftermath of a violent event is to provide first aid for the victims. If you want to do something about mass shootings and bombings—or just be prepared to save a life in the event of something more common, like a car accident—then you need to pursue medical training and carry a medical kit with you at all times.
Free bleeding-control classes are available across the country. The Red Cross also offers CPR/AED/first-aid courses nationwide. And higher levels of training are out there. The more you pursue, the more prepared you will be.
Professional-quality first-aid and trauma kits, which include tourniquets and hemostatic dressings, are available from North American Rescue and several other brands. You'll want a small one you can take with you anywhere, one that's a little more comprehensive for your outdoor adventures, and a multiperson, totally comprehensive kit for your vehicle and bigger trips. The linked kits are recommended by former Army Ranger medic Leo Jenkins.
Armed with medical supplies and the knowledge to use them, you will no longer be powerless. Learning effective first aid is never going to make mass shootings go away, but it can make them a whole lot less deadly.
Lead Photo: J.M. EDDINS JR.
Trending on Outside Online