What's the best axe for chopping wood?
What's the best axe for chopping wood? The Editors Santa Fe, NM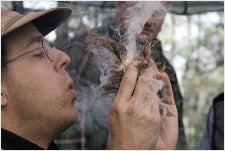 Heading out the door? Read this article on the new Outside+ app available now on iOS devices for members! Download the app.
I've used many axes since I was a kid, but the one that is my most reliable and trusted friend in the backcountry is the small Forest Ax by the Gransfors Bruks Company. If you are planning on a lot of woodchopping or want a quality bushcraft tool, then consider a Gransfors product. They have been forging handcrafted axes for over a hundred years and each one is a work of art.
Tony Nester

Tony Nester
These finely crafted axes from Sweden will outlast and outperform other commercial axes. The attention to forging and craftmanship and the quality of the hickory handle—always look for the grain, at the handle's bottom, that runs parallel to the blade—separate the ax from others.
A more affordable option for occasional use in camp is a Hudson-Bay axe.
Get a larger axe, rather than a small hatchet. On a hatchet, the proximity of the blade to the user when swinging can place the user in harm's way. An axe with a two pound head and a 24″ handle works well.
An axe requires skill in use and a Zen-like state of awareness, otherwise it will turn a wood-chopping session into an emergency-trauma session. Obtain instruction beforehand. Skill with an axe is a hallmark trait of the woodsman. If you aren't willing to take the time to learn about the safety and hazards involved, then consider carrying a buck-saw or folding pruning saw.
For a fine primer on axe use and traditional woodsmanship, check out David Wescott's excellent book Camping In The Old Style.