What's the best way to stay warm if I'm lost with no fire?
What's the best way to stay warm if I'm lost with no fire? The Editors Santa Fe, NM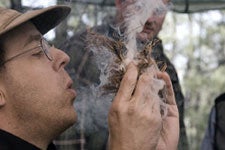 Heading out the door? Read this article on the new Outside+ app available now on iOS devices for members! Download the app.
A large debris bed is what we typically use on our survival courses in the mountains when it's too dry for a shelter and fire combo. This is made by piling up a large mound of pine-needles, leaves, moss, cattails. By large mound, I mean at least waist-high and a few feet longer than your height. We've used this kind of shelter on my survival courses down to 10 degrees F at night with just the (wool) clothes on our backs. Ideally, you should make a framework of to contain the debris, but a large mound will suffice otherwise. Once the pile of debris is in place, hollow out a trough large enough for your body and then climb in and lay down. Pull in a thick layer of debris around you until you are enveloped with only your face showing.
Tony Nester

Tony Nester
This kind of shelter comes into play when it is too dangerous to have a fire or perhaps injury is preventing you from making a more elaborate shelter and collecting firewood. The latter was the case with one downed pilot who crashed in the Sierras in the 1990s. With a broken body—shattered ankle, shoulder and ribs—this intrepid soul hobbled out on foot over 12 bone-chilling days, each night building a pine-needle bed for warmth. You can read more about it in the book Survive! by Peter DeLeo.
Stories abound of actual survivors who have done the "scarecrow" method of stuffing their pants, sleeves, and shirts with leaves so they can survive sub-freezing nights. Use the survival tool between your ears, and if all else fails, think like a squirrel.
Trending on Outside Online