The Best Wilderness Survival Strategies, Based on 103 Successful Rescue Stories
How people get lost (and found) in the outdoors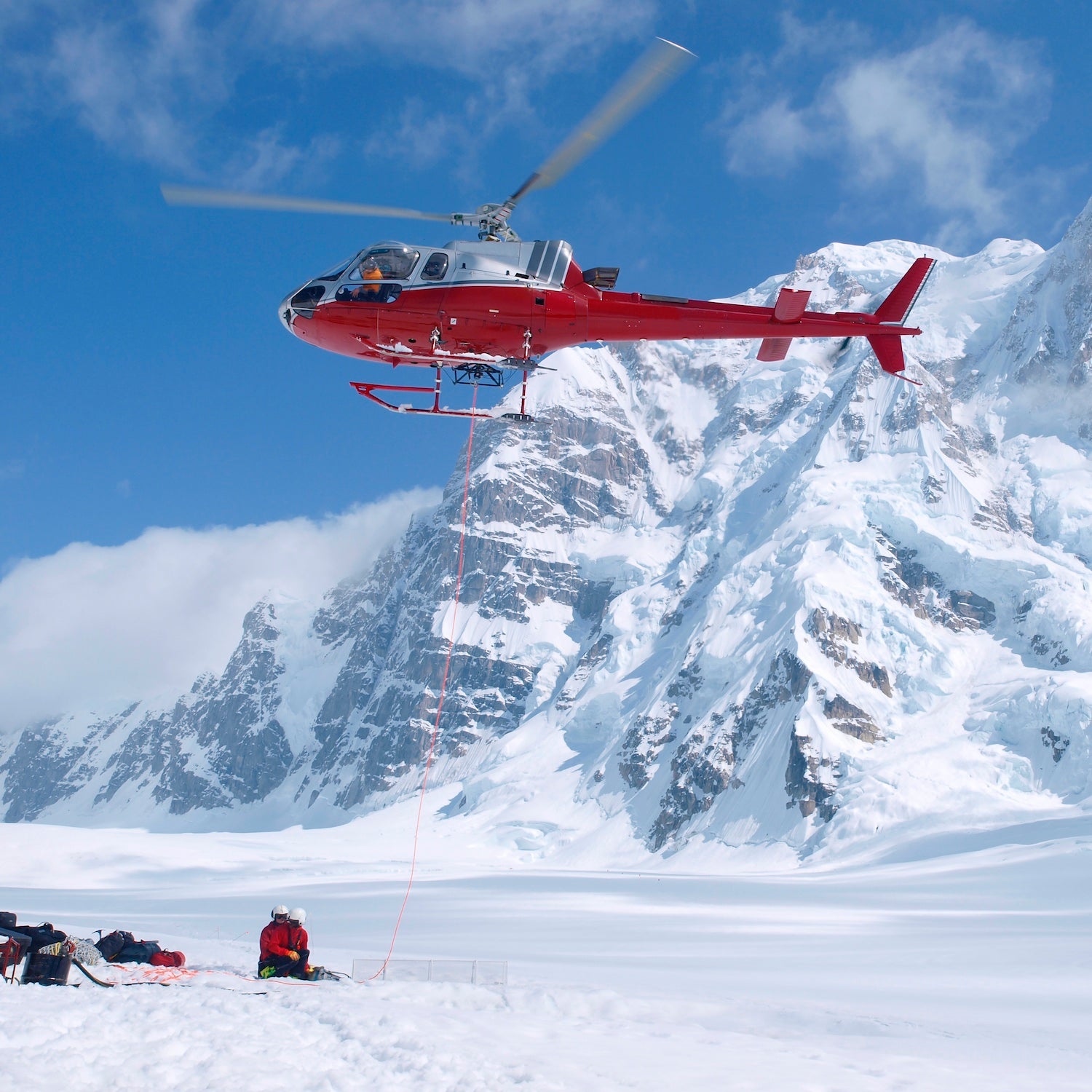 Heading out the door? Read this article on the new Outside+ app available now on iOS devices for members! Download the app.
Harrowing survival stories can feel like the lifeblood of outdoor culture, with the image of the gnarled outdoors person spinning tales over a campfire about "that time I almost died" serving as a kind of social currency in the backcountry. It's a tricky line to tow, as we intermittently validate and admonish adventurers who get lost, and hopefully learn from the past mistakes of others and how to avoid them.
Until recently, finding in-depth aggregate data on the most common causes of wilderness rescues and best practices for how the rescued survive was difficult and piecemeal, with only a few academic papers and notable organizations like the American Alpine Club releasing accident reports. Earlier this year, travel website SmokyMountains.com launched a self-funded comprehensive analysis of 103 successful Search and Rescue (SAR) attempts in the U.S. and Canada, taken from news articles dating between 1994 and 2018. Of course, in a perfect world no one would ever need a SAR team, but this database and splashy infographic titled "Safe & Found," gives a clearer (and sometimes surprising) picture of how most hikers get lost and found again.
"By far, the most important takeaway is don't wander off the trail," says David Angotti, founder of SmokyMountains.com. According to his team's research, 41 percent of the 103 SAR cases resulted from hikers wandering off trail, as many as the next three categories—bad weather, falling, and separation from the group—combined. Injury, darkness, and equipment failure rounded out the pack, at seven, six, and five percent, respectively.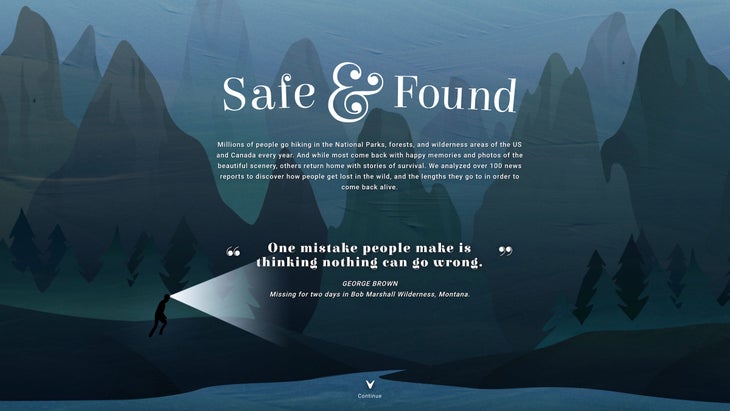 Angotti and his team carefully scanned each of the 103 articles that met the study's criteria of being covered by a reputable news source during the allotted time frame. They then broke the information into easy-to-decipher categories, putting a strong emphasis on the four biggest survival needs (shelter, water, warmth, and food). The team then organized the findings to illustrate how those requiring SAR were able to survive. Many of the details are surprising, like the experience of Gilbert Dewey Gaedcke, who lost his way in a lava field near Hawaii's Kilauea Volcano in 2005 and squeezed water out of clumps of moss to survive for five days until rescue came. "I put my hand on a tree and found something. It felt spongy. And that ended up saving my life," Gaedcke told CNN.
When Annette Poitras, another study member, fell and injured herself while walking in British Columbia in 2017, she was exposed to three days of torrential downpour with only her three dogs to keep her safe. Poitras credited her survival to her boxer, Roxy, for nestling against her body for warmth every night and ultimately alerting the rescue team with loud barking. "She was barking and barking," Poitras told Global News. "I was too weak, I couldn't call out."
One of the most jarring revelations of the study was what some people ate to survive, says Angotti. One man, when stranded in the backcountry of Western Quebec for 90 days in 2013, was forced to kill his dog for food. Others who found themselves in arid, desert environments resorted to drinking their own urine. Multiple people ate bugs to survive, says Angotti, such as Greig Haim, who, after breaking his leg in Kings Canyon, says he ate "everything that would let me catch it: two crickets, five or six moths, eight or ten large ants, and three or four water bugs."
"The number-one mistake I see is lack of preparation," says Andrew Herrington in the study's infographic. A Search and Rescue team leader in Great Smoky Mountains, Herrington was one of the expert interviews Angott worked with to provide survival tips for "Safe & Found." His advice? Always carry the Ten Essentials, tell your trip plan to two trusted people, download an offline GPS app, and wear high-quality outdoor clothing, like merino wool and GORE-TEX shells.
Yes, the infographic released with the study is supposed to be fun and entertaining, says Angotti, but educating the public was his main priority. "If this study and the interactive graphics lead to hiking safety, we have succeeded in our goal."
Lead Photo: Menno Boermans, Getty