The Woman Who Charted the Last American Wilderness
In 1905, Mina Hubbard completed the expedition that had killed her husband—and beat the pants off his swaggering rival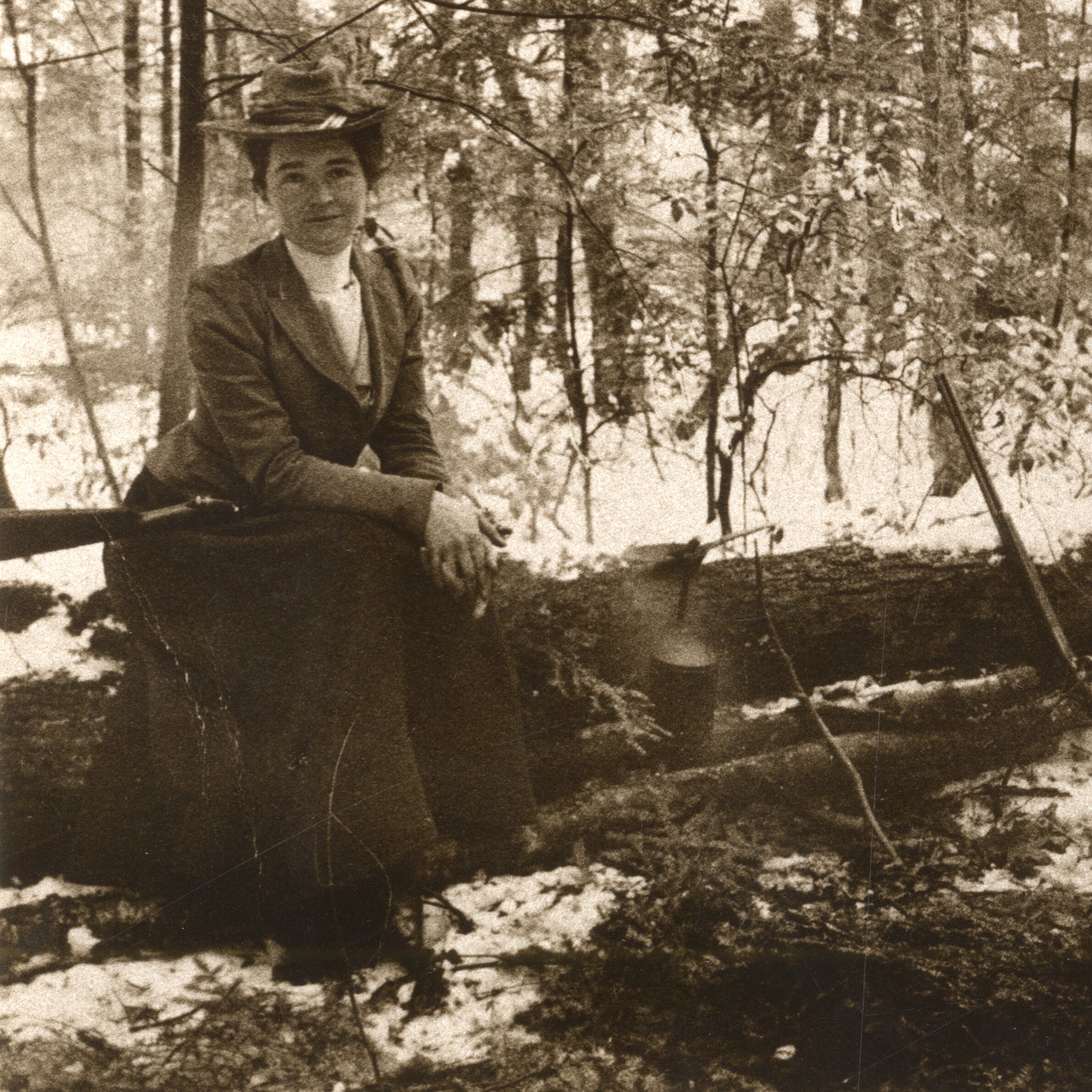 Heading out the door? Read this article on the new Outside+ app available now on iOS devices for members! Download the app.
Mina Hubbard, a mild-mannered farm girl and nurse from Ontario, Canada, never set out to be a great explorer. But in January 1904, the safe, happy existence she had established with her young husband shattered, setting her life on a different course.
Nearly six months earlier, Leonidas Hubbard had set off from their home in New York in an attempt to become the first nonnative to cross the interior of Labrador, one of the last unmapped swaths of North America. With his expedition mates—Dillon Wallace, a portly middle-aged lawyer, and George Elson, a half-Scot, half-Cree guide—Hubbard retreated after getting lost in a labyrinth of swamps and waterways. On October 18, shivering in a silk tent, he died of starvation as his expedition mates went for help.
"I am not suffering," Leonidas wrote in his diary, likely mere hours before he died. "The acute pangs of hunger have given way to indifference. I am sleepy. I think death from starvation is not so bad." It took nearly three months for the news to reach his widow.
Mina was devastated, but within a year, her grief turned to rage. She had encouraged Wallace to write a book memorializing her husband. Instead, in January 1905, he released The Lure of the Labrador Wild, painting Leonidas as a lovable but bumbling amateur largely responsible for the expedition's failure. Mina was incensed. Despite having no expedition experience, she decided to reclaim the honor of her husband's name by completing what he set out to do. Meanwhile, Wallace also planned to finish the unsuccessful mission.
Newspapers in New York caught wind of the competing trips, and headlines spread across the East, much to Hubbard's embarrassment. Private and circumspect, she did not seek attention; Mina simply wanted to reclaim Leonidas' reputation. The early 20th century was a golden age of exploration, and the public devoured news of dashing adventurers racing to claim the world's last uncharted objectives. But a woman setting off into the wilderness? In competition with a man? At the time, the idea was scandalous.
In contrast to her husband's expedition, which was ill-supplied and under-researched, Mina Hubbard's was exceedingly well-organized.
"Leonidas Hubbard never would have dreamed of taking his wife with him," says Roberta Buchanan, co-author of The Woman Who Mapped Labrador: The Life and Expedition Diary of Mina Hubbard. "People didn't really welcome woman explorers, because they thought of exploration as a masculine enterprise. It was all about proving your manhood and triumphing over nature."
In contrast to her husband's expedition, which was ill-supplied and under-researched, Mina's was exceedingly well-organized. She learned mapping skills, compulsively investigated supplies and equipment, consulted with men who had traveled the outer reaches of Labrador, and persuaded George Elson, her husband's strapping, loyal guide, to accompany her. She also hired other three part-native guides, although only one was from the region.
Near the end of June 1905, both Wallace's and Hubbard's teams left Northwest River, a trading post at the mouth of Grand Lake. At that time, fishing families eked out a living on Labrador's frigid, rocky shores, and trappers ventured short distances into the spruce-choked mountains. But no white people had plunged deep into the interior, and almost no one had met the region's Naskapi Indians. The wilderness was seen as a hostile netherworld of violent rivers, swamps, mountains, and tundra. Even today, few roads pierce the remote Ungava Peninsula, still the haunt of bears, caribou, and packs of wolves. Hubbard woke to noises in the middle of the night and trembled in her tent, clutching her revolver. But she was tough and quickly learned how to travel through the wild.
A woman-led expedition was outrageous at the turn of the 20th century, but it was even more unusual for a white woman to spend months alone in the bush with four men of native heritage. The men were constantly terrified for her safety, for they felt they couldn't return to civilization without her. Hubbard often chafed at their close watch and occasionally went speeding up and down mountains, giving them fits of anxiety. "They said to me they never were on a trip before where the women didn't do what they were told," wrote Hubbard, who wore knickerbockers under a swishing ankle-length skirt (for propriety's sake) and brought along a blouse for Sundays.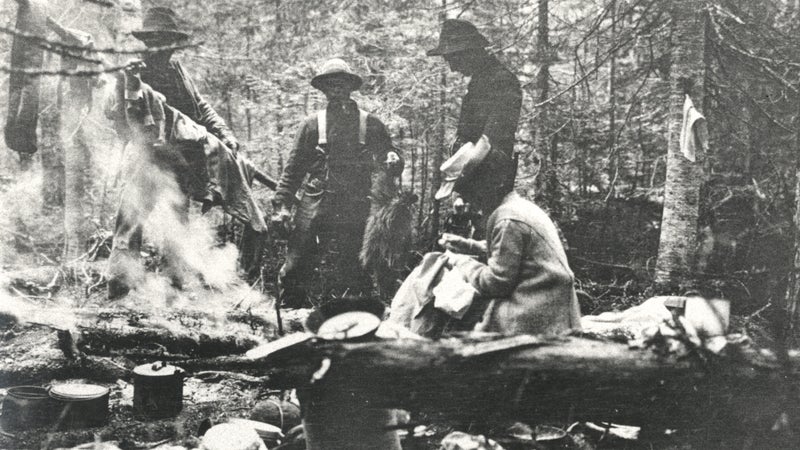 Despite the racial and gender differences, over two months, Hubbard's team not only became close but also had a good time. Together, they paddled swift rivers, clambered over seas of deadfall, scaled boulder gardens, and suffered great clouds of mosquitos and black flies. Hubbard loved it. "A new thrill came with this being up among the hilltops," she wrote, "and I began to feel like an explorer." As the men portaged the boats, Hubbard surveyed the seemingly endless hills, lakes, and boreal forests. She took latitude readings, snapped photographs, and named rivers and rapids. Eventually, she also made contact with the Naskapi Indians, who lived off the wilderness and occasional visits to the Ungava trading post on the north shore of Labrador.
All along, Hubbard kept a keen ear out for human voices and was thrilled that Wallace never seemed close by. While she was desperate to beat him, she was also enthralled by the region's natural abundance. "When the day's journey ended I had seen so much that was beautiful, and so varied in its beauty, that I felt confused and bewildered," she wrote. Out there, "I had none of the feeling of loneliness, which I knew everyone would expect me to have. I did not feel far from home, but in reality less homeless than I had ever felt anywhere."
In contrast to many male expedition journals from the era that glorify suffering and triumph, Hubbard's is a paean to the wilderness. "Men tended to think of the wilderness as something to be conquered and penetrated, whereas she just delighted in the beauty of Labrador," says Buchanan.
Meanwhile, Dillon Wallace had branched off to follow a more overland route. His expedition was plagued by poor navigation and disaster. His team capsized in the George River and nearly succumbed to hypothermia. They trudged into the post at Ungava Bay a humiliating six weeks after Mina Hubbard, who, one might imagine, was smugly sipping a cup of tea in an armchair when they arrived.
Headlines proclaimed Hubbard's victory from Nova Scotia to New York. She became famous, giving lectures, including one at the Royal Geographic Society, and writing a book, A Woman's Way Through Unknown Labrador. (She never once mentions Wallace in its pages.) But her success was also frowned upon by those uncomfortable with her challenge to accepted gender roles. Mina Hubbard soon vanished from the public eye. Several years after the journey, she married the scion of a coal-mining fortune and settled in an English mansion, never undertaking another great expedition.
Plenty of mysteries still remain about Hubbard's trip and her life. How did a humble farm-raised girl manage to travel more than 550 miles of rugged wilderness in two months—in skirts? Did she have an illicit affair with George Elson, who occasionally accompanied her to explore mountains along the route, leaving the other men behind? (Pages are torn from his expedition journal, fueling speculation.) When Hubbard ultimately met her demise by walking in front of an oncoming train at the age of 86, was it on purpose?
In the mid-1970s, Canadian author Pierre Berton revived Hubbard's memory in an essay celebrating her great story. Since then, numerous authors and historians have taken an interest in her tale, inspiring at least four books and keeping alive the memory of Hubbard and her team's unlikely feat. Only a small handful of people have succeeded in retracing her route.
"I was really moved by her story," says Randall Silvis, author of North of Unknown: Mina Hubbard's Extraordinary Expedition into the Labrador Wilderness. "She still doesn't get the credit she should for being one of the major explorers of her time. It was the last North American wilderness, and she's the one who charted it."