Feel the Heat
Three months of pure freedom. You're loving it—and we are, too. From big water to big walls, from oyster stands to dune shacks, fifty-one sunny ways to dive in when the mercury rises.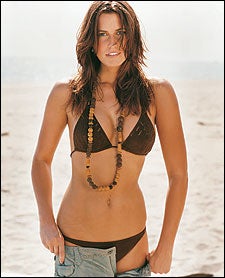 Noe DeWitt
Heading out the door? Read this article on the new Outside+ app available now on iOS devices for members! Download the app.
So much to do, only three sun-drenched months to do it. Let us help. We start by pinpointing the best surf towns and sweetest waterfronts, then lay out the perfect pickup games, ultimate road trip, coolest mountain-bike ride, tastiest barbecue recipe, great outdoor eats, a dizzying slew of summer essentials, and over a dozen more ways to make the season sizzle.
Brandy Armstrong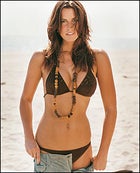 HELLO, SUMMER: Brandy Armstrong, a runner from Ogallala, Nebraska, hits Cocoa Beach, Florida, in a vintage bikini from MELET MERCANTILE; shorts () from ROXY BY QUIKSILVER.

PLUS: Bill Vaughn's ode to the rope swing; Randy Wayne White's favorite beach; Katie Arnold on island life; Granville Green on the hottest land art



HEAVY WATER
CLICK HERE for Robert Maxwell's Exposure Photo Gallery of surfing's invincible underground.

Swellsville, USA
Bare feet on hot sand. Surfboard on the waves. Lobster in the pot. A long, hot season to stay wet and never go back inside. summer starts here—don't let the screen door hit you on the way out.
Summer My Way
"I go see Cajun fiddler Hadley Castille wherever I can catch him—at Randol's Restaurant in Lafayette, Louisiana, or under the oaks in St. Martinville. When he plays 'Jolie Blon,' you would swear that the year was 1946 and you were listening to the melody that legendary Harry Choates sold for $100 and a bottle of booze."—James Lee Burke, author of Crusader's Cross, the 14th in his series of Dave Robicheaux mysteries
Tori Praver

Surfer Tori Praver at Cocoa Beach, Florida
Cocoa Beach, Fl While the waves are more mellow than menacing, Kelly Slater's hometown boasts some serious surf cred. Gear up at one-acre Ron Jon Surf Shop (4151 N. Atlantic Ave., 321-799-8888) and head south toward Patrick Air Force Base, where, if you don't mind the occasional sonic boom, you can score at breaks like Picnic Tables and Second Light. Refuel seven miles farther south at Da Kine Diego's Insane Burritos, in Satellite Beach (1360 Hwy. A1A, 321-779-8226). The joint's outdoor Bamboo Theater screens the latest surf flicks. Montauk, NY It's just three hours by train from Penn Station to the peaceful right-hand break at Turtle Cove and the smooth lefts at Ditch Plains. Make camp at the Atlantic Terrace hotel ($85–$385; 21 Surfside Pl., 631-668-2050), which overlooks an eponymous beach break fueled by hurricane swells spinning off the Carolinas. Work up an appetite for Harvest on Fort Pond (11 S. Emery St., 631-668-5574), nose-riding wizard Joel Tudor's favorite spot for monster helpings of seafood and sunset views. Santa Cruz, CA Power up on coffee and croissants at Kelly's French Bakery (402 Ingalls St., 831-423-9059) and pop next door for a custom foam-grinding session with shaper Ward Coffey. Warm up on the mellow rights at Cowell Beach before risking life and limb in the barrels at Natural Bridges State Beach. Then flop down on the bluffs at Lighthouse Point, where pros boost airs so close to the cliff, you'll flinch as they pass. Après, fish tacos and cervezas go down smooth at El Palomar (1336 Pacific Ave., 831-425-7575). Coos Bay, OR Frontier town meets surf scene in Oregon's biggest logging port. Check out Ocean Soul Surf Shop (91122 Cape Arago Hwy., 888-626-7685), where local firefighters and fishermen pick up their surf wax. Co-owner Donnie Conn will steer you to "wherever it's going off." For beginners, that might be the cold-water waves at Sunset Bay or, if you like more juice, Bastendorff Beach for intimidating peaks like Shitters. Rogers Zoo and Bizzaratorium, in North Bend (2037 Sherman Ave., 541-756-2550) offers live music. Yakutat, AK Lower 48 just too crowded? Hop the twice-a-month ferry from Juneau and head to Icy Waves Surf Shop (635 Haida St., 907-784-3226). It shouldn't be hard to find: Yakutat has only two paved roads. Beg directions to the peelers at Cannon Beach; then, after overnighting at Glacier Bear Lodge ($110; 812 Glacier Bear Rd., 907-784-3202), have bush pilot Les Hartley (Alsek Air, 907-784-3231) drop you and your gear on one of countless unknown, unnamed, and potentially perfect point breaks along the rugged coast.



Perfect Pickup Games
A Guide to Summer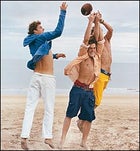 TOUCH FOOTBALL:
From left, Blake Pearson, a San Diego surf-store owner, wears jeans ($165) from POLO BY RALPH LAUREN and a hooded sweatshirt ($301) from R BY 45 RPM. On Nick Fairman, a short-boarder from Winter Park, Florida: boardshorts ($45) by PATAGONIA; cargo shorts ($85) from POLO BY RALPH LAUREN; vintage button-up shirt by MELET MERCANTILE. On Ryan Heavyside, a Palm Beach, Florida, competitive surfer: boardshorts ($120) by TRACY FEITH; boardshorts ($60) by RLX RALPH LAUREN.
Soccer While the Beltway crowd cheers D.C. United's 15-year-old futból phenom Freddy Adu at RFK Stadium, slide-tackle a lobbyist or knock in a header under the gaze of Lincoln's statue. Impromptu scrimmages are held most evenings on the National Mall's soccer-perfect turf. Beach Volleyball As the birthplace of the sport, Manhattan Beach, California, takes its volleyball seriously. Its nearly 100 first-come, first-served courts, spread along a two-mile strand, are tractor-groomed weekly and fill up nightly. Bring a net and ball and you've got game. Ultimate Frisbee If you can't find a game of disk in Madison, you're just not looking. The University of Wisconsin is home to one of the country's top college programs, and Madison offers a city league for every season. Walk-ons are welcome nightly at Vilas Park and Olbrich Field, all summer long. www.mufa.org

The Swinging Life
Gold Cup 2 Eye

It was just an old rope swing, tied to a pecan tree on the banks of a lake in the Ozarks. But when I stumbled upon it, and grabbed the knot and swung out over the water, what came back to me with a whoosh was my seventh summer, probably forgotten or pushed away because that was the year my mother died.

My old man had nearly brained himself trying to install the heavy rope on the limb of an old box elder. Unwilling to climb up, he'd elected to weight one end of the rope with a claw hammer, which he heaved heavenward in the hope it would sail over the limb. Finally, to my amazement, it worked. He tied a spent Firestone to the rope with a double square knot, installed me inside, walked the boy-bearing tire to the apex of the slope, and pushed.

"What should I do?" I screamed as I soared out toward the water.

He yelled back in his East Texas cracker twang, rich with mules and chiggers. "Y'all figure it out."

The thing that came to addict me wasn't just the wild ride and the plunge into the creek; it was that you could apply an infinite amount of torque to the rope by winding up the tire before liftoff, coiling it like a spring. Then, standing on the tire, spinning like a dervish, the test was this: Could I marshal the timing it took to dismount at a point that would deposit me in the water instead of the brush?

In another game, my best pal and I would swallow a Fizzie-kind of like prehistoric Pop Rocks-then wind up the tire, working it like a posthole digger. As the carbonated confection began bubbling in our bellies, I'd climb into the tire while my pal climbed on top. Once airborne and spinning, it was mano a mano until the loser barfed.

But what I liked best was simply the compulsive, solitary act of swinging, pumping my legs for hours to keep the tire in motion. It was the best way to take myself somewhere else.

SUMMER ESSENTIALS
Deck Shoe Revival
Remember these babies? Sperry Top-Sider plates the eyelets on its handmade Gold Cup 2 Eye deck shoe with 18-karat gold, which won't corrode or rust. Meanwhile, memory foam molds itself to the shape of your sole, while padded deerskin uppers softly cradle the rest. $150; www.sperrytopsider.com




Rubber Soul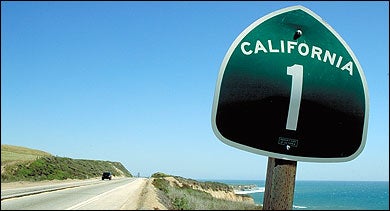 Summer Essentials
The Righteous Rod
Sage designed its Xi2 saltwater fly rod so that you can feel the shaft load with power in your backcast, then time your forward movement to precisely drop that Crazy Charlie in front of your quarry. $640;
www.sageflyfish.com
The Pacific stretching westward, rolling hills, empty beaches inhabited only by sea lions—there's no getting around it: The West Coast's Highway 1/101 is the classic summer drive. Head out on the 734-mile stretch winding from San Francisco to Astoria, Oregon, for spectacular scenery, crowd-free adventures, and the wind-in-the-hair perma-grin you can only get on the open road. Our weekend guide:

Mile 44: Fuel up on Pacific oysters ordered live from the seawater tanks at the Tomales Bay Oyster Company, a working farm in Marshall. 415-663-1242

Mile 196: Plunge into a swimming hole along the highway as it follows the South Fork of the Eel River through Richardson Grove State Park. 707-247-3318, www.parks.ca.gov

Mile 319: Hike beneath 2,000-year-old, 300-foot redwoods at Redwood National Park and Redwood State Park. 707-464-6101, www.nps.gov/redw

Mile 513: Boogie-board the 500-foot sand dunes of Oregon Dunes National Recreation Area, then bed down in a deluxe yurt at Umpqua Lighthouse State Park. $65 for up to seven people; 800-452-5687, www.oregonstateparks.org

Mile 640: Sea-kayak, hang- glide, or surf at Cape Kiwanda State Natural Area. 800-551-6949, www.oregonstateparks.org

Mile 695: Grab a table at the Sea Shack (503-368-7897), on Nehalem Bay in Wheeler, for a bucket of Cajun shrimp and an icy beer. At Wheeler Marina (503- 368-5780), rent a boat and traps to go crabbing off Nehalem Bay State Park.
New American Chopper
Katie Zirnfus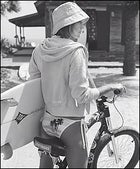 PEDAL PUSHER:
Katie Zirnfus, a surfer from Titusville, Florida, heads to the break in Cocoa Beach. Sweatshirt ($52) and bikini ($72) by RIP CURL; vintage bucket hat by ROGAN.
Trade in those riding leathers for a pair of surf trunks and flip-flops and cruise your local boardwalk atop the chopper-inspired Electra Straight 8. With a Shimano Nexus three-speed hub, old-school coaster brake, and red powder-coated spokes, these wheels are Peter Fonda cool. $570; www.electrabike.com












Who Needs Cristo?
Summer My Way
"The Patagonia Houdini is my choice for bombproof summer gear: Biking, hiking, climbing, running, skiing, or as a backup in your car, it's the ultimate lightweight jacket for the minimalist who still wants to cover all her bases." —Leslie Ross, director of Babes in the Backcountry, a series of adventure workshops for women

Missed out on the saffron Gates? Head to Amarillo, Texas, where the public art is as large as the 72-ounce steaks dished up at I-40's Big Texan Steak Ranch. Natural-gas tycoon Stanley Marsh 3 started funding big art back in 1974 with Cadillac Ranch, ten vintage Caddies buried nose first in the Panhandle. Over the years he's painted a mesa blue; built Giant Phantom Soft Pool Table, a 180-by-90-foot patch of dyed-green grass with 42-inch canvas balls; and commissioned a pair of gigantic sawed-off legs in a field south of town. "Art is a legalized form of insanity," Marsh has said. "And I do it very well." Go crazy yourself scoping out Amarillo's thousands of Marsh-funded street signs, with slogans like I'LL BE RIGHT OUT MA! FOR CRYING OUT LOUD! and LUBBOCK IS A GREASY SPOON! Summer here is frying-pan hot, so when yer bod heats up faster than a Texas cheerleader, dive into 6,251-acre Lake Meredith, 38 miles north of town on Texas 136. Lake Meredith National Recreation Area, 806-857-3151, www.nps.gov/lamr

Fuel Up on Fresh Air
Summer My Way
"My favorite thing about summer is being back in New Hampshire, out of the spotlight, so I can relax with friends and family. I plan on playing a lot of golf and tennis."—Bode Miller, alpine skier and 2005 World Cup overall champion
Blue on Blue

Poolside at Blue on Blue
Two Lights Lobster Shack, Cape Elizabeth, Maine
Just south of Portland, on the tip of Cape Elizabeth, this landmark New England seafood stop sits on the rocky shoreline below one of the most photographed lighthouses in the world. Park yourself at a table on the deck and try the fresh clam chowder, boiled lobster, or fried clams and scallops. $1.50–$22; 207-799-1677


Coyote Cafe Rooftop Cantina, Santa Fe
Pull a stool to the edge of this downtown café and settle in with a prickly pear margarita and the Coyote's famous salsa and guacamole. But save room for chef Mark Miller's classic southwestern dinner menu—including the mango-avocado chicken sandwich and seared salmon tacos. $4–$14; 505-983-1615


Sports Corner, Chicago
This wildly popular pre- and postgame pub, directly across from Wrigley Field, is one of the few outdoor grills where you can hold a chicken wing in one hand and catch a home run in the other. Cheering—for the unfussy American fare and the Cubs—is mandatory. $5–$12; 773-929-1441


Ted Drewe's Frozen Custard, St. Louis
Any summer road trip through the heartland deserves a stop at this circa-1941 walk-up window, along old Route 66. Don't be intimidated by the lines that snake around the side of the building: Their vanilla custard flavored 23 ways—like praline and abocho mocha—is worth the wait. $.50–$4.50; 314-481-2652


The Water Club, New York
Head straight for the Crow's Nest, the seasonal upper-deck café at this stylish East River eatery. With its colorful umbrellas, palatable prices, and stellar views of the Empire State Building and the 59th Street Bridge, it's a must for piña coladas and shrimp cocktail from the raw bar. $9–$26; 212-683-3333


Blue on Blue, Beverly Hills
Everything about this poolside café in the courtyard of the Avalon Hotel screams hip: from its inventive American menu (can you say Muscovy duck breast and a side of peach quinoa?) to the cushioned chaise lounges and bamboo-shaded private cabanas. And did we mention the pool? $10–$30; 310-407-7791
Ribs, Sugar?
We say the Memphis way is the only way when it comes to applying smoke and slow heat to the ribs of our oinking friends, so we asked Desiree Robinson, pit mistress of legendary rib shack COZY CORNER, for the skinny on backyard 'cue in the classic dry-rub style. "Make sure you've got nice medium-size racks, not baby backs, with enough fat to make that meat tender," she says, "plus a good fire so they can sizzle down." Yes, ma'am. HERE'S THE RUB: 3 tbsp paprika; 1 tbsp chili powder; 2 tsp seasoned salt; 2 tsp black pepper; 2 tsp brown sugar; 2 tsp garlic powder; 1 tsp cayenne; 1 tsp oregano; 1 tsp mustard seed; 1 tsp thyme; 1 tsp coriander; 2 tsp dried green peppercorns, ground; 1 tsp allspice. HERE'S THE DRILL: Rub mixture into ribs at least eight hours before cooking. (Yank the membrane off the bones, too.) Place a fireproof bowl full of water and flat beer in the grill pan. Snug charcoal around the bowl, fire up, and let burn until white but still hot. Lay a foil "envelope" of wet wood chips on the coals, then smoke ribs bone side up for two to four hours, and keep that lid on. Paint with sauce when done, if you like—but, says Robinson, "I usually don't."—Chris Davis

SUMMER ESSENTIALS
Lone Star Grill »
Transcend the charcoal-versus-gas debate with the Traeger Texas Style Grill—a cooker powered by pencil-eraser-size wood pellets. A continually rotating auger feeds the fire, allowing you to grill, slow-roast, or smoke your dino-steaks just so. $999; www.traegerindustries.com

Swing Shift »
The Byer of Maine Santiago XXL double hammock is a generous eight-foot-long cotton cocoon with a carrying capacity of 400 pounds, so there's room in there for you and at least one other close personal friend—no matter how many ribs the pair of you just polished off. $80; www.byerofmaine.com

Longboard Tech »
Hobie's Epoxy 9'2 Performer by Surftech looks like a vintage balsa longboard, but wait—that's an advanced sandwich of PVC sheet foam and Tuflite epoxy resin. Upshot: The Performer is nearly six pounds lighter, yet 30 percent stronger, than a traditional foam-and-glass board. $900; www.hobie.com
Hot Rocks
Summer My Way
"My favorite trail is the one up Half Dome, the finest summit in the Yosemite region. It's a beautiful, nearly 5,000-foot hike full of waterfalls, wildlife, and fantastic views."—Royal Robbins, climber and entrepreneur

If there's a deal breaker to a climber's summer dream scene, it's rock that's scalding to the touch. Fortunately, Estes Park, Colorado—a town of 6,000 at 7,522 feet in the Rockies—offers something that desert crags don't: alpine air conditioning and hundreds of routes just outside of town in Rocky Mountain National Park. "The park is best known for 14,255-foot Longs Peak, but the smaller mountains offer equally challenging multi-pitch routes," says 24-year-old phenom Katie Brown, a Patagonia-sponsored climber who lives in Moab but spends a month or two in Estes Park each summer. "Lumpy Ridge, a series of granite domes, is my favorite. One dome, the Book, has an awesome 5.9 called J. Crack and a 5.10c called Fat City. I also like to hike the four-mile trail around Lumpy Ridge for the views of Longs Peak." When Brown craves quesadillas, she heads to Ed's Cantina & Grill, in town, a favorite hangout of resident climbers like Beth Rodden, 25, and her 26-year-old rock-star husband, Tommy Caldwell. "Estes is about escape," says Rodden. "You can just run into the mountains and play your heart out." Rocky Mountain National Park, 970-586-1206; Estes Park visitor information, 800-443-7837.

Pony Express
a guide to summer

HALFWAY TO CAPE CANAVERAL:
From left, Ryan rides shotgun in boardshorts ($56) by
O'NEILL
and
OAKLEY MONSTER DOGGLE
sunglasses ($145), while Blake sits at the helm in
PATAGONIA
boardshorts ($45).
This year, an icon of American cruising revs back into action in a major way. We're talking about the FORD MUSTANG CONVERTIBLE GT, a retro-styled muscle car that feels like freedom even when it's just sitting in the garage. Drop the top with the push of a button, slap on some SPF 30, and turn the ignition. The 300-horsepower V-8 doesn't simply roll over; it rumbles, and its giddyup will fairly launch you out on the summer highway. That much is to be expected. What's new is the tight handling: Just think about changing lanes or charging into a tight corner and the Mustang seems to do it for you. The easy maneuvering's a nice feature for the curves of California's Highway 1, but keep your eyes on the road when you pass a congregation of head-turning bodies at the beach or you might tug yourself off course. Better to save your people watching for a stoplight—all the better, of course, for people to watch you. Models with V-8 engines from $29,995; www.ford.com
You Can Dig It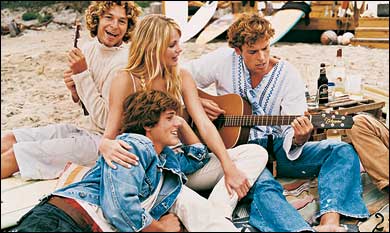 For prime seafood with a stellar view, skip the restaurant lines and shovel up a surfside clambake. We tapped Bill Hart, executive chef of the legendary Black Dog Tavern, on Martha's Vineyard, for info on how to do it up right. First, make sure fires are legal on your beach—chances are you'll have to get a permit. Then dig a square pit in the sand, two and a half feet deep and three to four feet wide. Line the bottom with fist-size rocks and toss in some firewood. (If you're looking for a tinge of sweet in your bake, try cherry or apple wood.) Let your fire burn for about two hours—until the wood is gone and the rocks sizzle when sprinkled with water—before adding a layer of store-bought fresh seaweed. Now lob in your grub: For ten hungry beachgoers, that'd be 20 whole red bliss potatoes, eight to ten Spanish onions (halved), ten ears of corn (husks and all), ten links of linguica sausage, ten lobsters, and three to four pounds of mussels and clams—Hart recommends steamers and littlenecks. Cover it all up with more seaweed and a board laid across the top to lock in the steam. The rest is easy: Shoot the breeze for the next two hours until the clams have opened up (any that haven't are bad). Slip on your oven mitts, pull out the goods, and serve 'em up with lemon wedges and melted butter.

Cheap Date
Summer My Way
"This is my favorite style of summer camping: high in Wyoming's Wind River Range. No tent, no bivy sack—just a bag laid down in a flowering alpine meadow. Violent thunderstorms pass through in the afternoon, cleaning the sky, so nights are thick with stars. In the morning, pink light floods the granite walls and you can almost believe there's a God."—Outside Hard Way columnist Mark Jenkins

Three thousand dollars might seem a little steep for one night in sleepy little Rhinebeck, New York, but I managed to spend it. The reason for the exorbitant fee: I had paid for half of a three-bedroom cottage from Memorial Day to Labor Day (or MD–LD, in classified-ad parlance) and slept at the house exactly one time.


I should have known in March, when my friend Ben and I drove around with Hairsprayed Realtor Lady, that my vacation venture was doomed. The house we rented was sweet-a gray-shingled Cape on three acres of gently rolling hills-but the interior was littered with ladybug exoskeletons. If shiny, rosy ladybugs are cheery good-luck symbols of summer, shouldn't their postmortem husks be considered bad juju?


I opted to overlook the omen and signed the lease. We signed partly because the realtor's M.O. was to make us believe that this house was the only good one left. We also signed because each of us had recently been dumped, and renting a summer house was a way of getting on with our lives in a screw-all-y'all kind of way.


We drove back to the city, and in the ensuing months I would imagine scenes from my coming summer in mellow, low-key Dutchess County: I'd be strolling down the sun-dappled dirt driveway, stopping to eat wild blackberries right off the bush, clearly recovered from my breakup.


As it happened, when "MD" rolled around, I was still lonely and sad, and Ben had gotten all hot for a woman whose friends were also coupled up and on the docket for Hudson River Valley fun. A few Saturdays, I drove up to Rhinebeck but, feeling like the seventh-person sourpuss along on a triple date, drove back to the city before bedtime.


Right around the time I watched Ben and his girlfriend drive off to a sunset wine tasting, I realized that my sun-dappled summer was not to be. And so, near the very end of August, I forced myself to actually sleep there, to get my alleged $3,000 worth. It didn't even come close.
Lazy River
It's no secret that Boulder, Colorado, offers the best urban inner-tubing in the States, possibly the universe, as locals cool down and bruise themselves "floating" more than a dozen drops of Boulder Creek between Eben G. Fine Park and the take-out of choice, beside the downtown library. These rapids range from tame sluiceways to a shoulder-high waterfall, where teens chill out watching sorority girls lose their bikini tops. Here's how to tube it right. 1) Get your puncture-resistant, Barcalounger-size radial inner tubes for $12.50 at the streamside Conoco on Broadway and Arapahoe. 2) Sneakers, everyone! If sandals sufficed, you could grab any number washed up on shore. 3) Hide a six-pack of something frosty near the take-out's sunny south steps. Beer is illegal in Boulder's parks. Never, ever hide beer. 4) Launch! Feet first, butt up, valve stem down. 5) Warning: That guy over there is probably urinating in his surf trunks right now. Don't swallow the water. 6) Butt up! 7) After a big drop, plunge your ankles in to catch the downstream current and get dragged away from the froth. 8) Steer clear of the man snorkeling for sunglasses, the bamboo-flute-playing hippie standing midstream, and the marauding gang of boys on boogie boards. Those practicing tai chi under the maples are generally nonthreatening, but you can't be too careful. 9) Relax your butt. The second half is a mellow drift through a tunnel of cottonwood trees. Can you taste the ice-cold Fanta?

Summer Essentials
summer style

DRIFT ON IN:
The photographs on these pages were shot surfside at Cocoa Beach's landmark 1912 Driftwood House. Owner Rob Sullivan, a local board shaper, runs his surfboard and clothing company, Driftwood, out of the vintage structure.
HOUSE PARTY: From left, on Blake, vintage shirt by MELET MERCANTILE; jeans ($108) by LUCKY BRAND JEANS. On Brandy, camisole top ($198) and leather pants ($1,198) by RALPH LAUREN BLUE LABEL. On Ryan, vintage T-shirt by MELET MERCANTILE; button-up shirt ($50) by WRANGLER JEANS; suede pants ($695) from POLO BY RALPH LAUREN; flip-flops ($15) by HAVAIANAS. On Victoria, crochet top ($98) and jeans ($165) by RALPH LAUREN BLUE LABEL. On Mike, sweater ($150) and cargo shorts ($85) from POLO BY RALPH LAUREN; boots ($110) by NIKE. On Nick, vintage jeans jacket by LEVI'S; vintage T-shirt by MELET MERCANTILE; cargo shorts ($85) from POLO BY RALPH LAUREN; flip-flops ($12) by HAVAIANAS. On Katie, vintage poncho and necklace from POLO BY RALPH LAUREN; jeans ($92) by LUCKY BRAND JEANS.


Essential Summer: Liquid Refreshment

Forget the apple martinis. Parallel-park your sloop between the million-dollar yachts at the wharf at Sam's Anchor Café, in Tiburon, on the sunny north side of San Francisco Bay, or mix up your own tangy glass of SAM'S PINK LEMONADE:
1 1/4 oz citrus vodka
1 1/4 oz 7Up
1/4 oz fresh lemon juice
1/2 oz sweet-and-sour mix
1 oz cranberry juice
Serve on the rocks in a 12-oz glass with a twist of lemon.

—H. Thayer Walker





Wheels Up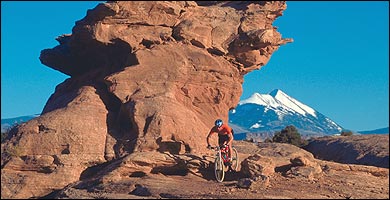 With enough vertical feet and hundred-mile views to keep your blood pumping for a week, the Telluride-to-Moab mountain-bike route stands handlebars and stem above your usual summer ride. Operated by privately owned San Juan Hut Systems, this 215-mile route lets you and up to seven pals pedal from the San Juans' 14,000-foot peaks and spruce-carpeted slopes down to the twisting canyons of Utah's red-rock country. No need to pack heavy—each night you'll stay in a one-room wooden hut stocked with sleeping pads and bags (just bring your own liner) and enough bacon, eggs, pasta, and beer to keep everyone in the group satisfied. The seven-day, six-night route—which follows mostly doubletrack fire roads—is open every summer from June 1 to October 1 and costs $553 per person. Go between mid-June and early July, when storms are less likely, and you can catch the lupines and Indian paintbrush in bloom. On the final descent into Moab, opt for the more challenging Porcupine Rim Trail, then stash your bike and head over to the Moab Brewery for a patio pint of Dead Horse Ale and a view of the La Sal Mountains, which cradle the last of the hard miles you just rode. 970-626-3033, www.sanjuanhuts.com

Sweet Freedom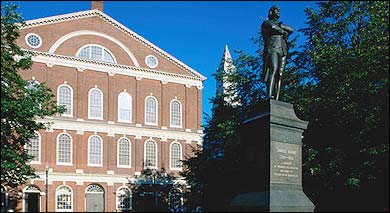 Boston, MA
Boston calls itself "headquarters for America's biggest Independence Day party," and we have to agree. The free, all-day extravaganza draws upwards of 700,000 to the banks of the Charles River. The Boston Pops performs, fighter jets buzz overhead, and—for the finale—17,500 pounds of pyrotechnics are launched into the sky from barges. Best seat in the house? Why, the bow of your boat, of course. www.july4th.org

Galena, IL
Birthplace of Ulysses S. Grant, this hilly river town of 3,500 kicks off the celebration with a morning parade, just like any small town should, followed by rooftop parties, wine-and-cheese tastings, live music, art exhibits—sponsored by local merchants—and, at dusk, a patriotic sound-off in the midwestern sky. www.galena.org

Telluride, CO
Declare your independence at Telluride's fiercely funky parade, in which locals and visitors march, ride, skate, gallop, and dance down Colorado Avenue in homemade costumes (picture risqué cowgirls and dancing superheroes). After the local firefighters' ribs-and-roast barbecue, enter the pie-eating contest, then burn it off during the sack races. At sunset, lie back on the lawn—there's nothing like fireworks against all the purple mountains' majesty. www.visittelluride.com

The Beach Rx
Summer My Way
"When I was a kid, I lived at the Grant County Fair in John Day, Oregon. I won my first bull-riding event there—I was probably 12 years old at the time. I knew I wanted to ride bulls, and when I actually won, I was overwhelmed with joy. My dad still wears that belt buckle."—Dustin Elliott, 2004 Professional Rodeo Cowboys' Association World Bull-Riding Champion

While camping on what is now my favorite beach, I once stepped on a scorpion.


I was alone in Cayo Costa State Park, a barrier island of sand and palms about 100 miles south of Tampa, Florida. I rushed to my boat, then to a neighboring island restaurant, where I called the only doctor I knew. It was a Sunday, near midnight.


"Is there much pain?" he asked.


Nope, the slight burning sensation had faded.


"Any dizziness? Uncontrollable salivation?"


It was a scorpion, I reminded him. Not a werewolf.


His indifference changed to irritation. "Did the scorpion sting you on the tallywhacker?"


Was the man drunk? "No!" I snapped. "Didn't I just tell you I stepped on it?"


"Yes, but I'm a urologist. So why the hell are you bothering me at this hour?"


Return to my camp, the doctor advised, and administer alcohol and ice.


It is a wonderful thing to sit alone on a beach, on a starry night, with nothing to do but drink a thermos of margaritas as prescribed by a pissed-off physician.


Filtered through tequila, a beach becomes more than a percussion skin for waves. This particular beach is many miles long and shaped like a new moon, a convex curve extending into the Gulf of Mexico. My camp spot was at the island's narrowest point. It was an isolated place with no docks and no homes, centered on a fragile land break bordered by sea, and thus more intimately connected to a wider world. But this small section of beach was now linked to my own small history.


The scorpion was not my last intimate encounter on this beach. My wife and I returned often to that camping spot. Our sons learned to snorkel there. They learned to throw a cast net and how to build a fire that's good for frying fish.


Both sons-out of college now-still camp there. It remains my favorite place to go for a solitary jog or swim.


Cayo Costa State Park offers primitive cabins ($30 per person per night) and tent camping ($18 per site per night); rental information, 941-964-0375
Rapid Transit
Flush with western Montana's signature sapphire runoff, the upper Middle Fork of the Flathead is the best float trip you've never heard of. Geography is the Flathead's own permit system—the put-in is tucked away in the Great Bear Wilderness, south of Glacier National Park—so traffic is limited to those willing to fly a Cessna 206 into Schafer Meadows' backcountry airstrip from Kalispell or horsepack their gear six miles along Granite Creek to the put-in. The river is narrow and steep, meaning you'll want a slim sports car of a raft and heads-up guiding to make a clean run through four days of Class IV rapids to the take-out at Bear Creek. You'll camp in Douglas fir and lodgepole pine forests surrounded by the jagged peaks of the Flathead Range, pick rising 20-inch cutthroat out of the herd with a dry fly, and hike to Castle Lake and the cirque-born waterfall that feeds it. The best whitewater is before July, but the fishing peaks later that month during the caddis-and-stone-fly hatch. Four days, $1,095 ($100 extra for horse-packed trips); Glacier Raft Company, 406-888-5454, www.glacierraftco.com

The Last Picture Show
a guide to summer

Watch movies under the stars with HP's ep9010 Instant Cinema Digital Projector. The unit combines a DVD player, a DLP front projector, and a booming sound system and throws a nine-foot image onto any handy garage door or brick wall. $2,000; www.hp.com

WHERE TO FIND IT: DRIFTWOOD, www.driftwoodhouse.com; HAVAIANAS, www.havaianasus.com; JET, 323-651-4129; LEVI'S, www.levi.com; LUCKY BRAND JEANS, www.luckybrandjeans.com; MELET MERCANTILE, 212-925-8353; NIKE, www.nikeconsidered.com; OAKLEY, www.oakley.com; O'NEILL, www.oneill.com; PATAGONIA, www.patagonia.com; POLO, RLX BY RALPH LAUREN, and RALPH LAUREN BLUE LABEL, www.polo.com; POLO JEANS CO. RALPH LAUREN, www.polojeans.com; R BY 45 RPM, www.45rpm.jp; RH VINTAGE, www.ronherman.com; RIP CURL, www.ripcurl.com; ROGAN, www.rogannyc.com; ROXY BY QUIKSILVER, www.roxy.com; TRACY FEITH, 323-655-1444; WRANGLER JEANS, www.wrangler.com CREDITS: Stylist: Deborah Watson; Prop Stylist: Forest Watson; Hair: Moiz Alladina for Stephen Knoll Salon; Makeup: Teresa Pemberton/Judy Casey; Production: hgproducers.com