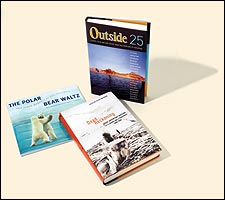 Heading out the door? Read this article on the new Outside+ app available now on iOS devices for members! Download the app.
THE FOUNDING FISH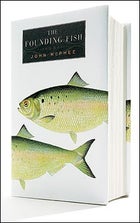 Eric Swanson

Eric Swanson
BY JOHN MCPHEE
(Farrar, Straus & Giroux, $25)
MCPHEE ON SHAD—what could be better? Famous for luring readers deep into surprising and esoteric subjects, from Florida citrus (Oranges, 1967) to the Swiss Army (La Place de la Concorde Suisse, 1984), John McPhee took a long break from such topics to complete his broad geological history Annals of the Former World, which won the 1999 Pulitzer Prize. Now America's best-known natural history stylist has returned to his literary headwaters in The Founding Fish, a portrait of Alosa sapidissima, a.k.a. the American shad—a bony but tasty relic of the Cretaceous period whose prodigious spawning runs up eastern rivers helped build the Colonial economy. Though dams and dirty water have much reduced its numbers, the shad is still with us; lately, in fact, its savory flesh and exquisite roe have made it the object of a cultish sportfishery and, McPhee suggests, a potential fulcrum for the ecological renewal of Eastern Seaboard waterways. An avid shadder himself, McPhee details his clumsy seven-year apprenticeship on the Delaware River, interweaving fish stories with his usual impeccable science reporting. Perhaps more than in any of his other books, he becomes a character himself: a fisherman whose skills are mired in "a zone of terminal mediocrity," a conflicted environmentalist pondering the nagging question of just how humane catch-and-release really is. "I'm a meat fisherman," McPhee concludes. "I think it's immoral not to eat a fish you jerk around the river with a steel barb through its mouth." Whether or not you agree, it's hard to dispute the larger point: that in putting his magnifying glass on this lowly fish, McPhee once again illuminates the sea of connectedness in which we all swim.
—Rob Buchanan


THE LION'S GRAVE

Dispatches from Afghanistan

BY JON LEE ANDERSON
(Grove Press, $24)
WHAT JON LEE Anderson delivers here is nothing short of miraculous: raw combat reportage composed with such grace that it's easy to miss the bullets whizzing by. The American journalist, author of 1997's Che Guevara, has covered wars from Angola to Uganda, filing reports that, like Ryszard Kapuscinski's before him, are as much literary travelogues as news dispatches. Last fall Anderson was one of the first foreign journalists to arrive in Afghanistan, where he penned some of the most memorable sketches of the war for The New Yorker. The Lion's Grave stitches those adventurous pieces into an on-the-fly portrait of rough geography and shifting alliances. With a bulletproof computer and a satellite phone, Anderson followed the front from the Northern Alliance base of Dasht-i-Qala to the Taliban stronghold of Kandahar. Along the way he captured details that hammer home the Taliban's absurdity and cruelty, from their bizarre execution methods to the pop cassettes found in the Land Cruiser of Mullah Omar, the man who outlawed music. The Lion's Grave has a hazy, unfinished quality about it, something a Pentagon officer might characterize as patchy intelligence; then again, Afghanistan offers nothing but. Whether Anderson is trudging over passes or rolling through bandit alleys, first drafts of history don't come any better.
—Bruce Barcott



POPULATION: 485

Meeting Your Neighbors One Siren at a Time

BY MICHAEL PERRY
(HarperCollins, $25)
AFTER 12 YEARS AWAY from his hometown of New Auburn, Wisconsin, registered nurse turned writer Mike Perry moved back, looking to reattach. Jumping right in, he joined the volunteer fire department. The VFD, he writes in his marvelous debut memoir, was a means of reentry, "of recapturing my sense of place one tragedy at a time." Perry lets us tag along to highway pileups and cardiac calls, producing the most fascinating look at another man's job since Thomas Lynch's mortuary memoir, The Undertaking. Think search and rescue is glamorous? Allow Perry to quash that notion. "Puke is the great constancy" in his profession, and he has grown adept at predicting it, dodging it, and containing it. In one scene, a sick mother heaves and triggers the rest of the family. "We see this sometimes," Perry explains. "It's what you call a sympathy puke." The book is not all emetic reactions, though. Perry celebrates the Pabst-and-string-cheese culture of northwestern Wisconsin in a familiar, easy tone. In the end the author finds that the ties he's seeking come at a high price. To truly live in a place, he writes, "you must give your life to that place." Perry does more: He gives life back to it.
—B.B.



To commemorate our 25th anniversary, Outside Books/W. W. Norton is releasing three new titles that celebrate the best of the wide, wild world. OUTSIDE 25: CLASSIC TALES AND NEW VOICES FROM THE FRONTIERS OF ADVENTURE ($26) picks up where our previous anthologies—Out of the Noosphere and The Best of Outside: The First Twenty Years—left off, collecting some of our favorite recent gems: Tim Cahill on Mali's forbidden salt mines. Sebastian Junger on the Caribbean's last harpooner. Paul Theroux on kayaking the Philippine isle of Palawan. Plus 27 more great writers.


We're also bringing you those writers' literary ancestors in DEAD RECKONING: GREAT ADVENTURE WRITING OF THE GOLDEN AGE OF EXPLORATION, 1800-1900 ($30), the sequel to our acclaimed 20th-century anthology, Points Unknown. Edited by Helen Whybrow, Dead Reckoning collects travel writing's earliest and grittiest, from Lewis and Clark and Sir Richard Burton to George Melville, who lived on deer offal for three years after his ship wrecked off Siberia, and Robert Louis Stevenson, who trekked the Cevennes with only a donkey and a leg of mutton.


Finally, THE POLAR BEAR WALTZ AND OTHER MOMENTS OF EPIC SILLINESS ($16) gathers the best Parting Shots, our classic final-page portraits of nature at her most flamboyant, offbeat, and outrageous. As our 25th anniversary year winds to a close, we hope youÕll stow these collections in your pack, under your bow, or on your donkey and take off for the far horizon.
Trending on Outside Online