Garlic Fights Bacteria
But you'll need to eat a lot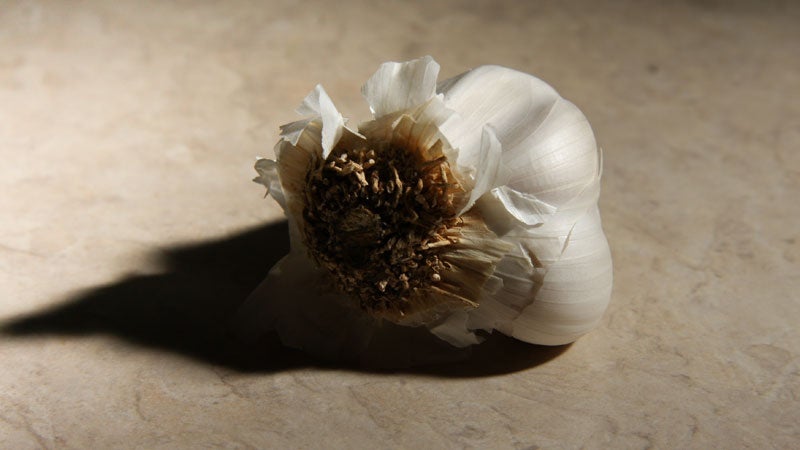 Heading out the door? Read this article on the new Outside+ app available now on iOS devices for members! Download the app.
Garlic, the mighty plant that has been known to overpower taste buds and vampires across the world, has a new utility. A potent chemical compound in garlic bulbs could combat aggressive multiresistant bacterial infections, according to the thesis of a doctoral student at the University of Copenhagen's Faculty of Health and Medical Sciences.
"There is a potent chemical compound in the garlic plant that neutralizes resistant bacteria by paralyzing their communication system," says student Tim Holm Jakobsen. "Ajoene—the substance present in garlic—specifically prevents the bacteria from secreting the toxin rhamnolipid, which destroys white blood cells in the body."
Let's decode that: A chemical found in garlic can prevent bacteria from killing off white blood cells, the immune system's most important tool.
Typically bacteria clump together and form a biofilm composed of organic materials and resistant to antibiotics. Jakobsen explains that antibiotics and ajoene—the chemical in garlic—have little effect on biofilm independently. But when used together, the chemicals are extremely effective, killing as much as 90 percent of the biofilm.
Jakobsen's findings mark the latest example of scientists finding new medical uses for substances found in the natural world. For example, taxol from the yew tree is now used in breast cancer treatments. This fresh research about garlic could provide a major medical breakthrough for effectively treating serious bacterial infections throughout the world, including in poverty-stricken regions.
Still, don't think an order of garlic fries will cure your next cold.
"Garlic contains so little ajoene that you would need to eat around 50 a day to achieve the desired effect," Jakobsen says. "This means we have to pick up the ball from Mother Nature and run with it."