Goal Zero Gets Gobbled Up by Big Energy
What's next for the maker of portable solar products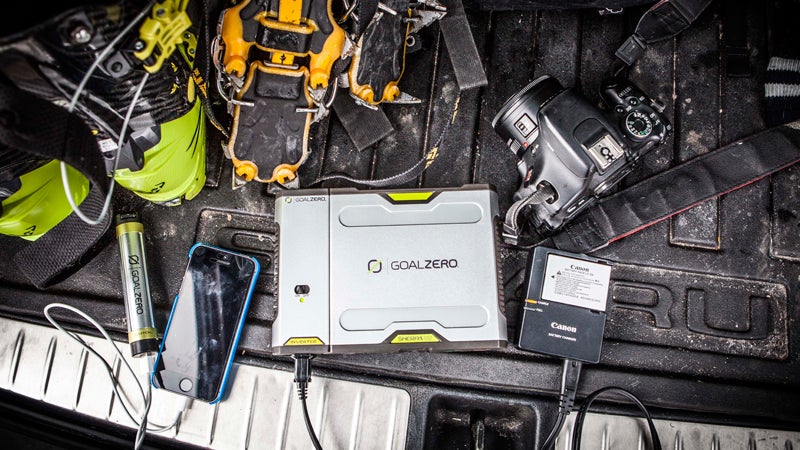 Heading out the door? Read this article on the new Outside+ app available now on iOS devices for members! Download the app.
One of the country's largest independent energy companies, NRG Energy, just bought Goal Zero, officials announced Thursday. 
The Fortune 250 company is entering the mobile solar business after acquiring the portable solar start-up for an undisclosed sum. Goal Zero makes solar battery packs that can keep your GPS charged from your backpack, in addition to emergency and backcountry generators.
"[Goal Zero] makes really cool solar-driven portable products that anyone with a little bit of cash can afford and will find use for, and it allows us to expand the opportunity of solar," NRG CEO David Crane told the New York Times. "Our ultimate goal is to energize people wherever they are."
Wholesale energy distributors like NRG have struggled due to the growth of distributed generation (using small renewable power sources to make energy on-site) and smart products that help consumers create their own energy. By launching divisions devoted to helping customers do just that, Crane is hoping to get ahead of the competition.
"What Crane is betting on is a more decentralized power system where the company whose wire comes into your home is less important than the one which actually creates your power, which could be done directly or through an equipment lease," TheStreet.com writer Dana Blankenhorn wrote earlier this month.
What does this mean for Goal Zero, the company that grew from humanitarian efforts in the Democratic Republic of Congo? With NRG's resources, the company's products might expand beyond the adventure sports and camping niche, says Crane. We could also see its technology find its way into other, bigger applications—like a solar-powered ski gondola that would charge your phone between runs. We can get on board with that.
Lead Photo: Courtesy of Brody Leven/Goal Zer