These Adaptive Hikers Want More Accessible Trails
He's the legs, and she's the eyes. Together they're bagging peaks and working to make the outdoors more widely accessible.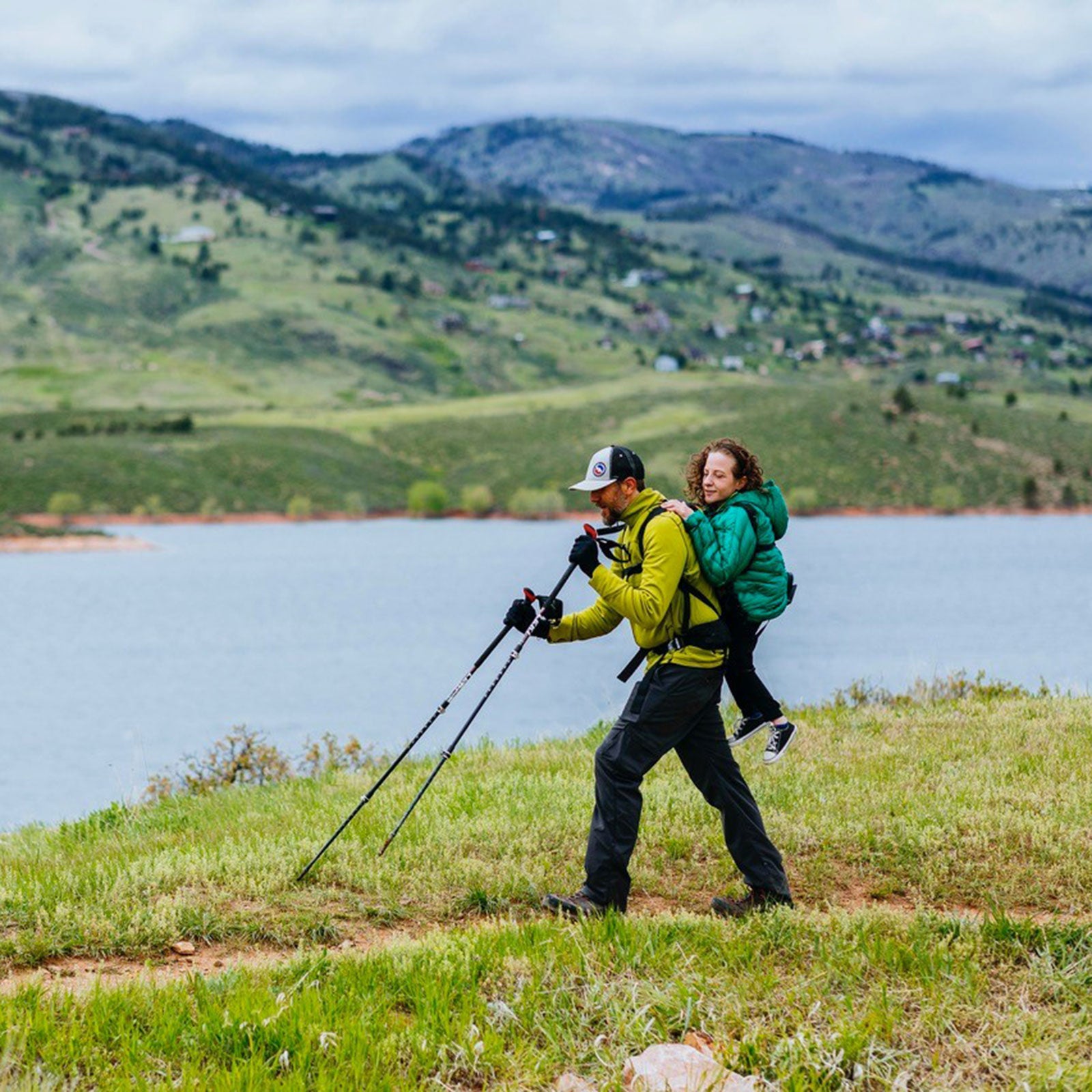 Heading out the door? Read this article on the new Outside+ app available now on iOS devices for members! Download the app.
Trevor Hahn, 42, had just returned from a trip to Nepal. There he first lent a hand at a Katmandu orphanage, then joined an adaptive hiking team summiting Gokyo Ri, a 17,500-foot Himalayan peak.
Hahn, an artist who grew up hiking and rock climbing in his native Colorado, lost his sight to glaucoma five years ago. He made it up Gokyo Ri with the help of trekking poles and teammates who rang a bell and used spoken directions to orient him. He avoided altitude sickness and struggles that others on his team experienced, but he still worried he hadn't pulled his full weight on the trek.
"I felt like I was more of a responsibility for the rest of the team," he told me via Skype. "I didn't feel like I had a bigger purpose on the hike, which has always been important to me."
One Saturday last fall, Hahn found himself lamenting this fact while watching a Colorado State football game at home with a bunch of friends; he and his wife, Mandy, had invited a group over, and among those in attendance was Melanie Knecht. A 29-year-old music therapist, Knecht was born with spina bifida, a neural defect that requires her to use a wheelchair. She and Hahn had met at an adaptive boxing clinic in Fort Collins a few months earlier.
Like Hahn, Knecht grew up camping and adventuring outdoors. In 2012, she traveled to Easter Island, off the coast of Chile, with a friend. She knew there was no way she'd be able to get around the Moai statues in her wheelchair, so she persuaded her friend to carry her in the kind of pack parents often use to schlep around small children. It got the job done—sort of.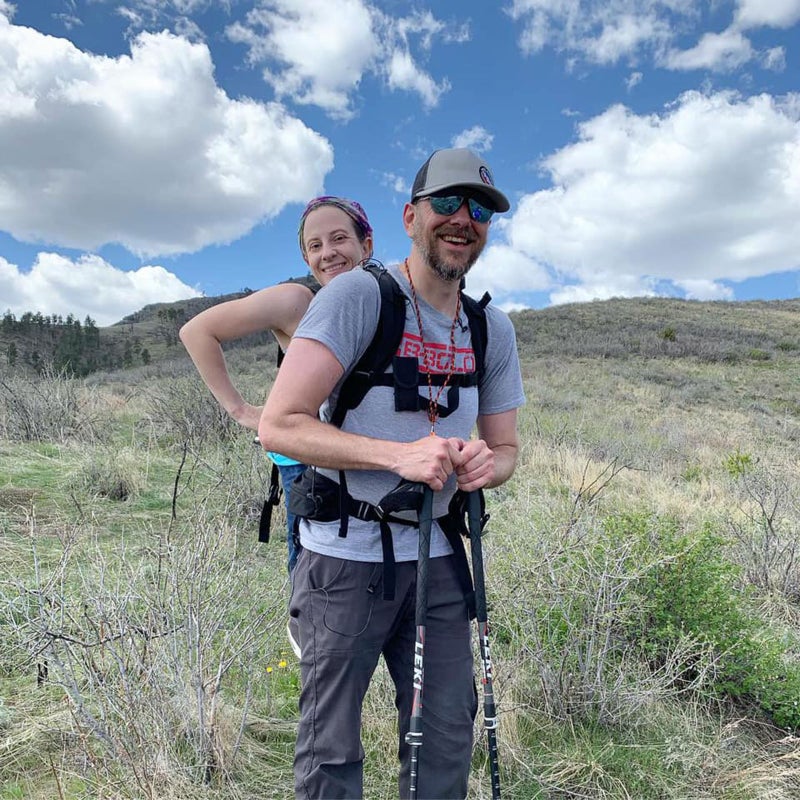 That friend, who Knecht describes as "an older guy," had a hard time with the added weight. And Knech, meanwhile, was crazy uncomfortable.
"The pack we used was shit," she says. "It was clearly made for a toddler. I'm tiny, but I'm not a toddler. I have boobs, which the designers of those packs clearly didn't plan for."
But she kept the pack anyway, figuring she could tough it out again on future adventures if she found a fitter, younger guy to carry her.
While watching the football game together, as Knecht heard Hahn talk about his Nepal trip, she quickly realized he was just the guy she had been looking for.
He agreed. "I've always believed that I can be the legs for someone if they can be my eyes," he says.
Knecht, who is also a professionally trained singer, can belt it out for hours. And she is the queen of imaginative invectives. In other words, she was born to play the role of Hahn's navigator.
He agreed that her original pack was shit and began researching better alternatives. Eventually, he found his way to Freeloader, a portable-carrier company, which donated a larger and much more comfortable pack.
Next, they publicly announced their first major goal: to bag at least one of Colorado's 14,000-foot peaks this August, maybe even Mount Elbert, which at 14,440 feet is the state's highest.
"To us, teaming up to do this just seemed like common sense," says Knecht. "If two people who have a crazy idea find each other, it's not crazy anymore. It's just an idea."
They've spent the past few months taking increasingly longer training hikes and developing their own communications system.
Knecht is quick to admit that, while she's spent her whole life outside, she never learned to differentiate between scree and slab. So she's invented her own glossary for natural features and obstacles, using terms like "baby head" and "iceberg" to describe different sizes of rocks that may trip up Hahn. Drop-offs are also graded, either as "death" or "hospital," depending on the consequence awaiting them if they tumble.
As for training, getting around in a wheelchair is a fitness project in and of itself.
"Basically, my whole life is a training regimen," laughs Knecht.
When he's not making art, Hahn spends much of his time snowboarding or biking. He's a superfit guy who has always preferred being on a rock face to an indoor gym. But he's added an upper-body weight routine to help build his shoulder strength so he doesn't get tired as quickly.
"That's the human spirit," Hahn says. "If you want something bad enough, and you find the right people who also want what you want, you can do anything."
Hahn and Knecht have launched a Facebook page and an Instagram account, both under their project name: Hiking with Sight. A major aim for both is raising awareness about the lack of accessible trails for those with disabilities, in the U.S. and around the world.
"There's still so much exclusion for people with different abilities who want to get outdoors," says Knecht. "Do we still really believe that people in wheelchairs don't want to be on the top of mountains?"
Both she and Hahn say they're OK with people appreciating the fact that they've found a way to make that happen. And you can call them badasses or even think that they're empowering—but whatever you do, don't call them inspirational.
"I've always hated it when I'm out snowboarding and someone shouts down from the lift to tell me that I'm inspiring," Hahn says. "It can feel demeaning. You'd never say that to someone shredding the mountain who can see."
As far as he's concerned, everyone's life is ultimately about figuring out your own capabilities.
"That's the human spirit," he says. "If you want something bad enough, and you find the right people who also want what you want, you can do anything."
Knecht agrees. She'd like to see an end to what she calls "inspiration porn."
"I've always hated being seen as the woman in the wheelchair. I want to be seen for my accomplishments alone and not through an ableist bias."
Last month, the duo attended an adaptive sports summit at Lake Tahoe, California, sponsored by No Barriers. While there, Hahn tried out whitewater paddling and sea kayaking, and Knecht discovered she's lousy at archery but has a mean karate chop.
The best moment of all, though, was when she heard a couple of other participants gossiping about her.
"They called me 'that fit brunette,'" says Knecht. "That felt pretty great."
Lead Photo: Melanie Knecht and Trevor Hahn