Sponsor Content: COLUMBIA
America's Best Long(ish) Hikes
Don't have time to hike the AT? Try one of these instead.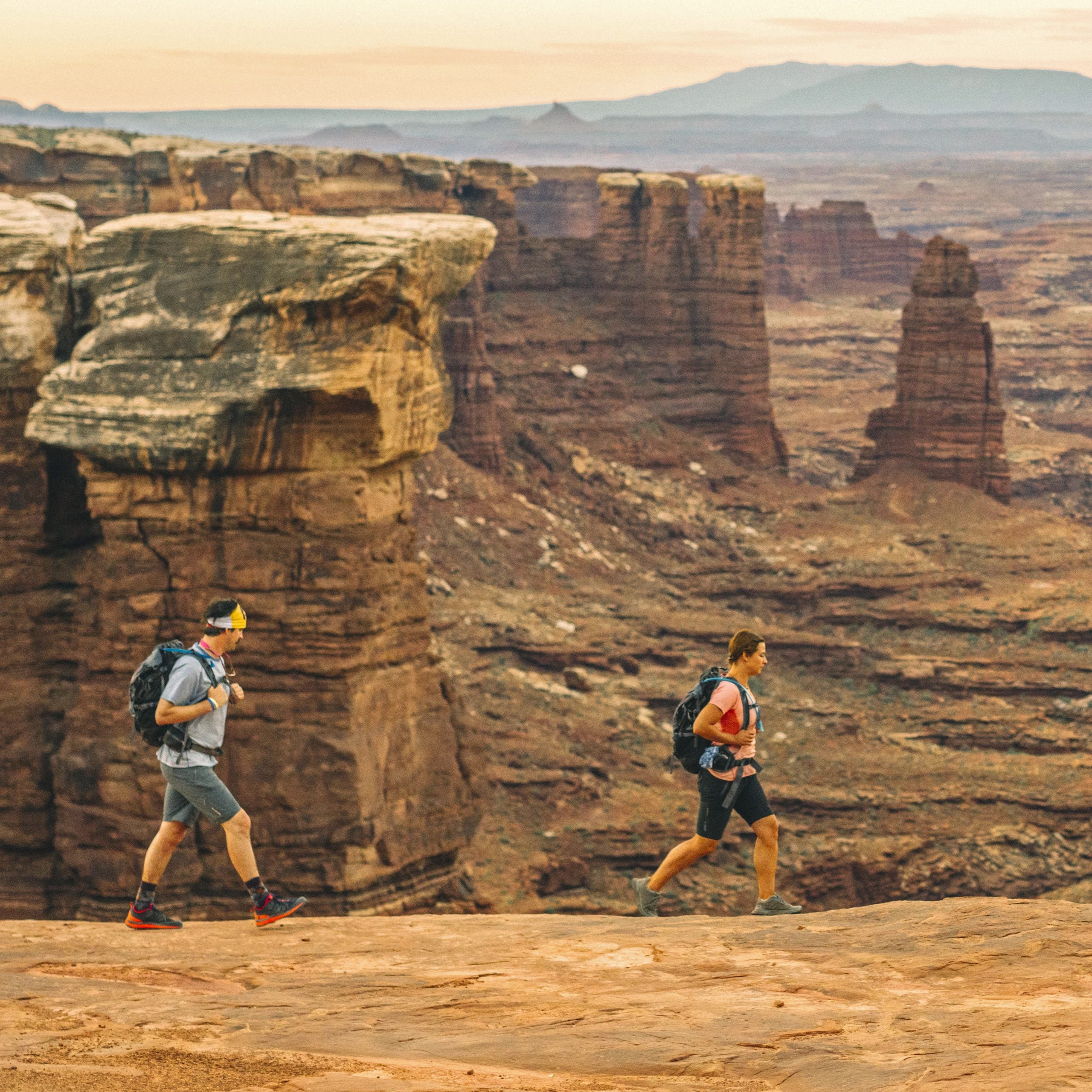 Hiking one of the big daddy through-hikes—the Pacific Crest, Continental Divide, or Appalachian Trail—sounds dreamy … if the boss gives you six months of paid vacation. And while weekend trips are great, it can be hard to relax, ditch the crowds, and get into trail mode if you only have one or two nights. But there's another way: take a few days off work and tackle a section of one of these mid-distance trails.
Utah's White Rim Trail
Located in the Island in the Sky district of Canyonlands National Park, the 100-mile White Rim Trail traverses a "white rim" layer of desert sandstone. With mind-blowing views of red rock cliffs above and spectacular canyons below, it weaves past arches, towers, and otherworldly rock formations. It's usually done by mountain bike, on a four-day, van- or four-wheeler-supported trip, but it can also be hiked. Columbia ambassadors and old friends Paddy O and Lauren did it this past July. The sun's "mega rays of hatred" nearly killed them—and made for a hilarious, if ill-advised, adventure (see "The Best Bad Idea," above). Our advice: go in early May or October—and consider pedaling instead of hiking.
Essential Gear: Columbia's Solar Ice™ Short Sleeve Shirt
The Solar Ice is cut from sun-deflecting (UPF 30) Omni Shade™ fabric, which is so effective at reflecting sunlight that it shimmers. Cool and silky, it feels good on your skin even in the desert. $75.
Vermont's Long Trail
This trail is nearly 300 miles from the Massachusetts state line through the heart of the Green Mountains to Canada—with another 166 miles of side trails. But for an attainable three-night trip, try "section four," which takes you from Killington to Waitsfield over 58 miles that includes a wilderness area. Seasoned fast-and-light through-hikers could knock it off in two to three nights; the rest of us should plan on three to four. "It's a remote and wild stretch that goes over two 4,000-foot peaks and offers some of the best views of the entire trail," says Amy Potter, with the Green Mountain Club Visitor Center.
Essential Gear: Columbia's Titan Peak™ Short
The Titan Peak™ shorts feature the same Omni Shade™ tech as the Solar Ice shirt, to fight heat and UV light, but in a burly four-way stretch fabric tough enough for deep-woods travel. $70.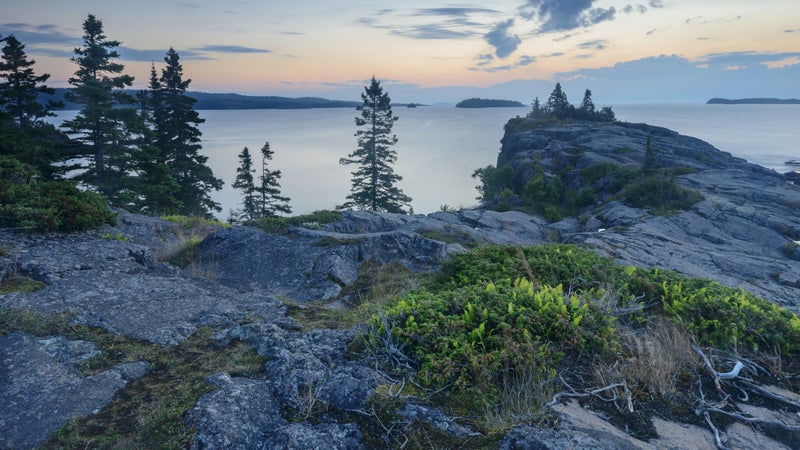 Minnesota's Superior Hiking Trail
Tracing the ridgeline above Lake Superior from Duluth to the Ontario border, the 277-mile Superior Hiking Trail is surprisingly rugged, traversing bluffs and cliffs along the spine of the ancient Sawtooth Mountains. There are some 30 trailheads and 80-plus campsites. If you only have a few days, check out the 34.5-mile section from Caribou Falls to Lutsen. The route gives you a good taste of the region, with sweeping views of the lake interspersed with lush forests of maple and basswood. One payoff among many is the series of overlooks from the Oberg Mountains. In the fall, it rivals New England for peak foliage.
Essential Gear: Columbia's PeakFreak™ XCRSN II XCEL Low Shoe
With streams to cross and waterfalls to explore, you need quick-drying waterproof yet breathable footwear—but not heavy boots. The PeakFreak™ shoes offer all that, plus grippy rubber soles and lightweight midsoles and uppers. $110.
Pinhoti National Recreation Trail
This 337-mile trail, which connects to the southern terminus of the Appalachian Trail, ambles through Alabama and Georgia, linking up sections of national forest and private land easements. The most rugged sections of trail are in Georgia, where there are 4,000-foot peaks and pine-covered ridges. The trail has tons of entry points and trail shelters, making it easy to knock off a few sections at a time. Our recommendation? Start at Springer Mountain, the famous starting point for northbound AT through-hikers, and head southwest.
Essential Gear: Columbia's Trail Elite™ 55-Liter Backpack
This light-yet-technical 55-liter pack is plenty roomy for multi-day treks and has all the necessary straps to make hauling your tent, sleeping pad, and extra gear easier than ever. Thanks to the Backdraft™ tensioned back panel, the bag is elevated off of your back for comfort and ventilation. Even better: The pack is compatible with a three liter water resevoir so you can stay hydrated while on the move. $209.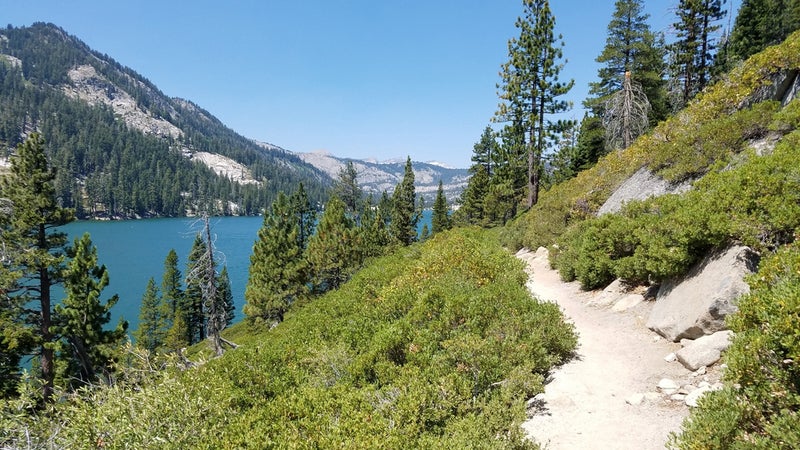 California's Tahoe Rim Trail
The full 165-mile circumnavigation of Lake Tahoe will take you two weeks–plus, over eight sections with ample ridgeline views of the bluest lake in the country. But for a Tahoe Rim sampler, take advice from Jason Layh, a buyer at Tahoe's Alpenglow Sports, and hike point-to-point from Big Meadows trailhead​ to​ Echo Summit. "It's a​ roughly​ 18-mile section that's incredible for wildflowers. Start​ at the Big Meadows trailhead, which is off ​of Highway 89, and wind your way through alpine forest and meadows that host a variety of flowers. When you reach ​Meiss​ Meadow​s and look south toward Red Lake Peak, you're ​viewing the top of the watershed," Layh says.
Essential Gear: Columbia's Solar Chill™ Hat 
Those looking for a go-to summer hat look no further. The highly-reflective Omni Shade™ Sun Deflector fabric offers a UPF rating of 50, and the moisture-wicking fabric will keep your head cool and protected on even the hottest of days. $30.
---
From the cutting edge technology found in Columbia's Omni-Shade™ sun protection to their innovative heritage in Bugaboo, Columbia's gear is tested tough so you can enjoy the outdoors longer. Learn more about their warm-weather, winter, or year-round products by visiting www.columbia.com.