Like the Appalachian Trail, But with More Stoplights
An energized group of explorers are bringing the spirit of wilderness through hiking to American cities. Record-breaking distance trekker Liz Thomas and others are altering how we see urban spaces and inviting folks new to the outdoors along for the fun.
Heading out the door? Read this article on the new Outside+ app available now on iOS devices for members! Download the app.
It's after sunset and we're somewhere near San Diego's Goodan Ranch Sycamore Canyon Preserve, about 135 miles into the San Diego Trans County Trail—a 155-mile route that winds through wilderness and state parks, then into the heart of the city. Liz Thomas and a few of her friends have been hiking and camping for the past five days. They started on January 10 at the Salton Sea, near California's Coachella Valley, and in less than 24 hours they'll finish at the Pacific Ocean via Torrey Pines State Reserve. I met up with the group just before noon to walk part of today's 27-mile stretch with them.
But we've hit a roadblock, literally. It's a four-lane highway that we'll need to cross and then follow in order to reach our final food stop of the day: a Costco off Scripps Poway Parkway. There's no great alternate route, and walking the narrow shoulder of a busy highway in the dark? Inadvisable.
"This is the urban equivalent of cliffing out," says Thomas as she and her friends consult various navigation apps and a map by headlamp.
Such are the risks of urban through-hiking, which entails piecing together 50 miles or more of footpaths through places never designed for trekking. Few do it better than Liz "Snorkel" Thomas.
Thomas was given the trail name Snorkel on the Appalachian Trail, after a night spent slumbering with her head inside her sleeping bag. (Condensation from her breath wetted out the interior.) She's best known for breaking the women's unsupported speed record on the AT in 2011 and for pioneering new long-distance wilderness routes, completing them quickly and often solo. But in the past few years, the 32-year-old Japanese American, who grew up in Sacramento, has picked up another title: Queen of Urban Hiking. She's the perfect ambassador, possessing serious cred, an uncanny navigational sense, a confident stride, and a quick-to-laugh manner.
Day hiking within city limits isn't a new concept, of course. There are guidebooks detailing trails in cities from San Francisco to Atlanta. But Thomas has pushed the pursuit further, mapping out routes as long as 200 miles from one corner of a city to another and using infrastructure like stairways and public art to rack up elevation gain and provide something approximating a vista. She started in 2013 with a 220-mile through-hike in Los Angeles called the Inman 300, named for one of its creators, Bob Inman, and the initial number of stairways it included. Among other efforts, she has since hiked 60 miles through Chicago, 200 miles in Seattle, and 210 miles in Portland, Oregon. In 2015, she trekked the 54 miles from Selma to Montgomery, Alabama, on the 50th anniversary of that historic civil rights march.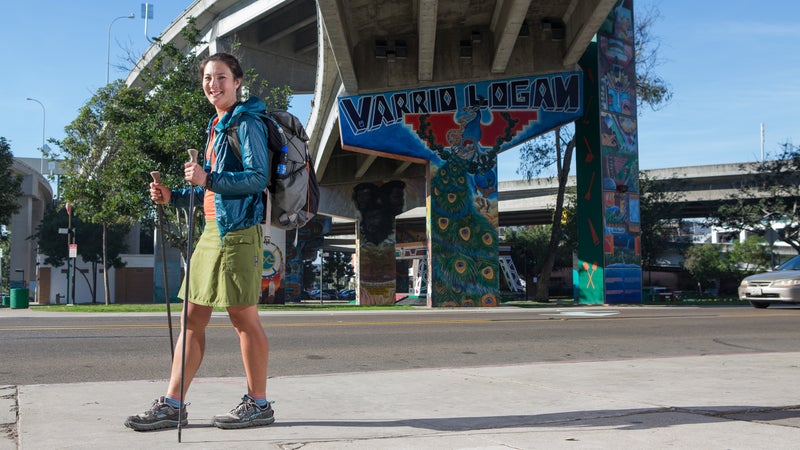 "After your first wilderness through-hike, there's this post-hike depression a lot of people go through, seeing this huge divide between living life on versus off the trail," says Thomas, who is five foot eight, has powerful calves, and is wearing a plaid shirt, an olive green hiking skirt, and bright orange sunglasses. "I know through-hikers who walk 200 miles every summer and in the off-season sit at their desk and don't consider walking their city."
Urban through-hikers are part of a larger national shift as outdoor recreationists ­expand the idea of what counts as adventure and people without ready access to wilderness—the majority of us—look for ways to participate. In the past few years, millions of dollars have been invested in climbing gyms, running and biking clubs have launched in seemingly every zip code, and meetups like Mappy Hour, GirlTrek, and Outdoor Afro, which bring together enthusiasts outside active adventure hubs, have expanded their ranks. Cities like Miami and Austin, Texas, have developed miles of green­ways—paths set aside for biking, running, and walking. Eventually, Austin plans to connect 400 miles' worth of regional trails.
Meanwhile, a small, ad hoc group of dedicated urban hikers have created routes of their own, the pinnacle of which are multi-day endeavors that take them far beyond the official pathways. They're slowly gaining converts via Facebook and shared GPS coordinates, and if their evolving definition of outdoor recreation goes mainstream, it could mean healthier cities for all of us. What if your entire city became your park?
---
Thomas's San Diego Trans County Trail group includes Whitney "Allgood" LaRuffa, Mike "Ayce" Unger, and Naomi "the Punisher" Hudetz. Before I meet up with them, they managed to tick off ten miles that morning. They requested that I bring snacks and drinks, and when I find them, in an agreed-upon tunnel, they collapse onto sleeping pads and demolish my offering of watermelon and Cheez-Its. "It's like feeding pigeons," Thomas says.
Now they've begun mentally moving on to the Costco, which is 17 miles away. "We're gonna make some bad decisions there," Thomas says.
The group chimes in. "Polish sausages!" "Salad. With kale." "A 12-pack of kombucha." "And then we hit up all the samples."
As we resume walking, it feels as though we encounter the urban equivalent of a new biome every hour. Leaving the tunnel, we see teens hiking in basketball shorts; then we wander hills dotted with building materials but no discernible construction. This feeds into a dirt road where we pass what sounds like a tropical-bird sanctuary before climbing a not-quite trail up a hill strewn with golf balls and rusted metal. At the top, we look down at a sprawl of trucks and shipping containers.
Full disclosure: today's scenery isn't particularly inspiring. Especially for this group, most of whom are triple-crowners, which means they've completed each of the three major wilderness through-hikes—the Appalachian Trail, the Pacific Crest Trail, and the Continental Divide Trail. This trip was an introductory taste of urban hiking for most of them. "We've taken an easy pace and longer breaks," Hudetz says. "It's been fun." LaRuffa adds: "It's an interesting way to see how cities treat their public lands and their urban interface."
At 7 p.m., we cliff out at the four-lane highway. Weighing our options, we decide to call it a night. It'll be safer for the group to find a new route in the morning. We pull out our phones, book hotel rooms a few miles away, and cram into a Lyft that carries us to an empty Indian restaurant in a strip mall.
Bail-out options like this are one major difference between urban and wilderness hiking. While the number of miles covered each day is similar—ranging from 15 to 30—lodging is usually a friend's couch or a hostel. Food is often from a corner store, a burrito joint, or the nearest all-you-can-eat restaurant. Resupply drops aren't really necessary, and the availability of public transit means you're never stranded. On this trip, the group camped five nights and stayed in a hotel one night. Navigation requires only a smartphone or GPS; Thomas uses the Gaia app.
Purists will scoff at the uncomplicated logistics, but Thomas isn't a snob. She doesn't see urban routes as second-class substitutes for wilderness. Cities have historical landmarks, murals, plenty of access to greenspace, and some of the country's 10,234 state parks. Urban through-hikes incorporate these elements. Sometimes they're mapped out with specific goals in mind, like Thomas's 100-mile Denver Brew-Thru, completed in March 2017, which hit 65 breweries in eight days.
"Urban hiking draws in this whole crowd of people who don't want to go into the backcountry, or do but can't get there," she says. Or they feel like they don't have the skill set for a multi-day backpacking trip or the cash flow for all the sleeping bags, camp stoves, and 60-liter backpacks. "It's a cool way to still explore," she adds. "There's a lot that's the same as wilderness hiking: mapping, exploration, meeting new people, seeing new things."
The best established urban hikes are currently out West, in cities like Los Angeles, Seattle, and Portland. The routes have one thing in common: lots of tall public stairways, a physically challenging feature. In fact, Thomas credits her discovery of urban hiking to a "renaissance of people who are super interested in stairways." Three such enthusiasts are Bob Inman, Andrew Licht­man, and Ying Chen, who together created the Inman 300, America's first urban through-hiking route, connecting about 350 public stairways in Los Angeles. Thomas was happily ticking off wilderness trails in 2013 when Lichtman reached out to her, hoping that the well-known hiker would bring some cred to the route as Inman worked on his Guidebook to the Inman 300. "It was my off-season, so I thought it could be training—and at least it was warm," Thomas says. "I ended up really liking it in a way I didn't necessarily think I would."
Thomas doesn't see urban routes as second-class substitutes for wilderness. Cities have historical landmarks, murals, plenty of access to greenspace, and some of the country's 10,234 state parks.
She completed the Inman in just over five days and enjoyed the experience of the neighborhoods melting one into the next as she trekked through them. Inman agrees. "I hate the different barriers that go up in this city, assumptions like, 'Don't go there, you'll be killed,' " he says. "It really isn't like that. Urban walking has a way of making the city seem smaller."
By speed-hiking and then blogging about new urban routes on her website (see "Go Your Own Way," right), Thomas has brought awareness of the activity to core hikers. But who she really wants to attract are folks who don't consider themselves hikers at all. Many of those people are among the 80.7 percent of Americans who live in urban areas, just a bus ride away from the next great concrete trail.
"Cities depend on flow," says Mindy Thompson Fullilove, professor of urban policy and health at the New School in New York City. "The more you get people flowing to places that surprise them, the healthier a city is going to be."
---
Thomas and her group finish their San Diego Trans County Trail hike the next day at 3 p.m., after winding through the suburban Sorrento Valley and Torrey Pines neighborhoods and traversing office parks and strip malls containing hookah bars and coffee shops. Just beyond marshy Los Peñasquitos Lagoon, they end up at the rocky shore of Torrey Pines State Beach, where Thomas snaps a selfie.
Plenty of serious hikers have caught the urban bug. Michael Yadrick, a plant ecologist living in Tacoma, Washington, put together a 65-mile route in Seattle with 15,000 stairs. Some ultrarunners have completed it in a day. Dan Koeppel, a writer who lives in Los Angeles, started running and hiking stairways to train for an attempt on California's Mount Whitney. From 2009 to 2015, he organized a two-day, 35-mile, multi-staircase L.A. hike called the Big Parade that eventually attracted hundreds of participants.
Koeppel tells people that to reach the highest level of urban hiking, they need to go on Google Maps and create their own route. "In a city, there are a million ways to get from point A to point B," he says. "You can choose the prettiest route, the fastest, the hardest. It's very creative and individualistic. It's kind of a radical idea."
While Thomas considers herself an advocate for better hiking access and more walkable cities, she also wants to show people just how much fun she's having—in February, she embarked on a 60-mile Brew-Thru of Bend, Oregon, that also targeted public art and landmarks—and that sidewalks can be just as meditative as trails.
"We don't need to divide up our world in terms of mountains being the place of solace," Thomas says. "If we lived in walkable cities, we'd start thinking of all places as places of solace."
Senior editor Erin Berger (@erineberger) wrote about Girltrek in May 2017. She once hiked 50 miles through St. Louis. Catherine Ledner is an Outside contributing photographer.
---
Want a Taste of City Hiking? 
Join a Group: Meetup, Facebook, and Gociety are a few good places to start. Looking to join an organized hike? Members of the San Diego Trans County Trail Facebook group plan a large group trek each winter and provide downloadable GPS files of the route.
Try a Known Hike: For options in Los Angeles, download Guidebook to the Inman 300 at outsideonline.com/inman300. Dan Koeppel keeps an archive of maps for many of his walks on Facebook, under the Big Parade page's events section. A map for the Seattle Stairway Foot Tour, a 65-mile route with 15,000 stairs, is available at outsideonline.com/seattle­stairs. Liz Thomas posts maps and information about through-hikes she's completed in Portland, Denver, and Chicago on her website at eathomas.com. And Mountaineers Books publishes a number of urban hiking guides, such as Seattle Stairway Walks. The Rails-to-Trails Conservancy, a nonprofit that advocates turning unused rail corridors into recreation trails, maintains the TrailLink database, which includes nonwilderness route options.
Piece It Together: Contact your local transportation bureau for walking or cycling maps. (Portland, Oregon, has superlative ones.) Then add elevation: the website Public Stairs has maps for dozens of cities. Connect everything using Google's My Maps feature, which lets you share routes.