The Thru-Hikers Who Finished the AT During the Pandemic
After months of trespassing and hiding from rangers, two hikers completed the Appalachian Trail in June. Their sagas raise questions about what it means to be outdoors in the United States right now.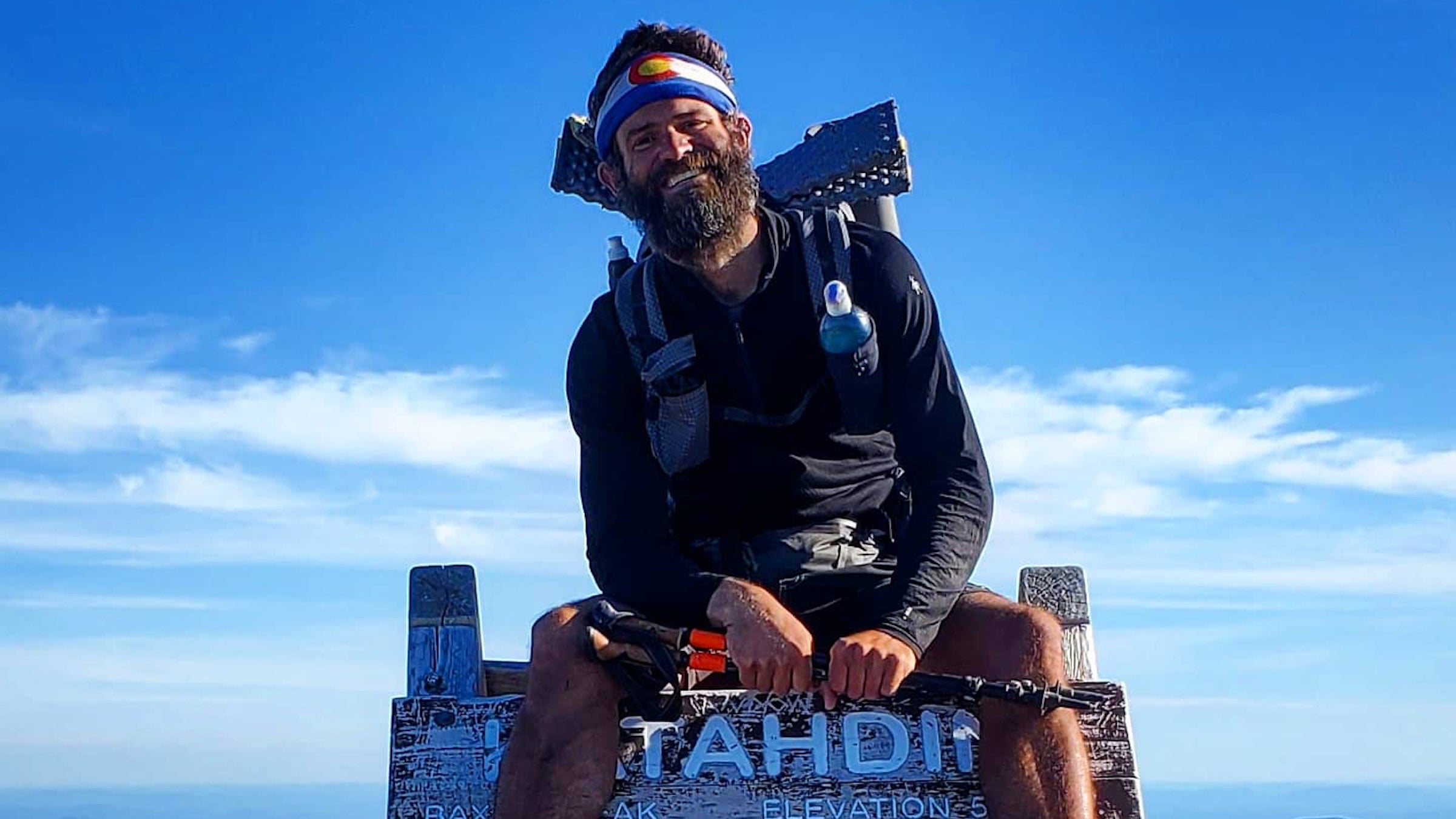 Andrew Underwood(Photo)
Heading out the door? Read this article on the new Outside+ app available now on iOS devices for members! Download the app.
Andrew Underwood knew that if he was going to finish the Appalachian Trail without involving the police, he couldn't afford to sleep in.
Over almost four months, Underwood—or "Denver," as he was dubbed early in the hike, after his hometown—had walked nearly 2,200 miles, climbed the equivalent of Mount Everest 16 times, and crisscrossed 14 states, from Georgia's Springer Mountain to the base of Maine's Mount Katahdin. During most of the trek, he'd surreptitiously defied local edicts prompted by the coronavirus. He'd occasionally lied or charmed his way out of possible legal binds to arrive, on June 16, at the end of the 100 Mile Wilderness, an isolated expanse of dense woods and arduous climbs that serves as the final gauntlet of loneliness and endurance for northbound thru-hikers. In a final ironic twist, the entire trail had opened the day before—except the last 5.2 miles up Katahdin, still closed by state mandate. It was all Underwood had left.
That evening, at the general store that divides the 100 Mile Wilderness from Maine's Baxter State Park, Underwood spent $50 on Mountain Dew, Snickers, Reese's Peanut Butter Cups, and an eight-pack of hot dogs. He told the leary cashier that he was waiting on a ride. Near dark, Underwood and two hikers he'd walked with since New Hampshire slunk into the Birches, a shelter normally crowded with thru-hikers on the eve of their final climbs but closed now during the pandemic. They woke at 2 A.M., devoured a few Pop-Tarts, and stumbled their way up the steep sides of Katahdin, using only the red glow of their dim headlamps.
On the crystal-clear but cold morning of June 17, at 6:34, Underwood became the second person (as best he can tell) to finish the Appalachian Trail in 2020. On the way down, a Baxter State Park employee reprimanded the trio with a reminder that the trails above tree line were closed. Smiling, he let them descend anyway.
"For the past three months, I thought Katahdin would be this emotional thing, that I would just be flooded with all the hard times, all the people who said 'No,' all the running and ducking, all the bullshit," Underwood said later that night, 14 hours after his climb. "And for two minutes, it was. But then it just became another mountain, like I was still stuck in the mode of, All right, I've gotta get miles."
---
Any other year, Underwood would be an early Appalachian Trail finisher, headed home before some had even started. But this year, during a season when thru-hiking ranks have been decimated by the coronavirus and resulting pleas from the Appalachian Trail Conservancy (ATC) to stay home, his accomplishment is both rare and illegal.
For much of his trek, Underwood defied mandatory self-quarantine orders in at least three states, slept in shelters that were shuttered, and trespassed on trails and through national and state parks. More than once, he retreated into the woods or onto the forest floor to avoid detection by people he assumed were forest rangers on the prowl. In the small southern Virginia town of Glasgow, Underwood—a 38-year-old, six-foot-five-inch white man with a degree in psychology—lied to a cop suspicious that he was a thru-hiker disobeying the governor's orders. As he waited in line for a cup of convenience-store coffee, she questioned him, so he insisted he was going to rent a car that very morning and head home. The encounter ended without incident. Underwood climbed into his shuttle back to the trail, coffee in hand. But for the rest of his hike, he kept his numbered blue Appalachian Trail hangtag, issued at the trail's start in Georgia, covered.
Given a pandemic that has prompted global travel bans, and a domestic foment stemming from centuries of racial oppression and inequality, Underwood's decision to press on along the Appalachian Trail highlights questions of privilege and pride that have long plagued the outdoor industry. "By hiking now, you have created a narrative that says, 'My personal needs and desires outweigh a greater societal mission. At the end of the day, what's really important is what I want,'" says Sandi Marra, the ATC's president and CEO.
For Marra, the pandemic and concurrent protests over racial injustice are timely reminders of entrenched patterns in the thru-hiking community—it remains, overwhelmingly, the domain of educated white men. (Rahawa Haile has written sharply about surviving those stereotypes for Outside.) Marra hopes the current national turmoil inspires potential hikers to reflect on how they can make outdoor spaces more inclusive and diverse. Part of that, she thinks, is cultivating an image that the AT is not a land of lawlessness, some place of unchecked white male privilege.
"What are you out there for? People say it's the experience or the trail or their mental health. But that comes with an obligation to treat the resource appropriately," Marra says. "We have to start taking responsibility for something outside of our own immediate desires."
---
The coronavirus began to concern Underwood before he even left his home in Colorado. Raised on the edge of the Cibola National Forest near Gallup, New Mexico, Underwood toiled in Permian Basin oil fields before relocating to Denver to live among more formidable peaks. He worked a desk job as a logistics coordinator at a trucking company. A lifelong hiker who has completed all but two of Colorado's dozens of 14,000-foot mountains, Underwood decided to undertake his first thru-hike after his father, battling health problems, urged him not to wait for old age.
But by mid-February, the pandemic seemed to be drifting steadily inland from both coasts. At work, he heard rumors of unconfirmed cases in Denver. He put in notice at the job he hated and stowed his belongings in a storage unit.
"I remember thinking, I need to hurry up and get on a plane to Georgia before this thing blows up and they shut the airports down," he says. An entire cruise ship, after all, had already been quarantined, then evacuated.
After stepping beneath the fabled arch of Amicalola Falls in Georgia on February 19, he rarely thought of the pandemic for the next month while he pressed through the first three states. But when he reached Virginia in mid-March, the urgency became apparent. While he stayed at a hostel in Damascus, Virginia, the self-proclaimed Trail Town USA, two fellow thru-hikers decided to head home for fear that buying supplies would get harder. Their decision jolted him, but he never considered splitting their rental car's cost. "I didn't have a fuck-it attitude," Underwood says with a snort. "But I didn't have a job to go back to. As long as I could get food, I was going to keep going."
The moment, though, offered an epiphany—his strategies, he realized, would need to change if he was going to make it to Maine. He swore off hitchhiking from the trail to towns, meaning he'd sometimes need to walk three miles in the rain on a road just to get supplies. He began calling grocery stores, hotels, laundromats, and shuttles weeks in advance to ensure they were open, yet knowing their status could change before he actually arrived. He frequently toted an extra day or two of food in his 48-liter Mountain Laurel Designs pack, at points so heavy he worried he'd rip the shoulder straps. He would go for ten days without showers or doing laundry, washing himself and his clothes in streams and springs instead. In central Pennsylvania, he picked up two N95 masks that his sister, a pediatric nurse, had shipped alongside new shoes. He wore them in towns, at least until the last one broke somewhere in Connecticut.
Such exigencies exacerbated the slog that defines thru-hiking, where miles seem to expand and contract like accordion bellows. Thru-hiking hinges on a balance between the long-term goal of finishing and the short-term goal of staying sane by, say, stopping in town for a burger and a beer or watching a bad movie at a hostel, blissful with fatigue. Even conversations with fellow hikers mitigate the tedium—that's the virtue of a trail family.
But Underwood had none of that. Though he calls himself a lifelong loner who's comfortable with solitude, he admits that the endless strings of nights watching Netflix in shelters got to him. In towns he would scout the most loquacious grocery store clerks and hop in their lines, hoping to sate himself with a few minutes of repartee.
In New Hampshire's White Mountains, his pace slowed to one mile per hour as he broke new trail through thigh-deep snow. Exhausted and alone, he was on the verge of quitting until the two hikers who eventually accompanied him to Katahdin arrived at his illicit shelter. "They walked in, and I just said, 'Hey, I'm not in a good mental state. Can I hike with you?'" he says. "It was a miserable scenario."
---
There were other times when Underwood worried he'd be taken off trail, but not of his own volition. Underwood describes himself as politically "right of center." To wit, he plans to vote for Donald Trump again in November because of the Republican Party's "support for police departments and law and order." Still, he often found himself hiding from the law and outright breaking it.
He only had 24 miles of Virginia's Shenandoah National Park left, for instance, when authorities announced it was completely closed. That morning, when a hostel owner dropped him off at the trailhead before dawn, the headlights of a nearby white pickup truck flashed on—a park ranger, he presumed. As the truck sped toward Underwood, he bushwhacked through the dense woods for a mile before rejoining the trail, elated that he hadn't been nabbed. Later, at New Jersey's High Point State Park, he waited an hour for an officer to leave their post before he passed. He once hit the deck after spotting a car on a forest road, using his camera to zoom in on the license plate for signs of law enforcement.
Marra laughs ruefully when she hears these stories: "You know you're doing something wrong if you're doing all that, right? Shouldn't a bell go off?"
But the coronavirus was only on Underwood's mind in a practical sense—that is, how could he overcome the barriers it imposed on his goal? Otherwise, he says, he was simply too busy to ponder the larger philosophical issues the pandemic raised: Had he contracted the virus in one town, remained asymptomatic, and carried it into the next town unknowingly? And if so, had he hurt someone, even killed them?
Or would lying to a small-town cop along the banks of Virginia's James River—once a historic Confederate stronghold that flows right into Richmond—have gone differently had he not been a white man? The Appalachian Trail winds through Harpers Ferry, West Virginia, arguably the tinderbox of the Civil War, and near Gettysburg, Pennsylvania, and Manassas, Virginia, two of its key battlegrounds. In Erwin, Tennessee, as Underwood ate breakfast at a McDonald's, an elderly woman terrified him with a story about a local lynching of long ago, his indoctrination to Deep South racism. The AT represents a kind of accidental wilderness chronicle for the country's civil rights struggle.
"I just didn't think about that stuff. I was so focused on mileage goals to get it done in four months or less. That's all I cared about all day long," Underwood says, with a trace of regret. "Everything else I never thought about too much."
---
Douglas Stevenson was actually the first person to finish the AT this year. A 19-year-old Eagle Scout from outside Boston, Stevenson passed Underwood on New Hampshire's iconic vista, Franconia Ridge, with the goal of finishing in 100 days. He, however, has thought about these issues. He agrees that the color of his skin gave him a free pass during an encounter with New York police, who turned him away from the trail but offered advice just after he crossed the Hudson River. He ignored one officer's directions and secretly cut his way through the woods and back to the trail.
But Stevenson balks at the idea that the potential of infecting someone else is enough to keep you at home, especially, he says, when so much remains unknown about the virus's transmission. He decided not to pause his thru-hike, because he had nothing else to do. He simply didn't want to be bored.
"There are two ways to deal with the unknown. One is to fear it so much that you close everything down. The other is to just be concerned," says Stevenson, who wore a mask in every town from Virginia to Maine. "Until we know more, why should we change so much about life?"
The answer, of course, is because temporary sacrifices might save someone else's life. Endurance sports are selfish acts meant to measure our own personal tolerance for suffering. But adventure should also entail empathy, since it rarely, if ever, exists in a vacuum. A common justification for thru-hiking during the coronavirus pandemic has been that there's no safer or more socially distant place to be than the deep woods. But that's a romantic view—hikers bounce from small town to small town, depending on the availability of social resources while denying requests to go home.
On Instagram and Facebook, where Underwood would post updates every few days, he ignored commenters who tried to lure him into conversations about such conflicts. "It seemed like a pointless debate," he says. "But I get it—it was a different year, a different hike."
In recent weeks, as coronavirus restrictions have eased across the country, the trickle of prospective thru-hikers on the AT has again become a northbound stream, with more people pushing through the heat of a southern summer in an effort to beat the snow's return atop Katahdin. (Given that typical northbound hikes begin before May, it may become a mad dash. And for southbound hikers, Mount Katahdin opened on July 1.) But infection curves have begun to climb anew in several states, and New York, New Jersey, and Connecticut have instituted mandatory quarantines for people traveling from such places. Like the coronavirus itself, these issues are not disappearing.
As for Underwood, he's spending a few days in Denver with his ailing father while crashing at his sister's house. He has a permit to begin a southbound hike of the Pacific Crest Trail in Washington on July 8. Right now, he intends to use it.
Before he makes his final decision, though, he needs to make sure the situation looks good—not the newly spiking caseloads in California and Washington, but instead the lingering snowpack just south of the Canadian border. After New Hampshire, he's sick of that stuff.
Lead Photo: Andrew Underwood
Trending on Outside Online