Sponsor Content: ARIZONA OFFICE OF TOURISM
Arizona's Best Trails for Every Kind of Hiker
Whether you're looking for an easy outing with the family or a challenging peak to bag, we've got you covered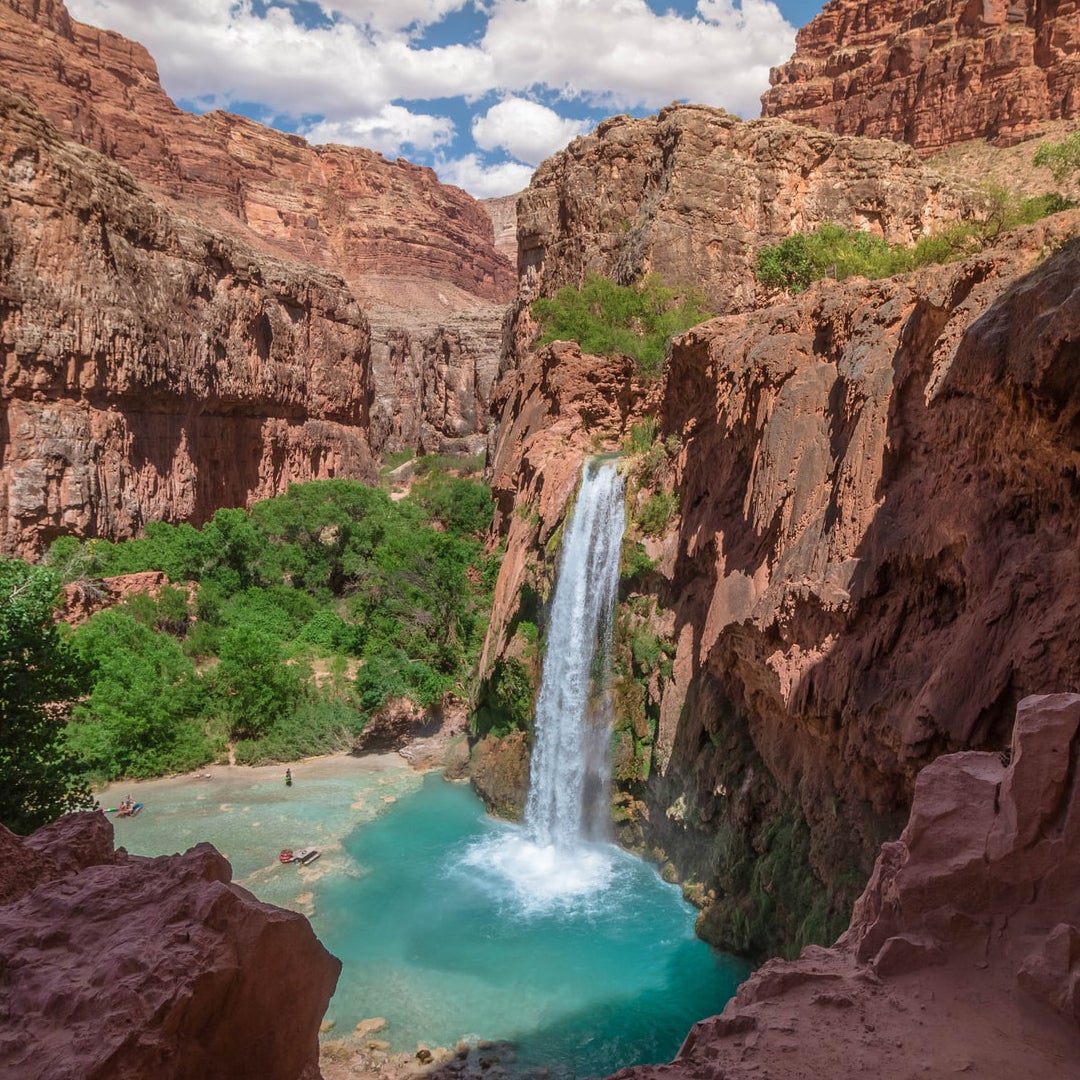 Arizona is often pegged as one big desert. Yes, you'll find saguaro in the Grand Canyon State, and vistas sprinkled with prickly pear—but you'll also find forested mineral-spring oases, snow-topped peaks, and lush lakes and rivers. And each of these unique landscapes can be explored on the state's vast network of world-class trails. The best part: the sheer variety means there's a trail for every kind of hiker, and crowds are easy to avoid. Not sure where to start? We're here to help.
Easy Trails
Wildcat Trail | Monument Valley
Rediscover Arizona

The Grand Canyon State's Namesake Park is just the start—in every corner of Arizona, there are public lands and trails for everyone. Want to explore even more of the state's hidden gems? Check out our complete guide and interactive map for an endless southwestern adventure.
Monument Valley's striking formations are like something from another planet—or a movie. You've likely seen this landscape in Forrest Gump, The Lone Ranger, Back to the Future III or one of many other films. This red-rock desert in the Navajo Nation's Monument Valley Tribal Park, in the state's northeast corner, is best explored on foot. You can hire a guide to take you deeper into the park's backcountry, but the Wildcat Trail is an easy 3.9-mile loop you can do on your own, and it winds close to some of the iconic formations. The nearest amenities are in Kayenta, about 26 miles south of the trailhead.
Note: The Navajo Nation's parks are currently closed because of COVID, so check back for reopening details later this year.
Schuerman Mountain Trail | Sedona
Sedona is one of Arizona's most famous areas, full of red-rock formations that glow like magic at golden hour. But there are still some secrets here too, if you know how to find them. Bypass the formations most frequently seen on postcards and check out the Secret 7, a handful of lesser-known yet uncompromising trails that offer you all the views with fewer crowds. One such is the Schuerman Mountain Trail—a fairly easy cypress-shaded climb up an extinct volcano mound and one of Sedona's best sunset hikes. And at only 3.6-miles round-trip, it's uber accessible, too.
Apache Wash Loop | Phoenix Sonoran Preserve
Within the city limits of Phoenix, the Sonoran Preserve offers desert vistas that feel worlds away from the metropolis that contains it. The 6.7-mile Apache Wash Loop is an easy, family-friendly hike with minimal elevation gain winding through cactus gardens and past towering saguaros. From the Apache Wash trailhead, you can also take the East Skip Rimsza Paseo, a 1.9-mile trail (each way) that's fully paved and wheelchair- and stroller-accessible. Here and elsewhere in the Phoenix region, keep an eye out for teddy-bear cholla. It might look cute and fun, but spines from this cactus break off easily. It's not a bad idea to pack a multitool on desert hikes in case you need to pry a few from the soles of your boots.
Bajada Nature Trail | Scottsdale McDowell Sonoran Preserve
The Scottsdale McDowell Sonoran Preserve offers a few paved trails that allow people of all abilities to meander through the desert. The Bajada Nature Trail, near the Gateway trailhead, is a figure-eight you can do as either a half- or a quarter-mile loop. The trail has mountain views, plenty of cactus, and interpretive signs helpful for teaching kids about desert ecosystems.
North Kaibab Trail to Coconino Overlook | North Rim, Grand Canyon National Park
The Grand Canyon is epic from any angle, but it's far less crowded on its northern edge, which is a longer road trip from major cities like Phoenix. It's about 1,000 feet higher in elevation than the South Rim, too, which means it's snowy in the winter and its summer temperatures are far milder than the triple-degree temps common on the south side. Take the North Kaibab Trail to the Coconino Overlook for a breathtaking moderate 1.5-mile round-trip hike along the Grand Canyon's more verdant upper edge.
Moderate Trails
Upper Antelope Canyon | Navajo Nation
When the sun shines just right, a walk through Antelope Canyon is the stuff of dreams. Antelope's walls are just wide enough to hike through in some places. When hikers kick up dust from the sandy trail (or when your guide expertly tosses a handful of it at exactly the right moment), you'll see sunbeams akin to waterfalls streaming down through the opening of this slot canyon. You'll need to book a tour with a guide for this 6.5-mile hike on the Navajo Nation, so check back with Navajo Nation Parks for reopening data later this year.
Arizona Hot Springs Trail | Lake Mead National Recreation Area
White Rock Canyon, in the Lake Mead National Recreation Area, is hiding a few secrets: it's a volcanic area, and it's got its own hot spring. The 5.9-mile Arizona Hot Springs Trail, also called the Ringbolt Hot Springs Trail, is a steep and challenging loop leading to spring-fed pools contained by the near-vertical walls of White Rock Canyon, just six to nine feet wide here. Hike it in winter, spring, and fall—the area is open from October 1 to May 14. For the nearest amenities, head to Temple Bar Marina, off AZ highway 93.
Camelback Mountain | Maricopa County
Mastered the easier hikes of Phoenix and Scottsdale and want a heart-pumping challenge worth rising before dawn for? Camelback Mountain—named for the camel-like profile visible from a certain vantage—is beloved by Phoenix and Scottsdale residents. It's one of those urban treks that local fitness junkies love to make a habit out of dashing up and down every morning. You can tackle it from a couple of different angles: short and steep, or long and steep. Approaching from Cholla Trail (which is currently closed for maintenance) gives you a 1.2-mile trek with just over 1,200 feet of elevation gain; via Echo Canyon Trail, you'll rise about 1,400 feet in 2.5 miles. In the summer, go at dawn to beat the heat; you won't find much shade here.
Challenging Trails
Havasu Falls | Havasupai Indian Reservation
Deep within the Grand Canyon but outside the park system, the Havasupai Indian Reservation is home to some of the world's most stunning waterfalls, including Havasu, Mooney, and Beaver. Havasu Creek, which runs through the reservation, is powder-blue, making for a dreamy trek. Securing permits for a hike here can be challenging given how popular it is, but trust us—it's worth trying (and the permitting system keeps the crowds at bay). Night skies here are epic thanks to a nearly perfect absence of light pollution, and you can either camp or stay at the lodge in town. Be prepared to pack out all your trash. The reservation is currently closed to tourists, but the best time to hike here is later in the year anyway, to beat the heat, so check often for updates.
Bob Bear Trail | Tonto National Forest
Two and a half hours north of Phoenix, a powder-blue creek runs through the Tonto and Coconino National Forests. Fossil Creek is a Wild and Scenic River—one of only two Arizona waterways with this designation—and its cool water is a welcome refresher on dusty summer days. The hike down to the creek is about four miles long and moves downhill quickly, but make sure you're prepared for a steep hike back up to the car post-swim. Heads up: you'll need to get a permit in advance to park at the trailhead between April 1 and October 1, and there's no camping by the creek within those dates. Stick to the trails—no bushwhacking—to protect this beloved landscape.
Humphreys Peak| Flagstaff
If you thought you'd never see snow in Arizona, head to Flagstaff and summit Humphreys Peak, the state's highest point at 12,635 feet. To get the stunning views from the top, you'll need to climb about 3,300 feet over five miles. This trail is for advanced hikers who want the thrill of bagging one of the country's high points and are willing to work to get there.
---
Visit Arizona's mission is to stabilize and strengthen Arizona's economy through travel and tourism promotion.  They strive to enhance the state economy and the quality of life for all Arizonans by expanding travel activity and increasing related revenues through tourism promotion and development.
Trending on Outside Online