Backpacking After Bear
In 2003, Dan Bigley lost his sight when a grizzly mauled him on Alaska's Russian River. Ten years later, he's back outside, working to give his children the outdoor life that he almost lost.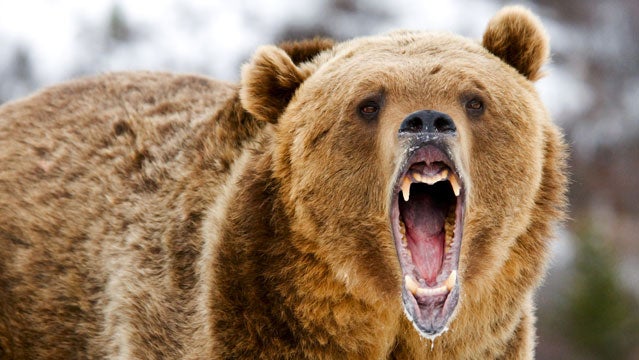 Heading out the door? Read this article on the new Outside+ app available now on iOS devices for members! Download the app.
Alaska is grizzly country. Bears wander through neighborhoods, raiding trash cans and dog food bowls. They roam main streets, college campuses. They get hit by cars. If you plan to spend any time outside, respect for bruins isn't optional. 
In 2003, 25-year-old adventurer and Alaska transplant Dan Bigley was fishing the Russian River when a grizzly mauled him. The damage he took was incredible: His face and skull were shredded, he lost both eyes and his sense of smell, and he'd undergo six surgeries in three years just to rebuild his brutalized face. His was only the second reported blinding by a bear in U.S. history; he would never see again.
You wouldn't blame Bigley for never venturing into the backcountry again, but he did. As he writes in his new book, Beyond the Bear, he went on to earn a master's degree in social work, got married, and became a father. And he still logs lots of time in the wilderness near his Anchorage home, camping, fishing, and hiking with his wife, Amber, and their two young children.
After a terrifying blow-by-blow of the attack, Beyond the Bear documents Bigley's slow physical and emotional recovery. He fights for his life in the ICU, endures facial reconstruction, does time at a school for the blind, gets prosthetic eyeballs that sometimes fall out, and thrashes his way through pre-requisite stats courses for grad school. There's no question that life will never be the same. "The person I had been for the first 25 years of my life had died that night," he says.
When Bigley turns his attention to what it's like to simply be in darkness—especially for someone so attuned to the natural world—he delivers some of the book's most eloquent and haunting passages. "I opened the door and got out," he writes, of returning to Alaska for the first time during a snowstorm. "As I did, I felt crystals the size of Corn Flakes land on my face. I took a step, then stopped and listened. Snowflakes piling on top of each other was my favorite form of silence."
Beyond the Bear ends just as fatherhood for Bigley is beginning. If you haven't read the book, it's easy to question his decision to raise his kids in the very wilderness that left him disfigured and disabled. But by the last page, I knew exactly how and why he could come back from such trauma to reclaim the outdoor life for his family.
Still, being blind in the backcountry with kids is no small matter. So I tracked down Bigley to find out how he and his family stay safe in bear country.
"The most important way to keep kids safe on outdoor adventures is to teach them about what the natural hazards are, and how to assess and manage them on their own," Bigley explains. Here's what he and Amber are teaching their kids—five wise rules of thumb for any parent, anywhere.
Understand the weather
While bear attacks are terrifying, far more people run into trouble outdoors because of weather. Teach your kids how to dress for different conditions, and what could happen if they are caught unprepared.
Get to know the local wildlife
Know what kinds of plants and animals live in the region, how to identify them, and how to stay safe in their presence. Be sure to stay on maintained trails in poison oak country, and be able to recognize potentially hazardous plants like stinging nettles and devil's club.
Give animals a warning
In bear country, tell kids to stay close to Mom and Dad and make lots of noise—singing, clapping, talking loudly—so that they don't take an animal by surprise. Teach kids not to run if they see a bear, but instead to move slowly toward you.
Bigley also tells his kids to take care around less-obviously-hazardous animals. " The other day, I was so proud of my five-year-old son Alden because he saw moose tracks in the snow, Bigley says. "He became more aware of the hazard without any prompting from me."
Beware of water hazards
Don't go near moving water or lakes without life jackets and mom and dad's permission. "My kids love to fish with us, but they always wear life jackets even if they are just playing on the beach," says Bigley.
Don't eat anything you don't recognize
Children, especially small ones, will often put anything in their mouths that they find lying around. That's a big no-no in the wilderness, where innocuous-looking berries and mushrooms are often poisonous. As far as edible plants and animals go, kids should practice discretion. "We teach them that we only want to take just enough for our family to eat, and not to waste any fish we catch," Bigley says.
Beyond the Bear: How I Learned to Live and Love Again After Being Blinded by a Bear, by Dan Bigley, Globe Pequot Press, $22.95.
Lead Photo: Scott E Read via Shutterstock