On Backpacking with an Anxiety Llama
The shaggy animals can carry our heavy packs, but can they also carry our emotional burdens?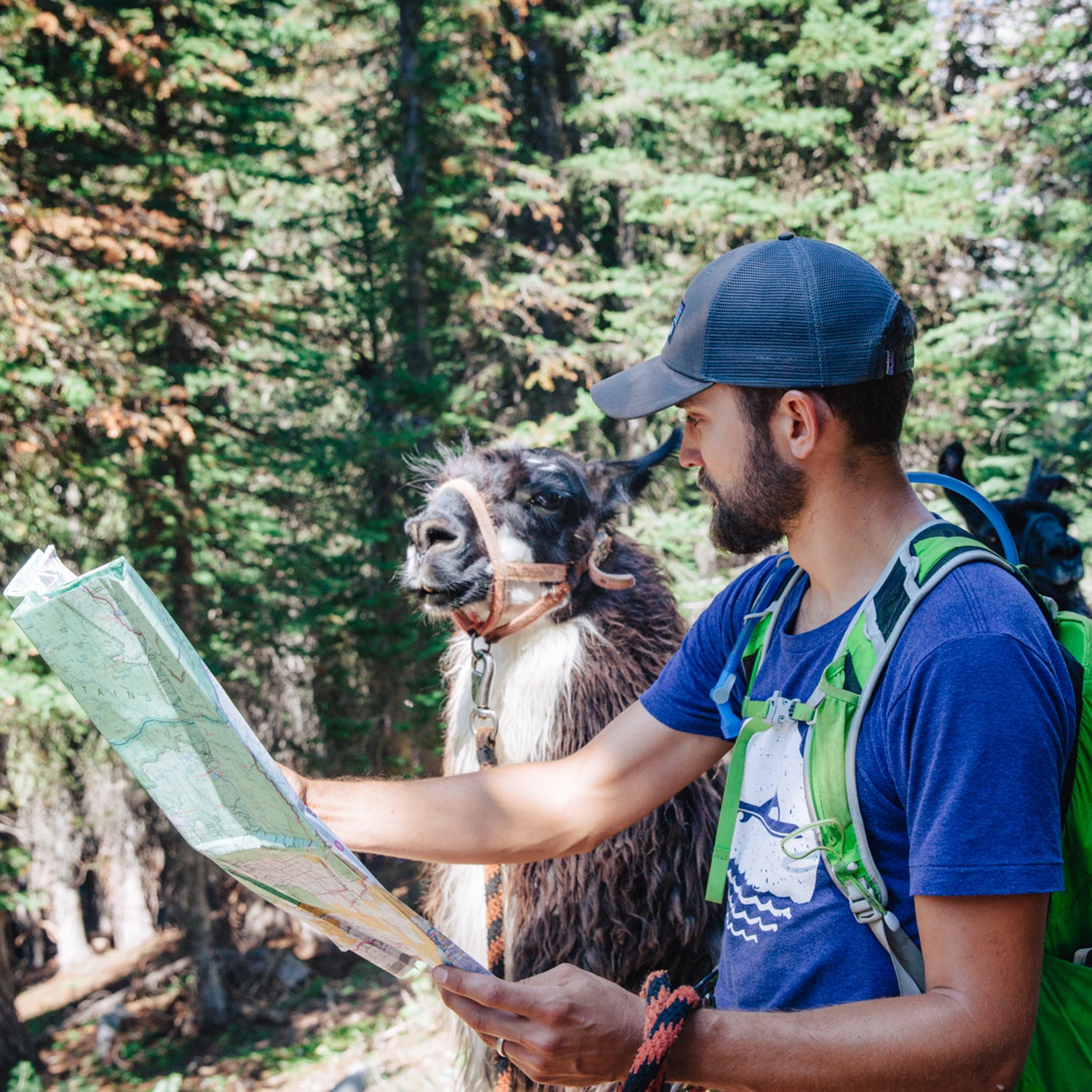 Nina Cottrell(Photo)
Heading out the door? Read this article on the new Outside+ app available now on iOS devices for members! Download the app.
It's midnight, and the floor of our trailer is strewn with miscellaneous items of varying utility for a three-day backpacking trek through Oregon's Eagle Cap Wilderness. There's the usual food and gear, but also a heavy cast-iron pan, two folding chairs, a large bottle of wine, and Monopoly. Not the travel edition, either—we're going full-sized.
We're not normally this indulgent when we pack. Granted, I've never filed a toothbrush down to a nub to conserve weight, but I usually know enough to forgo the 1.5-liter bottle of shiraz. This time, however, we won't be doing the heavy lifting. That's what the anxiety llamas are for.
Many guiding companies rent out llamas to hikers and other outdoorspeople, who have them schlep creature comforts to far-off campsites. In the Eagle Cap, llamas are most popular among hunters—and for good reason. Not only can they carry 70 pounds of gear apiece, but llamas also have nerves of steel. Our outfitter, Gary Holmstead, of Thunder Creek Llamas, told us about the time he walked one of his animals up to a dead bear: The llama took one sniff, got bored, and proceeded to eat grass.
"Nothing really spooks them," Holmstead told us when we came to rent our own llamas. "They make some weird sounds, though." These range from hees and haws to high-pitched, piercing squeals if a predator approaches. "It sounds like Jurassic Park down there sometimes," he said, motioning to a field near his house. Come fall, when Oregon's elk season opens, all 24 of Holmstead's "packers" will be booked solid.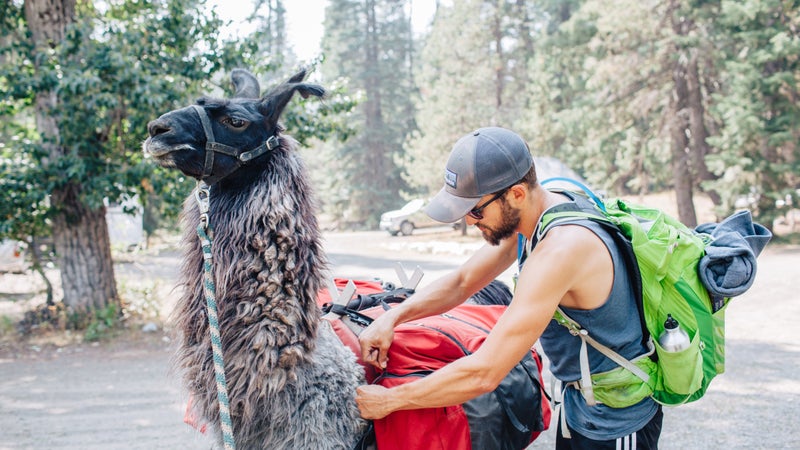 My wife and I have a different, less common use for the llamas. We're taking two of these shaggy beasts into the wilderness as service animals to help us overcome our fear of sleeping in the woods. We embarked on a cross-country road trip last year, and we've grown accustomed to sleeping wherever there's enough space to park the trailer—Walmart, truck stops, the side of the road, etc. Give us four hard walls and we're happy. But when the only thing shielding us from Mother Nature is a thin layer of opaque fabric, our imaginations run roughshod over rational thought. Bears are the problem. Our fear of bear attacks is equal parts nebulous and irrational. We logically know we're not going to be eaten by one, but our adrenal glands still need convincing.
We bought a bigger tent hoping more space would equal a greater sense of security. We tried drowning our anxiety in alcohol. We tried courting exhaustion by going on longer hikes, thinking we'd conk out once our heads hit the inflatable pillows. We even tried to find solace in Shakespeare: "Cowards die many times before their deaths; the valiant never taste of death but once." Still, backcountry sleep remained elusive.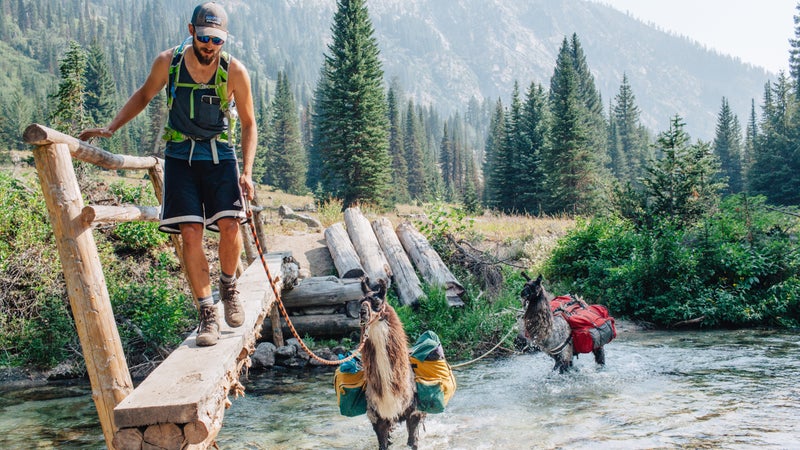 Anxiety llamas seemed like a worthy experiment. Co-opting them as emotional support animals is not conventional in the outdoors, though not unheard of elsewhere—llamas have been brought into hospitals as therapy animals, and it's possible to get one licensed as an emotional support animal. We knew it was easy to rent llamas for trekking purposes, so why not see if they could do double duty as calming companions?
We had reason to believe this would work. They not only look hilarious—have you ever tried looking at a llama without cracking a smile?—but also are scrappy to a fault. One of our packers, Hoss, had a split ear, given to him by a dominant male. Holmstead told us fighting is common among llamas, and when they fight, they fight to win. Our other llama, Winchester, kept tossing his head back as far as he could, as if he were trying to see the world upside-down. A battle-hardened llama and an exceptionally agile llama—these two seemed perfectly suited to be our security guards. We asked Holmstead if anyone had ever rented his animals for protection before. He said no, but he could see why someone would: "If there's really anything out there, you'll know if from the animals. If the llamas aren't reacting, it's nothing."
By the time we reached the trailhead, we were already giddily distracted watching Hoss and Winchester poke their heads about the stock trailer hitched to our pickup. When I stepped out to help Hoss jump down, he immediately spread his legs, arched his back, and began to relieve himself. A minute went by. Then another minute. We had been warned this might happen. "They pee like old men," Holmstead had told us. "The longest record I've seen is eight minutes." A sizeable puddle accumulated on our bed liner, but—glass half full—we were no longer thinking about the fact that we didn't have any bear spray.
Turns out llamas are weird about all bodily functions, which we discovered soon after starting our trek. Hoss and Winchester sneezed prolifically, with large volumes of snot accompanied by a silly neck wiggle. And anytime their feet touched water, they stopped and defecated. Despite our four-legged friends' incontinence—or perhaps because of it—our plan seemed to be working. The badly timed bowel movements kept us from thinking about being disemboweled by bears.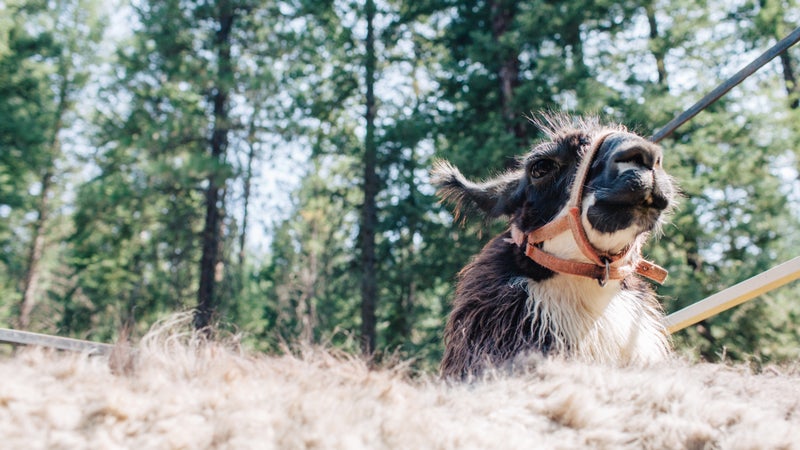 At the campsite, we tied up the llamas and ignored them for 12 hours. This was not negligent, but normal; llamas are very low-maintenance animals. They were perfectly content to roll in the dust and munch grass while we opened the wine and toasted to our phlegmatic sidekicks. The next day, we hiked up to Looking Glass Lake and led the llamas to the pristine blue-green water for a drink. Sure enough, once their feet got wet they immediately soiled our Caribbean fantasy. I spent the next hour fishing hundreds of pellets out of the water and flicking them as far back onto shore as my six-inch plastic hand shovel would allow, but still I never gave a thought to apex predators possibly lurking in the bushes.
And, yes, we slept better than we ever had outdoors. Though it counters my above claims of being a good llama owner, I won't lie: It put our minds at ease to think that two llamas, tied to a tree, would probably make for easier quarry than two panicked but untethered humans.
Driving Hoss and Winchester back to Holmstead's ranch the next morning, we reflected on how they improved our backcountry experience. Rather than focus on the negative, we were distracted by their awkward bathroom habits, their endearingly goofy faces, and the fact that they kept sneezing on our necks as we led them down the trail. (A sudden expulsion of cold snot really does keep your mind from catastrophizing.) They entertained us and left us feeling less vulnerable—safe, almost. Bears still exist, after all.
Lead Photo: Nina Cottrell