The CDT Is Changing the Face of This Western Town
The residents of Atlantic City, Wyoming, are just fine being off the grid. But Continental Divide Trail thru-hikers are revitalizing the town in surprising ways.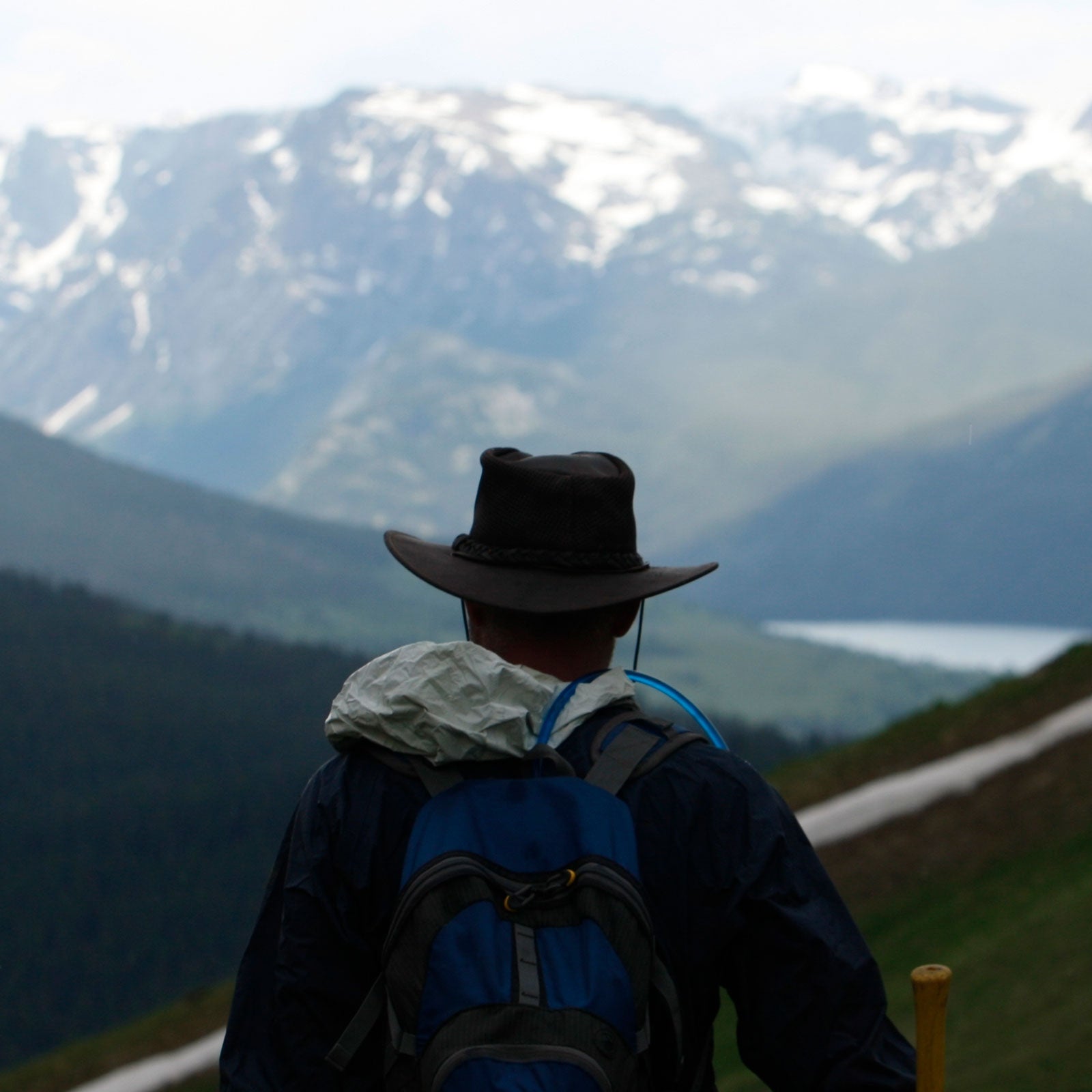 Dina Rudick/The Boston Globe/Get(Photo)
Heading out the door? Read this article on the new Outside+ app available now on iOS devices for members! Download the app.
No one can say for certain how many people live in Atlantic City, Wyoming. The weathered wooden sign on the edge of the unincorporated town reads "Population: About 57." The 2010 federal census puts that number at 37, but then again, Atlantic City residents aren't the kind of people who like to be counted. This gulch community, which sits in the shadow of the Continental Divide, has been a loose confederacy of outlaws since its founding in 1867, at the height of the western gold rush.
Once upon a time, Atlantic City boasted the region's only brewery and dance hall, along with a string of blacksmith shops, saloons, and livery stables. But then the gold veins dried up and the barons shuttered their mines. Businesses were next, with owners boarding up their storefronts and moving to more lucrative regions. Their employees and customers soon followed.
By 1900, the population of Atlantic City had dropped to just a handful. In the decades that followed, it sputtered upward, gradually attracting migrants in search of privacy and personal liberty.
Today, those values continue to unite the few dozen full-time residents. Make your way down the one gravel road running in and out of town, and you'll find dusty lawns festooned with handmade signs condemning elected officials. Grannies at Atlantic City Mercantile proudly display sidearms and sleeve tattoos. Ranchers ride their four-wheelers in Stetsons and spurs. They drink red beer—half tomato juice, half Budweiser—and nosh on cooked bull testicles, all without an ounce of irony.
These residents are proud of their lack of cell service and absence of public officials. They delight in the fact that the nearest amenities or law enforcement are an hour away in the town of Lander, that most guidebooks list their little hamlet as one of Wyoming's famed ghost towns.
But now Atlantic City is having something of a resurgence as it's becoming a hub for hikers and cyclists on the Continental Divide Trail. This past season, close to 400 thru-hikers made their way up and down the 3,100-mile path, along with mountain bikers, equestrians, and even a few unicyclists. That pales in comparison to the thousands of backpackers on more populated National Scenic Trails like the Appalachian and Pacific Crest. Still, it's a huge increase for the third—and longest—prong in hiking's Triple Crown. (In 1978, three individuals completed the trail; five years ago, that number had grown to just 35.) The surge means both big and unexpected business for otherwise forgotten communities like Atlantic City.
Take the Miner's Grubstake and Dredge Saloon, for instance, one of only two bars and restaurants in town. Laurel Nelson and her husband, Dale Anderson, purchased the spot, whose motto is "suck 'em up and get the fuck out," in 2009. Neither Nelson nor Anderson had a background in food service—he worked as a prison electrician; she was a Harley-riding hospice nurse from Columbia, California. But they took a beverage management course and carved out a successful routine for themselves, with the taciturn Dale slinging crab cakes and beef chimichangas in the kitchen and Laurel holding court at the bar, a pack of Marlboros usually nearby, as she chats up locals and the occasional snowmobiler.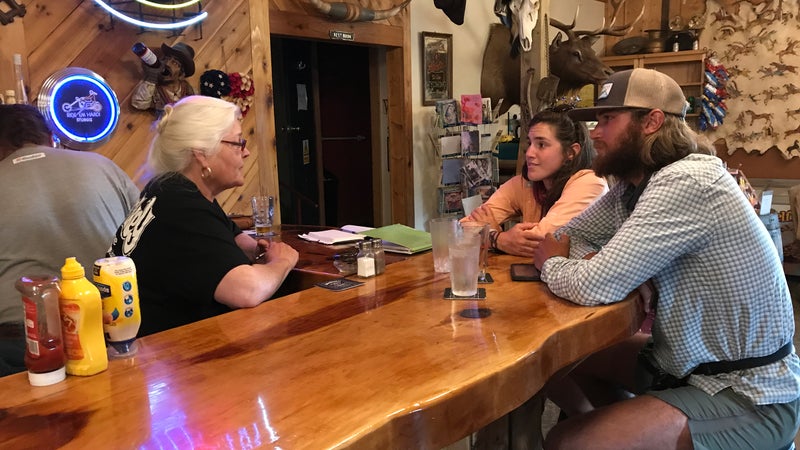 Back then, hikers were what Nelson calls "a real curiosity," with their ultralight packs and stanky polypro. Atlantic City residents were hesitant to give them hitches into town, and they'd come up short when asked for weird hiking supplies like baby wipes and squeezable chia pouches.
As the CDT presence began to increase, Nelson—who also serves as the town's unofficial mayor—saw an opportunity. She began encouraging hikers to ship drop boxes to themselves at the Grubstake, offered up beds for rent in a bunkhouse ($20 off if you're willing to do your own sheets), and erected a teepee for folks who wanted to sleep outside. She carved out one corner of the saloon to serve as a resupply shop and called it the Crazy Lady Cantina. She began making weekly trips to the nearest Walmart, where she'd buy everything from tampons and bug spray to powdered coconut milk and ramen (lots and lots of ramen), which she'd sell to hikers at a small markup. Meanwhile, she and Dale learned to anticipate the food whims of hungry hikers and cyclists, replacing a couple of Bud taps with IPAs from local microbreweries. After watching one hiker inhale a dozen corn dogs and a stick of butter in a single setting, Dale began keeping a crate of both in stock. Ditto for pints of ice cream and avocados and all the other luxuries not to be had on the trail.
It's a hard balance to master in terms of timing. The hiking bubble lasts only about six weeks a year, from early July to mid-August. On one day, ten hikers may pass through. Another day, not one. Late-season stragglers continue to make their way through sometimes into October for as long as the snow allows.
Anticipating what they're going to want when they arrive is even trickier. Still incomplete, the CDT remains one of the most rustic and wild of our nation's scenic trails. There's still no official guidebook, no list of helpful hostels or reviews of restaurants. News travels the old-fashioned way: through a game of telephone between hikers. Serve a chef's salad special on a Wednesday, say, and hikers will be devastated if it's not available a week later. So Dale started catering his menu accordingly and listened as tired backpackers fantasized about dream food. Instead of brined salmon and crab cakes, he started cooking half-pound burgers stuffed with bacon, cheese, and jalapeños and breakfast burritos bigger than a steer's head.
They drink red beer—half tomato juice, half Budweiser—and nosh on cooked bull testicles, all without an ounce of irony.
When news began to spread that you could also have a hot foot soak with your meal, Nelson had to begin keeping huge bags of Epsom salt and peppermint oil in stock as well. She became an expert at lancing blisters and applying Betadine.
"They come in starving and beat up," she says. "And some of these hikers don't look like they're really equipped to do this. My job is to patch them up and get them back on the trail."
Sometimes that means loaning a hiker her personal four-wheeler so they can make the six-mile trip to the nearest post office. Other times it's taking a pregnant hiker to Lander for blood work or wrapping up a stack of peanut butter and jelly sandwiches at midnight. Nelson says she kind of loves that, too.
"I've always been in medicine, which means I've always taken care of people," Nelson says. "And it only take a couple of hours before these hikers start to feel like family. Their arrival is the highlight of the year for me."
On the other side of town, Bill Moore and his wife, Carmela, have carved out their own niche. Moore owns Wild Bill's Gun and Ammo. Located in the basement of his two-story log home, the shop offers everything from antique camel guns to handmade knives, along with big canisters of gas and kerosene. On most days, a few locals can be found there, leaning against their pickup trucks, talking about coon hunting and coyote traps. A few years ago, hikers started approaching them to ask if anyone had a room for rent. So the Moores opened Wild Bill's Bed and Breakfast, a series of small cabins with double occupancy. Bill oversaw construction; Carmela handled decorations. "I always tell Bill, the key word has got to be cute," Carmela told me inside a cabin tricked out in bear-themed flannel. He installed an electric-powered shower house along with a coin-operated laundry and started selling foil packs of tuna and Gatorade along with shotgun shells and silencers. Carmela learned to make vegan breakfast sausage and pancakes by the truckload.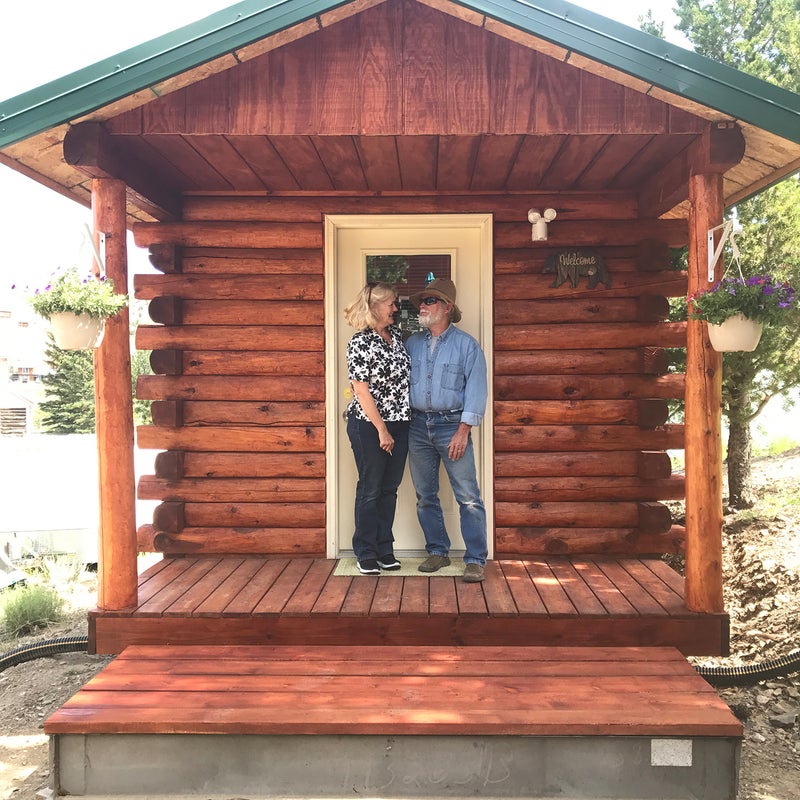 "We're one-half entertainers and one-half professional accommodaters," Bill says. "If you want breakfast at 4 a.m., that's what we're going to do."
Other residents have taken hikers fly-fishing or on tours of the mines. They've hosted family meals and stashed free supplies in beat-up coolers. The tiny one-room Episcopal church installed Wi-Fi and posted a laminated note informing hikers how to find a key to the building, day or night. Most Atlantic City residents I spoke with said they like keeping an eye on the hikers and bikers who now pass through.
Last season, a hiker broke his femur two days after leaving Atlantic City. When his father noticed his GPS tracker hadn't moved for a day, he knew his son must be in trouble. So he called Wild Bill, who drove out in the middle of the night. He found the kid 30 miles down the trail and hauled him to a hospital in the back seat of his pickup truck. That, Moore says, is just what people do in Atlantic City.
"We're a different breed here," he says. "People want to do their own thing. You're not going to see us sitting on each other's decks drinking sweet tea. But when you need help, we're sure as hell going to do it."
That's part of what Jill and Joel Kavanaugh, two thru-hikers from Ocean Springs, Mississippi, say they love most about Atlantic City: the authenticity and it's-all-good vibe.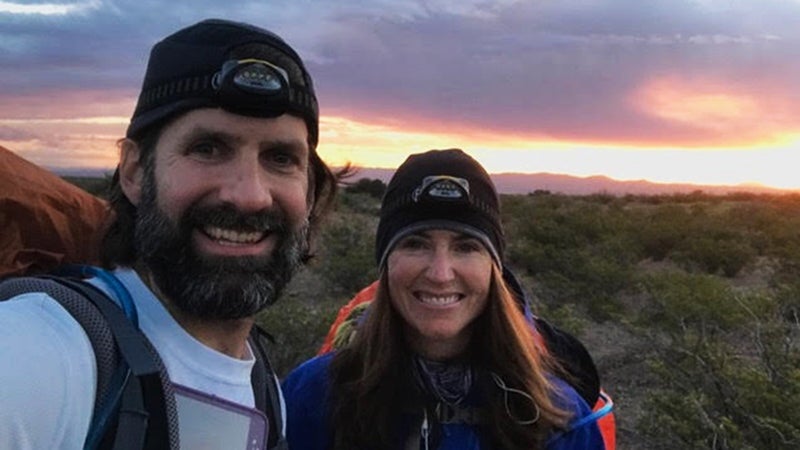 "When we walk around towns like Steamboat Springs, the people there will cross the street to get away from us, thinking we're homeless," Joel says. "Here, they know us. The ranchers and the trappers are the ones who see us out there. They get what we're doing, and they're the first to ask if we need anything."
On the afternoon the Kavanaughs arrived at the Grubstake, a handful of cattlemen sat at one end of the bar, dressed in western shirts with embroidery and mother-of-pearl snaps. At the other end were two thru-hikers, taking a zero day in Chacos and hipster T-shirts. When Joel began opening his awaiting drop box, they all clustered around the table, laughing about his extensive resupply of Snickers and swapping shop talk over the best headlamps.
"I feel embraced," Jill told me. "It really restores your faith in humanity. People here care enough to listen to what you have to say."
It goes both ways, Nelson says. After meeting some of the CDT hikers a few years ago, her son Jake planned on attempting his own thru-hike. But a 2012 accident left him paralyzed. When news of his injury got out, hikers that season rallied together, sending get-well cards to Jake and offering to wait tables so Laurel could spend more time at the hospital.
Now 33, Jake is planning to do the trail on a handcycle bike in 2020. Laurel says she thinks that sounds like a nightmare of a bad time, but she gets that he wants to go through with it. She's heartened by the fact that her son won't be out there alone.
"He's already had offers of support from hikers who have passed through Atlantic City," she says. "It's really cool knowing there's an influx of people on the trail willing to come back and help Jake. That kind of thing puts wind in your sails for sure."
Lead Photo: Dina Rudick/The Boston Globe/Get
Trending on Outside Online