Meet the Couple Who Just Set 5 Long-Distance Hiking Records
In six years, Constantine and Magpie have collectively hiked 30,000 miles. What do they do now that they've learned their lessons from—and found love on—the trail?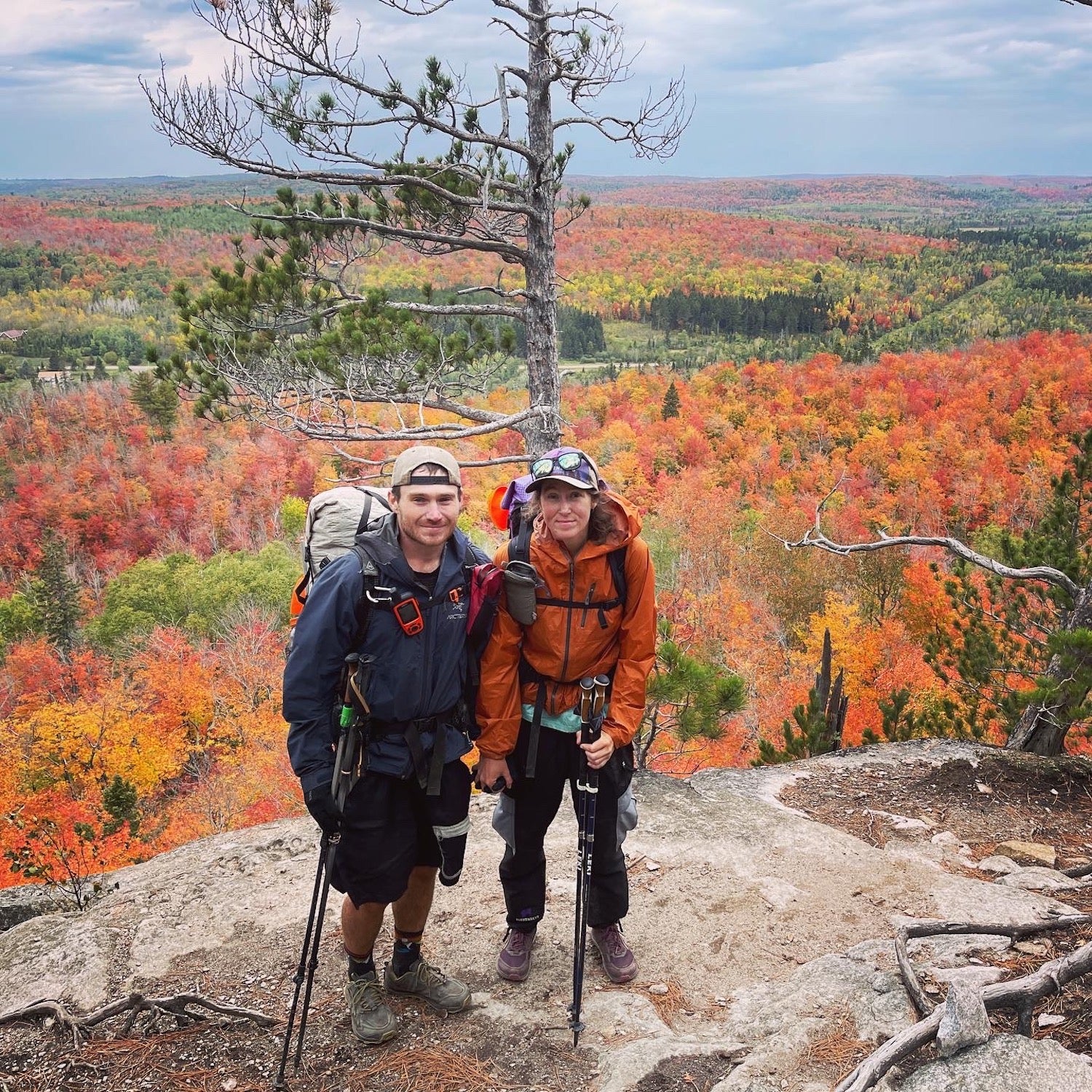 Magpie and Constantine
Heading out the door? Read this article on the new Outside+ app available now on iOS devices for members! Download the app.
Ryan Bunting had been home for a little more than 24 hours before he offered a confession to his girlfriend, Dana Burkett: he was ready to hike again.
Burkett scoffed, nonplussed by the revelation. From May 1 until November 3, after all, the pair had hiked 4,833 miles from central Vermont to the middle of North Dakota, completing a rare thru-hike of the North Country Trail (NCT), the longest of the United States' 11 National Scenic Trails. They had soaked miserably in constant sweat while marching through an Ohio summer and endured what Bunting calls "a Groundhog Day of suffering" while stuck in a cycle of bone-chilling Minnesota thunderstorms. "It felt never-ending," Burkett says.
After completing the NCT, the couple confronted a spree of logistical challenges during their return home to Whistler, British Columbia. The problems included Canadian border crossings during a pandemic, fatal mudslides along the highways back to British Columbia, and a beloved van whose wiring was destroyed by a rat. The last thing Burkett wanted to do was leave; she told Bunting he needed to exercise.
"I missed the hiking part of hiking: the freedom, the physicality," Bunting says from the kitchen of their small home in Pemberton, with Burkett's laughter audible in the background. "I don't miss how it occupies all my time."
For the last six years, hiking has indeed devoured so much of the couple's lives that they mostly call one another by trail names: Burkett is Magpie, Bunting is Constantine. In that span, they have collectively hiked more than 30,000 miles. Their early November completion of the NCT also earned the duo five American hiking records in an instant.
After walking just shy of 7,000 miles this year, Constantine is the first person known to have thru-hiked the 11 National Scenic Trails, a gargantuan network that reaches almost every corner of the Lower 48. His feat makes the Triple Crown of American hiking—the Pacific Crest, Appalachian, and Continental Divide Trails—seem like a Sunday stroll. He believes he set an unofficial speed record on the 500-plus-mile Potomac Heritage Trail, finishing it in less than two weeks in March. Magpie, meanwhile, became the first known woman and first Canadian citizen to complete the NCT at its current length in one attempt.
Perhaps most impressive of all is that, as a couple, they have established an official Fastest Known Time (FKT) for the eight-state NCT, a hike so arduous and mentally challenging that its governing organization does not officially track the number of people who have thru-hiked it, or completed it in one attempt. (Estimates are generally less than two dozen.)
"I missed the hiking part of hiking: the freedom, the physicality."
But for now, two of this continent's most dauntless hikers are done. In February, before leaving for the NCT, they contemplated the trails they would hike in 2022; by November, they welcomed a hiatus, to see where else life might take them now that they've found each other—and, really, themselves—on trail.
"Hiking gave me confidence," says Magpie, who turned 29 on the NCT. "It's not hard to look down the barrel of the rest of a 'normal life' now, because I like my normal life now. I'm ready for a new obsession."
---
Before Magpie stepped onto the Continental Divide Trail in 2017, she wasn't familiar with that feeling.
"I was sick of my life as it was," Magpie remembers of the first half of the last decade. A college music dropout approaching her mid-twenties in Montreal, she was delivering other people's food by bike and shuffling among friends' couches.
Magpie grew up 1,400 miles away in the flatlands of Canada's Gateway to the West, Winnipeg. Her parents were former farm kids, and their urban garden indoctrinated her in the outdoors. She treated her varied interests—playing trumpet; camping with the international version of Girl Scouts, the Girl Guides; racing go-karts—with precocious intensity.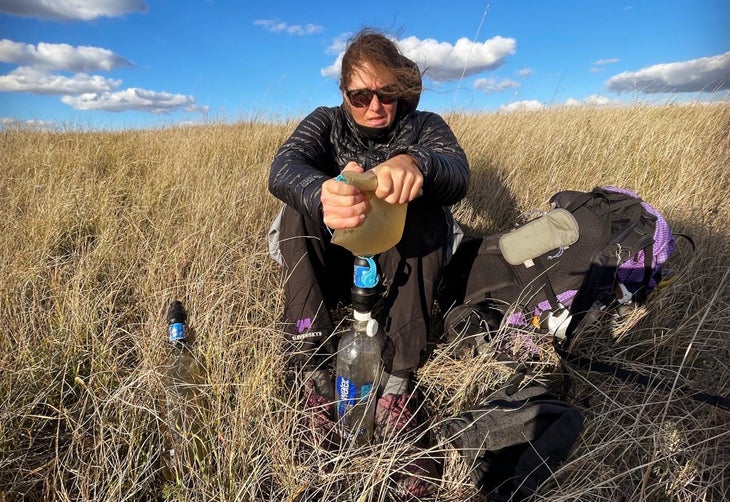 In Montreal, she threw herself into becoming a bike mechanic, but clashed with a series of bosses. After realizing she was biking 30 miles a day delivering food, anyway, she bailed on the city and biked more than 6,000 miles across most of Canada and back, a five-month endeavor that also precipitated a fascination with long-distance hiking. Thinking she could afford just one thru-hike, she chose what may be the toughest: the 3,000-mile Continental Divide Trail that traces the United States' Rocky spine.
"When I got out of there, I was scratched up with broken glasses, MacGyvered with a Band-Aid and a hair tie," she remembers of a particularly rough stretch in New Mexico. "But I emerged triumphant and hungry. It made me feel powerful to know my body could accomplish something so huge."
Constantine, though, had once known exactly how much his body could handle. Despite growing up on the idyllic tourist haven of Hilton Head Island, off the southernmost shores of South Carolina, he was so committed to ice hockey that he moved to Pennsylvania as a teenager to be closer to the sport's elite. But a knee-on-knee collision when he was 18 put him in a straight-leg cast. Hockey had been his core; suddenly, it vanished.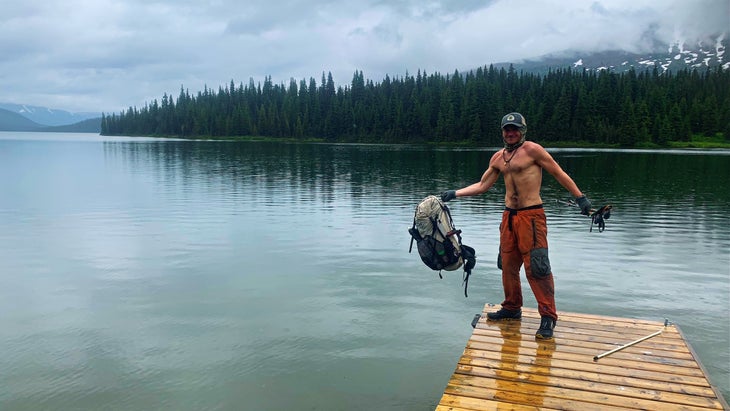 Four years after the injury, Constantine decided to put his body to a different kind of test on the Appalachian Trail, which begins in the Georgia foothills just 300 miles northwest of his home. He loved the conviviality along the route, where someone is always building a campfire next to one of the AT's 250 century-old shelters. "I wanted to share the experience with others," he says. "I craved that connection."
Constantine then hiked the PCT and CDT, and he never felt he was truly finished when he reached a trail's end. After each hike he longed for the next itinerant community, so he began structuring his life around getting back to trail. He worked two jobs, seven days a week, to pay for his adventures. As one hike intuitively led to another, he keyed in on an unprecedented extreme: to thru-hike every National Scenic Trails by age 30.
"The day I finished a hike, I would start working and not stop until the day I left," says Constantine, now 27. "It's a revolving door; you get to a point where you burn out so hard that work pushes you back to trail."
"Every single day seemed to give us a life-threatening challenge. That really solidified the feeling that I trusted him with my life, that I wouldn't want to be doing this with anyone else."
By the time their meet-cute came in 2019, they were both trail veterans, "already committed to thru-hiking as a lifestyle," Magpie says. He had completed his Triple Crown, and she lacked only the AT. On a cold morning that June, about ten days into separate treks of the Pacific Northwest Trail, Constantine passed an unknown tent and quipped, "You sure look warm in there." Magpie took it as a taunt and tried to suss out the identity of the jerk who teased her. After a few days of tension, they started talking and walking together. Three weeks later, they shared a tiny bed in a trail angel's home.
They make a strangely complementary couple. Magpie tries to eat healthfully, with staples like peanut butter and tortillas; Constantine is a self-proclaimed "candy monster," subsisting on pounds of Jujubes and Reese's bars. Magpie, who had devoted herself to radical politics in Montreal, taught Constantine about queer theory and gender studies. Constantine—a lifelong cut-up who loves avuncular humor—dubbed these talks "scuba diving in the mind." He jokes, "I needed to bring extra tanks of air."
With the PNT done as the summer of 2019 ended, Magpie dropped Constantine in Wisconsin so he could scratch the 1,200-mile Ice Age Trail from his list. They pined for one other, texting incessantly as she cared for a dying friend in Montreal. They rendezvoused later that year to tackle the Arizona Trail; at the bottom of the Grand Canyon, Constantine gifted Magpie a crocheted heart, establishing a tradition of giving her presents he'd carried for most of a journey.
Visa woes and then COVID separated them for eight months, but they again finally linked again in the summer of 2020. Their time together on Canada's infamously treacherous Great Divide Trail sealed their strange storybook love.
"Every single day seemed to give us a life-threatening challenge," Magpie says, referring to a series of avalanche-prone zones, treacherous water crossings, and days when they ran out of food because of a slower-than-expected pace. "That really solidified the feeling that I trusted him with my life, that I wouldn't want to be doing this with anyone else."
---
When Magpie and Constantine crossed back into Canada after finishing the NCT, a border patrol agent joked the customs-and-quarantine process would be easier if they would just get married. They laughed knowingly. In some ways, their relationship-on-foot has already traced the arc of marriage. The Arizona Trail, Magpie puts it, was their extended first date; their hard but happy hikes while living together in Canada last summer were the honeymoon, all passion and fever.
The NCT, then, represented the slow postnuptial comedown, when the establishment of rhythms and routines isn't always fun but is necessary for a shared goal. In their case, this was to reach North Dakota before winter blindsided them. "I would have never started this trail if he wouldn't have suggested it," Magpie says. "Or finished it if he wouldn't have been there."
The NCT traverses several magnificent stretches of the United States, as it skirts the west side of the Appalachians, hugs multiple Great Lakes, and navigates the headwaters of the Mississippi near Minnesota's wondrous Boundary Waters. But when you've sparred with the Sierra Nevada and the Rockies and descended the Colorado Plateau, subtle bedrock beauty can become a blur. They both considered quitting more than on any previous hike, even taking extra days off to think about anything other than navigating flatlands.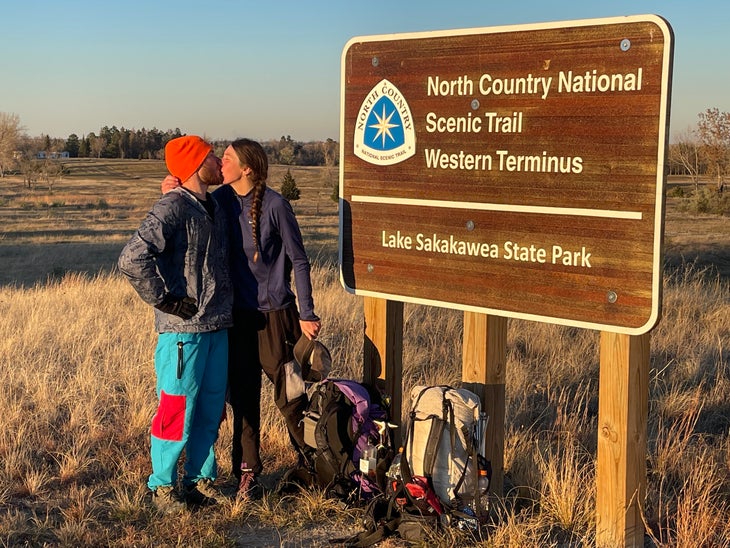 "It was never a question for me that we would finish, but this was the hardest trail in that way," says Constantine. "By the end, our bandwidth for suffering was so low."
The NCT is a work in progress, and volunteers are constantly cutting new paths through the woods to reduce miles spent on roads. ("Our mileage changes literally every day," commiserates NCT Association executive director Andrea Ketchmark.) Magpie and Constantine would sometimes catch these crews, who were making the trail longer before their very feet.
The Sisyphean scenario tested their patience. To manage the tedium, Constantine took to imitating Mickey Mouse, while Magpie just wanted to vent. She would put her earbuds in and speed ahead, thanking her longer legs for the escape. It was a relationship lesson, she says, in learning not to take out bad times on a good partner.
While hiking alone on the Potomac Heritage Trail earlier this year, Constantine found a threaded friendship bracelet he stowed in his backpack for the first 4,500 miles of the NCT. During a brutally cold night in North Dakota, he handed it to Magpie, solidifying his pride in what they would soon accomplish as a pair. "I wanted to signify that she's my best friend, that I can't imagine doing this stuff with anyone else," says Constantine, giggling. "It's important, being able to show how much you love each other within the limited capacity of a trail."
For the foreseeable future, they're nesting, building a home together like any other young couple. At home in Pemberton, Magpie raves about all the outfits she can stow in the hand-me-down armoire her parents gifted them. Constantine is learning to snowboard so he can accompany Magpie to Whistler, where she works as a sales associate at a gear store. Together, they're running ElevenSkys, the gear company Constantine founded. They're even spending time browsing pet-adoption websites, scouting that new obsession.
Magpie mentions a heeler-mix named Rooster and beams; Constantine advocates for a pair of bull mastiffs but admits they'd occupy the entire living room. Staring into an unmapped unknown, they both sigh.
"It would never have been fair to a dog in the past, given how much time we spend on trail," Constantine says. "We just have to get into our schedules and see how everything looks."
Lead Photo: Magpie and Constantine
Trending on Outside Online