The Year of the Missing Thru-Hiker
Hiking was in vogue in 2020, but COVID-19 closures decimated the thru-hiking ranks. What did prospective hikers do with their unexpected time back home?
Heading out the door? Read this article on the new Outside+ app available now on iOS devices for members! Download the app.
For 18 months, Marijn Keuken plotted her entire life around a single date: April 10, 2020.
That's when the 21-year-old Netherlands native planned to begin her 2,650-mile northbound hike of the Pacific Crest Trail, tracing the westernmost spine of the United States from Mexico to Canada. To get ready, she trekked between high-mountain huts in the Austrian Alps and bagged a few of Norway's highest peaks, work she hoped would prepare her for the "solitude, the cold, and the snow" of the Sierra Nevada, she told me.
What's more, she powered through nursing school in less than four years, graduating six months earlier than expected and even turning down two job offers to allow herself ample time to walk. By March 2020, Keuken had a plane ticket, plus a clutch of online friends and fellow hikers she planned to meet in San Diego. This trip was going to change her life.
"I hated hiking as a child. I was the kid who, when my parents took me on hikes, would sit on a rock for hours crying until they would come back," Keuken remembers, speaking to me from her apartment in Amsterdam. "But I read Wild, of course—so cheesy—and I got inspired."
Twenty-five days before her hike was set to start, however, Keuken, like a lot of the world, woke up to devastating news out of the Oval Office: the United States was suspending travel from Europe for at least 30 days in an attempt to mitigate ballooning coronavirus caseloads. Sobbing and in shock, she roused her parents downstairs and vowed to wait it out, to travel to California the moment things reopened.
The Appalachian Trail Conservancy estimates that a little more than 300 people finished the Appalachian Trail in 2020, just a third of a recent annual average.
As the weeks ticked by, however, it became clear to her that the hiking season was all but canceled—and that her dream mattered less than a global crisis. When the case count in the Netherlands eclipsed 10,000 before the end of March, she decided to put her new degree to immediate use. On April 6, four days before she was supposed to leave the PCT's southern terminus near Campo, California, she began her first day in her hospital's acute care unit, where those with COVID-19 cases were sent. In the past year, she estimates she's treated 1,000 people and explained to many families of dying patients that they'd never be able to see their loved ones again.
"That was very difficult, and it still is," Keuken says. "But I felt like it was my duty. I had this degree. I was capable. And they needed people."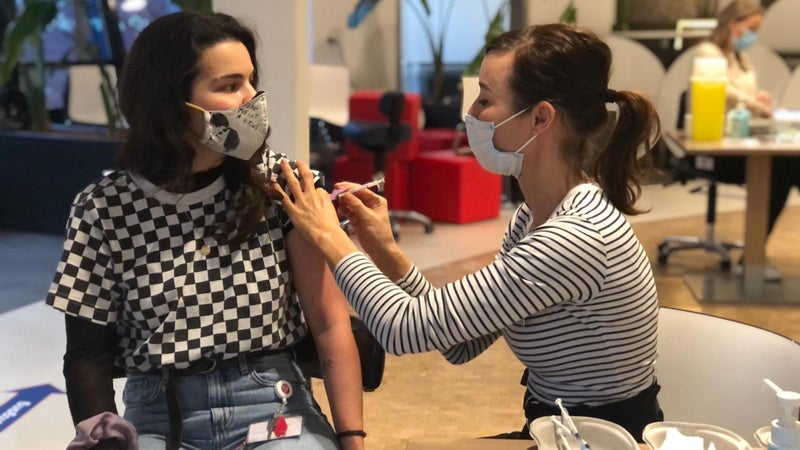 Keuken has still not taken a step on the PCT, and she likely won't in 2021 either. Though her story may seem extreme, it mirrors the experience of countless prospective long-distance hikers in 2020. When the World Health Organization proclaimed a pandemic in early March, people suddenly scrapped years of planning or scrambled to get taken off-trail from some of the country's remotest corners. The Appalachian Trail Conservancy estimates that a little more than 300 people finished the Appalachian Trail in 2020, just a third of a recent annual average. They had to break laws and sometimes run from the cops to get there, with some even crafting bootleg blue AT hangtags typically issued by the conservancy to dangle from their packs.
Lots of people did hike in 2020, of course. One recent report even discovered that the number of miles logged on AllTrails was up more than 170 percent domestically last year. A fever of fastest known-time attempts, many successful, smashed hundreds of speed records, getting people on and off-trail quicker than ever before. And loads of hikers shifted their plans from prominent trails like the AT or the PCT to less traveled routes.
But as thru-hiking went, 2020 was largely the year not of the NOBO (northbound) or SOBO (southbound), but instead of the NOGO—as in, well, not going. NOGOs like Keuken had to find other ways to change their lives.
---
Kaley Pleban, 28, chuckles when she hears NOGO. The neologism has hounded her, after all, since last March, when her mother, Lisa, drove seven hours from Virginia to pick up Pleban and her new trail friends not long after they finished the 72-mile AT haul through Great Smoky Mountains National Park.
I befriended Pleban in 2019, when she offered generous support to my own trail family during my AT thru-hike, even bringing a dozen gourmet cupcakes to a brewery for my birthday. As she moved from Georgia toward my home, 275 miles up the Appalachian Trail, I looked forward to returning the favor. When she got near, though, she fretted she'd never make it. "I am having this grand adventure, but now I am worried about people back home, who may or may not be getting sick," she told me in an interview for Outside just before she entered the Smokies. "I am in the woods trying to survive, but should I even be out here at all?"
Pleban had hiked long enough to earn a trail name, Tosser, and a trail family of her own, including Ponder, Parmesan, and Amble. When Lisa picked up the four of them in Tennessee on March 21, they returned to Virginia, all cramming into the back seat, with the car windows down and their masks up, constantly sanitizing their hands.
The quartet spent the next two weeks locked in the basement of Pleban's parents' house, watching Harry Potter and The Lord of the Rings while trying to cobble together an exercise routine. As it steadily dawned on Pleban that she wouldn't be returning to the trail in 2020, she became more depressed than she cared to admit. She recognized her feelings through how much she ate. Boxed Oregon Chai lattes, home fries, bagels—this was more than mere refueling after a long hike cut short. She gained 20 pounds in a month.
"I felt like I'd found my home on the trail, and I didn't want to leave," says Pleban, who had largely avoided the news while hiking so she could focus on the 2,200 miles in front of her. "But when I got home, it got surreal. Are we dying and turning into zombies? Is this the zombie apocalypse? That's how it felt."
When her basement lockdown ended, she took her suddenly open schedule as an opportunity to acquire new skills. After her job as an expert makeup artist at a theme park was eliminated, she worked on a hemp farm in northern Virginia, living in a yurt and finishing her online certification as a yoga instructor. When the winter came, she enlisted as a ski and snowboard instructor at the Wintergreen Resort in the Blue Ridge Mountains. Nearly a decade earlier, she'd torn her left ACL during an accident there, an injury that led to a long battle with addiction. So the ski season was more than just a job; it was a chance to reclaim her former self after overcoming an obstacle that cost her so much.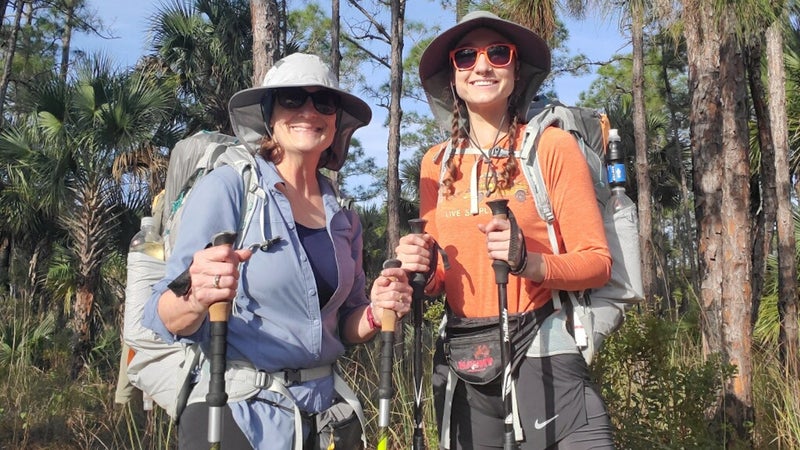 At long last, Pleban was ready to return to the trail with new resolve and a new addition—her mother. In early April 2021, bolstered by a few mid-length summer hauls through West Virginia's Dolly Sods Wilderness and Pennsylvania's Laurel Highlands Hiking Trail, the two began heading north on the PCT. For three decades, Pleban says, her mom has been focused on the family and the family's tech business, managing one as a parent and the other as a chief financial officer.
When they started walking together, she says she saw her mom's "layers of fear being peeled back one by one." And when word came that the ATC wouldn't recognize 2021 thru-hikes, they decided to aim for the PCT—especially poignant since Lisa is a Northern California native. If all goes well, Lisa will turn 60 just after they finish. Pleban says her mom gave her the motivation to pursue her goals, and she's thrilled that, in turn, she could reciprocate.
"She has always had this role of provider and doer, and finally she's living life for herself. Hearing her say, 'What can I do for me?' has been very healing for both of us," says Pleban. "We didn't always get along, and we have gone through all this shit together in the past. And now she's like my best friend, calling me every day to tell me about some PCT video."
"Are we dying and turning into zombies? Is this the zombie apocalypse? That's how it felt."
Katelin Reeser had a somewhat different experience with her boyfriend of nearly a decade, Darren Sirkin. While planning her 2020 PCT thru-hike, she pled for him to join her, perhaps to the point of nagging, she says. They had done several extended trails together, including the John Muir. But last year he was in the middle of a job hunt, so he worried that disappearing into the wilderness for five months would dash his momentum.
"Out of the blue, I would just say, 'So, are you going to hike with me?'" says Reeser, laughing. "It's a big thing, five or six months outside. I think he likes it, but he just doesn't always want to admit it."
At last he did. When COVID-19 cases dipped in Vermont early last fall, Sirkin joined Reeser on the Long Trail, the country's oldest established long-distance trail. When the Pacific Crest Trail Association finally announced it would be offering permits for 2021 thru-hikes, he relented.
Reeser has struggled with regret over canceling her trek last year, though it gave her a chance to experiment with novel jewelry-making techniques and art projects. Having a new hiking partner helps make up for that feeling of lost time.
"Last year he knew how much effort I put into planning, and how much I had tried to convince him to come with me," she says. "I had decided to go by myself. Now he's ready."
---
Last March, when I first talked to Keuken about the moment she realized she wouldn't be making it to California in 2020, the hurt sounded a lot like heartbreak: "Saying it out loud caused an incredible amount of pain," she says. "It stung in my chest."
A few months earlier, in November 2019, she noticed a cute man with blue hair from Portland, Oregon, on a Facebook group for 2020 PCT hikers. He intended to start the trail around the same date. They exchanged Instagram handles, then phone numbers. By January, Keuken and Dani Odelson realized they had stumbled into a long-distance relationship, even though they'd never seen each other in real life. They made plans to travel to the start of the trail together and have, hopefully, a five-month first date. The pandemic scuttled those notions.
"That's when we realized we really wanted to be with each other—when there was no way to travel to one another," she says. "That made it very clear we were in love, because we missed each other."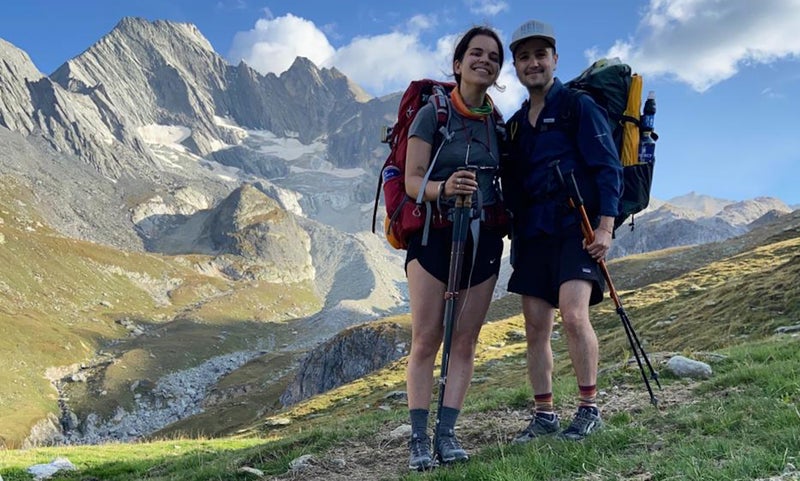 On August 24, Odelson arrived in Amsterdam, his belongings in tow. Their first date became the act of moving in together, out of her parents' house and into her first apartment. They made contingency plans in advance—if it didn't work, he would simply go home. They haven't discussed that emergency exit since, as the relationship has been even better than she expected. During a ten-day hike in the French Alps, she giddily realized they share a pace.
"It was way, way more than I could have hoped for," she says. "We have the same norms and values, both not leaving any trace. Just good vibes."
For now, Keuken continues to treat COVID-19 patients in Amsterdam. Since she's vaccinated, she picks up extra shifts from nurses who haven't received their dose. She and Odelson, meanwhile, are talking about the long-distance hikes they'll take when the pandemic ends—and a move to the United States.
She calls him "my NOGO."
Trending on Outside Online