Dan Binde Claims an FKT on the AT. Can He Prove It?
Another controversial speed attempt on the country's most popular trail points to the need for a better system for verifying hikers' times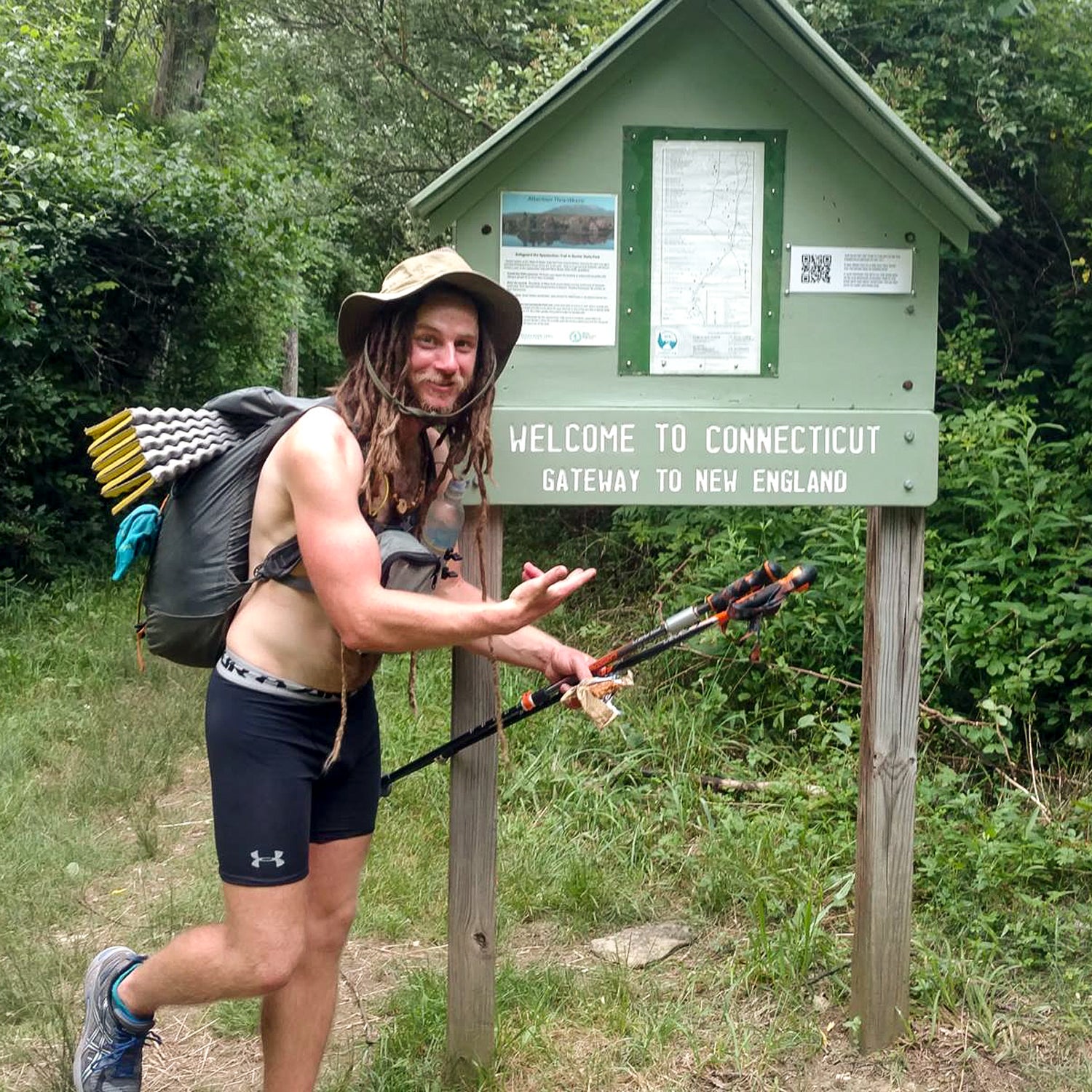 Courtesy Dan Binde(Photo)
Heading out the door? Read this article on the new Outside+ app available now on iOS devices for members! Download the app.
Just after 1 p.m. on July 19, Dan "Knotts" Binde summited Maine's Mount Kathadin, the northernmost terminus of the Appalachian Trail. Binde, who is 25, wore red compression shorts and a bright green windbreaker and had a scruffy beard and dreadlocks down to his waist. He was greeted by his sister, Danette Wichmann, who had driven 29 hours straight from their hometown of Lake Park, Minnesota. She snapped a photo of Binde straddling the Katahdin summit sign, arms spread-eagle, both hands extended in peace signs.
The next day, the two made the long trip back to Minnesota. As Binde slept in the passenger seat, another sister tagged that picture of him on Facebook and included the claim: "Brother finished speed record on Appalachian! 53 days 23 hours." A few friends and family members began sharing the post. As the day wore on, thru-hikers joined in the chorus, publishing congratulations. Some hikers noted that they'd seen him on the trail and that it looked as if he was clearly on pace to set the record for fastest self-supported hike on the trail.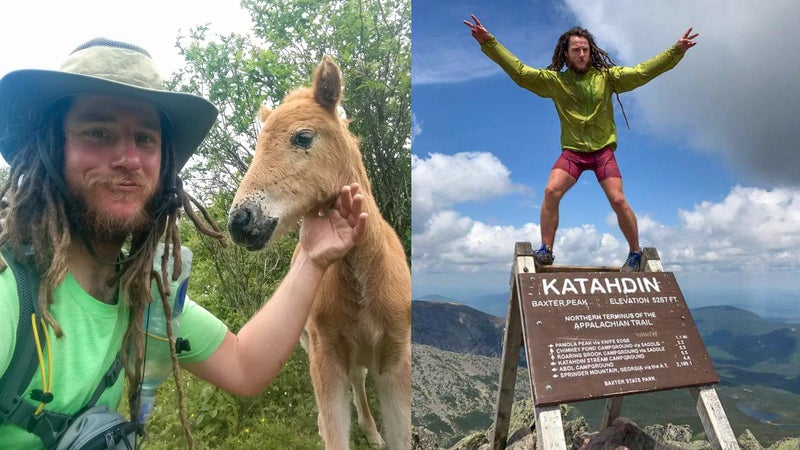 News continued to spread over the next several days. Binde, however, remained largely silent, liking a few of the posts or encouraging comments and once publicly teasing his sister for scooping his news. Then, ten days after his Katahdin summit, Binde posted on a Fastest Known Time Pro Boards forum that is widely considered the clearinghouse for fastest known time (FKT) attempts:
"Yo what up fkt….
Update on my AT Self-Supported FKT.
Disappointed with the completion time, but you never know the extra obstacles you will face while shooting the speed record.
Interesting experience, looking back I would have to tons of things different.
I'll be back for an FKT next year of the Arizona Trail to train for "Alaska".

AT Self-Support Completion Time: 53 days 22 hours 57 minutes"
If Binde's claim is true, that would mean he bested the current self-supported record of 54 days, 7 hours, and 48 minutes, set in 2015 by Heather "Anish" Anderson.
He has no shortage of supporters, who point to his credentials: Binde claims to have completed thru-hikes on the Pacific Crest, Continental Divide, and Appalachian Trails, the hiking world's triple crown. He also boasts a 2014 marathon time of 3:23:03, which, while not fast enough to qualify for Boston, is still an impressive pace of 7:45 per mile. But that kind of street cred isn't enough to prove an FKT claim. That takes evidence—and Binde is learning that sometimes that evidence raises more questions than it answers.
---
The arbiter of modern FKTs is Peter Bakwin, a retired atmospheric physicist for NOAA who started keeping track of FKT records online with the aim of breaking a few himself. (He did so twice on the John Muir Trail—first with buddy Buzz Burrell in 2000, and then in a solo attempt in 2003.) In time, Bakwin's website and the forum he hosts on Pro Boards became the unofficial host for all FKT records. Bakwin soon found himself in the surprising and somewhat unwelcome position of serving as both referee and adjudicator of FKT bids.
As the FKT bids increased, so too did the contentious arguments over the validity of these claims.
Historically, if someone said they had an FKT, they kept a daily log of their start times and locations, miles hiked, and where and when they stopped for the night. If they said they did it, the tight-knit group of thru-hikers believed them. "It was a gentleman's agreement," says Warren Doyle, one of the first individuals to set an FKT on the Appalachian Trail, in 1973. "You notified the record holder of your intent and approach, and then that person would maybe come out and greet you on the trail."
All that began to change two decades ago, when the rise in competitive trail running found big-name ultrarunners and neophytes alike looking for new records to break. With that surge in popularity came the possibility of lucrative sponsorship and media attention. The circle of FKT hopefuls continued to widen, which changed the burden of proof considerably.
About ten years ago, Burrell posed what he calls a few commonsense rules, all of which were in keeping with Doyle's notion of historical practice:
Announce your intentions in advance. Like a true gentleman, pay your respects to those who came before you, and tell them what you intend to attempt and when.
Be an open book. Invite anyone to come and watch or, better yet, participate. This makes your effort more fun and any result more believable.
Record your event. Write down everything immediately upon completion. Memory doesn't count.
Bakwin adopted the rules as the baseline standard and published them on his site. But the problem, he says, is that they don't actually prove anything. "Really," he says, "they just make it easier for a good person to believe you."
So Bakwin began encouraging hikers to take pictures and videos along the way and to hand out cards asking people to verify where and when they were seen. But even these additional steps also fail to prove anything conclusively. As the FKT bids increased, so too did the contentious arguments over the validity of these claims.
The controversy came to a head last season, when Kaiha "Wild Card Ninja" Bertollini claimed to have bested Anderson's record. Within hours of her announcement, a social media firestorm erupted: skeptics argued that she didn't look the part, that they'd seen her partying and taking zero days, meaning full days when she didn't hike. Then a video emerged, purportedly showing her hitching past a section of the trail in Shenandoah National Park, where the trail crosses roads every few miles. It didn't help Bertollini's case when she claimed she wasn't able to substantiate her trip log—a day-by-day account of her mileage and location—because her phone short-circuited in a rainstorm.
In the end, and with some gentle urging from Bakwin, Bertollini decided not to go public with her evidence, though she also refused to retract her claim, angering many in the hiking and ultra communities. Many in the world of FKTs feel that the burden of proof should lie firmly with the attempter—that the individual is ultimately guilty until proven innocent of fraudulent claims.
The question remains how to prove otherwise.
A couple years ago, Bakwin began to insist that FKT bidders also use a GPS tracker like Spot or DeLorme, which, as he wrote on the discussion board, "just might be the ultimate verification tool." That's pretty close to true on trails like the Arizona or Continental Divide, which traverse plenty of wide-open spaces, making it easy to maintain continued satellite contact and record your every step. But the Appalachian Trail, with its notoriously thick canopy, is a different beast entirely. Scott Jurek and Heather Anderson both encountered patchy coverage on their FKTs, leaving data gaps that required additional verification—part of the "open book" strategy advocated for by Burrell and Bakwin.
"It was a gentleman's agreement," says Warren Doyle, one of the first individuals to set an FKT on the Appalachian Trail. "You notified the record holder of your intent and approach, and then that person would maybe come out and greet you on the trail."
After the controversy erupted over Bertollini's claims last year, Matt Kirk, author of Fast, Light, and Free: On the Appalachian Trail and the current record holder for the men's self-supported FKT on the trail, helped Anderson flesh out her trip logs, even though it meant handing her the reigning title. Kirk has been one of the community's staunchest advocates for thorough documentation and supports Doyle's belief that a conscientious FKT attempter will keep a real time log with enough daily detail to make substantiating a claim easy for anyone in the know.
That's what Bakwin would like to see happen—and soon. "I shouldn't be in the position of adjudicating claims," he says. "No one should."
---
In reviewing Binde's supporting evidence, Bakwin, Kirk, and other Appalachian Trail insiders have found a few things that make verifying his claim difficult. First, Binde's GPS tracking data contains gaps. Jurek and Anderson both faced this problem as well, though neither of theirs were large as Binde's, which includes a 17-day blackout through crucial sections of Virginia and the Mid-Atlantic—the very same section where Bertollini's controversy centered.
Unlike Bertollini, Binde is not plagued by any smoking-gun controversies. No videos or other evidence that he did anything other than what he says he did. But those in the FKT community, including some of the individuals reviewing Binde's claim, point to a number of inconsistencies in his report. There are discrepancies of a few hours between when his trip log says he began and ended his hike and what his Spot tracker recorded. After that 17-day gap, there are multiple places where his hiking log states he was much farther along the trail than the Spot data indicates—in one instance, Binde's log says he was in Vermont, while the Spot says he was in Connecticut. Purists also point out that Binde wrote on the Pro Board that he was thinking of hitching a ride, and that he admits to giving other hikers his credit card and asking them to get him supplies, which they say is cheating on a self-supported attempt.
Bakwin says he'd hate to disqualify someone on that last count. But he is concerned that Binde has not yet produced any evidence to solve the problem of the missing data or the discrepancies between his trip log and Spot data. It's a doubly unfortunate coincidence that, like Bertollini, Binde is claiming that his phone became waterlogged and ceased to work on the trail, since photos with dates and geolocation stamps would go a long way to shoring up his case.
Bakwin says he's asked Binde for that kind of evidence multiple times, but Binde has yet to provide it.
For his part, Binde says he thinks he's done more than his due diligence to earn the FKT title. I spoke with him last week and have been corresponding by text since then. He says he's frustrated with the process and seems increasingly defensive when the subject of more proof arises. Binde notes that he stated his intention to break the record, posted pictures and videos on social media, and submitted his Spot data and the trip record. He also sent about a dozen photos of the hike. Plus, he says, he has a reputation with "thousands of hikers" who can vouch to his character.
"That's all I can do," says Binde. "I'm 90 percent sure that it's just a matter of time to get proven."
The problem is that while some of photos have date and time stamps, there is no location stamp, so there's no way of knowing where they were taken. None help with the days where his Spot data and trip log don't line up, and only one photo is from the 17-day blackout. Critics also say that Binde knew his Spot wasn't working for more than two weeks, so why didn't he do more to prove his claim along the way?
For his part, Binde says he thinks he's done more than his due diligence to earn the FKT title.
Bakwin doesn't want to enter the growing fray over this new controversy. He's a data guy, after all. He'd rather the information speak for itself. "I want to be able to present the evidence objectively and let people decide for themselves," says Bakwin. "What actually happened? As a scientist, the uncertainty bothers me."
Meanwhile, three additional hikers are making their own self-supported attempts: Cindy-jo "Sadego" Dietz, Joe "Stringbean" McConaughy, and Joey "Flash" Campanelli. Dietz, who made an attempt last year but aborted the project about 1,000 miles in, claims to be carrying a Spot similar to the one employed by Anderson and Binde. McConaughy has made his Spot data available to Bakwin in real time for verification purposes; he is also regularly posting backdated Instagram photos to document his progress. Campanelli was on pace to break Kirk's record in 2014 when an injury waylaid him just 250 miles shy of Katahdin. This year, he and Kirk have been working together to develop a beta program that allows him to make public a continuous feed of his progress and location with just enough of a time delay to protect his location.
Those in the FKT inner circle say this kind of technology, coupled with a lot more due diligence and record keeping on the part of hikers making attempts, is the only thing that can end controversies like the one Binde is currently caught up in.
"We need as many eyes as possible on these bids," says Kirk. "If you're going to spend all the energy and time attempting something like this, you want to make sure you have good records to go with it."
Corrections:
(10/02/2023) An earlier version of this article misstated the time of Dan Binde's arrival at the top of Mount Katadhin as 1 a.m. The article also stated that none of the pictures and videos Binde submitted were time-stamped or location-stamped; a few were recorded with the date and time, but without GPS data.
Lead Photo: Courtesy Dan Binde
Trending on Outside Online