Don't Kick a Football Off a Colorado Fourteener
Don't whack a golf ball off one either, or chuck a Frisbee, or do anything else that jeopardizes the safety of your fellow hikers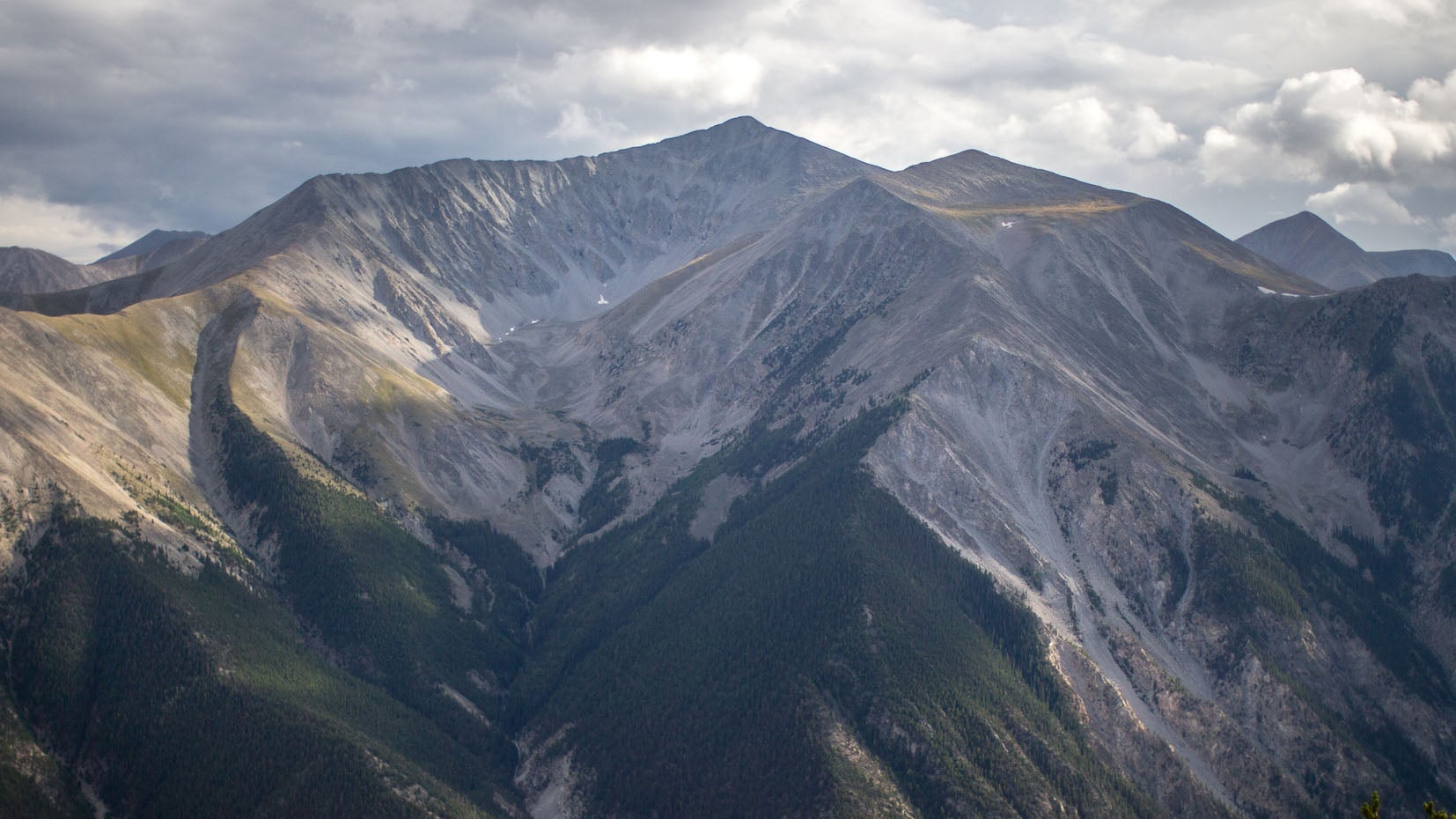 Heading out the door? Read this article on the new Outside+ app available now on iOS devices for members! Download the app.
I feel for Lloyd Athearn, the executive director of the Colorado Fourteeners Initiative.
When Athearn isn't overseeing trail maintenance on the state's 58 mountains above 14,000 feet in elevation—important work that helps hundreds of thousands of hikers reach the summits each year—he must undertake a job that's far less rewarding and fun. Athearn is the de facto hall monitor for the peaks, calling out dangerous behavior on social media, to authorities, and sometimes to pesky journalists like me.
"I have to be the Groundskeeper Willie and yell at the kids to get off the grass sometimes," Athearn says, referencing the famed Simpsons character. "It's not my favorite thing, but if we don't act responsibly, the people who have authority could clamp down."
I first called Athearn in 2015 for a story about mountain bikers who were hiking to the top of the peaks with their rigs in tow and then bombing down the trails. The practice was technically legal on the 14 mountains that aren't located in designated wilderness areas. But the trails on the peaks are designed for foot traffic, not bicycles.
I was surprised when Athearn told me that the cyclists were the least of his worries. At the time, throngs of people had begun using the fourteeners as their own private proving ground for strange and unorthodox stunts. One guy was hiking the peaks with his golf clubs in tow, and then whacking balls into the wild blue yonder from the summits. Another man was hauling his unicycle up the peaks and attempting to ride around on the top of each one. Athearn had heard stories of people whizzing Frisbees off the mountaintops. And there was the steady march of dog owners who were taking their pups along highly exposed sections on 14,131-foot Capitol Peak and 14,203-foot Crestone Needle.
Since then, fourteener antics have not stopped. In 2020, a woman from Thornton, Colorado, hiked some of the peaks while wearing high heels. A guy named Bill Kresge hula-hooped on them all. And this past July, a man pushed a peanut to the top of Pike's Peak with a bizarre contraption taped to his nose.
"Luckily, most of these things are pretty benign," Athearn says. "Someone is always trying to make their mark in some way."
Last week, I phoned Athearn to discuss a cringe-worthy stunt that was making the rounds on Twitter. On August 14, a video circulated showing the Gunnison High School football team kicking a football off the top of 14,309-foot Uncompahgre Peak. The kick was similar to one the team did in 2021 atop 14,058 Handies Peak, but with a few key differences. In 2021, the squad constructed a makeshift field goal atop the mountain's flat pinnacle: the kick flew through the uprights and was caught by a team member.
📍 UNCOMPAHGRE PEAK

We climbed a fourteener with the @GunnisonFB team for the "World's highest kickoff" at 14,309 feet 🏈 #copreps pic.twitter.com/zBiOZgOpOI

— Quentin Sickafoose (@QSickafoose) August 14, 2022
In the 2022 video, however, the football sailed clear off the side of the mountain and disappeared into the void below. Both kicks were covered by a local Denver TV station on social media.
I wasn't surprised to learn that Athearn had already seen the Twitter video, and that it had made his inner schoolmarm quake.
"The north side of Uncompahgre is a thousand feet down, and if a ball fell that distance and hit a person or an animal, that could be quite damaging," he says. "Some might dismiss this and say it won't happen. I'm the guy who worries about someone getting hurt."
As was to be expected, the video sparked a backlash on social media, with a bright line between those wanting to shame the boys into oblivion, and those who had a strong opinion of "meh?" The most appropriate reply I saw was a clip from the 1988 movie The Naked Gun of the entire cast doing a massive facepalm. I phoned Athearn to get a more nuanced take, and found that neither of us believed a Twitter pile-on was the best way forward. Instead, we saw an opportunity to discuss why it's a bad idea to transform 14,000-foot peaks into launchpads for footballs and Frisbees and other projectiles.
In today's landscape of viral videos and Instagram fame, Athearn worries that the football stunt could inspire copycats to launch sporting goods equipment off the top of more mountains. Leave no trace was his other concern, since nobody wants to see Uncompahgre or any other fourteener transformed into a dumping ground for junk. The safety of other hikers was his biggest worry, though. Hiking a peak shouldn't resemble the Assault competition from American Gladiators. Athearn bristles at any activity that increases the likelihood of an injury on the mountains, and with good reason. Every year, a few hikers die while climbing fourteeners, and even more require rescue. These operations are expensive and tricky, and sometimes place Search and Rescue crews in harm's way.
Athearn also worries that an uptick in dangerous behavior could adversely affect access to the famed peaks.
"People fail to realize that when we do dumb and irresponsible things, it leads people in authority to come in and say, 'We're going to limit the number of people who can go here, or do that,'" Athearn says. "If the Forest Service or BLM or whoever sees irresponsible behavior, they can tighten the tourniquet on access."
At the moment, Athearn is helping manage a tenuous situation on four popular fourteeners located outside Breckenridge: Mount Bross, Mount Lincoln, Mount Democrat, and Mount Cameron, known collectively as the Decalibron peaks. The summits of these mountains are owned by private parties, and in recent years, the owners have closed off access to hikers due to fears over liability.
Currently, hikers can legally access Mount Lincoln and Mount Democrat, thanks to a fragile partnership among the Colorado Fourteeners Initiative, the nearby town of Alma, and the U.S. Forest Service. Would an uptick in flying footballs or bouncing unicyclists push landowners to close the mountains? Nobody knows, but Athearn doesn't want to find out.
"I've spent much of my career working to protect mountain areas and the ability for people to enjoy these areas," he says. "Recreating in the mountains is a great thing for everyone."
Of course, a fine line exists between a "safe" fourteener stunt, like hula hooping, versus a more dangerous one, like throwing a softball over the side, or playing fetch with Fido. And, alas, there are likely to be more videos circulating online of dangerous activity that makes Athearn and others queasy. My only hope is that the next time you consider hauling your pogo stick or your Aerobie to the top of a Colorado fourteener, you first think of poor Lloyd Athearn, doomscrolling Twitter for the latest and not-so-greatest video shot from one of the peaks he's trying to protect. Maybe you'll decide to leave it at home.
Lead Photo: Getty Images