This Family of 6 Just Crushed the PCT
Proving, once again, that kids don't have to slow you down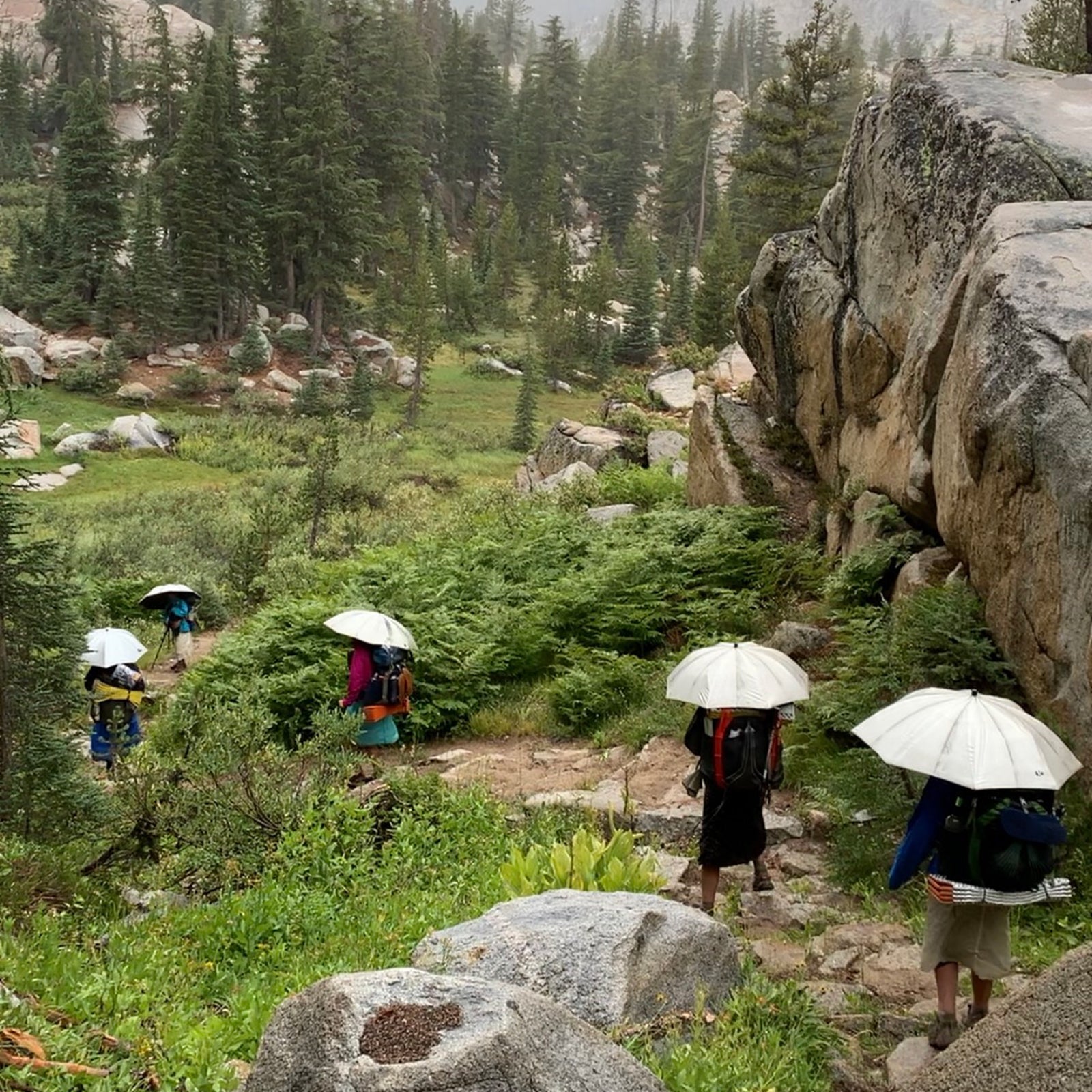 Heading out the door? Read this article on the new Outside+ app available now on iOS devices for members! Download the app.
Seven years ago, Adam Bennett told his wife, Mindi, that he wanted their family to become triple crowners, the title given to thru-hikers who complete the Pacific Crest, Appalachian, and Continental Divide Trails. Mindi had never heard of the title or the trails, but she enjoyed backpacking with Adam and the kids, so she said she was game.
Then came the logistics. They had four kids between the ages of three and nine. It would be a while before they could hike long-distance. Adam and Mindi also needed to save enough money to buy their gear and be jobless for three straight summers. They set themselves a goal of starting when their youngest was nine. In the meantime, they moved between Colorado, Utah, and Washington, cutting their expenses by living in basements. Mindi taught preschool, and Adam stashed away as much as he could from his job as a general contractor, building luxury homes in Park City, Utah, and elsewhere.
As the kids grew, Adam and Mindi began prepping them for the adventure ahead. "We're going to hike through California, Oregon, and Washington," Adam told them. "It's not necessarily going to be like the fun August hikes that we've been on, where it doesn't rain and we go swimming. But we're going to see awesome things and put miles and miles in and wake up in a different place every day."
When the year of their scheduled departure, finally arrived, the kids crammed nine months of homeschooling into five months. They trained by walking five miles a day on a treadmill. Daughters Sierra and Kaia were 16 and 14, respectively, son Tristan was 12, and daughter Ruby was 9.
"Not all the kids were on board whatsoever," Mindi says. "Kaia told us, 'I can't believe you think I'm going to hike that stupid trail.'"
Adam expected some pushback. "Kids will always test their parents' resolve," he says. "We told her, 'We're serious. The gear's bought, the jobs are quit, the house is sold. We're hitting the trail.'"
On March 6, 2019, the Bennett family and their dog, Muir, did just that from the Pacific Crest Trail's southern terminus, atop a small hill on the California-Mexico border. 
They hiked 700 miles in two months, before May snow in the High Sierra forced them to skip sections of the trail and pick up the route at Burney, California, where they hiked into Oregon. The family hit snow again in Ashland, so they jumped up to northern Oregon and hiked all the way through Washington to the Canadian border, arriving on July 18, with snow blowing in their faces. Then the Bennetts headed south and made up the sections of the trail they had missed. Adam (trail name Kidnapper) and Mindi (a.k.a. Wildflower) knew their piecemeal approach didn't fit the classic thru-hiking ethic.
"Right off the bat, we decided that we weren't going to be purists," Adam said. "We were going to give it our all, to hike as much of the trail as we could, but we were going to be safe. It had to be something that the kids enjoyed."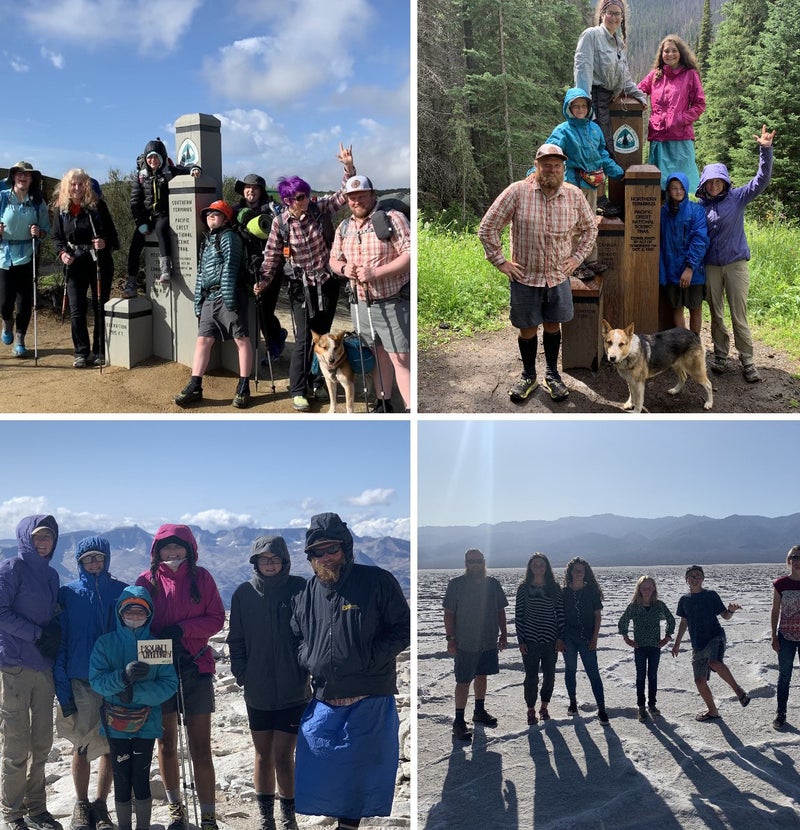 Altogether the Bennetts hiked 2,388 of the trail's total 2,653 miles in seven months. And in the end, the kids did enjoy it, Mindi says, even if some of it was "type-two fun." 
At the beginning of the hike, the family averaged seven to ten miles each day. By the end, they averaged 18 to 20 miles. "If you hiked too far," Mindi says, "everyone was just grumpy. If you didn't hike far enough, the kids had too much energy. We had to find that sweet spot."
For motivation to get through tough weather or grueling ascents, Adam and Mindi doled out candy. A gold-wrapped Werther's could buy about 20 minutes of endurance. But they couldn't give the kids all their candy at once—a lesson they learned after Ruby ate her week's ration of Swedish Fish and then threw up that night. 
Each kid also carried a cheap MP3 player, which they used to listen to Brandon Sanderson fantasy books, Malcom Gladwell bestsellers, and biographies of George Washington and Abraham Lincoln, sometimes on the trail and sometimes in their tents. The material led to interesting family conversations around camp. Adam and Mindi's son, Tristan, listened to more than 70 audiobooks. "We're not even sure if he knew he was hiking," Mindi says.
The Bennetts quickly fell into a routine. They'd usually resupply every three to six days. The kids were thrilled to get a greasy burger in town, and Ruby would scout for a playground. The family would do laundry and buy more food. At first they'd crash at hotels, but when that got expensive, they started camping on the outskirts of towns.
"We read that once you had all your gear, you could expect to pay $1,000 per month per person," Mindi says. "We tried to do half that." One recurring expense was footwear—between them the Bennetts burned through 24 pairs of shoes. 
Meals weren't always exciting. When Adam and Mindi realized that cooking oatmeal added an hour to their morning departure, they handed out protein bars for breakfast instead. Lunch was cold-soaked ramen with peanut butter and honey—a backcountry pad Thai recipe that Adam picked up on the web from Andrew Skurka. On a good day, dinner was packets of Knorr Alfredo pasta.
"Some days," Adam says, "we'd throw a Clif Bar at the kids and say, 'Sorry, this is dinner tonight. It's too cold to cook.'"
Each member of the family had low points but rarely at the same time. Three months and 1,000 miles into their journey, the Bennetts set up camp one rainy night in Washington's Big Crow Basin. The tents were still wet from the morning, and soon ice was forming on the walls. Mindi crawled into her sleeping bag and said, "I don't know if I can do this."
Four days earlier, in southern Washington's Mount Adams Wilderness, Adam slipped on a snowfield and injured his knee. It felt like it was broken, and he wondered if they'd have to leave the trail. Fortunately, after a week of stretching, it began to feel better.
"The latest TV series, or whatever crap is on Instagram or Snapchat, that's just a waste of time," Adam says. "I don't feel like anything that we did on the trail was a waste of our time."
Through it all, their children impressed them with their grit. "Kids are tougher than adults," Adam says. "They fall asleep on the ground and wake up the next morning and they don't have kinks in their necks."
Their months on the trail was valuable family time, Mindi says, and a welcome reprieve from their busy pretrail lives, when activities and distractions like work, school, and sports meant they didn't always see much of each other. "This pulled us all together and forced the kids to really spend time with their parents," Mindi says. "That's just huge."Adam saw the journey as a chance to teach his children that doing things outside their comfort zone can help them develop confidence, self-worth, and a sense of what's important. "The latest TV series, or whatever crap is on Instagram or Snapchat, that's just a waste of time," Adam says. "I don't feel like anything that we did on the trail was a waste of our time."
Along the way, the Bennetts met a whole community of trail angels and fellow thru-hikers who texted back trail reports and took the time to kick solid footholds into snowfields so the family would be safe. "I felt like our kids had pseudo grandparents and substitute aunts and uncles that were always watching out for us," Adam says. 
Word spread through the network of hikers, and often those on the trail heard about the Bennetts before they met them. "People were so excited to see kids on the trail," Mindi says. "We were an oddity, totally a circus."
The Bennetts completed their adventure atop California's Mount Whitney on September 30, a bitterly cold day almost seven months after they began. Then they treated the kids with a trip to Wizarding World of Harry Potter at Universal Studios Hollywood. 
The family is now in Battle Ground, Washington, where they must rummage through boxes of their stuff at Adam's parents' house. Adam and Mindi are working again to try and save some money this winter.
"There's no paycheck when you're on the trail, but it's definitely more expensive to live in the real world," Adam says. They are also using their experience to help fundraise $2,653 (a dollar for every mile of the PCT) for refugee families through Lifting Hands International.
The Bennetts plan to tackle the Appalachian Trail in the spring. The Continental Divide Trail will be the year after that. But Adam and Mindi aren't talking about it too much with the kids just yet.
"Maybe it's a little like childbirth," Mindi says. "Right after it happens you think, I'm never doing that again, but later you're more willing."
Lead Photo: Mindi Bennett