First-Ever Winter Thru-Hike of the PCT
Think Cheryl Strayed is tough? Meet these guys.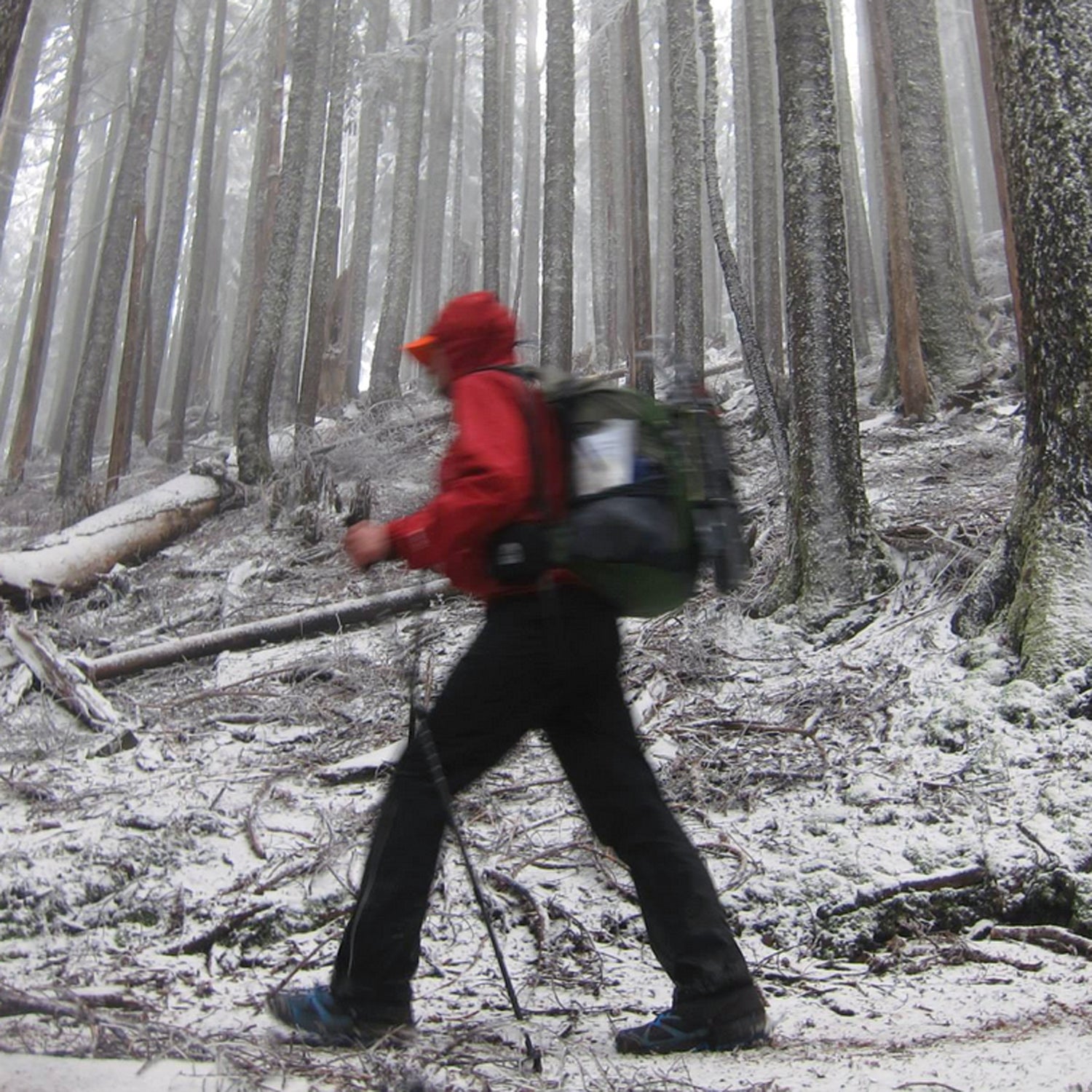 Shawn Forry(Photo)
Heading out the door? Read this article on the new Outside+ app available now on iOS devices for members! Download the app.
On a sub-zero November morning, following a month spent slogging 600 miles along wet, snowy stretches of the Pacific Crest Trail in Washington and Oregon, Shawn Forry and Justin Lichter awoke to find their trail shoes coated with ice and frozen stiff.
The men had shipped their snowshoes to a resupply site in the city of Bend, Oregon, 40 miles away through Santiam Pass, under the assumption that it wouldn't snow much before they arrived there. But the weather had turned for the worse, and through gritted teeth that morning, the men jammed their feet into their frozen shoes and prepared for yet another long, cold day on the trail.
"We told ourselves that if our feet aren't warm in an hour, we'll stop and re-warm them," Forry said later. As an instructor with Outward Bound California, he knew that if they developed frostnip, an early stage of frostbite, immediate re-warming was critical. A few hours into their hike that morning, the hikers pulled their feet out of their shoes and saw that they were cold, white, and waxy.
They needed to thaw their feet as soon as possible, which meant they had to get to town in a hurry. They post-holed down to the nearest highway and hitched a ride into Bend, where they were able to warm up their frozen limbs and assess the damage. "We had a long, serious talk about the fact that the trip might end," Forry said. "We started to prepare ourselves for the disappointment."
Forry and Lichter had set out to do something no one else had ever done before: hike the Pacific Crest Trail in winter. The Appalachian Trail's badass older cousin, the PCT stretches 2,650 miles from British Columbia close to the border of Mexico, and wends through the Cascade Range in Washington and the Sierra Nevada in California. Since its formation in 1977, there has been only one known attempt to hike the PCT in winter, by couple Gerald Duran and Jodi Zatchick back in 1983. They were traveling south to north and were hiking towards Wrightwood, California, to resupply when they got lost. They had started down the wrong canyon and ended up on much steeper terrain than their intended Acorn Trail. As they were descending, they slipped on an icy slope and then fell several hundred feet off a cliff face to their deaths.
Despite the challenges, or perhaps because of them, Forry and Lichter found themselves drawn to the idea of doing the trail in winter. "For me it's not so much the moniker of being the first to do something as it is the enticement of going into the unknown," Forry said during the journey. "I have a real logical mind and it's that problem-solving that I enjoy the most."
These days, between 1,300 and 1,500 hikers attempt to thru-hike the PCT each year (and just over half of them finish). Almost all of them travel south to north, and they begin in late April or early May and finish in September specifically to avoid the winter. The trail's popularity skyrocketed in 2012 after the release of Cheryl Strayed's book Wild and has received another big boost from the recent film adaptation starring Reese Witherspoon. In February, the Pacific Crest Trail Association (PCTA) instituted a new permit system to limit the number of hikers who can start from the trail's southern terminus to 50 people per day starting this spring, according to the AP.
It seemed at first to Forry and Lichter that their journey would end in Bend with frostbitten feet. But after a night spent holed up inside and thawing their toes, the men resolved to return to the trail and pick up where they had left off—this time with snowshoes.
---
Forry, 33, is based in Truckee, California, where he works as the High Sierra Program Manager for Outward Bound California. He is five feet ten inches tall with a long, bristling mustache and a full beard. His friends in the trail community and his colleagues describe him as a kind, good-humored guy with an insatiable drive. He grew up in Amish Country in Pennsylvania and attributes his passion for long-distance hiking to his early experiences grounded in a community centered on simplicity and a sense of daily purpose. His trail nickname is "Pepper."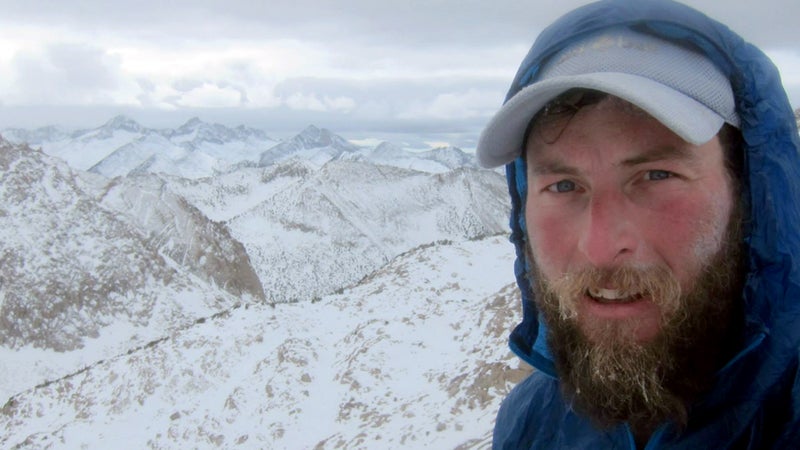 Lichter, 34, tall, and athletic, is the more soft-spoken of the two. He works as a ski patroller at Sugar Bowl Resort in California. Friends describe him as an incredible athlete who goes into challenging situations with the mental toughness and aplomb that it takes to turn a miserable situation into something enjoyable. In the summer of 2007, Lichter decided to swim the 72-mile circumference of Lake Tahoe unsupported and without a wetsuit. Towing a dry bag with food and supplies, he swam in temperatures ranging for 45 to 65 degrees. The journey took him seven days.
Lichter has channeled his extensive knowledge of lightweight backpacking into two books, Trail Tested: A Thru-Hiker's Guide to Ultralight Hiking and Backpacking and Ultralight Survival Kit, a collection of backpacking tips. When describing past trips, Lichter presents as humble and understated. On the trail, he goes by "Trauma."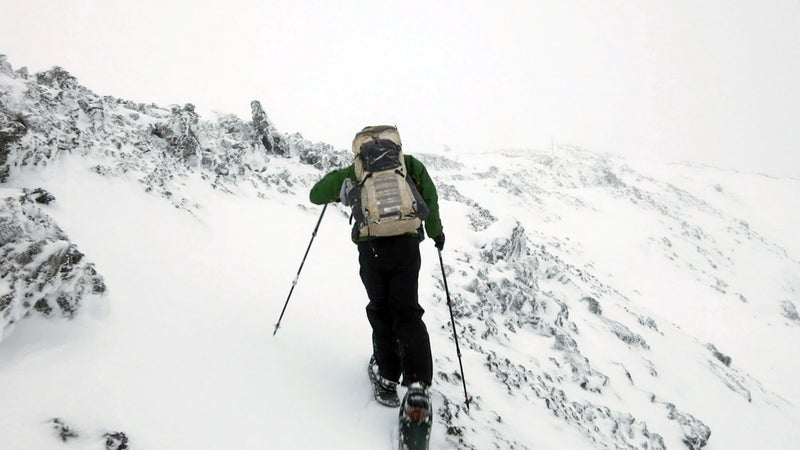 Before this trip, the two combined had more than 55,000 miles of trail hiking experience in seven different countries. Their bond is one forged by years of hiking and establishing new routes together: in 2007, they established a precursor to the 850-mile Te Araroa trail in the Southern Alps of New Zealand; in 2008, they became some of the first people to traverse the 850-mile Hayduke Trail in the Grand Canyon; in 2011, they traversed the Himalayan Mountains from the eastern Nepal border to the India-Pakistan border; and, in 2013, they completed the High Sierra Ski Traverse from Sonora Pass to Mammoth Lakes, California.
You get the idea: These guys are tough.
"We know how the other person reacts," Lichter said. "We know when the other person is dehydrated or frustrated, when to say something, and when to leave it at that. I think it helps to have a lot of experience together. We almost know what the other person is going to say or want to do before they do it."
---
Logging all of those miles together meant that the two were able to work seamlessly throughout the PCT trip, which was crucial. They were often the only people out there.
In the summer, hikers turn to one another for day-to-day things, and there are plenty of people around in case of an emergency. "Generally you're around enough people that if something happened to you, someone would come along in 24 hours at the latest," says Whitney LaRuffa, an experienced thru-hiker and the President of the American Long Distance Hiking Association-West. During a 1,700-mile stretch from Snoqualmie Pass in Washington to north of Walker Pass in California, Forry and Lichter didn't see another soul.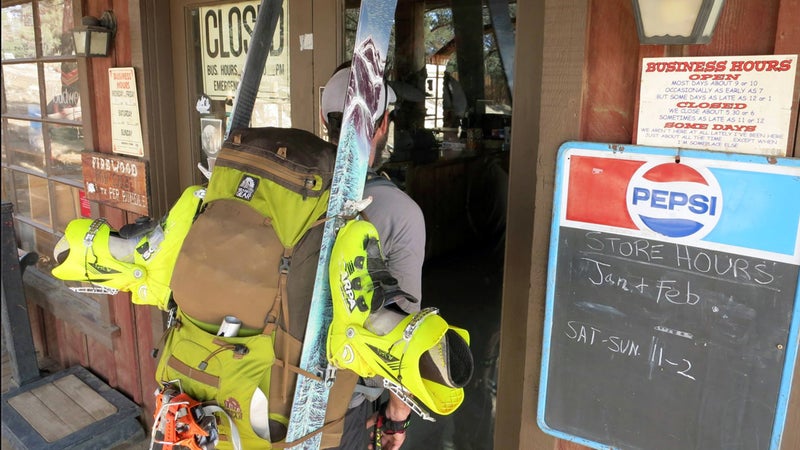 The cold conditions did more than keep other people off the trail. They made the logistics of organizing the trip and the gear selection process far more difficult. In the summer, most hikers complete the trek wearing only hiking boots or lightweight trail running shoes. Forry and Lichter, however, started their trek in trail running shoes, experimented with neoprene overboots and neoprene socks in the rain, strapped on snowshoes for a 650-mile section of North Cascades National Park in Washington, and skied roughly 450 miles of the trail in California.
Nevertheless, they kept their overall travel weight low, with just 18 pounds of gear plus food for the backpacking sections, and 33 pounds of gear for the sections on which they wore skis and needed avalanche safety gear like beacons, shovels, and probes.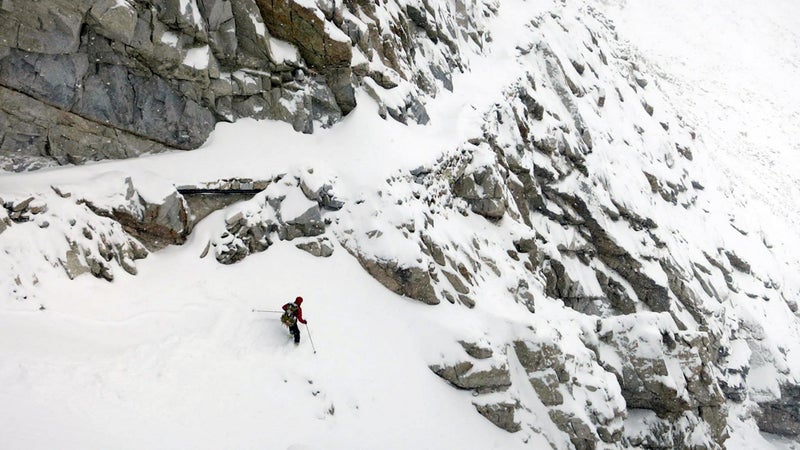 Food proved to be one of the biggest challenges. Without access to the regular summer resupply stations, the men had to hump more food and gear over greater distances. Summer hikers usually buy supplies every four-to-ten days. They make their way to nearby cities using Forest Service roads or by stopping at hiking and fishing camps along the way. But in the winter, the roads and camps are closed and snow-covered. So Forry and Lichter had to get creative. At one point, facing a 12-day stint through the California mountains during which they didn't have the option of buying new food, they arranged for a friend to stash food for them in the snow on top of Kearsarge Pass. Even getting water was difficult. Water sources were often frozen over, so they had to constantly melt snow for water, which sometimes added hours of work to each morning and night.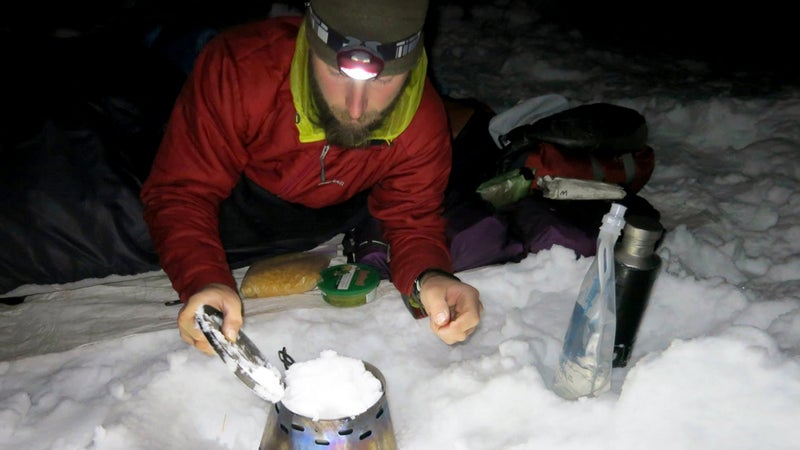 Navigation was far more complicated than it would be in the summer, when days are long and hikers have access to a well-established and maintained trail. Lichter and Forry found that most of the time the trail was obscured by snow. They relied solely on a map, compass, and Delorme GPS to decipher the route.
"Sometimes it's just irrelevant or inefficient to stay on the trail, so you get comfortable not knowing exactly where you are and picking the path of least resistance," Forry said. "Then when you do need to stick close to the trail, you look for subtle clues, like a slight depression in the snow, or signs of trail maintenance like axe marks on trees."
---
The last major challenge of the trip was the journey from Mammoth to Walker Pass. Forry and Lichter knew that if they could make the ski trip through the Sierra and down into the desert, they would be in the clear. But skiing over the 12,000-foot Gabbot Pass, the two hit extremely high winds.
"I've never been a good gauge of estimating wind velocity, but whatever speed it takes to lift a 165lb man and leave them in the fetal position getting sandblasted by snow granules, it was at least that strong that day," Forry wrote in a blog post shortly thereafter.
Forester Pass posed the final, looming challenge. At 13,200 feet, it is the highest point of the entire trail. In the spring, a cornice regularly forms near the top of the pass. (Cornices can be a huge danger for skiers, as you can end up on top of a cornice without realizing it, and it can collapse underneath you.) But this winter, it was only two feet tall. The two skied to the top of a large chute, and then popped off their skis and plunged the rest of the way down on their heels. "It's a huge sense of accomplishment to get through that," Lichter said.
Thirty days later, Sunday, March 1, was Forry's and Lichter's 131st day on the trail. They woke in their tent at 5 a.m. in the rain. They were in hiking boots and on the trail half an hour later. They covered the last 20 miles of the 2,650-mile journey, and hiked down out of that last trailhead in Campo, California, a small town near the Mexican border. By noon, they became the first people to pull off a winter traverse of the PCT.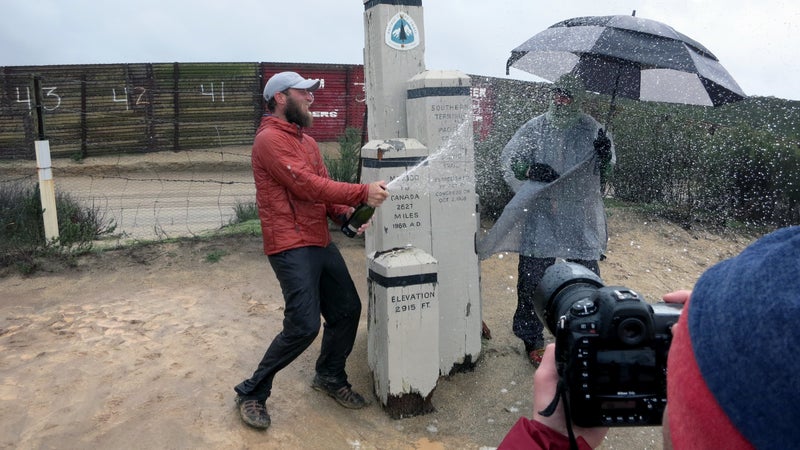 The trail community was impressed, to say the least.
"What Shawn and Justin have done is really remarkable," said Jack Haskel, trail information specialist for the PCTA. It's not just their willpower that is impressive. The outdoor skill and planning involved in such a feat push Forry and Lichter into the upper echelon of long-distance hikers. "For them to be able to plan a hike that completely goes against that norm and faces all those challenges, rather than structuring their hike to avoid them, makes what they've done unique and exceptionally challenging," said Heather Anderson, who holds the self-supported speed record on the PCT. (She finished it in just 60 days.)
In a hotel with his family in San Diego the evening of the finish, Forry was still processing that their four-and-a-half-month journey was complete. "It's hard to feel like it's the end right now," he said. "We had this big celebration and everything. But it feels like it's just another resupply day and we're going to get back out there." And with these two, who knows—maybe they are.
Lead Photo: Shawn Forry