Helping Google Map the World
The team behind Google Street View is going off-road, and they're turning to you for help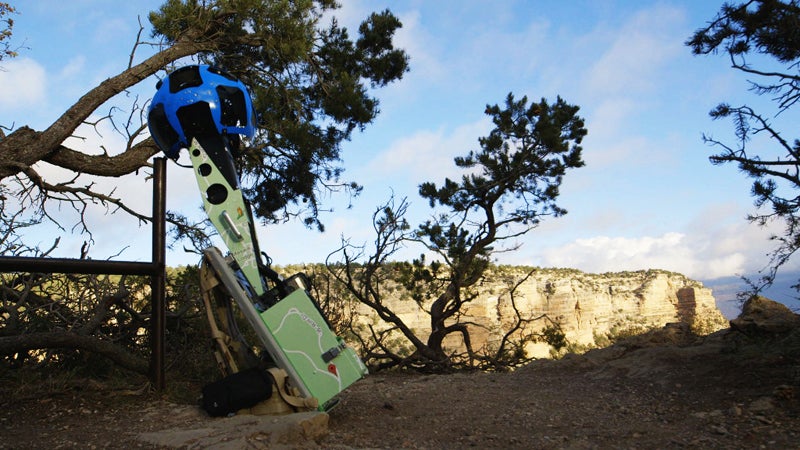 Heading out the door? Read this article on the new Outside+ app available now on iOS devices for members! Download the app.
You've probably used Google's Street View feature to find a restaurant, gawk at your house, or peek into the Grand Canyon. Soon you'll be using it to scout bomber singletrack. As part of its effort to build the world's most comprehensive map, Google has launched a new program that will put Trekkers—40-pound back-pack versions of the ­cameras used on its Street View ­vehicles—in the hands of trail-­management crews, tourism bureaus, universities, and other nonprofits around the world.
The first Trekker was sent to Hawaii's Big Island last August, to Rob Pacheco, cofounder of outfitter Hawaii Forest and Trail. "It's like being a cinema­tographer—you keep thinking about how everything's going to look," says Pacheco, who hiked past ohia lehua trees, lava flows, and a 400-foot-deep pit crater in Hawaii Volcanoes National Park while the camera's 15 lenses snapped every 2.5 seconds. When the Big Island images are released in March, viewers will be able to navigate 46 miles on 24 trails.
Google aims to have hundreds of the 360-­degree, 75-megapixel devices in the field by the end of the year. Which made us wonder: How do we get our hands on one? We asked Evan Rapoport, a 33-year-old product manager for Street View who helps select the Trekker ambassadors.
Get affiliated. The loan program is limited to organizations in 35 countries. "We're looking for partners who have a lot of respect for the land and celebrate preservation," says Rapoport. Apply at goo.gl/SJjB8.
Think big. Rapoport settled on Hawaii in part because it's a place people "dream of going." In other words: skip Kansas.
Make it count. Google partnered with the Charles Darwin Foundation in 2013 to photograph critical wildlife habitat in the ­Galápagos Islands, providing baseline visual data for scientists around the world to track environmental conditions.
Flaunt your access. It's tough for Google to get permission to take commercial photographs in places like national parks—which is why it's turning to groups like Hawaii Forest and Trail, which already had a relationship with Volcanoes. If you have permission to photograph a hard-to-access place, you'll have a better shot.
If all else fails, DIY. The search giant recently launched Photo Sphere, a new feature in Google Maps that lets users upload location photos to create their own Street View–like panoramas.
Stay tuned for additional coverage of the Trekker Loan program.