Jeff Garmire's FKT Attempt on the John Muir Trail Came Down to a Desperate Final Sprint
The veteran hiker takes us through his three-day attempt, which saw him battle bladder problems and extreme exhaustion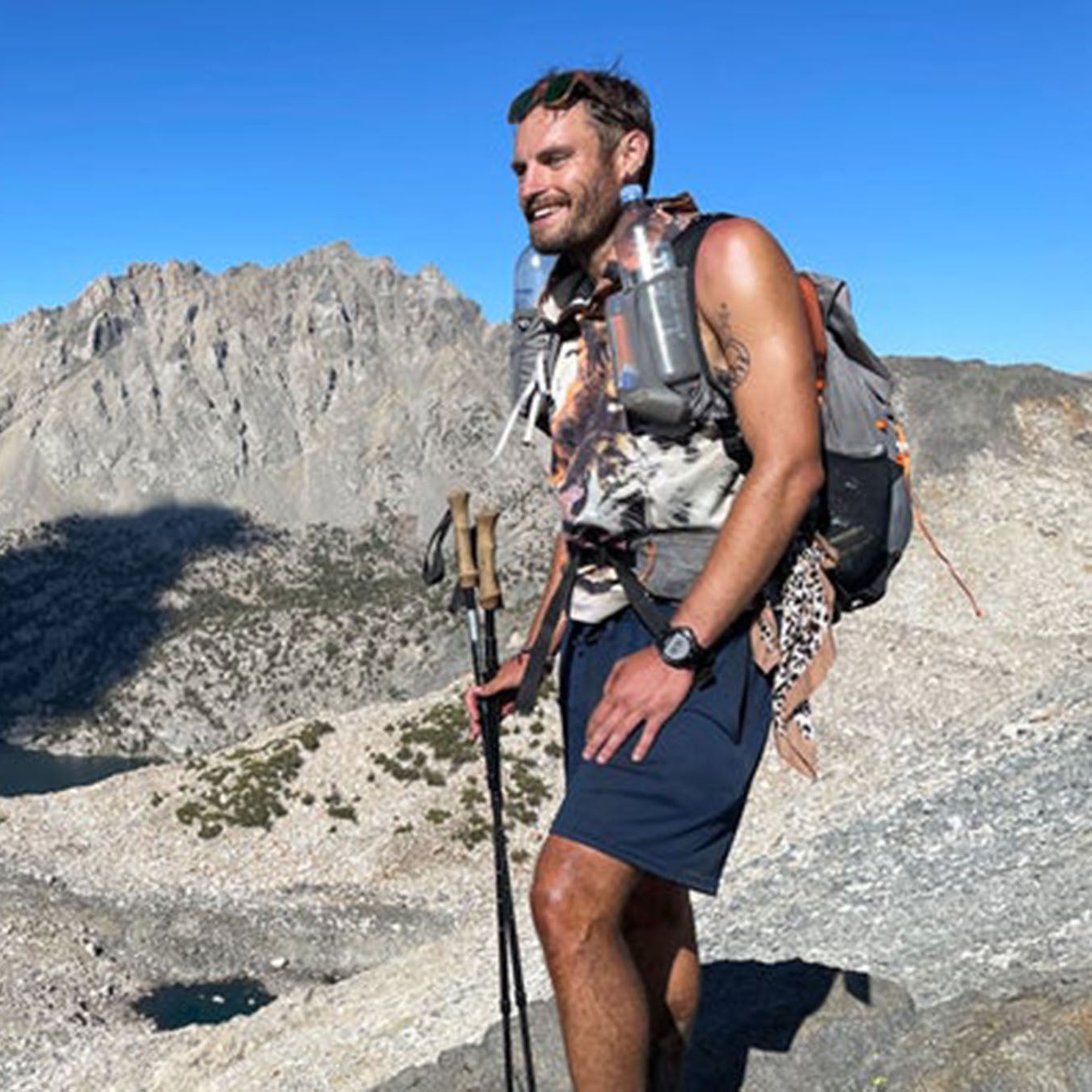 Jeff Gamire
Heading out the door? Read this article on the new Outside+ app available now on iOS devices for members! Download the app.
Editor's Note: On August 29, hiker Jeff Garmire set a new unsupported fastest known time for the John Muir Trail, beating Joe "Stringbean" McConaughy's three-week-old record by a mere 12 minutes and 38 seconds. We asked him to tell his story in his own words.
I had a permit to attempt the John Muir Trail record twice this summer but canceled both times. The idea of going for the FKT scared me: I scouted it for a record attempt in 2019 but spent the next three years too nervous to go for it. Then, in early August, Joe McConaughy lowered the JMT unsupported record time by three hours. It turned out to be the final push I needed. 
The drive to Yosemite was freeing, void of the usual pre-FKT anxiety. I was proud to go after a goal that scared me. It wasn't my first time: From the Colorado Trail to the Arizona Trail, I had managed to topple FKTs by making a plan and sticking to it. But the the John Muir Trail was different: It was shorter, faster, and one of the most competitive records in the world. There was real doubt, and I spent days mentally finding the right headspace. 
At 7:33 a.m., I charged away from the terminus. The clock would not stop until I arrived at the Whitney Portal Trailhead, 223 miles away, or quit. Consistency was the core of my strategy. I planned to cover the same distance every 24 hours and consume the same calories. My target was 72 hours, enough to beat the standing FKT by just more than an hour and a half. It worked out to a three-mile-per-hour average, including breaks and sleep.
Ten hours later, I stood at mile 36 on Donohue Pass. Everything was feeling great. But then I stopped to pee, and it burned. The color was wrong. Was it brown or red? I'm colorblind and couldn't tell. This had never happened after 40 miles, and I feared rhabdomyolysis. I was distraught, so I took off my backpack and sat, trying to calm myself down. When I felt more rational, I started moving again.
Darkness crept in, the temperature plummeted, and I pulled out my headlamp. The break to calm down had salvaged my mood. While the issue didn't disappear, I knew I was in control enough to solve it, or at least monitor it in case it got worse. I doubled my water consumption and ran through the first night, embracing the cold temperatures and the clear, starry night. 
The first 24-hour segment ended at the base of Silver Pass. Consistency prevailed, and 77 miles in, I still had a shot at breaking the record. While my bladder issues continued, they didn't get worse.
Later, on Muir Pass, my energy disappeared. Night two arrived, and I laid down on the side of the trail at 11,500 feet elevation. A five-minute timer set, I closed my eyes and passed out. 
That morsel of rest wasn't enough to rejuvenate me. I was still exhausted, and I knew I needed a strategy, a way to focus my mind. I focused on the number five: Five high passes remained before a climb up Mt. Whitney. Pushing my body forward, I crested a ridge next to a stone hut, and five passes became four. 
In contrast to night one, night two was shaping up to be a battle. I struggled to stay efficient. When I tried to run downhill, another wave of exhaustion hit. The sun slowly rose and brought me fresh energy near Palisade Lakes, but I knew it wouldn't last. I had another overnight to go, after all.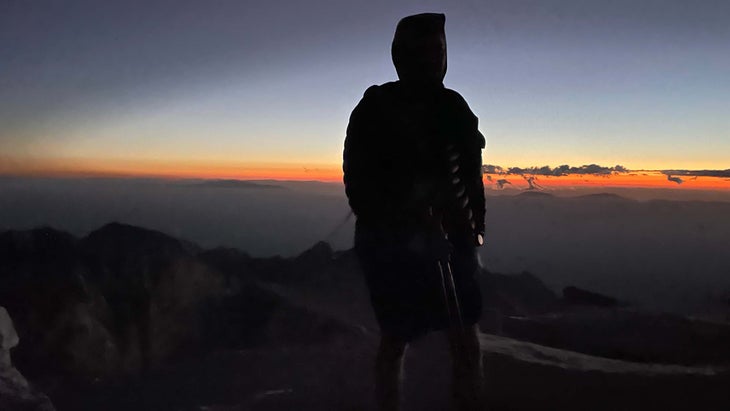 On Mather Pass, four remaining passes became three. Without pause, I ran down the switchbacks toward Pinchot Pass. I was in the final stretch, with less than 24 hours left, but the lack of sleep was crushing. I craved a nap, finally giving in and grabbing another brief one by the trail. But a quarter mile later, I realized my hands were empty. In a frenzy, I ran back up the hill to my nap spot to grab my trekking poles, ten precious minutes wasted. 
I was quickly down to two high passes, and smiling broadly on the descent off Pinchot. My legs carried me through some of the most beautiful terrain in the country. The sun reflected perfectly off Rae Lakes, and I charged up Glen Pass. Just one more high pass. But as night fell, reality set in. I was going to have to power through the darkness one more time. Did I have it in me? One 13,120-foot pass and a 14,000-foot mountain stood between me and the FKT. 
In the dark, I climbed the final switchbacks of Forester Pass. Now, all I had to do was climb and descend 14,505-foot Mt. Whitney. 
I tried to run but rolled both ankles in minutes. My head screamed, and my vision danced. I couldn't focus. The smooth trail seemed to bounce with every step. 
The next thing I knew, I was on the ground, blearily opening my eyes. I had fallen asleep while running. Sitting up, I tried to summon the adrenaline I'd need to push through the last stretch, but my body wouldn't respond. So I made a scary decision: I would take a 12-minute nap. Would it cost me? Maybe, but I could not keep going.
After I woke up, I jogged to Guitar Lake and began the hike up Whitney in earnest. The switchbacks quickly had my heart pumping. I pushed deeper into the pain cave: The rhythm of my panting was a metronome for my feet. I hiked in a trance to the top as the first light of morning appeared. It was magical, but I didn't have time to dwell on it: The FKT didn't end until the trailhead. Out of nowhere, I fell hard, then again. My phone screen cracked, but nothing mattered. I jogged on. 
Over trail crest and down to the portal, my legs picked up steam. The clock was running down—I had two hours left, then one—but the trail stretched on. With 45 minutes left, my anxiety skyrocketed: After three days, it would be a photo finish. My jog became a sprint. My bladder screamed, and I tried to alleviate the discomfort, only to end up covered. I ran a six-minute mile, but the trail stretched on. Where did this end? One more corner, and I saw it: the trailhead sign. I ran to it, stopped my watch, and sat down. It was over.
My time: 3 days, 47 minutes, and 56 seconds. I had beaten the record by less than 13 minutes.
The flood of emotions never came; I had nothing left. For three years, I had nursed a goal; for three days, I had lived in it. Now, a part of me was both fulfilled and gone. 
Lead Photo: Jeff Gamire
Trending on Outside Online