There's a New Speed Record on the Pacific Crest Trail
Belgian ultrarunner Karel Sabbe just shattered the fastest known time for a supported trek along the iconic pathway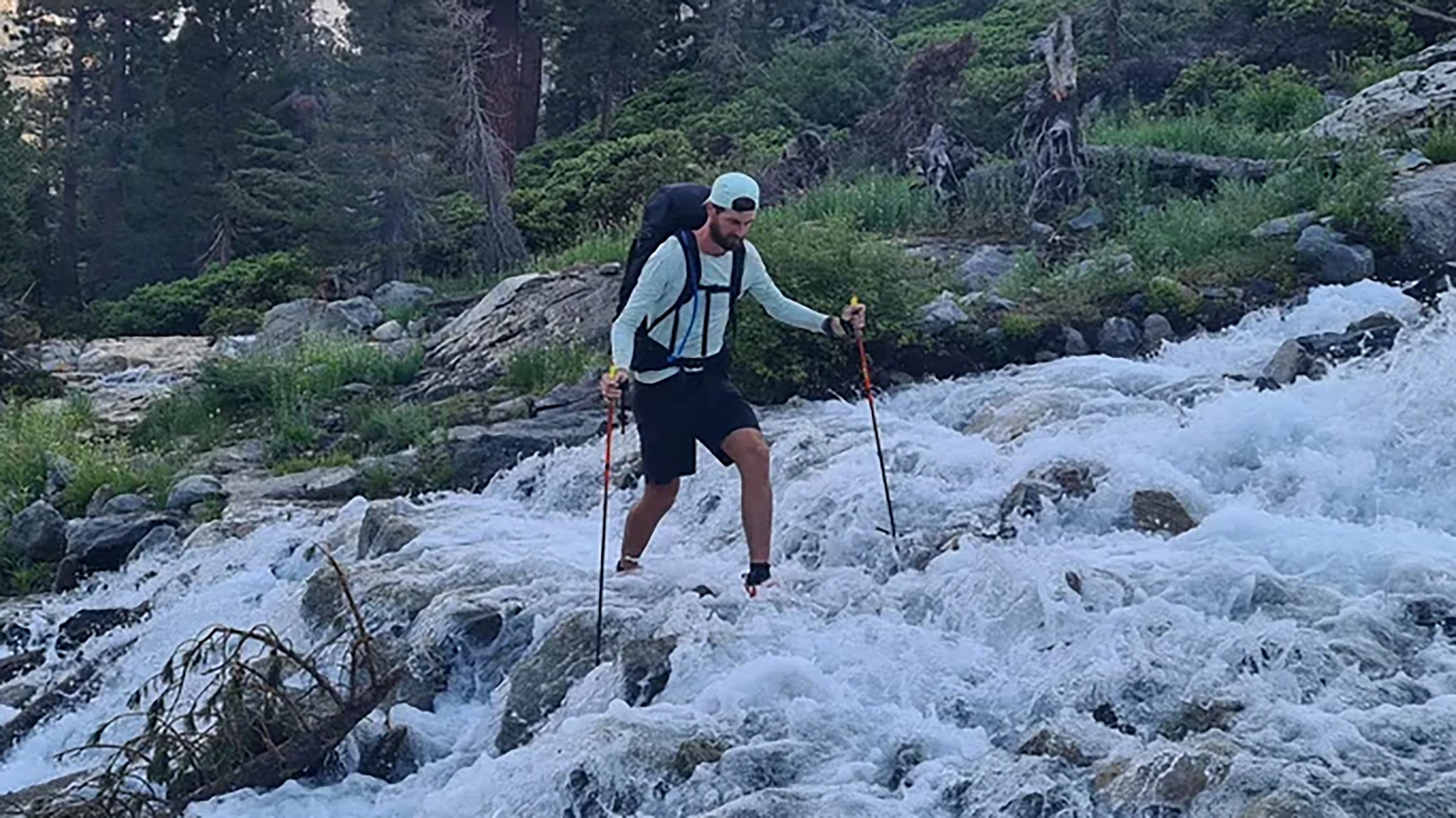 Kobe Blondeel
Heading out the door? Read this article on the new Outside+ app available now on iOS devices for members! Download the app.
Karel Sabbe just lowered the speed record on the 2,652-mile Pacific Crest Trail (PCT)–finishing more than five days under the previous record.
Sabbe, 33, from Belgium, ran the length of the continental United States, from Mexico to Canada, in an unofficial fastest known time (FKT) of 46 days, 12 hours, and 50 minutes—which was five days and four hours ahead of Timothy Olson's mark of 51 days, 16 hours, and 55 minutes.  
Sabbe's secret to breaking the record by such a decisive margin? 
He didn't think about the old record.
"If you go into an FKT attempt with the current FKT in mind, you're limiting yourself," Sabbe said. "My goal was to get the best out of myself every day."
By recalibrating his thoughts to focus on the possibility of what he could do, instead of what someone had done before, he was able to average 58.1 miles and about 9,000 feet of elevation gain a day, for 47 straight days. The old record pace was around 51 miles a day. 
An Experienced FKT Seeker
It's the same strategy Sabbe used on the 2,189-mile Appalachian Trail (AT) in 2018, when he broke Scott Jurek's FKT by over five days, finishing in 41 days, 7 hours, and 39 minutes, a mark that still stands five years later.
But this wasn't his approach during his first run on the PCT, back in 2016, when he set an FKT in 52 days, 8 hours, and 25 minutes, finishing less than 24 hours ahead of the record at the time.
That run was his first long-distance, multiday record attempt, and while he succeeded at getting the FKT, he wasn't totally satisfied with his effort.
"I knew I could do a lot better," he said.
Sabbe, a professional ultrarunner and dentist, has become a long-distance FKT specialist since that first attempt—setting records on the PCT, the AT, and the 1,646-mile Via Alpina Red, a route that traverses the Alps through eight countries. The On athlete also earned his first Barkley Marathon finish this spring, joining just 16 other runners who can say the same.
His well-researched opinion is that the PCT is the most beautiful trail in the world. He loves that it offers a singletrack tour of desert sunrises, sweeping alpine views, dramatic Cascade volcanoes, and lush old-growth forests.
He felt pulled back to the PCT for many reasons, including getting another chance to explore his potential— and reclaim the record. But a lot of people didn't think 2023 was a year he could do it.
"Karel set the PCT in one of the hardest years imaginable," said Joe "Stringbean" McConaughy, a professional trail runner who has set FKTs on many of the most iconic long-distance trails, including the PCT in 2014.
High Snow in the High Sierra 
The Sierra Nevada mountains were battered by snow this winter, and the snowpack was still more than 200 percent above average levels in late spring. Many PCT thru-hikers skipped the Sierra due to the challenging conditions and hiking forums are still buzzing with talk of micro-spikes and snow-covered passes in late August.
Sabbe watched snow reports from his home in Belgium all winter, and as storm after storm dumped feet of snow on the Sierra, he grew increasingly worried that his PCT plan was in danger. He made the tough decision to push his start date back a month, which wasn't easy, since he had to reconfigure the complicated logistics of a multi-week run and reschedule 200 dental patients.  
When he launched his run from the southern terminus of the PCT on July 10th, the Sierra was still smothered in snow and uncertainties swirled around the effort. Sabbe and his crew kept hearing dismal trail reports from hikers who said the Sierra were impassable.
"But, we decided to trust that our fitness and mountaineering skills could handle the conditions," he said. 
He recruited Kobe Blondeel and Henri De Veene, his friends and crew members from Belgium, to join him, knowing it would be safer to travel in a group, especially through the most dangerous water crossings, where a bad step can be life-threatening. Armed with traction and ice axes, the trio headed into the mountains together to see if they could keep the record hopes alive.
They found plenty of steep snowfields and raging rivers waiting for them, but the travel was not impossible. When they made it to Forester Pass, the highest point on the PCT at 13,180 feet, Sabbe felt a surge of relief and excitement. 
"The FKT seemed truly possible," he said. He made it through the Sierra with the record still on the table, but the snow was far from the only hurdle that Sabbe faced.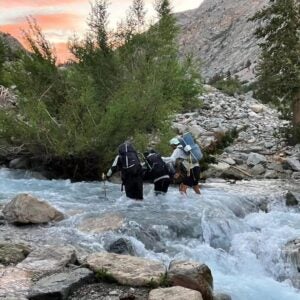 Fire and Ice
A challenge of the PCT, that's only worsened with climate change, is that it's nearly impossible to nail a window that's free of environmental challenges, from snowy mountains, to heat waves, to wildfires and smoke.
Sabbe encountered all of the above during his record-breaking effort.
The desert miles on the southern end of the trail collided with a scorching heat wave. The triple-digit temperatures were so unbearable that Sabbe reconfigured his days so he was running through the slightly cooler nights. This meant trying to sleep through 110-degree heat—which is not a skillset that Sabbe had fine-tuned before the run. 
Scorching issues were also a problem on the northern end of the PCT, when wildfires started blazing across the Pacific Northwest, and the Dome Peak and Blue Lake Fires closed down a 50-mile section of trail in Washington's Glacier Peak Wilderness. 
Controlling the Controllables
Sabbe learned about the fire closure shortly after he crossed the border into Washington and was more than a month into his run. 
When he first heard about the fires, there was no news of an official reroute. The PCT was just closed.
He felt himself doom-spiraling into worst-case scenarios about what would happen if the fire raged on with no detour. He could be forced to abandon his attempt more than two thousand miles into his run.
"I was thinking about it too much and it wasn't helping me," Sabbe said. "I decided to make the fires a forbidden topic for the next four days. I knew we would figure it out when we got closer."
"This is a superpower of Karel's," said Blondeel. "He can flow with situations and focus on controlling the controllables."
Sabbe accepted the reality of the situation and stopped worrying about the things he couldn't change. He knew issues like fire closures—and heat waves and high snow—would be a part of his PCT run and stressing about them wasn't going to get him to the Canadian border any faster.
"It's 2,650 miles of wild trail and stuff will happen," he said. "That's also what makes the PCT so interesting. You have to find solutions to all of the inevitable problems—it's part of the adventure."
By the time he reached the closure, the Pacific Crest Trail Association had announced a 70-mile reroute, which would tack on dozens of bonus miles and involve much more rugged terrain. But Sabbe could keep going, with the help of his "control the controllables" mindset.
"The first steps on the reroute made it clear that we weren't on the well-maintained PCT anymore," he said. The trail was overgrown, steep, and so difficult to navigate that Sabbe and Blondeel lost the trail for nearly an hour at one point. 
"There were sections that made the Barkley look easy," Sabbe said.
The Final Push
Sabbe finished the trail just like he started it—trying to get the best out of himself. 
He ran straight through the night and ticked off the final 100 miles in about 28 hours—which is a respectable standalone effort for a 100-miler, never mind at the tail end of a 47-day push, with some Barkley-like conditions peppered in.
He reached the northern terminus on Saturday, August 26, a few hours after his last breathtaking sunrise on the trail, where he was greeted by the crew who helped him get there. 
"Everything hit as I was finishing—I thought back to starting at the Mexican border and traveling through all of the snow, deserts, and fires, across California, Oregon, and Washington," he said. "It was a proud and emotional moment."
The PCT Dream Team 
Once his time is officially verified, Sabbe's name will get etched into the digital record books—but he didn't get there alone. 
A core crew of four friends and family members supported Sabbe for every single mile of his attempt. The team was made up of Blondeel, De Veene, Anna Vandoorne, and Sabbe's wife Emma Vandoorne.
"It's impossible to convey how exceptional my team was," Sabbe says. 
Sabbe's strategy for breaking the record hinged on maximizing every waking minute for running—and every sleeping minute for recovery. He executed a metronomic run. He was out of camp within 15 minutes of getting up in the morning, asleep within 30 minutes of finishing each day and running for 15 to 16 hours a day, with very few minutes spent on activities that weren't helping him move forward.
His crew empowered him to make the most of his miles, he says. They hiked his camping gear into remote parts of the trail so he could sleep in the most optimal spot. They helped him get in and out of camp every morning and night. They paced him through long stretches, filtering his water and carrying his pack along the way. And they drove all over the West Coast, crewing him along the trail multiple times a day and fetching any food he was craving, including a Belgian specialty of tuna and peaches in the desert. 
"A lot of record attempts focus on what the runner accomplished," he said. "But, I think, and hope, that people saw how integral my crew was to my success."
Finding His Forever Pace
Sabbe went into the run wanting to get the best out of himself every day—and while he feels like he accomplished that, he'll never really know if that's true.
That's part of the fun for Sabbe. His effort existed on the razor's edge between realizing his full potential and pushing too hard. 
Sometimes he'd end his days looking so good that the crew would question whether he should stop. But, Sabbe knew there was a tradeoff between running a few extra miles or getting 45 minutes of sleep instead. He knew he needed to recover so he could perform at his highest level, day in and day out, for over six weeks.  
"We realized it wasn't a bad thing for him to be strong at the end of the day," said Blondeel. "He knows how to find his sweet spot for running a sustainable forever pace."
He approaches all of his running in a similar way—trying to find that sustainable, forever pace. As a runner, dentist, father, and partner, he has many competing demands for his time and his training volume isn't as high as other professional athletes. He averaged just 7.5 hours a week leading up to the PCT but he knew a higher volume would come at a cost—and it wasn't worth it for Sabbe. It's important for him to have time to hike with his family on the weekends and go out to the pub with his friends. He lives and runs at his best when he reduces stress and prioritizes the things that make him happy. That's part of how he set himself up for success on the PCT. 
"It's going to get hard on a run like the PCT, and if your hard time started months before your run because you don't see your friends and family, and you stopped drinking a beer every now and then, you might not have the strength to push through the lows," he said. "I run my best when I hold onto the things that give me joy."
Lead Photo: Kobe Blondeel
Trending on Outside Online