Search and Rescue
How Maui Volunteers Found Two Missing Hikers in a Week
Five days after an ad hoc army of volunteer searchers rescued hiker Amanda Eller, the yoga teacher missing for 17 days on Maui, the same crew located missing person Noah "Kekai" Mina just 20 miles away. This time, the ending was not so happy.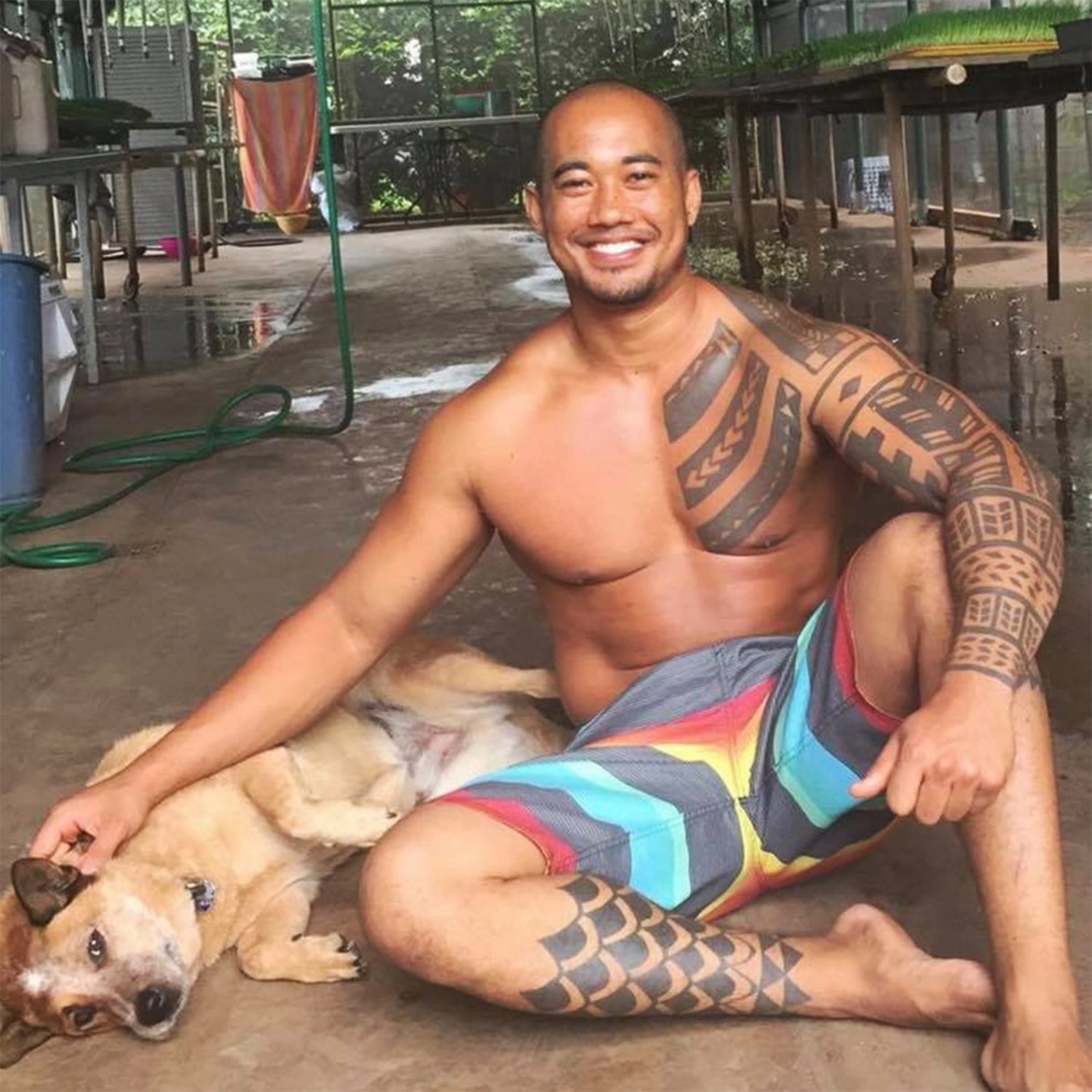 GoFundMe(Photo)
Heading out the door? Read this article on the new Outside+ app available now on iOS devices for members! Download the app.
In the early morning hours of May 29, a helicopter circled Mauna Kahalawai, on the Hawaiian island of Maui, deploying Forward-Looking Infrared Radar (FLIR) to detect any sign of life. The searchers were looking for a local hiker who had been missing for nine days.
The missing person was not Amanda Eller, the yoga instructor and physical therapist who now famously survived 17 days in the Hawaiian backcountry in a tank top and capris. It was 35-year-old local man Noah "Kekai" Mina who, on May 20, set out on the unmarked Kapilau Ridge Trail, also known as the Iao Valley Secret Trail, roughly 20 miles away from the command headquarters for Eller's search.  
But the searchers—an unemployed arborist, a former Army Ranger and scuba instructor, and a rappelling guide—were the same.
---
To paraphrase Robert Koester, a.k.a. Professor Rescue and the author of Lost Person Behavior, the Bible of search and rescue, a runner tends to run themselves out of the search area pretty fast. That's just what Eller, 35, did on May 8. She'd intended to do a routine three-mile trail run in the Makawao Forest Reserve, a 2,000-acre rainforest that shoulders the massive Haleakala volcano on the Hawaiian island of Maui. Eller, a local, ducked down a little side path for a meditation break. When she stood up to continue on the main trail, she got turned around, forgetting which way she'd come in. And as outdoor athletes can and sometimes do, she pushed herself swiftly and confidently in the wrong direction, determined not to backtrack, so that her hourlong outing turned into a 17-day bushwhack from hell.
After her boyfriend, Benjamin Konkel, reported her missing to the Maui police department on the morning of May 9, authorities located Eller's white 2015 Toyota RAV4 at the Hunter's Trail trailhead. Her phone, wallet, and water bottle were locked inside the car. Her car key was found hidden behind a tire. This wasn't necessarily unusual—she wouldn't need her phone on a short familiar route, and the only thing you can do with a car key in the forest is lose it. There was no immediate sign of foul play; Konkel took a lie-detector test and passed.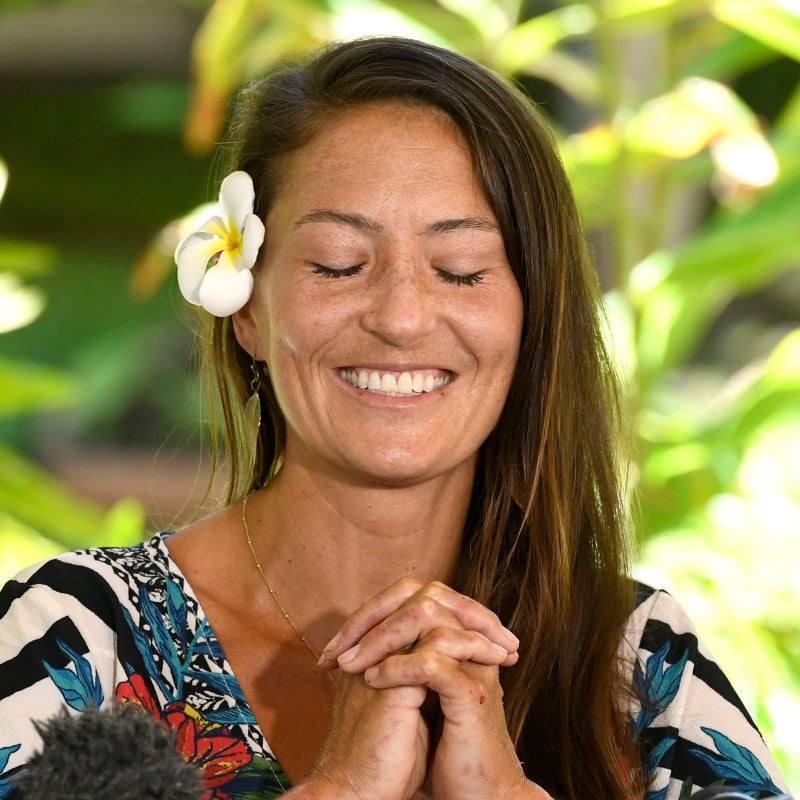 According to the federal National Missing and Unidentified Persons System (NamUs), Hawaii ranks eighth in the United States in number of missing persons. (Alaska is far and away number one.) Whereas in most of the United States the county sheriff is in charge of search and rescue, in Hawaii the sheriff division of the Hawaii Department of Public Safety acts more like a state police. On Maui, the county fire department is in charge of search and rescue. The Maui police department and the Maui County Department of Fire and Public Safety were joined by dog teams from the volunteer organization Maui Search and Rescue. In a matter of hours there were helicopters, drones, dogs, and trained boots on the ground. Dozens of volunteers showed up to help scour the trails.
"We would take anybody who could walk," says Sarah Haynes, a friend who was deputized into helping organize the search and taking the role of family spokesperson while Eller's parents, John and Julie, were unreachable for the first two days while on a diving trip.   
At first all those searchers were organized under the direction of Maui Fire, who are well versed in incident command. But on May 11, mandated by a 72-hour limit on rescue-personnel efforts, Maui Fire had to pull the plug on the official search. As of Sunday, May 12, the volunteers were on their own, an army without an officer. That's when arborist Chris Berquist, 33, and Javier Cantellops, 37, a former Special Operations Army Ranger, scuba instructor, and free diver who'd taught scuba to Eller, stepped in.   
---
I've studied myriad missing-person searches while researching my forthcoming book, The Cold Vanish (Grand Central Publishing, 2020). Searches are like snowflakes in that no two are alike, but the hunt for Amanda Eller was special—only in part because she survived.
In most cases, after the official search is called off and the incident command goes home, the effort is left to family, friends, and sometimes a handful of locals who want to help. The lost person is at the mercy of familial and demographic privilege; in short, who looks for you when the pros go home is a crapshoot. Some searches get a figurative shot of vitamin B when an incident-command expert steps in to run an intensive two- or three-day ad hoc search. The Jon Francis Foundation, a Minnesota-based nonprofit that helps families of persons missing in the wild, will sometimes organize a skilled search of seven to ten days. Neal Keller, father of runner Joe Keller, who disappeared in the San Luis Valley of Colorado in 2015, would fly out from his home in Tennessee to take lonely hikes and horseback rides in the mountains until Joe's body was found in 2016. Professional adventurer Roman Dial utilized his skillset to search for his son Cody, who vanished in 2014 in the Costa Rican jungle; Cody's body was found two years later. Randy Gray, a surfer whose son Jacob went missing on his bicycle in Washington's Olympic National Park in 2017, left his contracting job to turn over every rock in the Sol Duc River looking for his son.
But these are exceptions, not the rule. And what made the search for Eller especially unique was the army of fit, motivated islanders and the sacrifices made by Cantellops and Berquist, who didn't even know Eller when she vanished. "We need people who are comfortable being outside six to eight hours a day," Berquist told Maui Now from the operations yurt that was erected on site. There were 60 to 150 searchers there every day for two solid weeks. And the spirit was such that they would have stayed longer.
Out came the psychics. The trail of any missing person in the wild is paved with psychics. Most of them saw her dead. They saw men with tattoos. They saw her tied up and being thrown off a cliff.
At first, after Maui Fire packed up, things were as DIY as homemade soap. But "Chris showed up and the next thing you know he's on the other side of the table," Haynes says of Berquist. "It quickly exploded and we got a small team of people together who then had hundreds of people under them."
Soon the camp looked like an aid station at an ultramarathon—tables lined with energy drinks and piled with nutrition bars and donated sandwiches from local restaurants. A generator hummed behind the yurt. People shuttled in the most precious commodity for a tropical emergency like this: ice, to keep searchers cool in the humid 90-degree heat. FAA-certified drone pilots flew cameras over the forest canopy. Experienced hikers and fast packers were able to cross off chunks of map. Rappellers spidered down cliffs; free divers checked ponds and pools. Hunters even killed boars and examined their intestines. Maui Search and Rescue ran dog teams. A GoFundMe site raised more than $70,000 to help offset private helicopter costs, which can run over $1,000 an hour. And Berquist is quick to point out that members of Maui Fire were still assisting behind the scenes even after they had to officially step down.
Who keeps track of all that activity, all that searching? Berquist and Cantellops started with a flip phone and a legal pad. With the help of Haynes and Elena Pray, 29, a rappelling guide for Rappel Maui, they began by handing out paper "pirate maps"—X marks the spot, with a hairball problem of solving for X. All volunteers had to be checked in, accounted for, and checked out. Their routes and notes had to be logged and added to the map. When needed, Pray would be called to rappel into an area. "One afternoon we assisted a group of searchers out of a deep gulch using technical rope gear just minutes shy of darkness," she told me. One volunteer, Stephie Garrett, went from yurt ops to being a search-team leader. A Swiss tourist named Susann Schuh spent her vacation organizing data for stacked 12-hour days.
Gradually computers were plugged in and the team utilized apps that allowed coordinators to color in specific areas that had been scoured, aided by the tech expertise of Eller's father, John, an executive in telematics, the intersection of communications and information technology. Troy Helmer, a local hunter, scouted the topography and consulted on the battle plan. "Troy knows that area better than anyone in Maui," Cantellops told me.
Still, for two weeks the searchers found nothing. Surveillance cameras at a grocery store in Haiku showed Eller shopping the morning of May 8. A time stamp on a package placed her at the post office. Police reviewed video footage from doorbell security cameras on the road from Haiku to Makawao to see if she had been abducted or followed. "She was alone in the car and having a normal day," Haynes says, "so we felt strongly that she took herself to the forest in unsuspicious circumstances." Hikers reported having seen Eller—they chatted briefly and she pet their dog.
Still, it was hard to not think of foul play. When Occam's razor doesn't prove out quickly, the void left by a vanished person is quickly filled with speculation. Armchair investigators on Facebook and Websleuths figured that if she hadn't fallen down a lava tube or been eaten by wild pigs, she'd surely been abducted. The boyfriend must have offed her, they theorized, and cheated on the polygraph. Or it could have been an ex. A jealous coworker. She probably stumbled across one of many illegal marijuana operations. Maybe there was a serial killer on the loose.
And out came the psychics. The trail of any missing person in the wild is paved with psychics. Most of them saw her dead. They saw men with tattoos. They saw her tied up and being thrown off a cliff.   
Eller's case reminded me of Amy Bechtel's disappearance in the Wind River Range of Wyoming in 1997. Both women were runners. Both left valuables in their white Toyotas at a place where they presumably parked to run. Both had partners who were suspected of foul play, and tip lines flooded by psychics. As with Bechtel, whose disappearance has never been solved, chances of Eller being found alive were growing increasingly grim.
---
As all these theories and leads swirled around him, Berquist kept disciplined. He was so dedicated to the search that his employer—a landscaping company—fired him. That didn't deter him from showing up to look for Eller day after day. "We are nowhere close to stopping by any means," he told Maui Now. "We have so much more that we can do out here, we're gonna continue to push it."
Lost persons, mainly deceased, are often found within an original search area. In this case, the computer mapping allowed searchers to see that they'd fairly saturated the original 1.5-mile radius. On the afternoon of Friday, May 24, Berquist realized he needed to plan for the Memorial Day weekend, when many more volunteers would show up to search. He thought they might need to move the yurt to another location, to push past the radius they'd been focusing on for the past two weeks. He, Cantellops, and Helmer climbed into pilot Pete Vorhes's yellow Hughes 369D for a reconnaissance flight.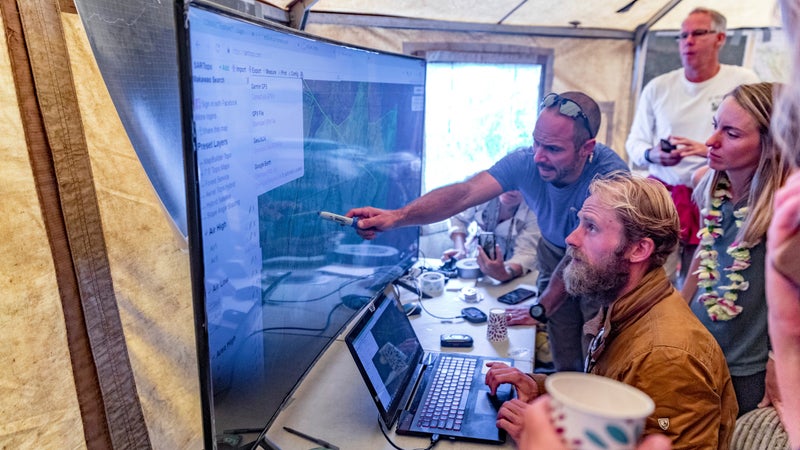 This was the breakthrough. "I just felt that she was alive, man," Cantellops would tell The Today Show the following Monday. "If we haven't found her and we haven't smelled her, that's because she's on the move, she's moving out and she's way farther out than we think she is."
With only 15 minutes of fuel remaining, the men on the helicopter prepared to turn around. They were now outside the boundary of Makawao Forest Reserve, about seven miles from where Eller's car had been found. That's when they saw Eller on the riverbank, between two waterfalls, waving furiously.
Overnight, the story of Eller's ordeal would erupt in newspapers and on morning shows. She could see and hear helicopters, she recalled, but they never saw her. Day three is when she went from panicked, lost-person mode into survival mode, searching for clean water and foraging for food. She fell 20 feet off a cliff, breaking her leg and tearing the meniscus in her knee. She was reduced to crawling. It rained, and her running shoes got swept away in a flash flood. Temperatures at night dipped to near 60, potentially hypothermic conditions when it's wet. She had nothing but her yoga pants and a tank top. To keep warm, she covered herself with ferns, leaves, and forest duff. She slept in a boar's nest.
She ate plants she didn't know, some strawberries, and guava. For protein she swallowed an occasional moth. Maui waterfalls look fresh on postcards but can contain Leptospira, a genus of bacteria that causes a whole buffet of problems including meningitis, kidney failure, and death. But to not drink meant certain death.
Eller lost 20 pounds in those 17 days. In addition to her broken leg, she had a severe skin infection from sunburn. But thanks to the determination of friends and strangers, she is expected to make a full recovery.
---
On Sunday, May 26, not 48 hours after Eller was found, I got a text from Javier Cantellops. He couldn't talk, he said; they were getting in a helicopter to look for another missing person. As with Eller, local authorities had searched for three days for Noah Mina, after he disappeared on May 20 from the Kapilau Ridge Trail. But because the terrain was so technical, Mina's father, Vincent, issued a statement advising against ordinary volunteers trying to find him.  
Searchers did find Mina's flip-flops. But, Cantellops told me, "That's not unusual. A lot of locals here hike barefoot."  
I caught up with Cantellops on Tuesday morning, as he and Berquist were gearing up to search. Elena Pray was already in the helicopter. "This is a totally technical search," he said. "Helicopters with FLIR, drones. It's like Mina's dad said: No boots on the ground."
"This is not a place where people go," he continued. "Sheer 2,400-foot faces. This is the most primal part of Maui. You've seen the mountains in maybe North Carolina or Georgia—smooth, round? This isn't like that. This is Afghanistan, man."
But with the help of technology, the efforts of Berquist, Cantellops, and Pray paid off. This time, however, the ending was not a happy one. "In the early morning hours of Wednesday, May 29," read a family statement issued on the public Facebook page Bring Kekai Home, "a crew of searchers aboard a helicopter spotted the body of missing hiker Noah 'Kekai' Mina. Mina was found about 300 feet below a fall line in the summit region of Mauna Kahalawai. Recovery efforts are currently underway."
Lead Photo: GoFundMe
Trending on Outside Online