Is a Green Future Worth Spoiling the Appalachian Trail?
A proposed hydropower transmission line in Maine would impact the AT, wildlife, recreation, and tourism. Is it worth it?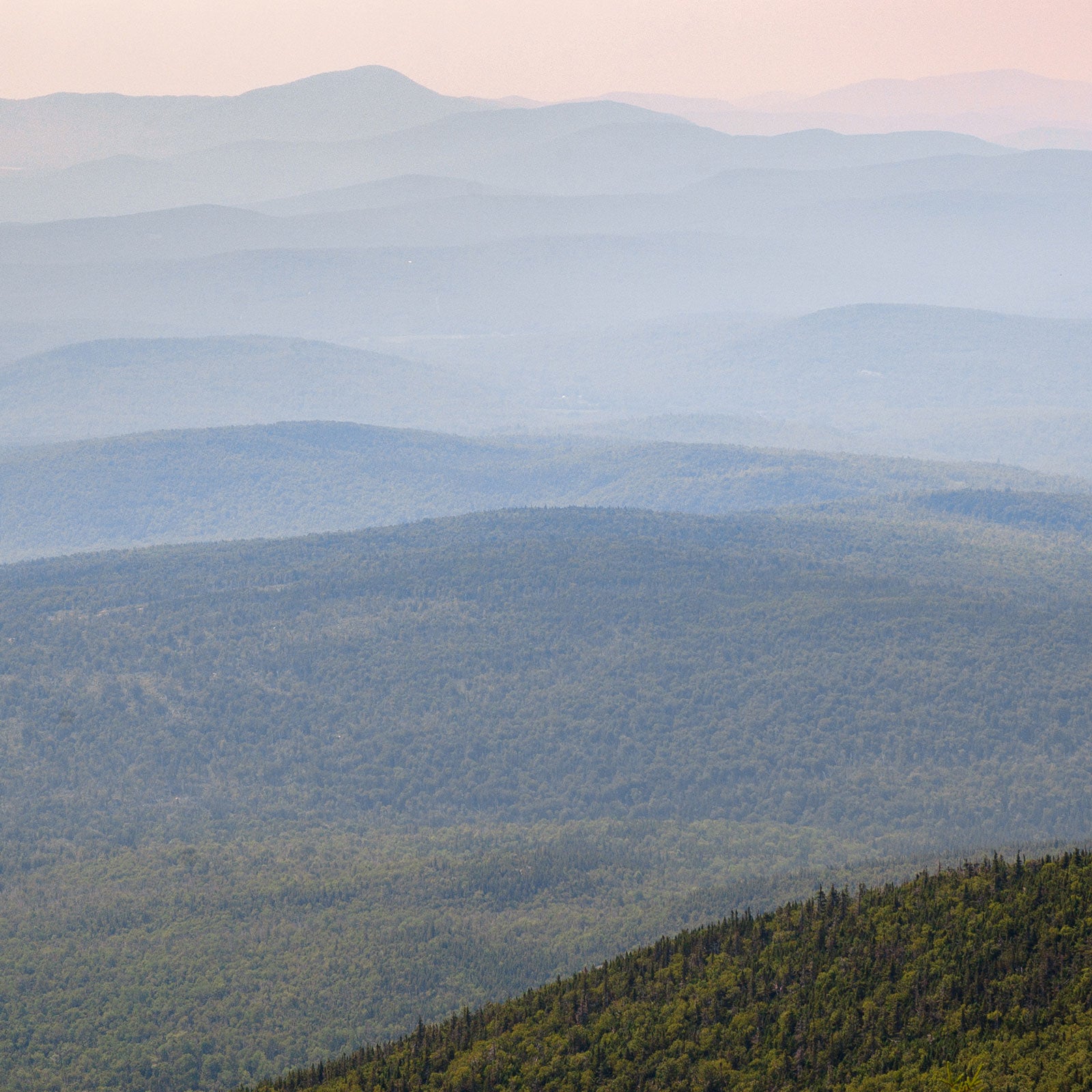 Heading out the door? Read this article on the new Outside+ app available now on iOS devices for members! Download the app.
Sandra Howard grew up in coastal Maine, but she spent her summers in the state's northwestern mountains, among pine-covered summits, freshwater ponds, and frothy rivers. Her family's property in the town of Caratunk, where she's been a registered whitewater guide for over 20 years, is half a mile from the Appalachian Trail. Howard often hikes the AT to nearby peaks, like Pleasant Pond Mountain. From the summit, she sees sweeping hills, deep green forests in summer and brilliant hues in autumn, and thru-hikers who've made their way up from Georgia.  
So when she learned last summer that those vistas might be marred by a massive power line, she was alarmed.
The proposed project, known as New England Clean Energy Connect (NECEC), is a 145-mile transmission line winding down from the Canadian border through Maine's forests, and would ferry hydroelectric energy from Canadian dams to the New England grid. It would cross the AT three times within a mile, south of Moxie Pond and about 130 miles from the trail's momentous conclusion at Mount Katadhin, impacting views from several overlooks.
Howard guides for local outfitter Northern Outdoors, whose headquarters doubles as a popular spot for AT hikers to grab a beer. "There's a certain awe in thru-hikers, especially those who are coming from the South," she said. "They've just hiked on these regions where there are a lot of reminders of civilizations, road crossings, and infrastructure. What I've heard from them is that Maine is more noted for having that backcountry experience."
Many of the opponents of NECEC—65 percent of Maine residents are not in favor of the project, according to a recent poll—worry, like Howard, that the line will threaten this scenic character. Maine's northern woods have been relatively spared from development. They have a legacy of sporting camps; offer hiking, rafting, fishing, kayaking, snowmobiling, and other recreational opportunities, all of which support a robust outdoor industry and local economies. While the exact impacts of the line are up for debate, those who oppose it fear it would bifurcate "what is basically the largest expanse of undeveloped forest in the eastern United States," said David Publicover, a staff scientist at the Appalachian Mountain Club.
According to Publicover, a "long, linear feature like this" creates an "impediment to movement for many species," decreases inland forest, and increases edge habitat. Species such as the American marten, the scarlet tanager, and other migratory songbirds, dislike open areas like those below a powerline, and require mature forest canopy to thrive. The National Audubon Society has identified these woods as the largest "globally significant bird area" in the continental U.S. It is also a region uniquely resistant to climate change, in part because of its ecological connectivity and intactness. NECEC would cross hundreds of wetlands and streams, a dozen waterfowl and wading bird habitats, and be placed near one remote pond. This would permanently alter what is "one of the few areas in the eastern United States that is sufficiently intact and natural to maintain viable populations of almost all native species," said Publicover in his testimony against the project. The local economy relies on these natural resources to support its vibrant recreational and tourism industries.
NECEC is a joint proposal between Maine's energy utility Central Maine Power and the Canadian energy behemoth Hydro-Québec. The energy would enter the regional New England grid and be paid for by the state of Massachusetts to bolster the state's renewable energy portfolio.
Why Massachusetts? Because in 2008, the Massachusetts legislature committed to reducing its carbon emissions 25 percent below 1990 levels by 2020, and the state's Department of Energy Resources has decided Canada's rivers are the way to keep that promise.
That requires cutting a new 53-mile long, 150-foot wide corridor from Beattie Township, Maine, to The Forks, Maine, and expanding 92-miles of an existing corridor between The Forks to Lewiston, Maine. The section that crosses the AT already has power lines, but those towers are lower than the tree canopy. The new corridor would be wider and its towers higher than the canopy, making it much more noticeable from viewpoints. Central Maine Power's parent company, Avangrid, has proposed relocating this section of the AT, but there have been no agreements with trail managers at this time.
"I'm certain that if I were to hike this section of the AT and stand on the summit of a mountain, my scenic vista would include those towers and a swathe of emptiness," said Theresa York, a citizen of Farmington, Maine, at a public hearing on the project. "That would certainly keep me and others from hiking that section of the AT again."
Janet Mills, Maine's new democratic governor, endorsed NECEC in February, while holding a pound of carbon in her hand, proclaiming that the line would keep 80 million of those black carbon cubes out of the atmosphere.
But environmental groups, like the Natural Resource Council of Maine and Sierra Club Maine, argue that Hydro-Québec could divert energy from existing markets in Ontario or New York to Maine to put into the Maine transmission line for Massachusetts, which would mean no new renewable power, or no reduced emissions. "Hydro-Québec has a history of shifting energy resources around," said Sue Ely, an attorney at the Natural Resource Council of Maine. "If we're not reducing climate change, then we shouldn't deal with the costly impacts of infrastructure." 
Hydro-Québec's communications advisor Lynn St-Laurent wrote in an email that Ely's comments are an "over simplistic view of how wholesale energy markets operate." Plus, Laurent asked, "Why would Hydro-Québec spend large amounts of time and energy to bid for and negotiate a contract, only to offset profits from sales over NECEC by reducing profits from its other interties?"
Indeed, other environmental groups like the Conservation Law Foundation, the Acadia Center, and the Union of Concerned Scientists have faith that Hydro-Québec will generate new energy for NECEC. That's because right now, Hydro-Québec has so much water churning through its dams, it has spillover—hydro-speak for unused energy—which Laurent confirmed. Sean Mahoney, director of the Conservation Law Foundation's Maine Advocacy Center, has argued that it's cheaper for Hydro-Québec to harness that lost energy by updating and adding infrastructure, rather than shifting resources. In that scenario, NECEC would combat global climate change, and supporters believe this should be a priority over the local impacts of building the line.
"We must take aggressive action to cut carbon emissions to net zero by 2050 to avoid catastrophic climate impacts," Mahoney wrote in a statement. "Low-carbon hydropower, like that offered through the Clean Energy Connect project, is part of a much needed, comprehensive strategy to address this urgent threat to our way of life."
In short, those who support the project aren't cold-blooded capitalists; they're environmentalists, too.
"I love the outdoors. I spent most of my life hiking, canoeing, fishing, paddling," said David Hyde of Pownal, Maine, another citizen testifying at the project's public hearing. But, he said, "If we're serious about addressing the removal of carbon from our atmosphere and maintaining a regular supply of electricity, we need to make some tough decisions."
There are other incentives for the state as well. Not only is Massachusetts footing the project's bill, but with more energy entering the regional grid, electricity rates will fall, lowering costs for Maine ratepayers. NECEC would allocate millions of dollars to upgrade broadband fiber optics in western Maine, fund more environmentally-friendly heating in Maine homes, and install electric vehicle charging stations around the state. Over the course of its construction, the project would create 1,600 jobs. All of these benefits are estimated to be worth about $258 million dollars to Maine over 40 years.
Currently, NECEC is going through a complicated regulatory process. The project has received approval from Maine's Public Utilities Commission, which ruled that the "the adverse effects are outweighed by the significant benefits" of the line.
But it's hard to say whether they are. Dizzying in its details, the project raises questions like: Must we make major compromises to immediately combat climate change, or should we fight for our ideal solutions, even if they take longer?
"I feel a lifelong connection to Maine," Howard said. "People drive hours and hours to this region to escape infrastructure. More and more it's difficult to find places like that."
It's tough to stomach, but a greener future may mean compromising more of the remaining places we cherish.
Lead Photo: zrfphoto/iStock