The Restaurant Stealing Miles from PCT Thru-Hikers
Morgan's Diner doesn't charge a dime for a gourmet meal, but it'll still cost you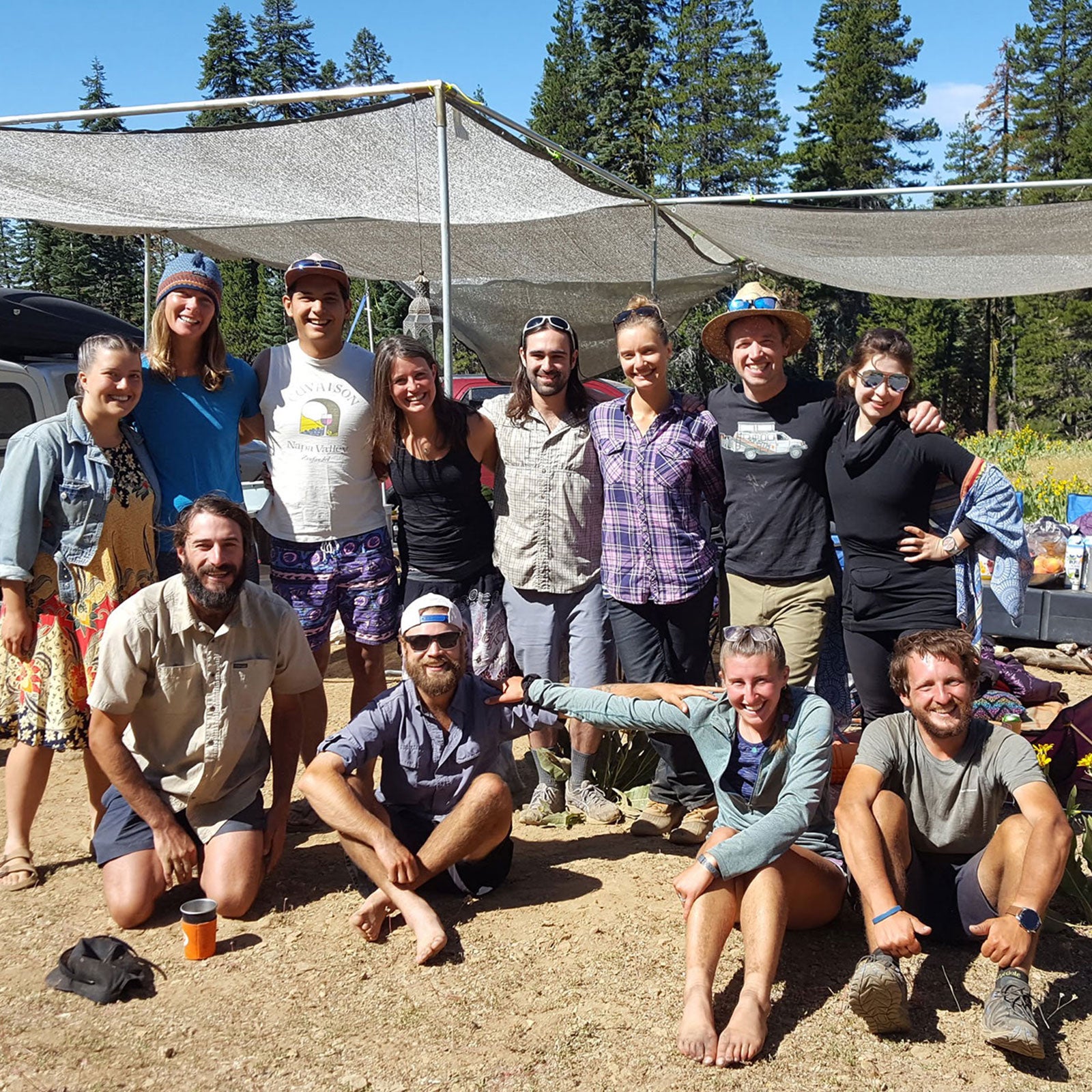 Heading out the door? Read this article on the new Outside+ app available now on iOS devices for members! Download the app.
Morgan's Diner might be the only eating establishment in the world that offers three meals a day, full-body massages, postal services, yard games, and a DJ—and doesn't charge its customers a dollar. It only happens one weekend each summer in the middle of the woods somewhere along the Pacific Crest Trail. 
There is a catch. PCT hikers walking through Plumas National Forest in Northern California this year on the second weekend in August, not far from the trail's halfway point, enjoyed those gourmet meals and free beer at the trailside pop-up diner in exchange for their miles. 
"Morgan's Diner is a very expensive diner," explains Morgan Goodwin, the diner's namesake. "As soon as you arrive, your bill starts. And as you leave, you have to log in to the guest book how many miles we've stolen—or in other words, how many miles you would have hiked if you didn't run into us."
The goal of its founders? "Steal" enough miles from thru-hikers to have completed the 2,652-mile Pacific Crest Trail themselves.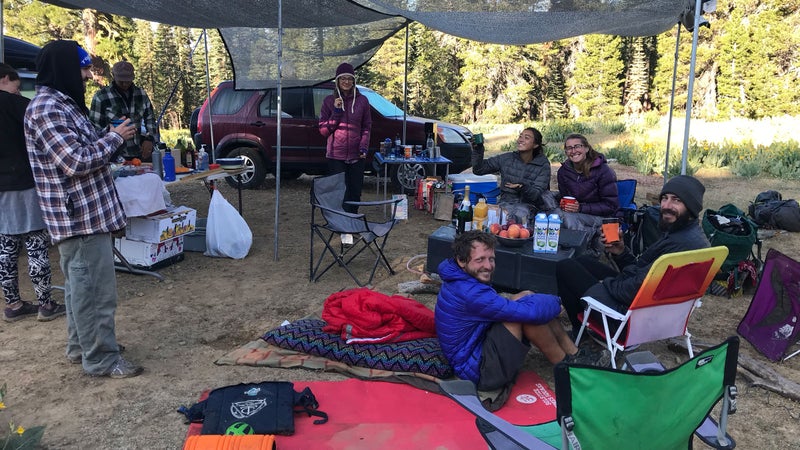 This conceit—restaurant-quality food for miles—is as simple as it is devious. The longer a thru-hiker stays at Morgan's Diner, the less hiking they'll do that day. Given that most thru-hikers need every moment of sunlight to hike 20 to 25 miles daily, a couple of meals at the diner can throw off a strict schedule. 
But inevitably, many hikers stick around for one, two, or even three meals. Many stay overnight for breakfast in the morning. After all, the meals—Baja-style fish and shrimp tacos, caprese sandwiches, egg-and-chorizo burritos were served this summer—are difficult to resist after months of instant ramen and dehydrated mashed potatoes, the standard thru-hiker diet. 
Following the pop-up diner's appearance this August, the eight friends masterminding the operation have successfully stolen 1,265 miles from more than a hundred PCT hikers over six years. 
It all started in 2014, when the diner's head chef, Nick Lee, noticed that a friend of his was thru-hiking the PCT. That friend, Gabe Lewis, was using a SPOT satellite messenger to sporadically post his GPS position on his blog.
"I saw that he was near Truckee, [California,] so I threw some sandwiches and drinks in my pack and started hiking where he was, knowing I'd run into him eventually," says Lee. At the time, Lee hadn't seen his friend in years. Lewis could scarcely believe the surprise, and Lee had enough food to feed not just his friend, but Lewis's trail buddies who were hiking with him.
"They were so shocked by that kind of random act of kindness," says Lee.
The next weekend, Lee, Goodwin, and Megan Holmes—three friends who attended Williams College together in 2008—were debating what to do during the upcoming Fourth of July. That's when they decided: Why not go out and feed more thru-hikers, only this time do it bigger and better?
As it happened, Lee had some experience with cooking. He teaches at the Edible Schoolyard, a program founded by Alice Waters that introduces school kids around the world to the importance of natural and sustainable food systems. "Wanting to share fresh, beautiful food, a lot of that inspiration comes from my work at the middle school," says Lee.
So, on that holiday weekend, the friends drove up in Morgan's RV—the inspiration for the pop-up's name—to Barker Pass, where the Pacific Crest Trail passes along the western shore of Lake Tahoe. There, Morgan's Diner was born.
"We didn't know if anybody was going to come through," says Holmes. But soon enough, hikers started arriving.
"Right away, after the first burger we served, we knew this was something worth doing again," says Lee. "Thru-hikers are the perfect people to cook for, because they're so thrilled to be having a good meal. They always want seconds or thirds."
But the team was not content with just serving burgers. In the following years, at various locations along the PCT in Northern California, it developed more elaborate menus, brainstormed new luxuries it could offer customers, and invited more friends to come along, until the founders had a crew of eight to ten people. In 2015, Rachel Fryke joined the operation, offering spa treatments, such as full-body massages and aromatherapy. The first year, she even offered free haircuts.
"Only one person took me up on the haircuts," says Fryke. "He was the dean of the medical school at Johns Hopkins."
Other amenities have include free postcards, which they will mail for you, a variety of yard and card games to entertain hikers in between meals, and henna tattoos. In addition to the cooking station, there's a variety of camp chairs, snack-laden tables, and canopies to keep hikers comfortable. Plus, plenty of beer, always. It's all a part of the plan to get hikers to stay longer and steal more miles. 
"When somebody is thinking about getting back on trail," says Goodwin, "we'll tell them what we're having for dinner, let them know what they're walking away from."
The organizers openly admit how devilishly fun it is to force hikers to choose between hiking more miles and fish tacos. But stealing miles isn't just mischievous, they explain; it also challenges them to offer even better trail magic year after year.
"It incentivizes us to do the best we can, because if we can get a hiker to stay another hour for a massage, then we can steal more miles," says Lee. It's also a great excuse to reunite with old friends. "The eight or ten people who show up year after year who love this, it gives us a shared mission."
Although Morgan's Diner is fun and games on the surface, the organizers take what they do seriously. This year, they spent about a thousand dollars on food and drink to feed thru-hikers, plus weeks of planning that go into developing meals. Lee even teased the possibility of a future, experimental Morgan's Diner that would include white tablecloths, place settings, and a printed menu. 
The group of friends like to think of their pop-up diner as a kind of performance art. And they want people to know that there's no monopoly on spontaneous, over-the-top kindness. "I would love to see copycats," says Lee. "Just go out and do magic!"
And what will happen when Morgan's Diner has finally stolen 2,652 miles, the equivalent of one thru-hike?
"Well, technically, that's only one thru-hike," says Lee. "And there are eight of us."
Lead Photo: Morgan Goodwin