Sponsor Content: Fjällräven
The Power of the Trail
Fjällräven Guides share lessons about the power of spending time in nature with others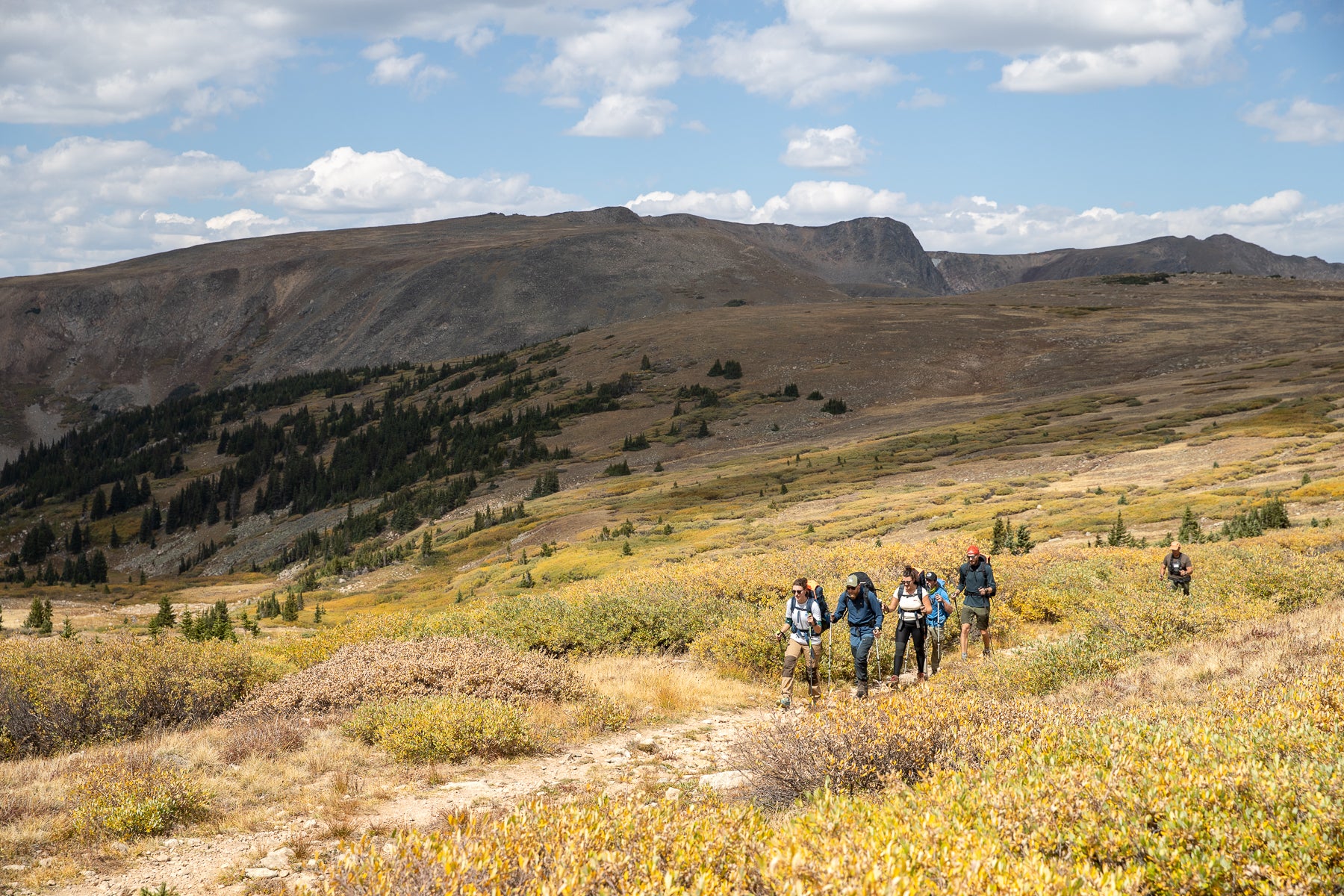 Fjällräven
Everything is better together, including nature. That's why Fjällräven created a one-of-a-kind community hike. It's called the Fjällräven Classic—a celebration of nature, of human connection, and of making every hike as fun as it is challenging. Fjällräven Guides recently scouted the Colorado route for the U.S. Classic and came away with some key takeaways about why coming together in nature is so crucial for our—and the planet's—well-being.
Karrie Carnes: Speak a Common Language 
Fjällräven Guide Karrie Carnes discovered her love for the mountains when she moved to Portland in 2015. For much of her life before that, she lived on the East Coast and spent most of her time adventuring around the Atlantic Ocean, pursuing watersports like scuba diving and paddleboarding. In Oregon, Carnes immediately fell in love with the Cascades. "I'm still amazed by these mountains," Carnes says. "I'm a desk jockey during the week, but I try to get out every weekend. Being in nature allows me to be present in the moment. It's how I practice mindfulness."
So naturally Carnes jumped at the chance to join other Fjällräven Guides on a scouting trip last summer, to test the newest Fjällräven Classic USA route in Colorado. The group hiked above 10,000 feet (topping out at over 12,000 feet) through some of Colorado's most iconic mountain wilderness, camped near high alpine lakes, and forged deep connections over their shared love for the outdoors. "It's amazing what nature can do," Carnes says. "Nature can be this quiet, meditative space, or it can be the backdrop for community, creating a common language that can bring different kinds of people together."  
One universal message that Carnes likes to share is about how she enjoys the emotional attachments we form with some pieces of gear. For Carnes, it's her pants. "I know every time I put these Fjällräven Keb trousers on, I'm going to have an adventure. I get kind of giddy," she says. All the better if it's an adventure with others. 
Alyssa Macy: Stand Up for the Land
Alyssa Macy camped more in 2020 than she had ever camped before. The Fjällräven Guide and CEO of the Washington Environmental Council needed a release. So, she left her Seattle home and pitched a tent. A lot. The time outdoors not only served as a mental health cure during the pandemic, it gave Macy an opportunity to reconnect with her past. Macy is of Wasco, Navajo and Hopi descent and a citizen of the Warm Springs Indian Reservation, and has been reflecting on that cultural identity in recent years. "Covid has been the great pause, an opportunity to reevaluate and look at the way we exist in this world," Macy says. "My dad was an avid outdoorsman. A lot of our time together was hiking, just a couple of hours up a random hill and looking at the community from the top. It was always this time of joy for me, but he also taught me our responsibility as Native People to protect what we have." 
Macy sees outdoor adventure as a natural way of building the conservation community. Anyone who recreates in the outdoors, she hopes, will be inspired to protect it. "The people who love to fish and hike and swim and boat, we all want to protect these wild spaces," Macy says. Hitting the trail with others helps turn sentiment into action. "It's one thing to go out and enjoy it and another to take the steps to advocate for good policy. We all have to get in the same boat and start rowing in the same direction."
She brought this mission to the scouting trip for the Fjällräven Classic USA. "I started every day of the hike with a prayer and song asking for safe passage and honoring those who had come before us," Macy says. "We were hiking through the traditional territory of the Ute Tribe, and taking the time to acknowledge where you are and who came before you is a powerful, important step in acknowledging our responsibility for the land." 
Cal MacKintosh: Build Closer Bonds
Want to make a relationship stronger? Share an outdoor adventure. The more intense the better. "You're cooking meals over a fire together, sweating together. You smell together," says Cal MacKintosh. Scouting the Fjällräven Classic route in Colorado promised all of that, and more. 
When the Portland-based Fjällräven Guide was invited to test Fjällräven's new Classic route in the Rockies, he knew to expect a challenge. "I look at Mount Hood every day. It's so tall, and the idea of starting a hike at that elevation was intimidating," he says. 
The route peaked at about 12,000 feet. Elevation was a constant factor, and the group also had to navigate stream crossings and one evening they had to keep a watchful eye on a moose that parked itself on the edge of their campsite. It was a bucket list adventure for MacKintosh, but the fact that he got to experience Colorado at its wildest with others gave the trek another dimension.
He and the other Fjällräven Guides, strangers on day one, became fast friends. "In that kind of situation, people forget about their daily lives, the stress," he says. "It just kind of melts away. And then people feel closer to each other. You get out to some wild places with strangers, and just let nature take the wheel." 
Lead Photo: Fjällräven
Trending on Outside Online