How to Cope When Your Partner Is Thru-Hiking And You're Not
You're supposed to be happy for them, right?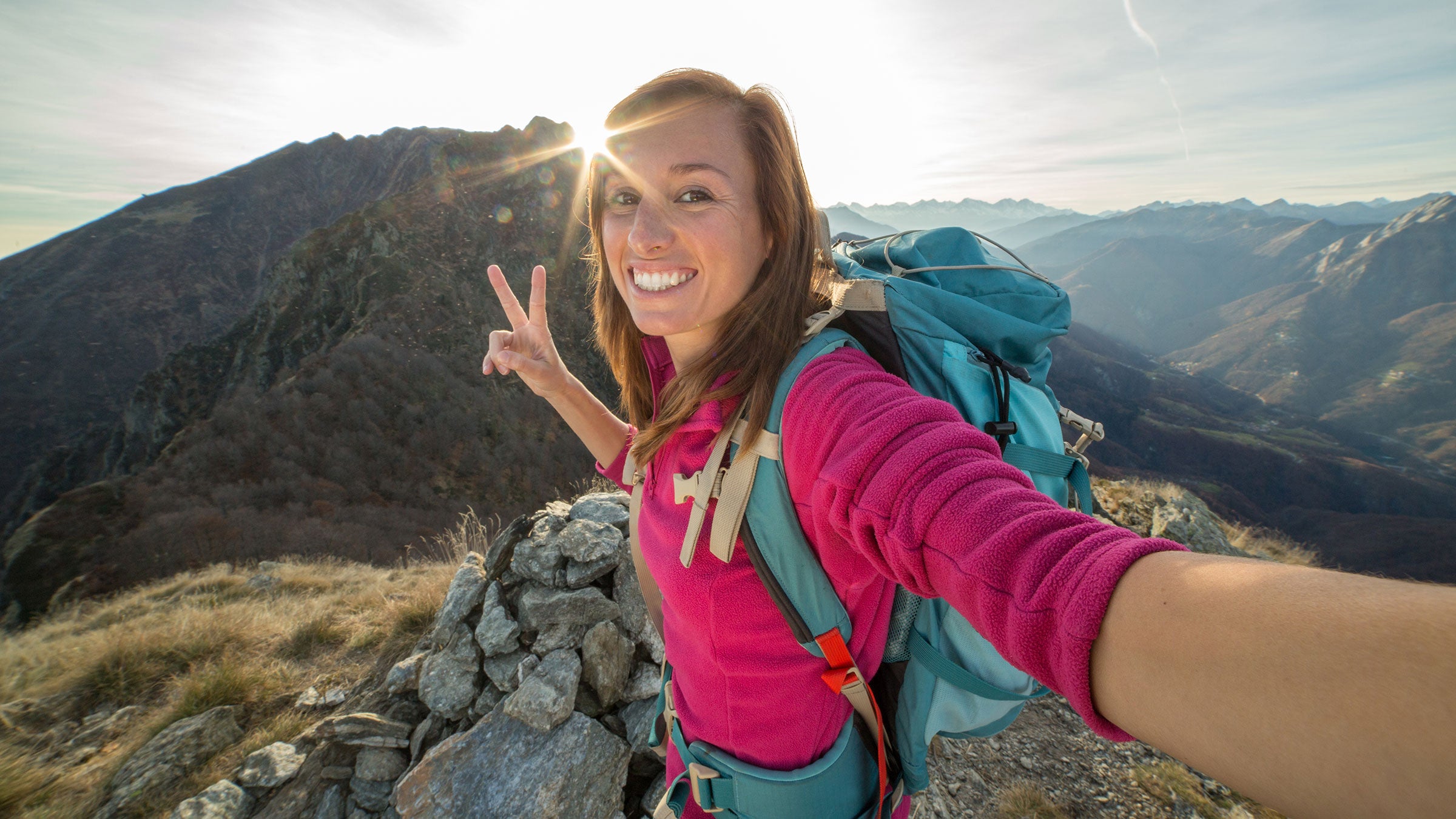 swissmediadivision/Getty
Heading out the door? Read this article on the new Outside+ app available now on iOS devices for members! Download the app.
Our boots were crunching down a snowy sidewalk while meandering our way to a concert in Aspen, Colorado this January. We walked slowly, waiting on a few friends to catch up, and got to talking about gear—standard mountain town first date stuff—when something sparked and we locked into a bewitched eye gaze for a moment that floated in suspension outside the confines of time. As we came back down to earth, my new crush shared, with a soft voice and coy smile, her plans to thru-hike the Pacific Crest Trail (PCT) this summer for five months.
"I remember a look of genuine excitement for me flashing across your face, along with a tinge of heart drop," Maddie recalls, knowing what that look meant. "I had my own internal dialog of 'Dang, I'm set on doing this and not changing my mind,' but also felt a hint of sadness and my stomach dropped a bit knowing that it would mean us being apart for a while."
Even though we'd only met a few weeks before, something told her that, more so than everyone else with whom she shared this news, breaking it to me would carry some extra weight.
Maddie's intuition was right. I spent the entire night with my eyes fixed on her more than the band we'd come to see. Days later, we traded our hippie dance clothes for technical outerwear and skis to run powder laps in the Deep Temerity trees at Aspen Highlands. I loved that I could barely keep up with her. Within a short amount of time, we jumped full-steam into a relationship—we met parents and planned international trips together, our toothbrushes stood proud next to each other on respective bathroom sinks. With the clock ticking until her departure date, our time together was marked by a sense of urgency to squeeze in as much as we could while knowing that it would make the pending separation even more abrupt. We swung between timid dread and overcompensatory optimism, but didn't really have any kind of plan in place for what this would look like beyond surrendering to the unknown. This may have been a mistake, but not an uncommon one.
Thru-Hiking Solo Is Hard for Everyone
Isaac "Blouse" Nesbit met his future fiancée, Kelsey, on Tinder in late 2018. Within the first ten messages, he disclosed that he was planning to quit his job as a mechanical engineer that summer to hike the Appalachian Trail (AT). She was in graduate school for mental health counseling at Clemson University in Greenville, South Carolina, where they both lived, and they entered the relationship with a five-month expiration date in mind. They didn't even talk about what to expect during his AT hike until three days before he left. "We loved each other and didn't want to break up, so we decided right then to go for it with no plan," says Kelsey.
"I had some guilt leaving her behind, but it's got to be easier for those of us on trail because we have so much stimulus all day," says Blouse, who packed his bag again in 2022 to attempt a calendar year triple crown of the AT, PCT, and Continental Divide Trail (CDT). While the partner getting left behind will inevitably deal with some FOMO, the hiker has to confront their own feelings of disconnected helplessness—like when Kelsey was in a car wreck and Blouse couldn't be there to help support her through any of it.
Or it might be the reverse. Tara Dower, who hiked the Appalachian Trail in 2019 with her husband, Jonathan, before he joined the Navy, left him behind when she set Fastest Known Times (FKTs) on North Carolina's Mountains-to-Sea Trail in 2020 and the Benton MacKaye Trail (from Georgia to Tennessee) in 2022. "I'd call him up at times in excruciating pain," she says. "He was in a different state and couldn't do anything while I was crying. He had to soothe me over the phone in a way that was really different than when we were on the AT together. When he told me how helpless this felt for him, I had to change my M.O. and stop calling him every time things got really tough."
Maggie Slepian was dating Jeff Garmire when he set the Colorado Trail record in 2020, and her current partner is a ski guide in Japan. Slepian is often gallivanting about the world's trails too, however, and reminds herself why she's attracted to people who share her adventurous spirit and values. "It's important to keep an open, positive mindset about this kind of thing because it's easy for resentment to set in and to feel like their adventure is more important than spending time with me," she says. "To combat this toxic mindset, I have to accept it as part of the deal that there's a reason I've called in this type of partner."
Face the Feeling of Being Left Behind Head-On
For me, this part required some soul searching. After our high concentration of quality time in ski season capped off by an epic volcano climbing and skiing trip to Ecuador in April, Maddie and I were feeling incredibly close and connected as her PCT departure date approached in early May. This was hard for both of us, but I noticed in myself what felt like an even greater challenge: the unfamiliarity of being left behind. I've always been the one in the relationship getting dropped off at the airport by a teary eyed partner staying home for work or life or other reasons while I rip out on an adventure somewhere new, chasing stories and thrills and life-affirming experiences. I've even decided that venturing out, solo or not, is so much sweeter when you know in the back of your mind that you have a steady home and person to return to when the trip is over.
But always having a partner waiting at home had its drawbacks: some jealousy on their end and maybe a little less reverence on mine for not being with someone whose own adventures I admired and longed to share. Those tables have turned and now I'm with someone who has solo traveled to places not even on my radar and ticked off bucket-list items of which I've only dreamed. Indeed, this sense of equality is highly attractive to me and feels more balanced, except for this major caveat: Suddenly, I'm the one waiting for phone calls any day or week when Maddie finds some spotty service and a few minutes to distill all of her new experiences into a brief, choppy FaceTime chat, her clothes a little dirtier and her face more sunburned each time. I'm the one going to dinner parties as the ninth wheel with other couples asking where my partner is and what she's up to and, without fail, when I'll go join her, because surely that's an option, right?
Plan Ahead for Communication and Meetups
Just about any couple who's been through this will tell you that having a plan is pretty essential, specifically around visiting and communication. Kelsey visited Blouse four times on his first AT hike, joining his visiting "trail angel" parents, with whom she spent more time than she did Blouse those five months. "Trail visits are important," she says. "Some people don't like to because it feels so awful for both parties when you leave, but it's worth it." She also finds that being involved as a support system—mailing resupply boxes along the way or booking hotels for him when he gets to town—feels good and important to be involved in the process.
She also recommends having talks ahead of time about how to handle things that inevitably come up when either is having a hard day and what you'll need to feel connected. "Having regular check-ins on the trail is important—'How are we doing?' 'What's working and what's not?' 'What are we needing?'—allowing yourselves to be more blunt than when you're in person and have the luxury of nuance."
While some partners do better staying connected and others might deal with the separation more effectively by being semi avoidant, Kelsey and Blouse agree that it's best not to wait until you see each other with limited time to process tough conversations. Rather, tend to that along the way. That time together goes by way too quickly.
Advice for Thru-Hikers Leaving Loved Ones in the Dust
Managing expectations around communication is also crucial. It's helpful for the partner at home to have an idea of when your next conversation will be or when to expect a text letting them know all is well. Satellite communication devices like the Garmin inReach Mini 2 and the new inReach Messenger have really changed that and made messaging much more available. But on the flip side, respecting the hiking partner's time in nature is just as vital. "If you're making time to talk during what's meant to be a spiritual experience immersing yourself in nature, to expect to be in constant communication might take away from that experience," says Dower. It turns out that rest days, known as "zero days," are full of chores and laundry and food shopping and not just lounging around in a hammock, chatting on the phone all day. It's easier to empathize with these realities when a partner visits the hiker and sees what daily life is really like.
"Definitely have a plan to meet up at some point," says Naomi "Punisher" Hedetz, a Triple Crown finisher of the AT, PCT, and CDT along with the Great Divide Trail, Grand Enchantment Trail, Pacific Northwest Trail, Arizona Trail, as well as the first known thru-hike of the Blue Mountains Trail and the Oregon Desert Trail. Before many of these hikes, she managed to get stuck at home working in 2010 while her husband, Mike, hiked the CDT without her.  "I provided trail support along the way, which was really helpful for me to come and meet the people he was hiking with and understand trail culture and be part of it in the smallest way, which made me understand what he needed to deal with food-wise and emotionally and mentally. I wouldn't have gotten it if I hadn't met him on trail."
The Bottom Line: It's Doable, if You Do It Right
Initially, Maddie was hesitant to commit to any trail visits from me or other eager friends. She's long had an idea in her head that this is her solo journey meant to test and strengthen her independence and didn't want to make it about anyone else's experience, a sentiment I loved and loathed at the same time. I dealt with it in the best way I knew how—by heading down to Peru on my own solo journey for three weeks while working from airports, bus terminals, and hostels. It was an effective distraction, but I found myself jealous of other couples I saw traveling together and wishing I were on my way home to Maddie. After a few sporadic phone chats and a long period of disconnected silence while I was off-grid bopping through the jungle on an Amazon river boat, we connected for a chat on FaceTime, both of us quite sweaty and happy to share smiles. We'd both experienced too much to recount in a single call, but she'd also had a revelation that the experience she's having is simply too beautiful and magical to not share with me and she was gung-ho in wanting me to join her on the trail in Northern California after postponing the snow-blocked Sierras until later in the season. I couldn't book my ticket fast enough.
Lead Photo: swissmediadivision/Getty