How a Thru-Hiking Legend Is Getting City Kids Outside
Liz "Snorkel" Thomas, an Appalachian Trail record holder, created a 225-mile route through the Big Apple to help bring attention to the city's need for more playgrounds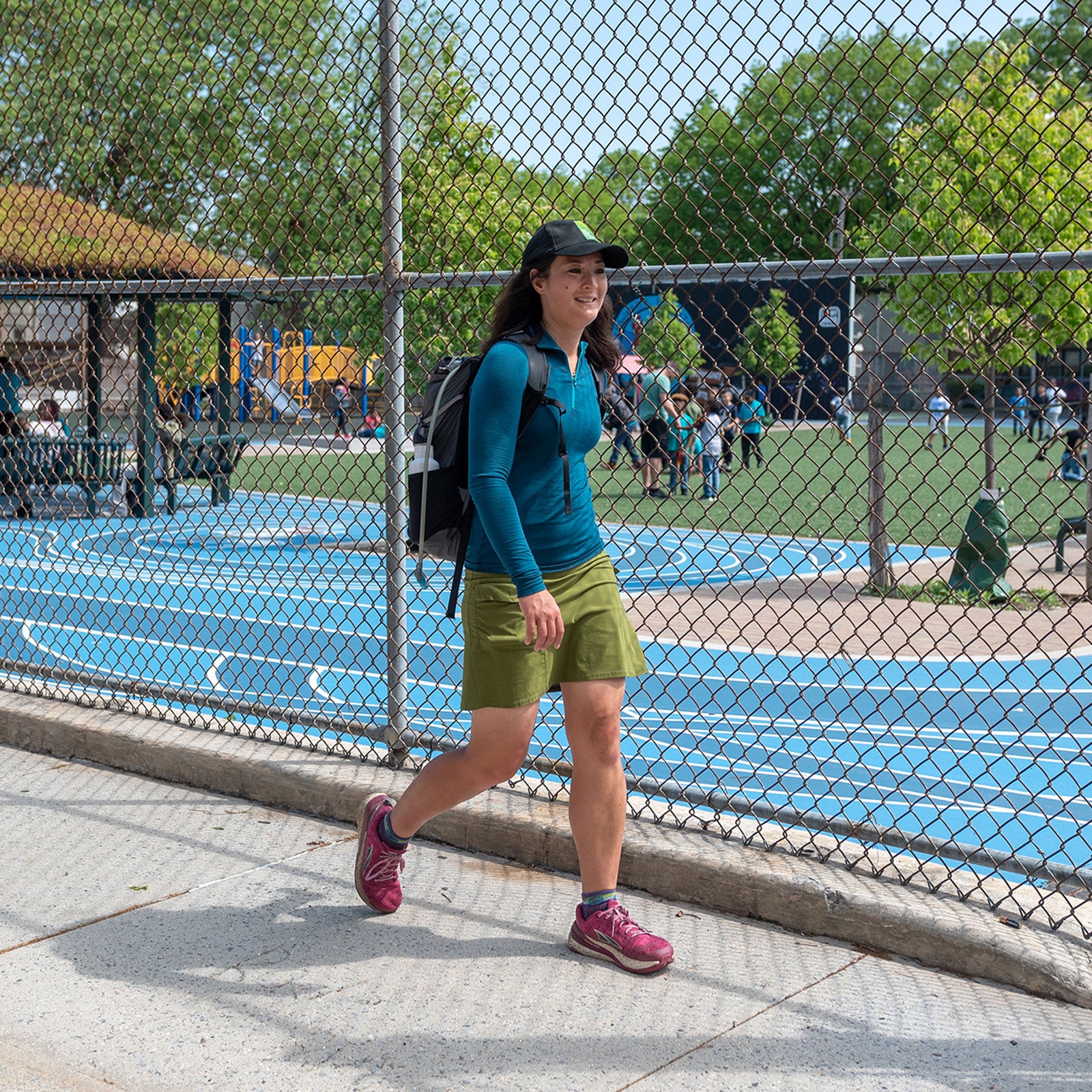 Heading out the door? Read this article on the new Outside+ app available now on iOS devices for members! Download the app.
I rattled the cemetery gate from the inside, vainly hoping the thick metal chain was loose. My hiking partner again checked Google Maps for guidance on how to escape the hundreds of acres of gravestones through which we'd been searching for an exit route, as if we were permanently stuck in a purgatory between the living and the dead.  
Out of nowhere, a gray minivan appeared, summoned by either angry spirits or hidden security cameras. "Hey, this ain't no shortcut," a man said, poking his head out of the window. He eyed us suspiciously. Our colorful hiking clothes, padded sneakers, and daypacks holding multiple water bottles didn't exactly peg us as mourning relatives.
"Yeah, sorry, Google Maps said this was an exit here," said my hiking partner, Liz "Snorkel" Thomas.
"You have a key?" I asked hopefully.
It was just another day of urban hiking in New York City.
Thomas set the women's fastest known time for a self-supported hike on the Appalachian Trail in 2011 and has since become an urban-hiking advocate. I joined her on part of her nine-day, 225-mile thru-hike across New York's five boroughs in May. Her goal was to visit 100 playgrounds to highlight the Trust for Public Lands' (TPL) project to build such facilities throughout the city. 
Having grown up in the suburbs of Sacramento, California, Thomas says, "I took trees and grass for granted in my schoolyards. The green space was almost a gateway drug for me to get more into nature, into hiking." But in New York City, nearly three-quarters of low-income neighborhoods fail to meet the city standard of 2.5 acres of parkland per 1,000 residents, according to the TPL. The lack of outdoor space exacerbates the risk of obesity, diabetes, and other health risks for children there.
The TPL has spent more than $180 million over the past two decades in a public-private partnership that has resulted in 200 new playgrounds in New York City, and it's currently fundraising to complete 40 more that are in the design process. "Our goal is to provide access to parks and playgrounds to kids who don't have that benefit," says Mary Alice Lee, director of the New York City Playgrounds program. "We design the playgrounds in collaboration with the students in the schools to build enthusiasm and empower the kids."
Their greatest desire? "Trees. They just want some trees by their schools and some turf fields to play on," says Lee. Seemingly simple goals but a complex project, given the size of the city and the funding needed. "It's great that Liz is bringing some attention to our program."
Back in the cemetery, my goal was simply to return from Queens to Brooklyn without keeling over from exhaustion or getting arrested for trespassing. Thomas and I looked sufficiently sorry, so the minivan-driving crypt keeper pulled out his keys and allowed us to exit without having to retrace our steps (a violation of official urban-hiking rules). "Where you going, anyways? If you just walk to the end a the block, you can get the J train." We gestured vaguely north, away from the train, and started walking. He shrugged and locked the gate behind us.
You get a lot of funny looks and shrugs when you tell people you're going hiking in New York City. And not just a lunchtime stroll through Central Park—we're talking a proper urban thru-hike, the comprehensive conquest of a territory mapped out to cover a series of checkpoints without crossing one's own path. In our case, the path was playgrounds. For other enthusiasts, paths could connect bridges, buildings, or even breweries.
Bob Inman, creator of the Inman 300 in Los Angeles, considered by some to be the "world's first urban thru-hike," says in his book Finding Los Angeles by Foot that urban hiking is "about perforating the barriers within communities that car culture creates… about finding what is notable, historical, quizzical and beautiful in this great city while walking." 
"Urban hiking is a state of mind as much as anything else," says Thomas. "I like to go to neighborhoods where most people say there's nothing to see." She's journeyed through a half-dozen cities, including Los Angeles, Seattle, and Chicago. Each hike had a different theme, ranging from stairways to architecture to an ale trail that goes to 25 breweries in Grand Rapids, Michigan. "Going where tourists never visit and seeing what's there, that's what makes the hikes so interesting." 
After meeting at an environmental conference last year, Thomas and the TPL created a themed thru-hike with the purpose of helping promote the playground project while exploring streets of the five boroughs that are seldom visited by tourists.
Indeed, the two days I spent with Thomas, walking about 45 miles, revealed parts of New York City I had only glimpsed from the back of a cab, at a distance from the freeway, or from a rattling train car 30 feet above street level. It's a different, immersive experience to walk block after block of neighborhoods, feeling the atmosphere change as buildings switch from brownstone to aluminum siding, as blocks of yoga studios and smoothie cafés transform into auto-body shops and cluttered bodegas.
Despite her relentless pace, borne of years crushing cross-country trails, there was still time to appreciate the quirky fruits of slow travels. In a random pocket park in Queens, we came across cages full of Guyanese finches, brought out to enjoy the fresh air by their immigrant owners, who were enjoying the spring weather themselves. As our feet tired, we stopped at a Nepalese temple of the United Sherpa Association, where I poked my head in to offer a silent prayer for the completion of the hike. 
But the most memorable moments of the journey were seeing kids enjoying themselves outside. At PS 140, the Edward K. "Duke" Ellington grammar school, we watched children as they sprinted from their classrooms to their TPL playground, joyfully shouting as they ran by a mural of the famed jazz performer. Two elaborate multicolored play structures on padded bases were framed by a little performance stage as well as a row of newly planted leafy trees.
It was just the sort of reward that the best of urban hiking offers, unexpected discoveries on a long journey exploring the back streets of a big city.
Upon completing her 225 mile, 100-park thru-hike odyssey, Thomas reflected on "how powerful it was to see parking lots turned into parks and people who have little access to green space getting to play and come together in community. There's no one word to describe the New York City hike, but I think, wherever I went, the power of local parks to make everyone's life better was so evident." 
Lead Photo: Timothy Schenck