Into the Whitney Zone
How the federal government tried to ruin my 30th birthday (and how I didn't let them).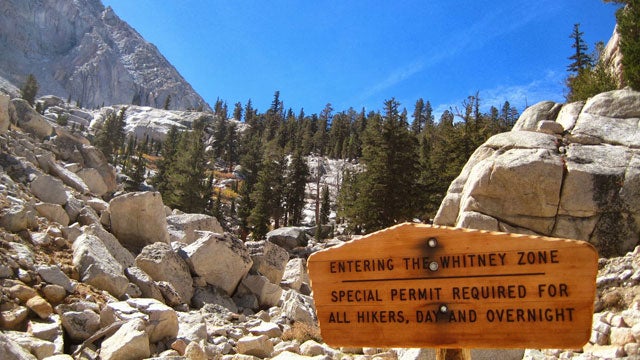 Heading out the door? Read this article on the new Outside+ app available now on iOS devices for members! Download the app.
I didn't pay much attention to the news on September 30. I was en route from New Mexico to California to hike Mount Whitney in celebration of my 30th birthday. The "Whitney on Whitney Birthday Bash," as one friend dubbed my solo adventure, had been in the works for months. I'd reserved a day-hiking permit back in July, read every Mount Whitney book I could get my hands on, climbed New Mexico's highest peaks in preparation, and carefully tested the gear and food I would carry to the 14,505-foot summit. I felt ready, confident I could make the 22-mile round-trip trek in one day, and excited to begin my fourth decade in a big way—literally.
I half expected to find an angry ranger at the trailhead turning away hikers, but the coast was clear, so up I went.

Whitney on the summit of Mt. Whitney
I spent the night in Bakersfield, California, and tuned into the "Today Show" the following morning. "Coming up: How will the government shutdown affect you?" Matt Lauer said into the camera. When he mentioned something about the national parks closing, my heart sank. What did the shutdown mean for the Mount Whitney Trail, which is located in both the Inyo National Forest and Sequoia National Park, as well as the John Muir Wilderness?
Without knowing if the trail was open, I drove east to Lone Pine, a small high-desert town only about 20 minutes from the Whitney trailhead. On the way, I called my mother. "You'd better get to the permit office before noon," she advised. "That's when the government is closing!"
But when I arrived at the Eastern Sierra Inter-Agency Visitor Center at 11:30, the gate was locked. A sign was posted on a piece of plywood that read "FACILITY CLOSED." No explanation, no information about permits, nothing. To the west, I could see Mount Whitney's craggy summit in the distance. I almost cried.
Later, I spoke to a Japanese climber who'd been at the visitor's center when officials posted the sign. "They were cranky," he told me. "They said they couldn't give out permits but they wouldn't stop hikers, either."
That was the same message I received at the Whitney Portal Store, which sells hiking supplies, Whitney souvenirs, and really huge pancakes, next to the Whitney trailhead. I drove up there immediately following my stop at the permit office. Although the store has no government affiliation, I thought the owners, Doug and Earlene Thompson, might be able to shed some light on the situation. After all, the couple has been fielding questions from hikers since they opened for business back in 1987.
"The people from the permit office brought up the wag bags and bear canisters," Earlene told me. "They're expecting people to hike." (Wag bags are mandatory for removal of human waste; bear canisters are required for food storage for overnight campers.) Earlene hoped that all hikers—whether they'd been planning their trips for months or were taking advantage of the shutdown for an impromptu hike—would continue to follow the rules and not "trash the mountain." 
Ever since I transcribed an interview with GoPro founder (and October cover guy) Nick Woodman, I've been asking myself "how will I look back on this when I'm 90 years old?" every time I have a big decision to make. The answer in this case was a very clear: "Climb the mountain!" Reaffirmation by a few friends also helped. "Hell yeah go for it," one emailed. "[The government shutdown] adds a little excitement to the experience."
"If there's no sign with red tape and an unaffordable fine, poach it!" texted another.
And so I began hiking at 4:15 the following morning. I half expected to find an angry ranger at the trailhead turning away hikers, but the coast was clear, so up I went. And up, and up, and up, all the way to 14,505 feet. And what a day for it—sunny and warm (except for the summit, which was cold and windy). I completed the 22 miles in fewer than 10 hours, and enjoyed every step of the way.
Most folks I encountered were in the same boat—they'd reserved a permit but were unable to pick it up, so they decided to hike anyway. One guy I met was celebrating his 36th birthday; another had started at 2 a.m. in hopes of finishing before sunset. Most people had printed out their permit reservation emails, but no one (as far as I could tell) encountered a ranger or had any one tell them not to hike.
The following day (October 3), campgrounds in the Eastern Sierra were shutdown. "Just found out we are closing all campgrounds tomorrow and we have 48 hours to get out. Sorry everyone. Season over," read a recent post on the Mount Whitney Portal Campground Facebook page.
Although you won't be able to camp at Whitney Portal, there's no red tape across the trail (yet?). So if you're planning an excursion to the tallest peak in the Lower 48, hike on. The view from the top is worth it.