This Medical School Student Just Set a Speed Record on Vermont's Long Trail
Will Peterson overcame downpours, flooding, and his own hectic schedule to smash the unsupported FKT on America's oldest thru-hike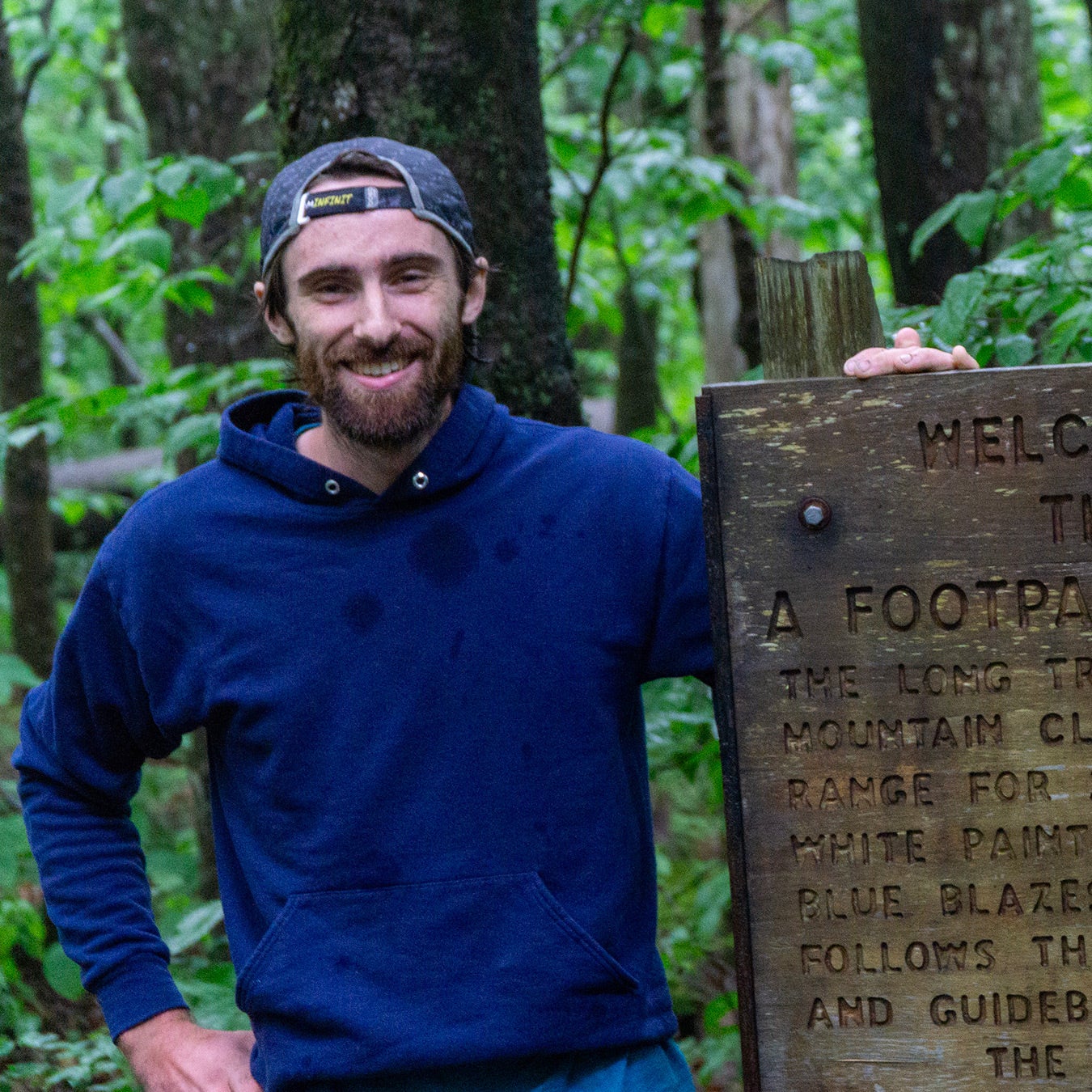 Michael Tidd
Heading out the door? Read this article on the new Outside+ app available now on iOS devices for members! Download the app.
Will Peterson was just 26 miles from the southern terminus of Vermont's 272-mile Long Trail when the heavens opened up. It was July 27, and Peterson, a 24-year-old medical student from Maine, was attempting to break the fastest known time for an unsupported thru-hike on the route. He had already trekked for more than three days, and now, he would have to complete the final leg in a downpour.
The rain quickly transformed the rocky trail into a muddy ankle-deep creek. But Peterson says the moisture was actually a godsend. His joints were sore and swollen from 245 miles of roots and rocks. With each step into soft mud, Peterson felt like he was stepping on pillows.
"It felt super, like being in a shower," Peterson says. "My feet got destroyed and blistered and all that stuff, but I was able to run hard the last 26 miles just because it felt so good."
Running the final leg helped Peterson complete the trek in four days, 11 hours, and 34 minutes, shattering the previous record set by Jeff Garmire in 2019 (5 days, 23 hours, 48 minutes) by more than a day and a half.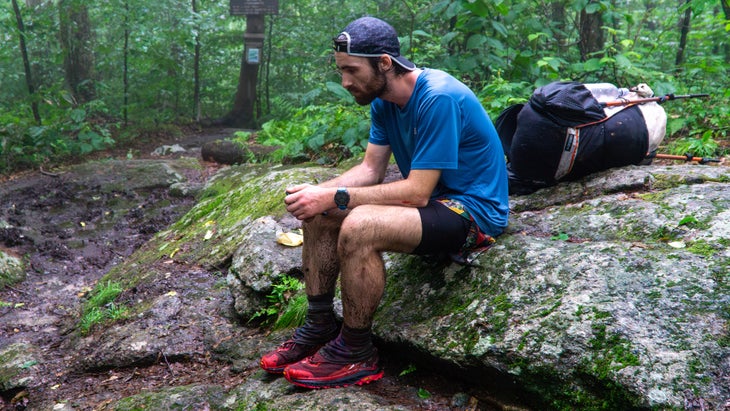 Peterson faced several obstacles during his trek. Less than two weeks before he departed, parts of Vermont were pummeled by devastating storms and flooding. Multiple portions of the Long Trail suffered damage, and the Green Mountain Club, which maintains and protects the trail, closed several sections to hikers. But the club created official reroutes for the damaged areas, and the deviations added 1.2 extra miles of total extra length. Before he departed, Peterson wrote on Instagram that if he were to break the record, he would happily adjust his time to accommodate the reroute. Using GPS calculations, Peterson estimates he lost about 17 minutes due to the extra distance.
Another challenge Peterson overcame was his own limited bandwidth. As a first-year medical student at The Geisel School of Medicine at Dartmouth, Peterson had to balance his training with long days of school and plenty of studying. Through the winter and spring, he averaged 8 to 12 hours per-week of cycling, ski touring, trail running, and even stair-stepping. He squeezed the workouts in between classes.
"I've always found that if you're willing to budget your time right and be committed to multiple things at once, then it seems to work itself out," Peterson says.
Once the school year ended this spring, Peterson increased his training load for the Long Trail attempt. In June, he thru-hiked the Long Trail over 12 days to scout the terrain. After completing this arduous period, Peterson rested and waited for a window of good weather. The sunshine appeared in late July.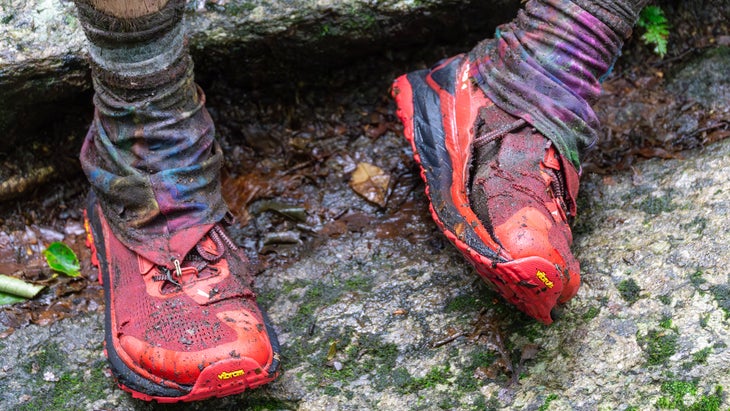 Peterson started at the Canadian border on July 23. His pack weighed 33 pounds—inside was a sleeping kit and a few changes of clothing, plus 19 pounds of powdered nutrition and 5 pounds of water. The rules of unsupported FKT required him to carry everything he would need from start to finish, except for water, which he could collect at natural sources. That meant Peterson could not buy, stash, or accept food from other trail users.
Peterson set off at 7 A.M. without a specific goal mileage for each day. Instead, he split the Long Trail into 52 shorter subsegments—his goal was to get to the end of specific sections by a predetermined time. His goal was to finish in 4 days, 14 hours, 43 minutes, which he thought was aggressive. But on the first day he ticked off 45.7 miles, which put him well ahead of that pace. But that night, Peterson was plagued by an issue that many ultra-athletes navigate early in a trek: insomnia.
"My hips were throbbing from the mileage of day one, and my mind was too excited to fully shut down," he says. "Perhaps I should have just packed up and kept going once I realized I wasn't going to be able to sleep."
Peterson rested for approximately 90 minutes before setting off into the night. He completed 55.1 miles on the second day. At 11 P.M., he stopped to sleep. This time he succeeded, grabbing three hours of shuteye, plus 30 minutes of what he describes as "semi-conscious self-loathing."
The third day, July 25, proved to be the hardest. Peterson ran out of caffeine, and at midnight, he began stumbling through the woods, unable to keep his eyes open. He tripped on a root and fell forward, slamming his head and shoulder into a tree. Peterson remembers laying on the ground for a minute assessing his body.
"It was not good. And I was just super miserable," he says. "I've never been that tired, where I was falling asleep while running. I wasn't sure if I was going to be able to make it."
The fall convinced Peterson he needed more rest. He set out his bivy and slept for another three and a half hours, having completed 63 miles for the day. Peterson says he regrets that on both days 3 and 4, he laid on the ground "hating myself" for 30 minutes. As he wrote on Instagram: "That's a full hour someone could save if they have a little bit more mental toughness."
Peterson crossed 53.4 miles on day 4, and he encountered another challenge during that leg: massive nosebleeds. He tried plugging his nostrils with toilet paper, but the plugs sent blood trickling down his throat and into his stomach. He eventually found that sitting down and waiting for his heart rate to drop made the bleeding subside. He had to stop three times that day to wait for his nasal passages to clear.
Peterson reached the finish line at 6:34 P.M. on July 27 after running through the rainstorm. He had shattered the existing official record, and also beaten the self-supported FKT set by Joe "Stringbean" McConaughy's in 2020 (4 days, 23 hours, 53 minutes).
"It just went way better than I thought it could," says Peterson, whose trail name is ­­­­­­"Sisyphus," a moniker he earned while thru-hiking the Appalachian Trail in 2019.
Perhaps even more impressive: Peterson's time is just seven hours shy of the supported FKT on the Long Trail, set on July 3 by ultrarunner John Kelly, who is a two-time finisher of the Barkley Marathons ultra-endurance race.
Unlike Kelly, Peterson doesn't have a long background in competitive running background. After completing the Appalachian Trail in 2019, he began attempting multi-day ultramarathons as a way to pursue his adventures without having to live for months at a time on the trail. He became hooked on competitive FKTs as a way to challenge himself.In 2020, he completed an unsupported (and self-powered) hike of New Hampshire's 48 peaks above 4,000 feet in five days, 13 hours, and five minutes.
"I felt then like I could compete with anyone on the national level when it came to multi-day efforts," Peterson says.
After the peaks, Peterson set his sights on the Long Trail, which holds a mystique among ultra runners and hikers. It is the oldest continuous footpath in the United States—construction on it began in 1910. The Long Trail is considered the birthplace of long-distance thru-hiking in the U.S., and its completion eventually inspired the construction of the Appalachian Trail.
Now, Peterson has written his name into its history.
"In New England, if you want to compete with people on a national level on the multi-day scene, there's really no better place to do it than on the Long Trail," Peterson says.
Lead Photo: Michael Tidd
Trending on Outside Online