Individual Medley
A legendary swimmer takes on the Amazon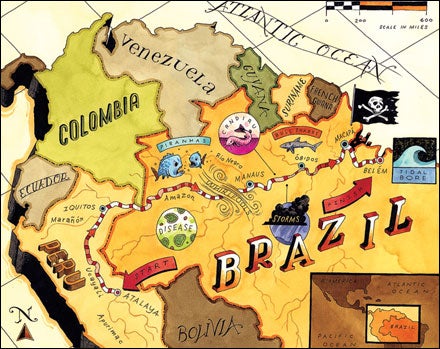 Heading out the door? Read this article on the new Outside+ app available now on iOS devices for members! Download the app.
"As a boy, I was beaten a lot by my parents and schoolmasters," says Martin Strel. "This greatly contributed to my ability to ignore pain and endure." While this partially explains how the 52-year-old Slovenian lived through world-record swims down the Danube, Mississippi, and Yangtze rivers, he'll need more than a high pain threshold to, um, brook his toughest trip yet: 3,375 miles of the Amazon, beginning in February. Here's a look at what Strel and his approximately 20-member support crew will face.
Martin Strel

Disease Already vaccinated against hepatitis, diphtheria, rabies, various fevers, and parasites, Strel will also take malaria pills. His defense against raw sewage from riverside villages? Luck and his team doctor.
Whirlpools At the confluence of the Amazon and the Rio Negro, Strel will have to swim around football-field-size whirlpools that could hold a person underwater.
Candiru This parasitic fish, generally one to three inches long, works its way up the urethra, where barbed spines lock it in place and make removal without surgery impossible. "It's the thing I am most afraid of," says Strel, who hopes his wetsuit will offer enough protection. "God needs to help us."
Bull Sharks Responsible for a disproportionate share of fatal shark attacks worldwide, bulls can survive in freshwater and have been sighted some 800 miles up the Amazon.
Piranhas Strel's team will carry a bucket of blood that can be dumped into the water to distract the fish in case of attack.
Pirates Strel hopes to bribe his way out of any confrontations in these sometimes lawless waters. "We have T-shirts, caps, food, and drinks," he says. "I think pirates will like that stuff." But the crew will also be armed.
Tidal Bore Tidal surges at the mouth of the Amazon can send ten-foot waves roaring upriver then rushing back out in irregular cycles. Strel will rely on coast guard forecasts to avoid them, sometimes swimming at night to stay on schedule.
Trending on Outside Online