What You Missed: Booby-Trapped Lake Tahoe Bike Trail Sparks Local Debate
Hidden spikes on a popular trail, a cancer survivor's marathon return, and ducks on the run in New York City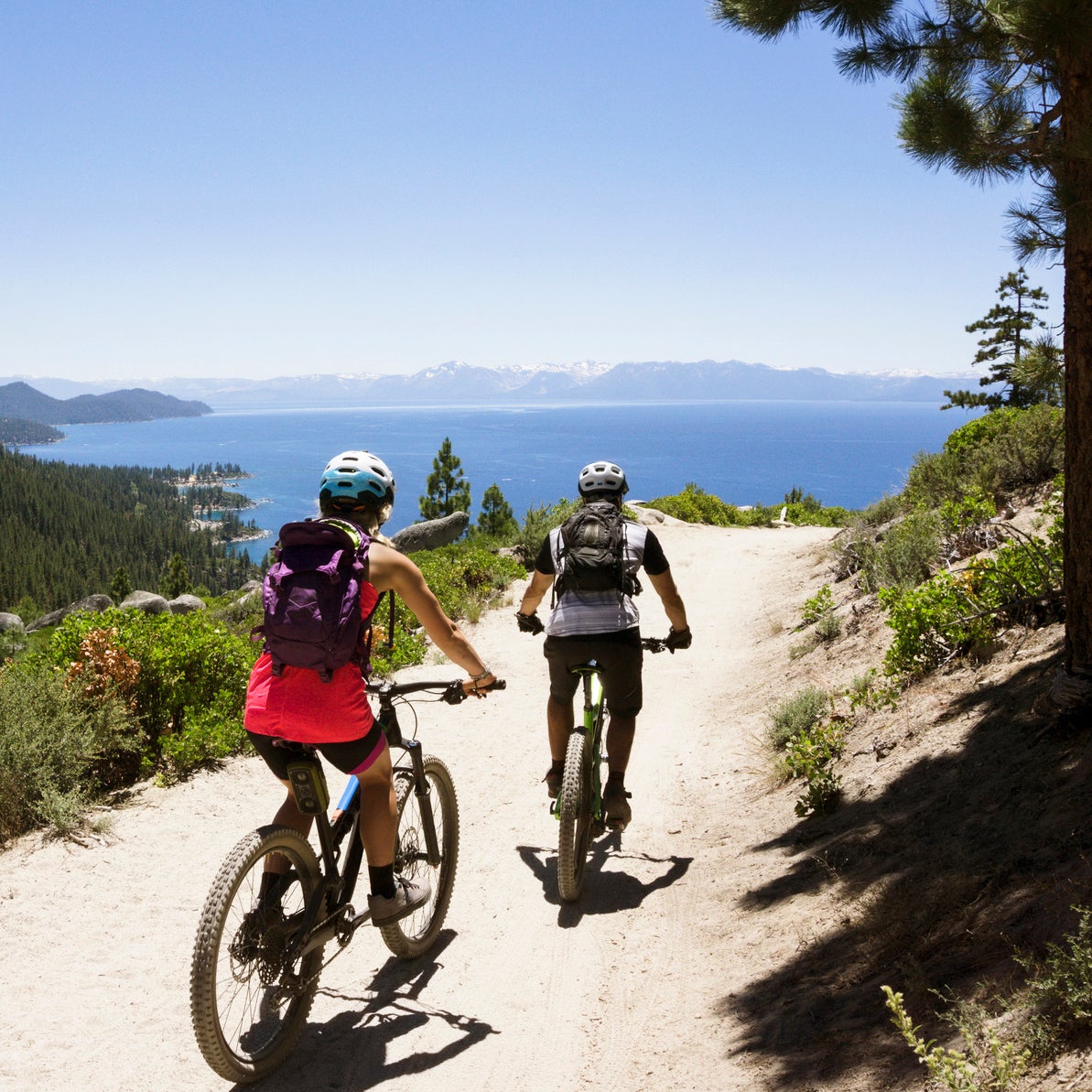 Heading out the door? Read this article on the new Outside+ app available now on iOS devices for members! Download the app.
Welcome to What You Missed, our daily digest of breaking news and topical perspectives from across the outdoor world. You can also get this news delivered to your email inbox six days a week by signing up for the What You Missed newsletter.
---
A booby-trapped trail along Lake Tahoe's north shore has sparked an online debate over proper trail etiquette.
In October, officials in Nevada removed approximately 60 metal spikes from the popular Tyrolean Trail near Incline Village. The spikes were discovered when a mountain biker popped a tire while riding the trail and sent images of them to the Tahoe Area Mountain Biking Association. The group posted the pictures on social media, prompting other mountain bikers to share similar reports of spikes they'd seen along the trail.
Nobody knows who is responsible.
Local media covered the story of the booby-trapped trail, as did the San Francisco Chronicle, which took a deeper look at the brewing tensions over trail usage in the area. Like most outdoor bike paths, the Tyrolean Trail is explicitly mixed-use, meaning it's open to hikers, cyclists, and equestrians. But with its fast and flowy nature, it quickly became a favorite with local mountain bikers—causing consternation among other users unhappy about the influx of riders.
Trail attacks like these are dangerous and illegal; bikers can suffer serious injuries from not only spikes but downed logs and trip wires. Similar cases of booby traps have been reported in California, Colorado, North Carolina, and elsewhere. Local governments have tried to combat the traps with surveillance cameras and even proposed legislation—in 2017 lawmakers in North Carolina proposed a law to make it a misdemeanor to set a trap in a public park.
The online comments on the Incline Village public Facebook group reveal the tension between user groups at the site.
"I run on this trail a few times a week and unfortunately, it's not uncommon to see Mtn bikers treating it as a developed resort run and going downhill pretty aggressively," wrote one commenter. "I almost got hit by a bike on a few occasions this season."
"I stopped walking the trail because I realize too many of the bikers are out of control with their speed," wrote another.
There were more than 150 comments on the thread.
In the Chronicle story, Thea Hardy, a spokesperson for the local mountain-biking association, said the only way to ease tensions is for user groups to learn to coexist peacefully on the same trail.
"When something like that happens, it's sort of like an act against mountain biking," Hardy said. "It's something that we want to avoid, and we want to continue to build a good community that's supportive of all of the activities that are allowed to happen on trails."
Hugs, Tears, and PRs at the New York City Marathon
We're not crying, you're crying.
After a one-year hiatus due to the pandemic, the New York City Marathon came back into our lives this weekend with plenty of heartwarming stories. Topping that list was the return of professional runner Tommy Rivers Puzey, who completed the 26.2-mile race just 16 months after he was diagnosed with a rare and aggressive form of lymphoma. Puzey, 37, spent months in isolation undergoing chemotherapy, emerging from the treatment 75 pounds lighter and unable to perform basic functions like swallowing or using his hands. Over the next year he fought back, and by April he was able to walk two miles. His progression continued, and he placed the New York City Marathon on his schedule to urge himself forward with his recovery.
On Sunday Puzey completed the event in 9 hours 19 minutes, walking the final length with his wife, Stephanie Catudal. His feat was documented on social media.
Another U.S. running great made history in New York City on Sunday: Shalane Flanagan. The retired pro completed the race as part of her personal challenge to run all six of the World Marathon Majors in under three hours amid the compressed marathon schedule. Flanagan, the winner of the 2017 New York City Marathon, finished the event in 2:33:32.
This year the pandemic forced the World Marathon Majors to be held in a short six-week window, a deviation from the normal schedule that sees the Boston, Berlin, and Tokyo races held in the spring, and then the Chicago, London, and New York City Marathons held in the fall. Flanagan, who retired from elite running in 2019, was one of several athletes to take on all six races in just 42 days.
"The enthusiasm was so infectious," Flanagan told Women's Running. "I felt like everyone had this deep sense of gratitude. For this sense of normalcy, we don't take it for granted as much anymore. You could just feel a deep level of enthusiasm that I've never felt before."
American fans had plenty to cheer about at this year's race, as five American women surged into the top ten. Leading the list was Molly Seidel, who finished fourth, and whose 2:24:42 shattered the previous U.S. record of 2:25:53, set by Kara Goucher in 2008.
The NYC Waddle
We're still waiting for confirmation of a world record in the duck category at the New York City Marathon.
YOU GUYYYYYSSSSSSSS I love her!!!!! pic.twitter.com/V6LGh1dc4W

— Meech (@MediumSizeMeech) November 8, 2021
Member Exclusive
"The Great Salt Lake Is Desolate. It's Also Divine." Bill Gifford spent a year exploring Utah's landmark lake and discovered beauty and natural splendor.
Around the Outside Network
"My Worst Hike: My Boyfriend Left Me Injured on the Trail" What's the easiest way to ruin a hike? A selfish hiking partner. Backpacker
"I'm an Ironman Finisher. So Is My Baby." Dr. Sydney Haggins explains how she trained for and raced in the Ironman while pregnant. Triathlete
"Peter Sagan Says the Beauty of Cycling Has Been Lost amid COVID-19 Restrictions" The world champ says the loss of crowd energy has dampened pro cycling. VeloNews
"BOA CEO Dishes on Company's Ownership Change" Shawn Neville on BOA Technologies' acquisition, spike in sales, and threats to success. Outside Business Journal
Lead Photo: Cavan Images/Getty Images