Les Stroud Takes Reddit By Storm
Survivorman discusses Bigfoot, his worst survival illness, and his family camping habits in AMA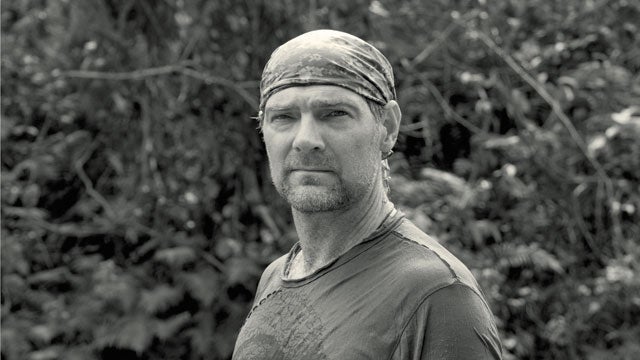 Laura Bombier(Photo)
Heading out the door? Read this article on the new Outside+ app available now on iOS devices for members! Download the app.
Les Stroud, host of the Discovery Channel's popular Survivorman show, took user-generated questions on Reddit yesterday as a part of the site's popular AMA (Ask Me Anything) series. Stroud's AMA was ostensibly designed to promote Survivorman's fifth season, his new book, and an album of environmentally-inspired rock songs he recently recorded—but, true to form, Redditors rarely stayed on topic. The Survivorman's answers didn't disappoint.
(For those new to Reddit, Stroud's username is "reallesstroud," and when he answers, his username is highlighted in blue. Other usernames indicate questions and responses to Stroud's answers.)
The AMA was with Survivorman, so of course Stroud had to include some basic survival tips.
He also talked about the survivalists who influenced him most.
Ultimately, one comment summarized Stroud's survival skills.
By the way, take comfort: Your pizza and beer diet is now Survivorman-approved.
Stroud debunked a survival skill popularized by Man vs. Wild's Bear Grylls.
He also took some time to talk about pooping in the wild.
But just because Stroud roughs it on television doesn't mean his family camping trips are the same way.
You're really making us want to ditch car camping, Les.
The flesh-eating parasites aren't the worst part of being a survivalist, though. Who knew?
Stroud also shared his biggest fears.
Tellingly, the Survivorman lacks major corporate sponsors. Redditors didn't miss out on a chance for humor.
Stroud's fans often tout his superiority to fellow Discovery Channel adventure host Bear Grylls. Turns out Stroud shares the sentiment.
The AMA was packed with Stroud's recommendations for getting into the great outdoors, best summarized when he showed some North American love. (In another response he cited the Yukon Territory as his favorite place on the continent.)
Stroud also provided some great stories from filming Survivorman. But who could resist some tasty Inuit trout and scotch?
An upcoming episode of Survivorman will include a possible Bigfoot sighting, Stroud revealed.
However, in the end, the Bigfoot debate boils down to one essential question.
Insane wilderness trekking may be Stroud's day job, but really he's just a normal dad.
Being a dad brought the AMA to a close—but not before one final bit of Reddit humor.
To see all of Stroud's answers, check out the rest of the AMA. Stroud also did an AMA last March, and he was the subject of an Outside profile in our November issue.
Lead Photo: Laura Bombier
Trending on Outside Online