"Mad Men" Producer Bikes to Emmys
While wearing Rapha, riding Specialized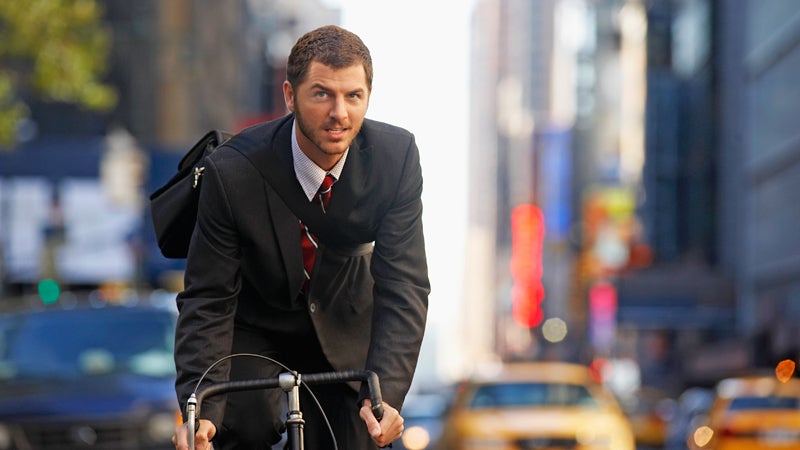 Heading out the door? Read this article on the new Outside+ app available now on iOS devices for members! Download the app.
Mad Men writer-producer Tom Smuts might not have won an Emmy last night, but he certainly won Best Emmy Commute. Wearing a helmet and cycling-ready suit designed by Rapha and straddling a silver Specialized, Smuts led a 15-person peloton approximately 16 miles from his Santa Monica home to Emmy festivities at the Nokia Theater. The trip took about 90 minutes and ended with the nominee and five others cycling up the red carpet.
"It's about as long as it would take to drive," Smuts told the Los Angeles Times.
Many media outlets are treating Smuts' commute as an ingenious way to avoid rush-hour traffic—the awards show was held on a weekday for the first time in 40 years—but Smuts says that wasn't his top priority. Primarily, Smuts wanted to promote cycling as a healthy, safe, and sustainable transportation alternative. But as he told the Hollywood Reporter, his commute was also meant to be "playful activism" on behalf of bike commuters, who he feels are verbally and physically targeted by drivers.
"A group of people dressed appropriately riding to the Emmys sends a message about the kind of people who commute on bikes," Smuts, who commutes by bike to his producing job for Amazon's drama series Bosch, told THR. "It might make drivers more aware that we're not hooligans trying to lengthen their commutes."
Biking to the #Emmys2014 Thanks @rapha_n_america for hooking me up with the world'a finest cycling clothing pic.twitter.com/RBH2pnP6DX

— Tom Smuts (@TES_RidingBikes) August 26, 2014
Plenty of people became aware of Smuts' stunt throughout the ride; it was promoted vigorously on social media platforms Twitter and Smuts' Instagram account, created specifically for the occasion. Overall, Smuts was successful in getting out the message of cycling as a safe mode of transport—he managed to get the Mayor's Office, the TV Academy, and the Los Angeles County Bicycle Coalition on board in designing a safe route to the Emmys. Smuts plans to organize rides to next year's show with other high-profile stars.
"I just wish it was bigger and we had Matthew McConaughey," he said. 
Thx @TomSmuts 4 a gr8 #bike2emmys! @BicycleCulture @LABikeTrains @MadMen_AMC @rapha_n_america @ternbicycles #bikeLA pic.twitter.com/2PuEf9tdVR

— LACntyBikeCoalition (@lacbc) August 25, 2014
Lead Photo: moodboard/ThinkStock