The Mountain Is Europe's Strongest Man
"Game of Thrones" actor Bjornsson wins title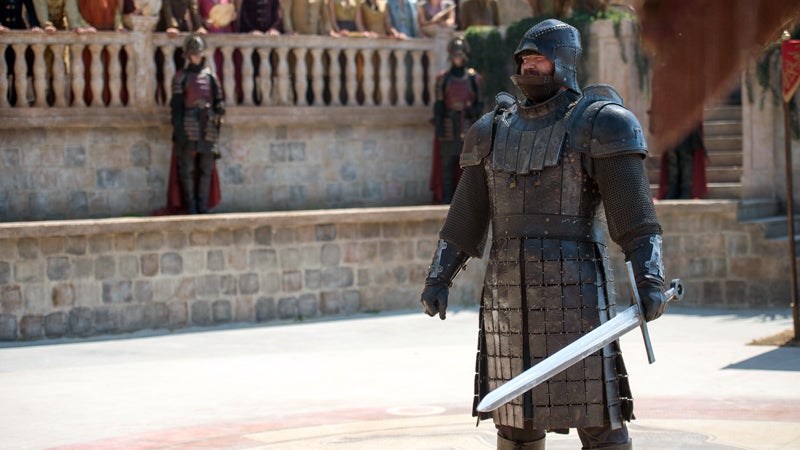 Heading out the door? Read this article on the new Outside+ app available now on iOS devices for members! Download the app.
Former pro basketball player and Game of Thrones actor Hafthor Bjornsson has a new title to add to his resume: Europe's Strongest Man. 
It turns out that playing strongman Gregor "The Mountain" Clegane on GOT was no act. The 6-foot 9-inch Bjornsson dominated events such as the 220-pound dumbbell press, "Thor's Hammer" forward hold, 400-pound harness run, and stone loading to take the competition title in Leeds, England. After securing his win, he ripped off his shirt and roared, "I am the future of strength, as I am the king of the stones!" according to the Washington Post.
Previously, Bjornsson was the runner-up in the March 2014 World's Strongest Man competition, as well as Iceland's Strongest Man in June. To maintain his massive muscles, he consumes 8,000 calories a day—usually filet mignon, baked potatoes, and lots of vegetables. "As a matter of fact, my father cooked me [a filet mignon] when I was competing in Iceland's Strongest Man, and I won it, the fourth time in a row," he told Sports Illustrated.
During workouts, Bjornsson bench-presses more than 500 pounds and deadlifts 925 pounds. His goal is to surpass lifting the half-ton mark and place first at the 2015 World's Strongest Man competition. It'll take a lot of filet mignon to get that beefy.