The People's Games
The 15 things you must know about this year's Olympics in Beijing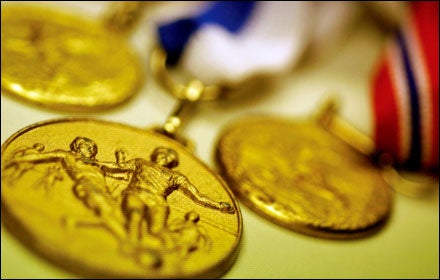 Heading out the door? Read this article on the new Outside+ app available now on iOS devices for members! Download the app.
1. There's Only One Time Zone in China, and It's Exactly 12 Hours Ahead of New York
Chairman Mao didn't mean to make it easy to watch live coverage from his country; it just worked out that way.
2. It's a "Fast Pool"
To promote the breaking of swimming world records, the Chinese have optimized their Water Cube pool for speed by: (1) Keeping the water at 80.6 degrees, the temperature considered optimal for swimmers; (2) pumping "microbubbles" into the pool to break the water's surface tension; (3) building the pool to a depth of 42.7 feet, which prevents water-temperature interference; and (4) introducing a ventilation system that whisks chlorine fumes off the surface of the water, allowing theathletes to breathe clean air.
3. Why the Chinese Hold Their Paddles That Way
It's called the penhold grip, and it allows a player to unleash vicious topspin attacks from the forehand and consistent, though less forceful, blocks on the backhand. And since the penhold uses only one side of the paddle for both strokes, it's impossible to jam a shot into the body of a table-tennis (calling it Ping-Pong is picking a fight) player using it. While the Western shakehand grip is considered more versatile, the penhold has legions of often obsessive proponents. Break it out in casual play and watch the rumpus room go quiet.
4. Middle-School Gym Class Is an Olympic Sport
When medals are involved, though, it's called team handball. Now making its tenth Olympic appearance, the court game it enjoys curling's notoriety minus the beer jokes still can't be explained without real-sport references, like "water polo without water" or "lacrosse without sticks." We call it "a sport with scores but without a point." But that's only because our team sucks at it.
5. Logan Tom
If she doesn't win gold in beach volleyball, we probably won't know who did.
6. Not All Imports from China Are Tainted
To up our odds and add a bit of diplomatic drama the U.S. poached some top-shelf talent from the host nation. Women's volleyball coach Jenny "the Iron Hammer" Lang Ping was a key player for the Chinese juggernaut that won five world titles and Olympic gold in the 1980s. The Chinese now call the U.S. squad "Jenny's team." And the top two U.S. Ping-Pong yeah, we called it that players, Gao Jun and Wang Chen, won an Olympic medal and world title, respectively, before leaving the homeland. Basketball star Yao Ming, however, has been recalled.
7. Women Peak Later
Leading up to the Games, the press was fawning over 41-year-old, four-time swimming gold medalist Dara Torres, who was aiming for her fifth Olympics. Huzzah. But how about 49-year-old French cyclist Jeannie Longo, who's been dominating her sport since the early 1980s?
8. We've Got Federer's (Lucky) Number
Tennis champ Roger Federer suffered early-round exits at the last two Olympics. But numerology suggests his fortune will turn. The Swiss ace's birthday is August 8, as in 8/8/08; the hard-court tournament lasts eight days; and eight is considered a lucky number in China.
9. The Cool Kids Have Moved Off-Campus
The Olympic Village is still going strong. But ever since the pros were allowed to compete, sponsors have been providing ever more luxe "safehouses." This year, Oakley rented Beijing's trendiest nightlife/dining/hotel complex, Block 8 (hey, Federer!), for its athletes and VIPs. After arriving in chauffeur-driven sedans, guests will be treated to plasma TVs, a turf game area with pool tables and a bocce court, the Ultra nightclub, and two of the city's best restaurants. The Beach, the sand-floored rooftop bar, will host the Games' best private parties.
10. Sixteen: The New Ten
We bid farewell to the "perfect 10" as gymnastics' high mark and welcome the less catchy "around 16." Authorities say this open-ended judging system will deliver fairer, less subjective scores. We say Nadia Comaneci still rules.
11. It's Not a SARS Outbreak
Beijingers don respirators when the air gets too soupy. Following suit, the British have developed a mask for their athletes to wear in competition, though IOC president Jacques Rogge has called it "totally useless." Whether masks are legal in a given event is up to each sport's governing body.
12. You Thought Soccer Fans Were Crazed?
There are now roughly 3,500 people in China named Aoyun ("Olympics"), and some expectant mothers have requested induced labor during the opening ceremony. Other patriotic fans have been tattooed with the five interlocking rings, the Great Wall, the Olympic mascots, or even a complete set of the Games' 35 sport icons.
13. Who Needs the Paralympics?
In May, South African double-amputee sprinter Oscar Pistorius won his appeal to be eligible for competition using carbon-fiber prostheses. He wouldn't be the first disabled Olympian, though. American gymnast George Eyser won six medals in 1904, including three golds, with a wooden leg; legally blind Marla Runyan ran the 1,500 and 5,000 in Sydney and Athens; and two archers have competed from wheelchairs. In fact, Pistorius wouldn't even be the only South African amputee in Beijing. Swimmer Natalie du Toit will compete without her left leg or a prosthesis.
14. Legacy Counts
Boulder, Colorado's Taylor Phinney, 18, took up track cycling just under a year ago, as a senior in high school. Since then he's won a national championship, a World Cup, and a spot on the U.S. Olympic team. His secret? Genes. His dad, Davis Phinney, earned a bronze in cycling at the 1984 Olympics and was the first American to win a stage of the Tour de France. Mom Connie Carpenter-Phinney took cycling gold in '84, after having already been to the Winter Olympics as a speed skater. Watch for "Mini Phinney" to medal in the individual pursuit.
15. You Could Still Go
As of June, airfares to Beijing were available for less than $1,300 online, and a decent room downtown was about $300 per night. Getting event tickets on short notice will be harder: eBay scalpers were asking $10,000 for admission to the opening ceremony.