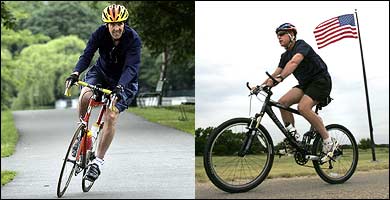 Heading out the door? Read this article on the new Outside+ app available now on iOS devices for members! Download the app.
For the first time in history, both major presidential candidates are serious about action sports. President George W. Bush rides singletrack and runs. Senator John Kerry snowboards, windsurfs, and pedals a high-end road bike. This month, in an online exclusive, we take a look at the prospective Dudes in Chief to find who's really got outdoor cred.



George W. Bush's Tour de Ranch


Surprise! After only four months on a mountain bike, Dubya is tearing up the trails. We saddle up and crank with the prez across his Crawford, Texas, ranch—and try not to get dropped. By Ken Herman [more]



Repackaging Senator Stud


Everyone knows John Kerry has serious athletic skills. So how come he often comes across as a wannabe? We dissect his poser problem and provide a prescription for keeping it real during the final mad sprint to Election Day. By Jason Daley [more]
Tour de Ranch
George W. Bush tears up his Crawford digs
George W. Bush

George W. Bush on his Trek mountain bike.
CRAWFORD, TX —On this day, on this topic, there can be no doubt: President George W. Bush—beloved by many, not so beloved by many—is a stout, fit leader.

Hunched over the handlebars of Mountain Bike One, shoulders bobbing, Bush captains a presidential peloton that includes four people very important to him: two Secret Service agents, ad guru Mark McKinnon (the guy responsible for all of the Bush campaign's TV commercials), and a cinematographer who, earlier this morning, took shots of the president for his 2004 campaign ads.

Also in the mule train is a newspaper reporter who's covered Bush for years and nagged his way onto the team. For the reporter, me, it's a humbling experience. Despite being a fairly serious road biker—I've pedaled about 1,800 miles in the seven months prior to my July ride with Bush—I quickly find that I'm no match for the heart-pounding, 170-beats-per-minute cardio assault the president unleashes. This becomes apparent on the first stretch of the 18.3-mile circuit, which Bush will cruise in one hour 19 minutes.

"Little different than a road bike," Bush says as we pedal side by side for the first 15 minutes, before he leaves me in the dust. I grunt. Before the ride, I told the president that there was no sense in trying to beat him. If he lost, there would be a recount, lawyers would get involved, and it would all be a big ol' mess. He laughed. I think.

Though Bush has been mountain biking for only four months when I ride with him, he's already settled on a consistent style: hammering. Mountain biking became the president's new activity of choice earlier this year, after "Trekman John Burke"—Bush's name for Trek CEO John Burke—sent him a Fuel 98 and told him to take it for a spin. Bush, who has a resting heart rate in the forties, has long been known for running hard and long, but a bum right knee put an end to that. He says the damage to his knee is "more structural," so it's not a candidate for quick, noninvasive repair. That's where the bike comes in.

"I got out here and I realized that with 45 minutes of exercise you can maintain a heart rate that is higher than if you were going to run, and after the ride your body feels fine," Bush says. "It's not all that difficult—the way I do it. I'm not one of these extreme bike-rider guys. I like the cardiovascular aspect. I like to be able to ride across the ranch."

Today's route includes some tricky climbs and descents on caliche roads but nothing especially dangerous. Two days ago, Bush did an endo while riding with Associated Press reporter Scott Lindlaw, an avid mountain biker who stayed close enough to the prez to offer some tips and note that he emits a "grr, grr, grr" sound when climbing.

Bush likes the fact that mountain biking is an activity that requires focus. Inattention leads to injury. "Generally, when you get tired and zone out—get your rider's high—you lose concentration," he says. "And when you lose concentration on rough roads, sometimes that front wheel goes one direction and the back goes the other. And that's happened several times."

Today, Bush assumes the responsibilities of a ride leader, passing along directions and warnings to the rest of his five-man group. "Heads up. Hard right," he yells just before we arrive at a sharp turn that separates the paved portion of the ride—which he cruised at more than 20 miles per hour—from the rocky trails of his ranch.

At ride's end, neck burned by the sun, Bush declares the event a success and seems ready to field questions. Did he conquer the climbs? "No, I didn't," he says. "The Mountain Goat Award goes to McKinnon."

"I drafted the president," says McKinnon, deftly reflecting the glory back on the boss.

Bush says that exercise—both the physical and mental side of it—is crucial for people in high-pressure lines of work like his. "When you ride a bike and get your heart rate up and you're out—after about 30 or 40 minutes, your mind tends to expand; it tends to relax. My worries tend to dissipate," he says. "That's not to say that shortly thereafter, when I walk inside the house and get a phone call that says something is going wrong or there is a difficult situation, I can't log back on to it. But it's important for people to get their minds off their worries at some point during the day. It makes you a more rounded person and helps you make better decisions. I think this is something where you've got to concentrate."

One follow-up: "Have there been any endos since you've been riding?"

"I parted involuntarily from my bike twice," Bush candidly admits, putting some presidentially positive spin on it all. "Both times, I wasn't focused. I wasn't concentrating like I should have. When you concentrate on making sure you don't fall off your bike, that's what your mind is on at the moment. That, in itself, is refreshing."
Repackaging Senator Stud
How John Kerry can turn his athletic prowess into votes
John Kerry

John Kerry pedaling one of his high-end road bikes.
You'd think a presidential candidate who's into action sports would energize adventurous Americans to slip on their trail runners and sprint to the polls. After all, what could be more inspiring than a leader who windsurfs, bikes, and snowboards?

And yet Senator John Kerry's attempts to present himself as America's Dude in Chief aren't quite working, even though he clearly has the skills to fill this role. What's the problem? After consulting a scientifically assembled focus group—half a dozen twenty-something dudes and dudettes I know who ride, ski, board, surf, and slack in cheap rental apartments throughout the United States—it appears that Kerry is coming on too strong. "It's like if your dad shows up wanting to 'slam a few brews' with you and 'the guys,'" says one. "He thinks he's cool; you think he's a poseur."

But Kerry's problem isn't insurmountable: The gap between wannabe and winner can be bridged in the campaign's final weeks. With some brisk image retooling, 60-year-old Senator Hairspray can morph into a multisport stud, the type of master-class athlete we all aspire to be.

Move number one is, alas, to let one of his sports go. Kerry's most publicized activity, windsurfing, peaked when Miami Vice was still hot—and, like Don Johnson, it's been in decline ever since. Even worse for the lanky senator, windsurfing means wetsuits. Putting Kerry in a nut-hugging shortie is like squeezing him into a Mazda Miata with a bumper sticker that reads, "This Mid-Life Crisis Powered by Viagra." Meanwhile, his exposed chicken legs are rumored to have scared off all the haddock around Cape Cod. Bush operatives found the image of Kerry windsurfing so pathetic that they used it in a September attack ad depicting him chugging back and forth on a low-wind day, with a voiceover carping that he goes "whichever way the wind blows" on issues.

So what's a candidate to do? Give it up. This will undoubtably be tough for Kerry, who's a true devotee. Not only has he visited Oregon's Hood River Gorge, windsurfing's mecca; he's also raced in the grueling Martha's Vineyard Challenge and Cape Cod to Nantucket races.

But that can be worked out. Just saying no to windsurfing doesn't mean Kerry has to renounce the water altogether. In fact, he should hit the surf this fall. But when he does, we'd rather he be kitesurfing. Kerry experimented with this rising, photogenic sport last summer, and a shot of him catching air on a blustery day would make him look like a star. While he's at it, says my panel, he actually could score points with them by slammin' a brew—but it's got to be Pabst Blue Ribbon.

Kerry can also bounce his likeability if he plays up his cycling. At a time when Lance Armstrong has helped road riding become one of America's fastest-growing pursuits, we've seen very little of Kerry on his bike—except for an early-summer wipeout that was picked up by the press. When he does roll into view, he's coming on too fancy, brandishing an ultra-trendy LIVESTRONG bracelet and toting his $8,000 Serotta Ottrot with him on the campaign jet.

The result? He looks like a loser who's bought into a new sport with top-of-the-line equipment, only to be smoked by guys with cheaper but authentically worn-out gear. It's probably too late for Kerry to dump the Serotta for a proletarian ride (although we happen to have a vintage, rusting Schwinn we'd part with for only $2,000), so his best shot at legitimacy is to take a couple of strategic spins. A strong finish—or a flashy wreck—in a local criterium would build street cred. A Sunday ride with Lance would go a long way as a photo op. And, again, he must at all costs avoid being photographed in tight shorts.

Kerry's snowboarding skills are potentially valuable, too. Unfortunately, his presentation last winter was flawed. In March, he was photographed carving the slopes of Sun Valley, Idaho, wearing sunglasses and a spanking new jacket that one can only assume Theresa ordered from an upscale Euro catalog. Then, after a skiing Secret Service agent accidentally tripped him up, Kerry told a reporter, "I don't fall down. That son of a bitch ran into me." It could get more pathetic only if he tried to drop into a halfpipe and ran over a ten-year-old.

What we want in a president is someone who braves his way up a chairlift in a snowstorm to make soulful powder runs while everyone else is eating cereal. Someone who wears the jacket he's had since 1992, chili stains and all. One who hits a fresh stash, takes a monumental spill, and proclaims proudly that it was the best wipeout he's ever had. And who does it even when the cameras are nowhere to be found.

By all accounts, Candidate Kerry is a truly devoted athlete. That's something that can't be spun and something most of us would appreciate in the White House. But a little poser protection can't hurt—and would probably improve his ratings. The candidate should remember that nothing is forever. If the pang of loss over windsurfing becomes too great, he can take it up again when he's writing his memoirs.