Protesters Invade National Parks
Dozens entered at least three this weekend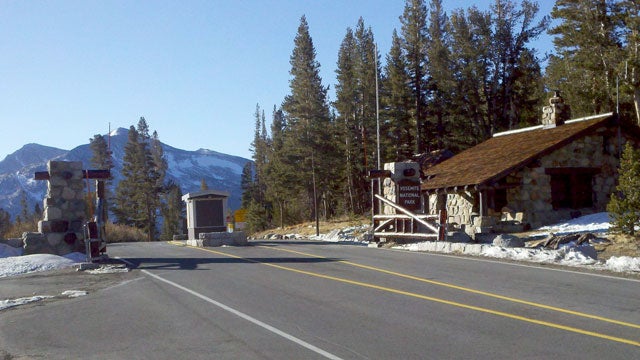 Heading out the door? Read this article on the new Outside+ app available now on iOS devices for members! Download the app.
The partial federal government shutdown continues to keep National Parks closed, but locked gates and a few park rangers didn't stop dozens of hikers and cyclists from entering at least three National Parks this weekend. Across the U.S., protesters either entered restricted areas or picketed at entrance stations.
"I wanted to go hiking today, and so I thought I'd invite some friends to come join me,"
James Milligan told KSL at Occupy Zion. "The way I see it this is our park over here and no one has a right to shut us out of it."
Crowds at both Zion National Park and Acadia National Park either climbed over gates that read "do not enter" or walked around baracades to hike and bike inside the parks on Saturday.
A family at Badlands National Park in South Dakota left their vehicle and threw cones blocking off scenic overlooks, posting the photos to Twitter. (Some National Parks, such as Badlands, are permitting visitors to drive through during the shutdown, but visitors are forbidden from exiting their vehicles.)
Some are critizing these protesters, saying that Washington D.C. is the appropriate venue for demonstrations.
"It's going to create a mess for the park employees that have to deal with the crowd and the attention," wrote Andrea Ketchmark of Grand Rapids, Michigan on Facebook. "The outrage should be focused where it belongs: the members of the House."
Protesters in California stopped short of entering Yosemite due to rumors that tresspassers will be fined or ticketed. Although the original plan was to stage a sit-in side the park, a dozen people calling themselves "Occupy Yosemite" picked outside the east enterence to Yosemite National Park on Friday, KCET reports.