The Revolution Will Be Televised
As America raises its eco-consciousness, so does Hollywood. But is green TV more than just a fad?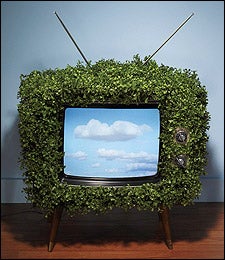 Heading out the door? Read this article on the new Outside+ app available now on iOS devices for members! Download the app.
A GENERATION AGO, the only thing green about Hollywood was the money (and the pernicious envy of success). Even two years back, if you pitched a studio executive a film about a PowerPoint presentation on climate change given by the former vice president of the United States—and said you believed millions of people would pay to see it—you'd have been escorted promptly off the premises and added to the security list of nut jobs.
But yesterday's eco-freaks are today's visionaries. Green is the new black on Madison Avenue and Rodeo Drive, and both stars and backstage power-wielders in the film and TV industries have gone gaga for environmental causes. Even in a cultural realm long known for funding Democratic candidates and indulging in sporadic outbreaks of social consciousness—Richard Gere's Tibet campaign, anyone?—Hollywood's increasingly green tinge has the look of a long-term shift.
Robert Redford has been an environmentalist for years, but in April his Sundance Channel will begin airing The Green, a three-hour block of prime-time TV devoted to environmental causes. Programs will range from doomsday documentaries—including 2006's truly terrifying A Crude Awakening, which explores how declining petroleum resources will reshape global society—to more upbeat segments about biodiesel entrepreneurs, fashion designers who work with recycled materials, inner-city environmental-justice activists, and other solution seekers.
Matt Damon, one of Hollywood's leading young crusaders, hosts episodes of the PBS series Journey to Planet Earth (his next airs March 28), while Leonardo DiCaprio is helping develop a reality show called E-Topia, in which a run-down American town will be redeveloped as an earth-friendly paradise. At a lower end of the star food chain, longtime enviro-advocate Ed Begley Jr. found a new career vehicle in HGTV's reality series Living with Ed, a gentle spoof of his solar-powered lifestyle in the car-mad San Fernando Valley.
Then there's the carbon-neutral craze, in which individual companies, the people behind film productions (such as Syriana and, yes, An Inconvenient Truth), and even entire festivals (Austin's South by Southwest music and film gathering) seek to offset the carbon dioxide they produce.
Is Hollywood's green makeover more symbol than substance? Well, sure. None of these virtuous (and self-congratulatory) endeavors will do much to slow global warming or save the Amazon rainforest. Conservatives who blame Hollywood for molding public opinion are giving it too much credit; entertainment tends to mirror or reinforce ideological shifts rather than create them.
But sometimes symbolic gestures are important. Image and spectacle—Hollywood's true products—are among the principal engines of postmodern capitalism. Like the flickering shadows in Plato's cave, they can seem more real than reality itself. They offer us pictures of ourselves as we think we are and as we'd like to be. They define the parameters of our dreams. If the entertainment world is starting to sound the alarm about our crisis, to imagine a more sustainable relationship between humans and our planet, the rest of us are, too. Imagination, of course, is not enough. But it's not a bad start.
Greening of Hollywood