Save the Rainforest with Your Old Cell
Phones detect sounds of illegal logging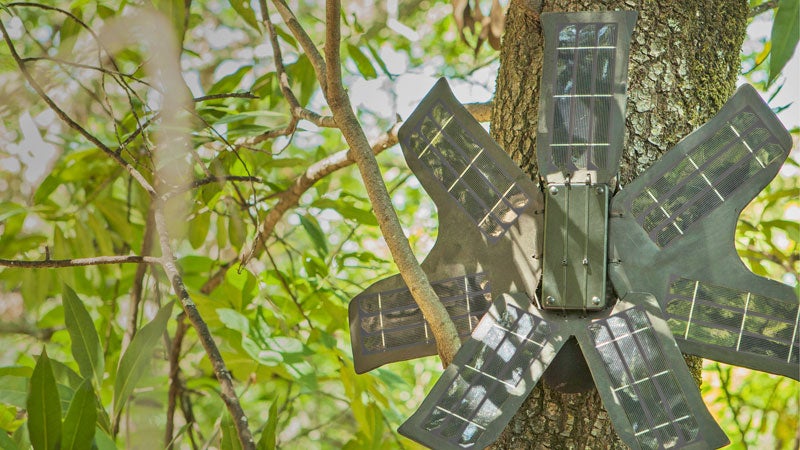 Heading out the door? Read this article on the new Outside+ app available now on iOS devices for members! Download the app.
People typically replace their cellphones once every 22 months, landfilling around 150 million obsolete models that become e-waste containing life-threatening levels of toxicity. Thanks to a new grassroots organization, however, old cellphones are redeeming themselves by saving a valuable resource: rainforests.
Rainforest Connection, which was funded in surplus through Kickstarter at the end of July, installs donated smartphones into solar-powered modules to repurpose them as discreet listening devices.
Placed high up in the trees, the devices can pick out the chainsaw screeches of illegal logging and send the noise and accompanying location data to the cloud. This way, authorities discover logging as it happens and can dispatch units to stop it before too many trees are felled. Logging has destroyed about 20 percent of the Amazon rainforest over the past 40 years, and Interpol's Project Leaf study found that between 50 percent and 90 percent of all logging is illegal. Each device can detect chainsaw noise within two-thirds of a mile of forest.
Beyond stemming the disappearance of rainforests worldwide, stopping loggers in their tracks can help control climate change. Forests act as a carbon sink for the greenhouse gas emissions pumped into the atmosphere, but according to the World Wildlife Fund, up to 20 percent of emissions can be traced directly to deforestation. If that weren't enough, projects such as Rainforest Connection can help protect the 80 percent of species that live in forests; rainforests make up 2 percent of the Earth's surface but are home to 50 percent of its species.
Lead Photo: Courtesy of Rainforest Connectio