Shadow in the Trees
An assault by Frodo, one of Jane Goodall's big-screen chimps, results in the death of an African child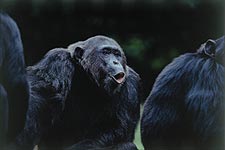 Heading out the door? Read this article on the new Outside+ app available now on iOS devices for members! Download the app.
THIS FALL, FRODO THE CHIMPANZEE, who has starred in primatologist Jane Goodall's nature documentaries since he was born in Tanzania's Gombe Stream National Park 26 years ago, will make his biggest debut yet—on 90-foot IMAX screens across the country in Jane Goodall's Wild Chimpanzees. But last spring the simian star, known for his violent outbursts, found himself on the other side of the thin strand of DNA that separates human law from instinct.

Frodo hoots in the Gombe forest

One morning last May, the wife of Moshi Sadiqi, a Gombe park attendant, was collecting firewood near the shore of Lake Tanganyika when Frodo appeared from the shadows and ripped her 14-month-old daughter from her back. The 120-pound Frodo slammed the child into a tree over and over. By the time guards arrived, the chimp had disemboweled the toddler and begun to consume her brain.


Resident primatologists were horrified, but they weren't entirely surprised: Goodall herself had established that chimps can be ill-tempered and cannibalistic. Colobus monkeys, which chimps frequently prey upon, carry their offspring on their backs, as Mrs. Sadiqi had been doing. At first, TANAPA, the Tanzanian parks agency, considered euthanizing Frodo, but after careful contemplation decided instead to monitor his movements and behavior.


"Our hearts go out to the family," says Fred Thompson, 56, president of the Silver Spring, Maryland—based Jane Goodall Institute. "But this is a natural part of chimpanzee behavior. Frodo's actions were not inconsistent with those of other alpha males." Even so, TANAPA is negotiating an undisclosed settlement with the Sadiqi family.


Goodall, for her part, has been alerting the public to chimp violence for years, and in her new film calls Frodo, who once almost broke her neck, a "bully." Over the decades, she's let the cameras roll as Frodo struggled his way to alpha male. As a leader, he's ruthless and violent. He has a taste for fresh meat—which he exchanges for sex—and during one four-year period he single-handedly eliminated 10 percent of Gombe's colobus monkeys.


Even so, chimp violence didn't begin with Frodo, something Goodall knows all too well—two attacks on human infants were documented before 1960, and during the 1970s Goodall's own son was terrorized by a chimp. Despite their peaceful image, with chimps, as with humans, there are always a few rotten bananas in the bunch.