How Much Does It Actually Cost to Ski?
We crunched the numbers for five popular resorts. Spoiler alert: a day on the slopes for a family runs alarmingly close to a month's rent.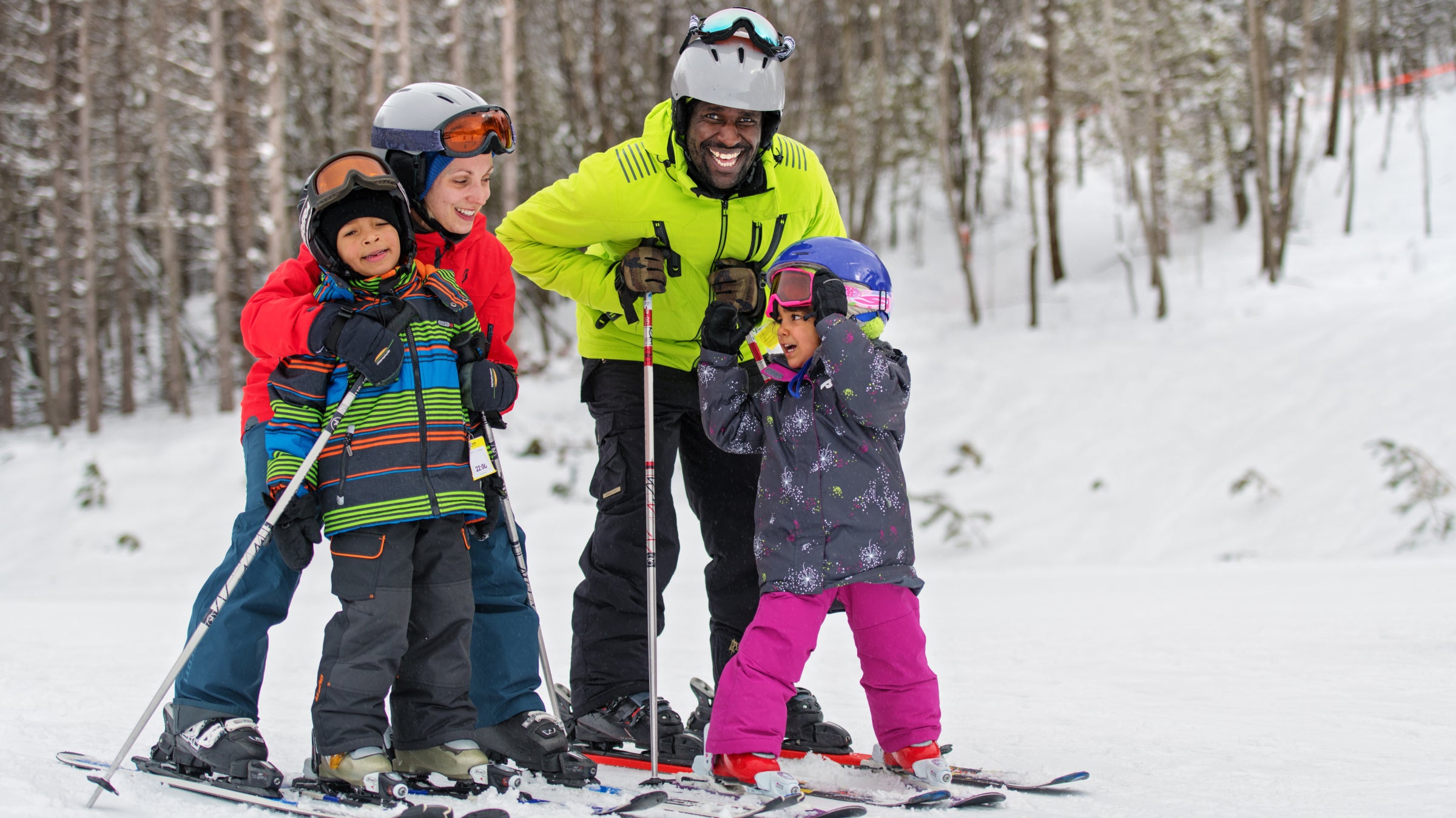 Getty/lisegagne
Heading out the door? Read this article on the new Outside+ app available now on iOS devices for members! Download the app.
My mom learned to ski in the early 1970s alongside her two younger brothers in upstate New York. My grandma—who was not a passionate skier—would rent gear for the whole family, drive to the mountain, and march up to the ticket window to purchase day passes. This casual approach to the sport feels like a relic today, considering the skyrocketing price of skiing.
Imagine it: parents get up in the dark and lay out winter clothes for their kids. They've skied a few times before, not enough to own their own gear, but enough that they want to try it more. The whole family piles out of a steamy car into a pre-dawn parking lot, and heads to the ticket counter. I sincerely hope that they looked up prices ahead of time, because if not, they might be in for a nasty shock. Between rentals, lift tickets, lunch, and gas, they're likely to spend close to $1,000.
The rising cost of skiing has been linked to consolidation within the ski industry, and to the rise of mega-passes. This magazine has written about this shifting financial landscape, with some writers arguing that the multi-resort passes throw "a lifeline" to 20+-day-a-year skiers. But that also means that the cost of single-day tickets—which entry-level skiers often buy—are getting higher and higher.
I wanted to know what a family of four casual skiers would pay to spend an unplanned day on the hill. So I crunched the numbers. In my scenario, they are paying current gas prices, and I'm assuming that they haven't planned this trip far enough in advance to take advantage of discounted online ticket and rental prices. They've decided to ski on the first weekend of February—during peak season, but not on a holiday. (Ticket prices are based on online reported prices in October, but are subject to change.) And full disclosure: I couldn't calculate an exact cost for food. I spoke to resort public relations departments, asked local tourism offices, and even trawled online photos. Based on this research, I've estimated the cost of lunch at the resort lodge to run between $20 and $25 per person.
Here's how it all shook out.
Vail Ski Resort, Vail, CO: $1,341
Drive to and from Denver: $21, for a 194-mile round trip drive in an SUV—like a Toyota RAV4 or Honda CRV—which gets 32 MPG on the highway, with gas prices hovering around $3.50 per gallon. You can catch a Greyhound bus to the slopes from Denver, but it'll run $150 for four. (There's also an Amtrak to Winter Park for $34 one way per person.)
Parking: $30 to park in one of the main parking garages, although you can park for free in a satellite lot and catch a shuttle in to the mountain.
Adult lift ticket: $265. You can save about $30 by buying it a little ahead of time, and Vail warns in ALL CAPS that "lift tickets will be limited"—so there's no guarantee that you'll be able to get one at the ticket window. For all four, that adds up to $1,060, since teenagers don't get a special rate.
Gear rental: $66 for the base package, and more if you want powder skis or other upgrades. You can save a bit—about $12—by reserving a few days ahead, which is also recommended because they could run out of sizes. The whole family will pay $220.
Lunch: In 2019, a cheeseburger ran $15 at Buffalo's Roadhouse Grill. Add a drink and a cookie, and we're close to that $20 to $25 range per person—say, $80 for the family. 
Total: $1,341—roughly the average monthly rent of a one bedroom apartment in Denver!
Alta Ski Area, Alta, UT: $815
Drive to and from Salt Lake City: $8—it's under an hour each way, even if gas in greater Salt Lake City is $4 per gallon. 
Parking: $25. You'll need a reservation for any lot on weekends, which you'll need to snag either in October, or the week before you want to go. If you buy lift tickets online, reservations go down to $10. You can also catch a $5 shuttle from either Historic Sandy Station or Midvale Fort Union Station on the Blue Line.
Adult lift ticket: $159 at the window. You'll save $8 by buying early, and you can get steeply discounted tickets at the window (about $70) if you just ski the end of the day. There's also a $70 "Beginner" ticket that gives access to entry-level terrain. That'll be $636 for the family. 
Gear rental: $35, or $30 for a half-day, also for a base package. You need to call to reserve rentals by 2PM the day before. Call it $110 for the lot. 
Lunch: In 2018, a cheeseburger was $10.50 at Alf's Restaurant. More recent photos from other base-area restaurants show similar prices, so lunch is going to run in the neighborhood of $60.
Total: $815, this is one of the best deals we found, less than half the average monthly rent of a one-bedroom apartment in Salt Lake City.
Palisades Tahoe, Olympic Valley, CA: $1,300
Drive to and from San Francisco: $75. The three-ish hour drive is a bit further than most other resorts, and California's gas prices—around $6 per gallon—are particularly expensive. The sole public bus option from the Bay Area appears to have closed—its phone has been disconnected—which is a shame because the reviews make it seem like a good time.
Parking: Free, but the resort recommends arriving by 8:00 A.M. to get a spot in one of the main lots. There are also overflow lots further from the resort that are connected by a shuttle.
Adult lift ticket: $270, but you can save $40 by buying in advance online. It'll run them $952, but if they bought earlier, they could have saved $160. 
Gear rental: $59, and again, the resort "strongly" recommends making a reservation at least the night before. $190 for four sets.
Lunch: Burgers at the Rocker tavern are $17, or around $90 for a family. 
Total: $1,300, or just over a third the average rent of a one-bedroom apartment in Oakland.
Killington Ski Resort, Killington, VT: $1,167
Drive to and from Boston: $37 for a three-hour drive, including a toll road. I'm assuming the family has an E-ZPass.
Parking: Free, with shuttle-served overflow lots.
Adult lift ticket: $195, which includes our best estimate of taxes and fees that aren't immediately shown in the ticket price online. It's about $40 cheaper to buy online in advance. Ticket price for two adults and two teenagers: $690 day of—teenagers get a slight discount.
Gear rental: $94 day-of, or $80 in advance. The family will pay $288 day-of.
Lunch: A customer service agent estimated that burgers and fries were about $15, so about $80 for a family.
Total: $1,167, or a quarter of the average rent for a one-bedroom in Boston.
The Summit at Snoqualmie, Snoqualmie Pass, WA : $828
Drive to and from Seattle: $16. This is the smallest resort I've included, and it is about an hour outside Seattle (though that can be an optimistic estimate depending on traffic). Gas in the region is about $5 per gallon. FlixBus offers a route to Snoqualmie a few weekends over the winter for $7 each way.
Parking: Free, but distributed in lots across the mountain face.
Adult lift ticket: Must be purchased online, and prices vary depending on the day. Peak weekends in February are $129. You can get a half-price beginner's ticket with access to a limited number of lifts, as well as afternoon and night tickets. They'll pay $516—adult ticket prices apply to anyone over 12.
Gear rental: $54 and must be reserved in advance. It'll shake out to $216.
Lunch: This one stumped me, unfortunately. About $20 per person feels safe, so for the sake of consistency, I will add $80 to the total.
Total: $828, or approximately half the average price for a one-bedroom in Seattle. As it turns out, the biggest problem with paying for a ski day might be affording the cost of housing in a city nearby.
Lead Photo: Getty/lisegagne