Adjustment in Midflight
The legend says Terje Haakonsen, snowboarding's five-time world champion, can win at will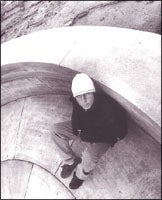 Heading out the door? Read this article on the new Outside+ app available now on iOS devices for members! Download the app.
To know Terje Haakonsen today, it's best to have known him some yesterdays ago, during a flatline month in Mililani, at the steamy, landlocked heart of Oahu. Psychologically, Haakonsen, the best snowboarder in the world, was as far from the nearby North Shore breaks as he would have been if he were in, say, his native Åmot, Norway, or even some scrubby piece of Middle American suburbia; Mililani, a Levittown transposed and down-marketed to Hawaii, has all the tropical splendor of Omaha, Nebraska. Of course, Haakonsen was already famous by that late fall of 1996. He could have gone somewhere, bought a ticket, boarded a plane, headed for some globally renowned dope spot where they would have welcomed a world champion snowboarder. But a kind of inertia, a torpid inability to get up and go, had struck him. Haakonsen sat on that gray sofa, staring at those blank white walls and watching that 27-inch television, which didn't even have cable, and once in a while thought to himself, What the hell am I doing here? "I couldn't motivate myself, because my mind was stuck there, you know?" Haakonsen says. "I was, like, living underwater, like life was happening around me and I couldn't do anything to change what was going on."
Terje Haakonsen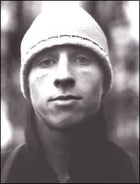 Terje Haakonsen
Terje Haakonsen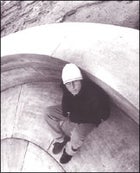 Terje Haakonsen
Guys do strange things for girls. And the reason Haakonsen was frozen was that his girlfriend—a native Hawaiian with a cheery face, curly black hair, and a professional surfer's hard body, whose name we won't mention but whom Haakonsen was obviously stuck on—was here. So most of that sultry, sticky fall, while bright green geckos the length of his hand ran across the concrete back porch and the lawn turned a rusty brown, Haakonsen sat and stewed and felt like he was waiting for something to happen—like one day things would be different from all the other days and then he would know what it all meant. And that day, as it turned out, came.
Today, right now, Haakonsen is stuck again, pinned momentarily in the status quo, in a space where he has more to lose than to gain from any change in his professional circumstances. He's generally acknowledged to be the best in the world in his sport—indeed, he's spoken of as the best snowboarder ever. He can win premier events seemingly at will. Just 24 years old, Haakonsen is the two-time winner of the world championships, three-time U.S. Open half-pipe champion, three-time Mount Baker Legendary Banked Slalom champion, three-time world half-pipe champion, and so on. He rakes in a fortune in sponsorship money, attracts tittering autograph hounds, alters the landscape of a competition through his presence and especially his absence—from, for example, the Nagano Olympics, which he noisily shunned. In short, he's snowboarding's megastar, and though a generally genial, likable sort, Haakonsen also can project attitude enough to remind the world that he is, after all, the one and only Terje.
But lately, by his own admission, Haakonsen has been doing all this without quite the level of joie he displayed in years past. The rock-star attitude remains—he's famous for blowing off appointments with sponsors and media—but mostly gone are the aggressive, sick-trick routines on which he built his reputation, replaced by maneuvers that are efficient, point-earning … safe. "I'm, like, not taking as many chances," Haakonsen says. He has shaggy, dirty-blond hair, a thick mogul of cartilage for a nose above thin, expressionless lips. "I've gotten more routine, especially on the pipe. I'm doing the same tricks over and over again. I'm not sure why this is happening." Well, for one, why go bigger than you have to if there is $100,000 at stake for landing your tricks cleanly?
"Can you blame the guy?" says pro snowboarder Peter Line. "I mean, everybody knows that Terje's the best in the world. Why shouldn't he just go for the money?"
With Haakonsen, the point is no longer merely to win. Ever since 1992, when he took the half-pipe title in both the U.S. Open and the World Cup, he's established that going big was simply something he did. "He's got phenomenal athleticism and creativity combined with balls," says Jake Burton, founder of Burton Snowboards and one of Haakonsen's sponsors. "And his moves are usually the biggest, usually the most technically difficult, and the cleanest. His influence has been immense. Before Haakonsen, people never dreamed you could go that high."
But the equation of competition is subtly changed these days. As a legend, Haakonsen is expected to decimate the field; anything less jeopardizes his status. So these are his choices: He can apply his full skills and humble his rivals, as he did while winning the rep-building Mount Baker slalom three of the past four years. (He ran one qualifying heat fakey, or backward, an act described by Sports Illustrated as being "roughly the equivalent of Steve Young's throwing three touchdown passes lefty and then, out of boredom, heaving a fourth right-handed.") Or he can phone in a performance and collect his prize money with a wink. Or he can guarantee his stature by refusing to risk it: Last season, partly because of a lingering hip injury but also due to a sort of competitive ennui, Haakonsen competed in only five World Cup events.
Haakonsen's shadow in his sport is such that when he chooses not to participate in an event, this nonparticipation becomes the noteworthy aspect of that event. After he blew off the Olympics last year (comparing International Olympic Committee chairman Juan Antonio Samaranch to Al Capone and labeling the IOC "ski nazis" along the way), he was accused of orchestrating a boycott and, by his Norwegian countrymen, of being unpatriotic. But no one could deny that Haakonsen's nonparticipation in the first Olympics in which snowboarding was an official sport threw into doubt the validity of the entire Olympic half-pipe event.
"There were so many reasons not to be a part of the Olympics," Haakonsen says, sitting on the red velvet seat of an Oslo subway car as he travels from downtown to his loft in the tony Frogner neighborhood of Oslo. "I didn't want to make a big deal about that, but the newspapers did. It's not like I was waving the flag, 'Fuck the Olympics.' I was just not a part of it."
The train glides forward with Scandinavian efficiency. The seats, the floor, the windows are spotless, the people—fair, clear skin, ruddy good health, determined expressions—spotless. Haakonsen, shaking his head, explains the Olympic controversy as an ironic by-product of his actually trying to support his sport. "I don't want to do an event if the event is shitty. The only reason to do it would be for the good of the sport. But the Olympic Committee put the ski federation in charge of snowboarding. And at the Olympics, the way they did it, the way they made it look, they set the sport back years." He's referring to the competition taking place in a driving rainstorm, with a strict two-run routine that discouraged innovation and encouraged half-pipe restraint—all the result, Haakonsen believes, of skiers rather than snowboarders making the decisions.
Even so, the cattier boarders on the Tour suggest Haakonsen didn't sweat the Olympics because of the possibility that he might lose, a disastrous potentiality that far outweighed any glory that might have come from Winning One for Norway. (Quick: Remember who did win the gold? Case closed.)
"Say he shows up and he wins. Then what?" asks veteran boarder Dave Downing. "He's already the best in the world. Why should he bother?" The one absolute way Haakonsen had of remaining the world's ne-plus-ultra boarder was to spend the Games lolling in Hawaii, which he did. "Every snowboarder who came to the Olympics basically knew he was battling it out for second," says Line.
On the subway, in the tidy bowels of Oslo, no such debate about Olympic altruism interferes with the sheen of Haakonsen's fame. Aside from a couple of soccer players, Haakonsen is Norway's most famous international athlete. Heads turn and follow; people are sure they know him, but many are not sure how, exactly. He's important, though, that's obvious: Just look at the rude-boy slouch, the hands jammed deep into the pockets of a black Burton jacket. Give him goggles, boots, and a snowboard and he would come immediately into focus: Terje! This is, after all, a country half of which is north of the Arctic Circle, where what we call winter sports are known simply as sports. And a Norwegian world champ—even a controversial, occasionally coasting, slightly confused 24-year-old legend—well, he's still the champ.
An image from Haakonsen's memory: Moving from Sø;rø;ya, an island in the north of Norway, to Åmot, the Telemark village where he grew up; arctic summer, light the whole drive down from Sø;rø;ya to Åmot, five-year-old Terje in the back seat of a 244 Volvo sedan. Haakonsen recalls pulling up in front of a big lawn bisected by a long driveway leading to a small wooden house. That winter he built his first ski jump in the backyard, a pile of snow he used to catch air off while riding a pair of plastic miniskis. He and his brother taught themselves to do 360s, prototricks through which Haakonsen learned some of the fundamentals of how to stay balanced while soaring through the air.
In a remarkable video produced by Volcom, Subjekt Haakonsen—Life and Times of Sprocking Cat, there is a grainy Super-8 sequence in which a five-year-old Haakonsen runs carrying a soccer ball over his head, flips himself using the ball as a fulcrum against the grass, catches some air, and then, when he's back on his feet, uses the forward momentum to toss the ball overhand about 30 yards—a display of astonishing attributes, the most obvious being the phenomenal coordination of a five-year-old able to perform this acrobatic maneuver. But even more impressive is the understanding of the physics of the body as it moves through space—the awareness that each action will create additional energy that can be harnessed to perform another move. This is the principle behind a snowboarder's stringing tricks together, evolving his own skills, pushing a fakey ollie so that it eventually becomes a caballerial and then mutates into an upside-down caballerial—what's known as the Haakonflip.
Though Haakonsen claims neither his father nor his mother was a gifted athlete, he remembers how his father, a chef, used to drop by the field where Haakonsen played soccer with his friends. Wearing a wool sweater, tight-fitting jeans, and work boots, Per Haakonsen would routinely outrun the sneaker-clad athletes training on the track circling the field. Haakonsen inherited that speed, that natural athleticism, first while playing soccer—the sport that remains, along with surfing and, of course, snowboarding, his favorite pastime. Playing for his village against other local villages, Haakonsen was a dominant midfielder, the player who scored most of his team's goals. "I always wondered how far I could go in soccer," he says. "That question remains, if I could have played at the highest levels."
Haakonsen first tried snowboarding at age 13, when a neighbor loaned him a swallowtail board. Though he was already an experienced skier, he immediately felt the sweet expansiveness inherent in snowboarding, the greater use of terrain, the sweeping carves, the wider array of tricks. He took to it quickly and easily, maneuvering the backcountry, developing his powerful turns, and later going big off natural moguls. Soon Einar Lofthus, another Telemark snowboarder and already a touring pro, escorted Haakonsen into the world of big air, where Legend Haakonsen, with his sense of balance and soccer player's athleticism, was born.
In 1990, at the age of 15, Haakonsen placed fifth in the world championships. Two years later he was the world champion. Even today, he has no special training regimen, just surfing, snowboarding, soccer, and skateboarding. And the occasional yoga session to help him stay limber. "That was a fun time," Haakonsen says of this period before his status preceded him into every half-pipe he dropped into. "I was the youngest guy on the tour. I was always learning new tricks, figuring out ways to get better. When I'm having fun snowboarding, it's like meditation. I'm not thinking about anything but what I'm doing right now. No past, no future."
It is easy to lose sight in this too-wearied, too-calculating professional athlete of the playful, exuberant kid who transformed his sport. But remember him at 18, or watch his videos: He was quiet, full of confidence. He was good, but a lot of guys were good. What set Haakonsen apart, besides the plain fact that he could go two or three times as big as anyone else out of the pipe, was the way he could also tackle big mountains and backcountry, could just look at a frightful line and with no hesitation or fear be the first to take it—in the clannish world of snowboarding, that's what earns respect. "He was this kid who was afraid of nothing," says Jake Burton.
Now Haakonsen works at snowboarding, reading Transworld Snowboarding like a show-biz player parsing Variety, gleaning workplace gossip and valuable intelligence from the columns: who's where, doing what, and for whom. Sponsorships. Contests. Tricks. This is his business more than his sport, one that has rewarded him exceedingly well; between sponsors, endorsements, and prizes, his annual income is close to a million dollars. "I do have to look at it as a business," Haakonsen says of deciding what to endorse, where to compete, which publications to appear in. "I have to protect myself. Do what's right for me. A lot of people work for me—I don't know how many, a tax lawyer, agents, team managers, marketing people, so many people. And they all bring me different projects—this jump competition, some magazine. And if it's a good enough concept or it's worth it to me financially, I do it. I guess I'm a sellout, that's how it is."
So yes, Haakonsen's been getting rich and acquiring fame and all the while losing what he values most about snowboarding: the spontaneity, the risk-taking. Standing in his kitchen, amidst rose-pink walls, boiling a pot of herbal tea and emptying chocolates into a bowl, he's the picture of the kroner-rich life. This apartment on Kirkeveien Street—barren walls, top-of-the-line Bang & Olufsen stereo, gear overflowing from walk-in closets—is an anonymous bachelor's pad. You get the feeling he could walk out of this life in two minutes flat. But this is the pricey part of town, and owning a home here, and bidding on a luxurious penthouse across Frogner Park, and renting the oceanfront place in Laguna Beach, California, and spending the off-season months in Brazil, all these are the perquisites of fabulous athletic success, of a well-maintained business. And Haakonsen feels frozen by them.
"People get stuck and all they do the whole year is pipe, and that's too bad for them," he complains. "They do the same routine over and over, get the moves down. It becomes like this really precise, synchronized movement, like they're little ballerinas or something. It's no longer this spontaneous sport, like when you're a kid screwing around."
He shakes his head; he's been describing his own boarding, of course. "Everything around [snowboarding] now is, like, work. It's too complicated. It's changed the feeling. Before, my motivation was always to get a lot of different tricks, different terrain. Like my motivation when I was young, not so long ago, was based more on what tricks could I do, how big I could go, how easy I could make it look, the style. But for the last few years my motivation changed. I got more routine, especially on the pipe. I was still trying to go big, but I wasn't trying new tricks. I was, like, not taking chances. I was, you know, stuck."
Look back once more: thinking about that stretch when Haakonsen was doing time in Mililani, when he found himself trapped by some antiforce, some inertia, in the midst of a town he couldn't stand, with no idea of what he was doing there. Back then he searched for a way out but couldn't find one. There was nowhere to go, no World Cup to ride, no half-pipe to snowboard, no soccer game to join, and he was just there, planted, and it was hot and sticky and he had nothing to do but sleep late with his girlfriend, visit the strip mall for frappuccinos, and wait for the urge to get out of there.
When he did finally get out of there, he left his girlfriend with a child, Matthew, now 15 months old. Haakonsen and the mother never married, but they share the parenting, Matthew spending several months with his father in Norway or on the road, then returning to his mother in Hawaii.
Matthew, a chubby ball of flesh with curly brown hair and goopy baby lips, recently left Haakonsen's sleek loft in Oslo after spending the month with his father near Salvador, Brazil. Haakonsen can still see him, though, as if he were paddling in the late-afternoon Brazilian surf, Matthew a brown dot on the white sand. While Haakonsen was bobbing in the swell, he felt like maybe this was the point of it all—that idle period, his half-throttle efforts in the pipe, the concentration on his bottom line. Maybe this little boy on the beach, grasping handfuls of sand, not knowing a snowboard from Adam, maybe that was the point.
And all this other stuff was, like, just business.
"I feel different now," Haakonsen says about snowboarding, but really talking about his whole life. "I don't care about just winning contests, doing what I know will win. I feel like going back to more tricks, going back to taking chances. I feel like trying more new things, taking a different line through life. I want to get that feeling again, of being a kid in the backyard, of making a jump, of doing this because this is exactly what I want to be doing."