Adriana Blake on Selling Taos Ski Valley
Blake talks about the purchase of her family's business and what she'll do next.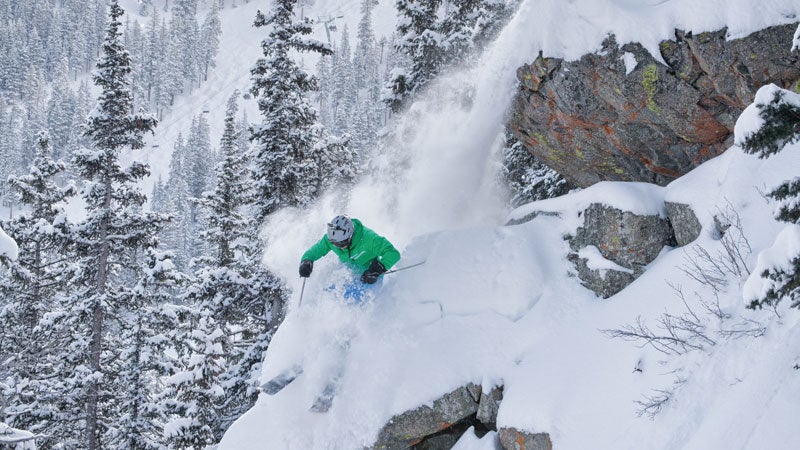 Grayson Schaffer(Photo)
Heading out the door? Read this article on the new Outside+ app available now on iOS devices for members! Download the app.
Today the Blake Family announced that they'd sold northern New Mexico's Taos Ski Valley to billionaire hedge-fund, real estate magnate Louis Bacon for an undisclosed sum. Taos was founded in 1955 by Ernie and Rhoda Blake and, until the deal goes through, is currently run by the third generation of their children and grandchildren. It's also where any given staff member at Outside—we're based in Santa Fe—can be found after calling in sick on a powder day. To those of us in the office and around the state, the news comes as a total shock.
Adriana Blake:
"We looked at selling parts of the Valley—selling off some land—and then realized that if we could find a partner that we were comfortable with, it would be better just to sell it intact."

The early press releases suggest that the resort's tranquillo vibe will remain unchanged, even if Taos does get its first high-speed lift before the decade is out. Of course, it's also a truism of the ski industry that the only real money to be made by investors is in developing the real estate that surrounds a mountain rather than on the operation of the lifts. Other changes include a lift to the upper slopes of Kachina Peak—it's currently a hike-to affair like Aspen's Highlands Bowl—and a steep glade called The Wild West that extends the West Basin. Not part of the expansion is an upgrade to the Taos Regional Airport. Even though it's been approved for additional runways that would allow commercial aircraft, there's no plan in place to build. So for now, getting to Taos will still require a three-hour drive from Albuquerque.

There's a rumor circulating that part of the trade-off for the loss of hike-to terrain would be the addition of open backcountry boundaries that would access the world-class terrain south of 13,159-foot Wheeler Peak.

As soon as word was out, I had to call Adriana Blake, Ernie's granddaughter and the mountain's current Administrative Manager. She's 42, now, and has been working at the mountain since she was 12. Ernie gave her a formal interview before he hired her to dispense hot chocolate in the lift lines.

OUTSIDE: Has this deal been a long time in the works?
Blake: Not really. We had a conversation about where we were going with the family this summer. But Mickey (Ernie's son; Adriana's father) and Louis have only been at this since early fall. It's a partnership that we've had for a really long time. It's not like we're just getting to know each other.

What precipitated the deal?
Honestly, it's looking at all the projects we have to do. We want to rebuild the base area. And then we've got the on-mountain projects. We've got all of these approvals and plans and now we need to figure out how to pay for it. And when we really started looking at what the cost of some of these projects was, knowing what the ski area makes, there was no way in the foreseeable future that we would ever pull any of this off.

We looked at selling parts of the Valley—selling off some land—and then realized that if we could find a partner that we were comfortable with, it would be better just to sell it intact.

How is the family taking this? Will the deal go through?
There's no question that it will go through. The family had a heads up. We didn't just send them an email this morning—which would be really typical of Blakes—but that's not what we did. People are asking me, Did your dad tell you? Yes, he did.

So is today a happy or sad day?
A little of both. It's a really happy day because it's cool to know that somebody who really understands the Valley and is going to take care of the staff will be here. But it's sad personally because it's what I always thought we'd do forever and ever. But, generally, I think it's a really good thing.

How will the mountain change in the immediate future?
In the next two years, for sure, projects will start happening. Within five years? I think we'll have a new base area—and it'll be awesome. I've actually seen the proposed plan, and it's really true to the feel of Taos Ski Valley. It's definitely not a cookie-cutter corporate base area. It's going to be a really cool thing. Upgrading those things will make the guest experience at Taos so much nicer.

In addition to the lift up to the shoulder of Kachina Peak, what other on-mountain projects are there?
The Wild West is mostly a giant glade. That's stuff's actually pretty skiable and could happen pretty easily. A lift could happen, but the glade itself can happen without the lift. If you ski all the way to the end of the West Basin and keep going, that's where it is. If you ski the whole ridgeline, you end up back at the base of Lift 8.

Has construction already started on any of this?
On the new Kachina lift, construction has already started in a meaningful way. We haven't bought the lift, but they've put in the electrical work for it, which was a big project. The next step is to order the lift.

Does that mean there's a discussion about whether to give Taos it's first high-speed detachable lift?
High-speed detachable lifts are in the master development plan.

When will Taos see it's first high-speed lift?
I don't know, and, thankfully, it won't be my call. I think the first high speed lift would replace Lift 5. Lift 5 is the one that parallels Lift 1 right out of the base area.

So are you going to stay around Taos?
Oh for sure. I keep telling people that it will be great for me to come skiing and not be stressed. I've worked for the Ski Valley for 31 years. I started in 1983. I was 12.

What was your first job?
I served hot chocolate in the lift line. But I had to interview with my grandfather. Sit down and chat with him about what I was going to do for Taos Ski Valley.

Was he skeptical?
I actually got a perfect grade on my interview and I don't think anybody else did. But one of his very best friends, who was one of the shareholders, came with me to the meeting. He was my reference.
Lead Photo: Grayson Schaffer